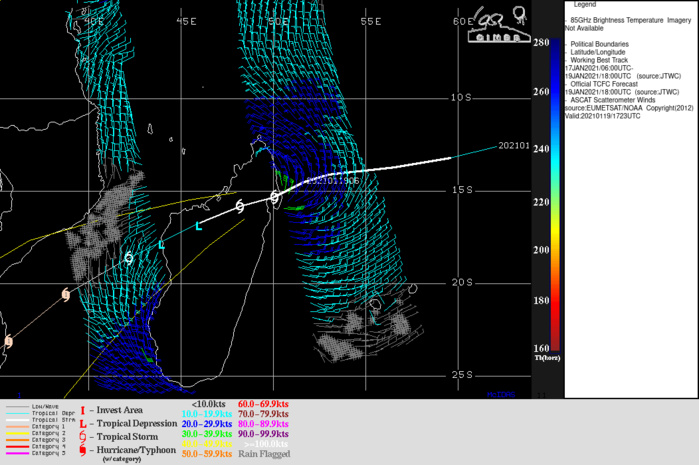 WARNING 6. THE INITIAL POSITION IS PLACED WITH FAIR CONFIDENCE USING LOW-CLOUD TRACING IN THE EIR LOOP AND TRIANGULATION FROM COASTAL WIND OBSERVATIONS, INCLUDING ANTALAHA. THE INITIAL INTENSITY OF 45KTS IS EXTRAPOLATED FROM DVORAK ESTIMATES PRIOR TO LANDFALL AND DEDUCED FROM INLAND SEA LEVEL PRESSURE OBSERVATIONS. 12S(ELOISE) WILL TRACK SOUTHWESTWARD ALONG THE NORTHWESTERN PERIPHERY OF A DEEP-LAYERED SUBTROPICAL RIDGE (STR) TO THE SOUTHEAST THROUGHOUT THE FORECAST, DRAG ACROSS THE ISLAND, THEN EXIT INTO THE MOZAMBIQUE CHANNEL IN APPRX 36H, AND BY 96H WILL MAKE LANDFALL INTO SOUTHERN MOZAMBIQUE NORTH OF MAXIXE. THE RUGGED MADAGASCAR TERRAIN WILL WEAKEN THE SYSTEM TO 30KTS BY 24H4; HOWEVER, AFTER IT EXITS INTO THE WARM MOZAMBIQUE CHANNEL, IT WILL GRADUALLY RE-INTENSIFY TO 80KNOTS/CATEGORY 1 US BEFORE LANDFALL. BY 120H, LAND INTERACTION WILL REDUCE IT TO 60KNOTS.
2021 JAN 19 22UTC
TC #12S #ELOISE
#
SOUTHINDIANOCEAN
As of 18:00 UTC Jan 19, 2021:
WARNING 6
Location: 15.3°S 50.1°E
Maximum Winds: 45 kt ( 85km/h)
Gusts: 55 kt ( 100km/h)
Minimum Central Pressure: 996 mb
WEAKENING OVER-LAND
Satellite bulletins are to be found in the comments of this post on
JTWC BIS
Cheers,
Patrick Hoareau
M974World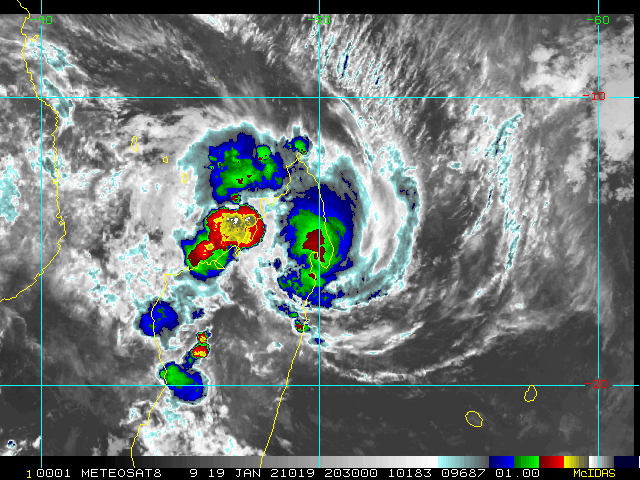 19/2030UTC. HEAVY RAIN IS OBSERVED OVER NORTHWEST MADAGASCAR AS 12S IS PUSHING SLOWLY INLAND.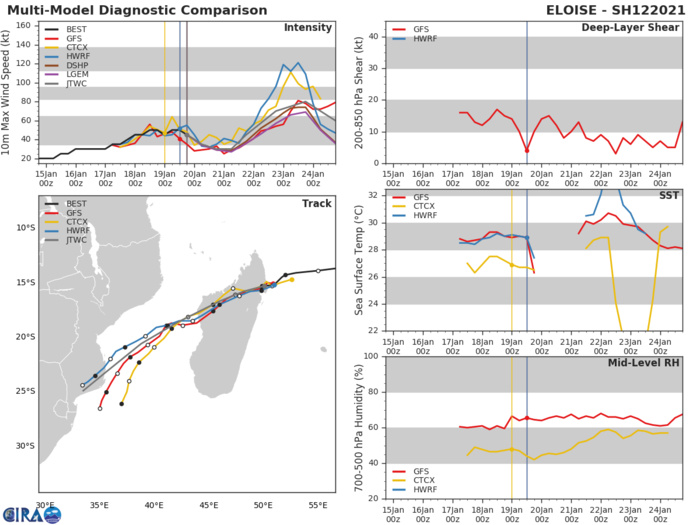 NUMERICAL MODELS REMAIN IN TIGHT AGREEMENT, LENDING HIGH CONFIDENCE TO THE JTWC TRACK FORECAST. AT 120H, A STRAND OF MODELS INCLUDING AFUM, UEMN, AND AVNO DEFLECT THE VORTEX SOUTHEASTWARD BACK INTO THE CHANNEL, AN UNLIKELY SCENARIO. THE JTWC TRACK IS A BIT FURTHER INLAND AT THE TERMINATION POINT TO OFFSET THIS UNLIKELY DEFLECTION.