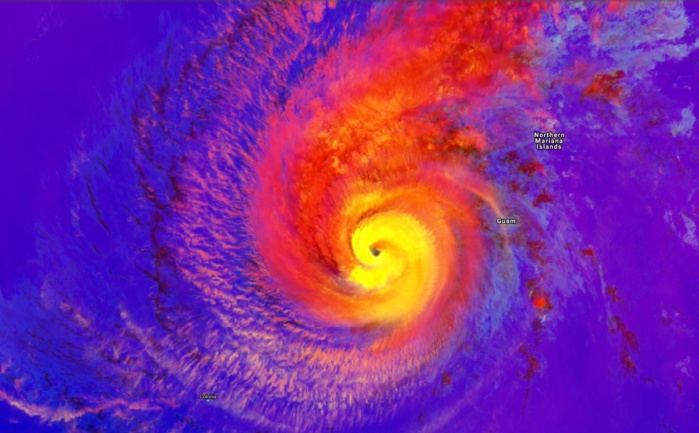 2019 FEB 24 0320UTC WESTERN NORTH PACIFIC
STY
#
WUTIP
#
02W
This system is currently analysed as a 135knots TC, CAT4 US.
WARNING 20/JTWC
Click on the TC graphic to read the Remarks for Warning 20 and view sat pics and charts .
Satellite bulletins are to be found in the comments of this post on JTWC BIS.
As of 00:00 UTC Feb 23, 2019:
Location: 12.7°N 142.1°E
Maximum Winds: 135 kt (250km/h)
Gusts: 165 kt (305km/h)
Minimum Central Pressure: 924 mb
https://www.facebook.com/groups/1817419381676514/
Cheers,
Patrick Hoareau
WDPN31 PGTW 240300
MSGID/GENADMIN/JOINT TYPHOON WRNCEN PEARL HARBOR HI//
SUBJ/PROGNOSTIC REASONING FOR SUPER TYPHOON 02W (WUTIP) WARNING NR
20//
RMKS/
1. FOR METEOROLOGISTS.
2. 6 HOUR SUMMARY AND ANALYSIS.
SUPER TYPHOON 02W (WUTIP), LOCATED APPROXIMATELY 152 NM WEST-
SOUTHWEST OF NAVSTA GUAM, HAS TRACKED NORTHWESTWARD AT 04 KNOTS OVER
THE PAST SIX HOURS. ANIMATED ENHANCED INFRARED (EIR) SATELLITE
IMAGERY DEPICTS DEEP CONVECTIVE CLOUD TOPS IN AN EYEWALL THAT IS
ERODING ON THE WESTERN SIDE. A 232139Z 91GHZ SSMIS IMAGE SHOWS THE
PRIMARY EYEWALL HAS ERODED AND THE MOAT SEPARATING THE PRIMARY AND
SECONDARY EYEWALL IS NO LONGER AS WELL DEFINED. THE INITIAL POSITION
IS BASED ON THE EYE IN EIR IMAGERY WITH HIGH CONFIDENCE. STY 02W
MAINTAINED A 135 KT INTENSITY WHILE UNDERGOING THE EYEWALL
REPLACEMENT CYCLE (ERC). ENTRAINMENT OF DRY AIR IS EVIDENT IN THE UW-
CIMSS TOTAL PRECIPITABLE WATER PRODUCT, AND THE SLOW (04 KT) ALONG-
TRACK SPEED OF THE PAST 6 HOURS IN A LOW OCEAN HEAT CONTENT
ENVIRONMENT MAY BE CONTRIBUTING TO THE DEGRADED CONVECTION AS WELL.
THOUGH CONVECTION APPEARS TO BE WEAKENING, THE INTENSITY IS
MAINTAINED BECAUSE THERE IS A LAG BETWEEN THE SECONDARY CIRCULATION
THAT FUELS CONVECTION AND THE PRIMARY CIRCULATION THAT DRIVES
TANGENTIAL WINDS. THE CURRENT INTENSITY IS BETWEEN THE RANGE OF
MULTIAGENCY DVORAK CURRENT INTENSITY ESTIMATES FROM T6.5 (127 KTS)
TO T7.0 (140 KTS), BUT IS ABOVE A 232139Z SATCON ESTIMATE OF 125
KTS. OBSERVATIONS FROM ANDERSEN AFB ON GUAM REMAIN AROUND 20 KTS
SUSTAINED, WITH GUSTS UP TO 40 KTS. UPPER-LEVEL CONDITIONS REMAIN
FAVORABLE WITH LOW (5 TO 10 KNOTS) SOUTHEASTERLY VERTICAL WIND SHEAR
(VWS) OFFSET BY A ROBUST POLEWARD OUTFLOW CHANNEL AND GOOD
EQUATORWARD OUTFLOW. SST VALUES REMAIN FAVORABLE AT 27C, ALTHOUGH
OCEAN HEAT CONTENT IS LOW. STY 02W IS TRACKING NORTHWESTWARD UNDER
THE STEERING INFLUENCE OF A DEEP-LAYERED SUBTROPICAL RIDGE (STR)
POSITIONED TO THE NORTHEAST.
3. FORECAST REASONING.
A. THERE IS NO CHANGE TO THE FORECAST PHILOSOPHY SINCE THE
PREVIOUS PROGNOSTIC REASONING MESSAGE.
B. STY 02W WILL CONTINUE TO TRACK NORTHWESTWARD TO NORTH-
NORTHWESTWARD UNDER THE STEERING INFLUENCE OF THE AFOREMENTIONED STR
TO THE NORTHEAST THROUGH TAU 72. NUMERICAL MODEL GUIDANCE IS IN FAIR
AGREEMENT IN THE NEAR-TERM, WITH A 84NM SPREAD IN THE MODEL
SOLUTIONS AT TAU 72. THE GALWEM AND UKMET MODEL SOLUTION ARE FURTHER
EAST AND SHOW A MORE NORTHWARD TRACK IN THE NEAR-TERM THAN DO THE
OTHER MODELS, WHILE ECMWF, HWRF, NAVGEM, AND GFS ARE IN LINE WITH OR
SLIGHTLY WEST OF THE MULTI-MODEL CONSENSUS. IN GENERAL, THERE IS
SOME UNCERTAINTY IN THE INTENSITY FORECAST. HOWEVER, GIVEN THE
EXPECTED DECLINE IN POLEWARD OUTFLOW, THE SLOW FORWARD MOVEMENT IN A
LOW OHC ENVIRONMENT, AND DRY AIR ENTRAINMENT, STY 02W IS NOW
FORECAST TO BEGIN SLOWLY WEAKENING.
C. AFTER TAU 72, INCREASING VWS (OVER 30 KTS) AND CONVERGENCE
ASSOCIATED WITH A SHORTWAVE TROUGH WILL RAPIDLY WEAKEN THE SYSTEM.
THE WEAKENED SYSTEM WILL ACCELERATE WEST-NORTHWESTWARD UNDER THE
STEERING INFLUENCE OF A STRONG LOW-LEVEL RIDGE AND NORTHEASTERLY
SURGE FORECAST TO BUILD SOUTH AND SOUTHEAST OF JAPAN. DUE TO THE
COMPLEX AND RAPIDLY EVOLVING SYNOPTIC PATTERN, THERE IS SIGNIFICANT
UNCERTAINTY IN THE EXACT TRACK WITH A 420NM SPREAD IN SOLUTIONS AT
TAU 120. THE LAST SEVERAL MODEL RUNS HAVE BEEN TRENDING FURTHER
WESTWARD, FAVORING A LESS PRONOUNCED NORTHWARD TO NORTHWESTWARD
HOOK, ALTHOUGH NAVGEM MAINTAINS THE EXAGGERATED AND UNREALISTIC
TRACK MUCH FURTHER NORTH THAN THE OTHER MODELS. GFS, HWRF, AND
GALWEM ARE SOUTH OF AND FASTER THAN THE MULTIMODEL CONSENSUS. AFTER
TAU 72, COLD, DRY AIR FROM THE LOW-LEVEL NORTHEASTERLY SURGE, AND
DIMINISHED OUTFLOW ALOFT, WILL FURTHER WEAKEN STY 02W. THE JTWC
FORECAST HAS BEEN MOVED WESTWARD, SMOOTHING OUT THE KINK IN THE
TRACK, AND IS PLACED CLOSE TO THE MULTIMODEL CONSENSUS WITH LOW
CONFIDENCE.//
NNNN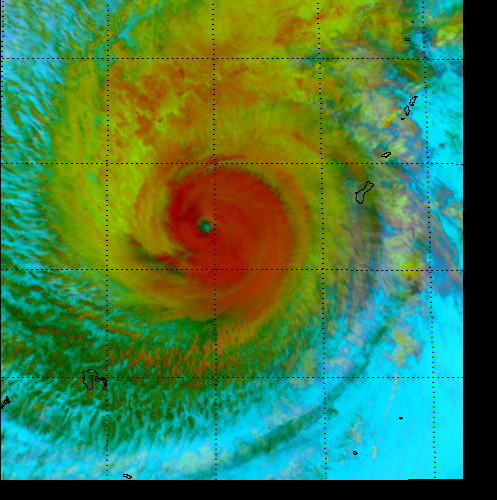 03UTC