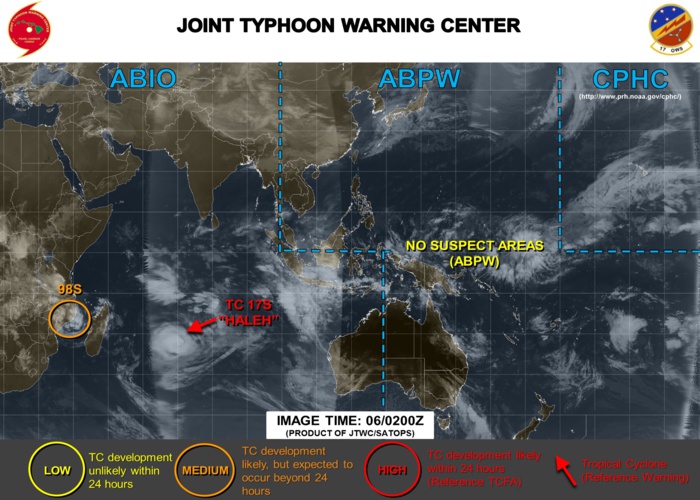 Location: 16.0°S 38.0°E
Maximum Winds: 30 kt (55km/h)
Minimum Central Pressure: 1000 mb
ABIO10 PGTW 060130
2. SOUTH INDIAN OCEAN AREA (135E WEST TO COAST OF AFRICA):
B. TROPICAL DISTURBANCE SUMMARY:
(1) THE AREA OF CONVECTION(INVEST 98S)PREVIOUSLY LOCATED NEAR
16.8S 37.6E, IS NOW LOCATED NEAR 16.0S 38.0E, APPROXIMATELY 539 NM
WEST-NORTHWEST OF ANTANANARIVO, MADAGASCAR. ANIMATED ENHANCED
INFRARED SATELLITE IMAGERY AND A 051900Z MHS METOP-A 89GHZ MICROWAVE
IMAGE DEPICT A CONSOLIDATING LOW LEVEL CIRCULATION CENTER (LLCC)
WITH PERSISTENT FRAGMENTED CONVECTIVE BANDING DESPITE BEING OVER
LAND. ENVIRONMENTAL ANALYSIS REMAINS FAVORABLE WITH LOW (5-15 KNOTS)
VERTICAL WIND SHEAR, SUPPORTIVE EQUATORIAL DIFFLUENCE AND WARM SEA
SURFACE TEMPERATURES (30-31 CELSIUS). MODELS ARE IN GENERAL
AGREEMENT THAT 98S WILL SLOWLY TRACK TO THE EAST OVER THE NEXT 48-72
HOURS AND EMERGE OVER WATER. THE MODELS REMAIN SPLIT ON THE TIMING
AND INTENSITY, WITH NAVGEM DEPICTING A MORE RAPID TIMELINE AS 98S
MOVES OVER THE VERY WARM WATERS OF THE MOZAMBIQUE CHANNEL IN
OTHERWISE FAVORABLE ENVIRONMENTAL CONDITIONS. MAXIMUM SUSTAINED
SURFACE WINDS ARE ESTIMATED AT 25 TO 30 KNOTS. MINIMUM SEA LEVEL
PRESSURE IS ESTIMATED TO BE NEAR 1000 MB. THE POTENTIAL FOR THE
DEVELOPMENT OF A SIGNIFICANT TROPICAL CYCLONE WITHIN THE NEXT 24
HOURS IS UPGRADED TO MEDIUM.
(2) NO OTHER SUSPECT AREAS.
3. JUSTIFICATION FOR REISSUE: UPDATED AREA IN PARAGRAPH 2.B.(1) TO
MEDIUM.//
NNNN
03UTC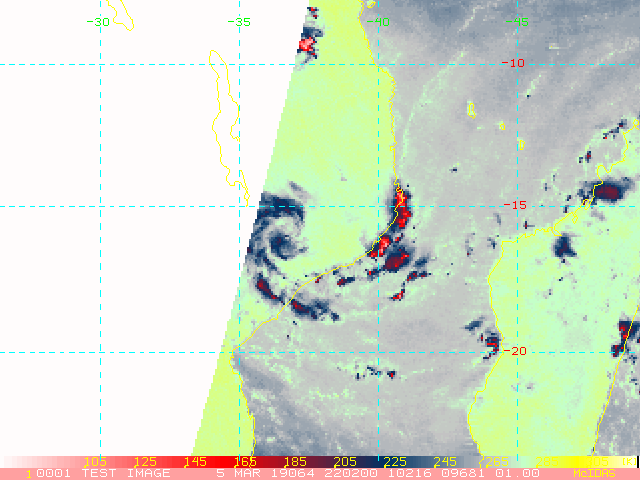 2202UTC: CYCLONIC CIRCULATION STILL WELL SIGNED OVER LAND