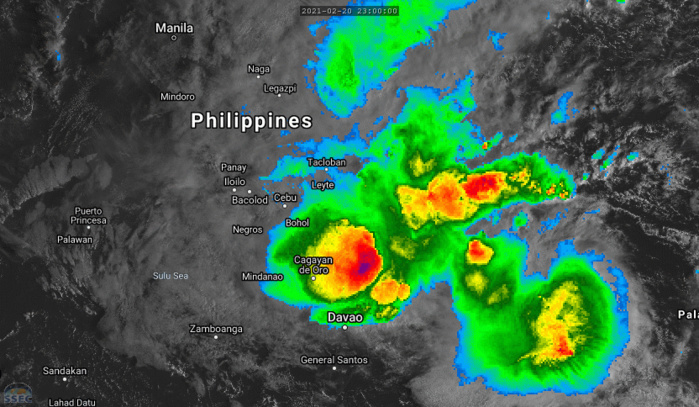 01W(DUJUAN). 22/08UTC. ANIMATED MULTISPECTRAL SATELLITE IMAGERY SHOWS DEEP, EXPANSIVE, FLARING CONVECTION OVER SOUTHEASTERN PHILIPPINES AND AHEAD OF THE LOW LEVEL CIRCULATION. CLICK ON THE IMAGERY TO ANIMATE.
2021 FEB 21 0845UTC
#WESTERNNORTHPACIFIC
TS #01W #DUJUAN
WARNING 17
As of 06:00 UTC Feb 22, 2021:
Location: 9.1°N 127.8°E
Maximum Winds: 35 kt ( 65km/h)
Gusts: 45 kt ( 85km/h)
Minimum Central Pressure: 1003 mb
TROPICAL STORM 01W (DUJUAN), LOCATED AT 22/06UTC APPROXIMATELY 960 KM SOUTHEAST OF MANILA, PHILIPPINES, HAS TRACKED WEST-NORTHWESTWARD AT 31 KM/H OVER THE PAST SIX HOURS.
Satellite bulletins are to be found in the comments of this post on
JTWC BIS
----------------------------------------
Patrick Hoareau
Météo974
M974World
Cyclone Class 4
Cheers,PH.
Joint Typhoon Warning Center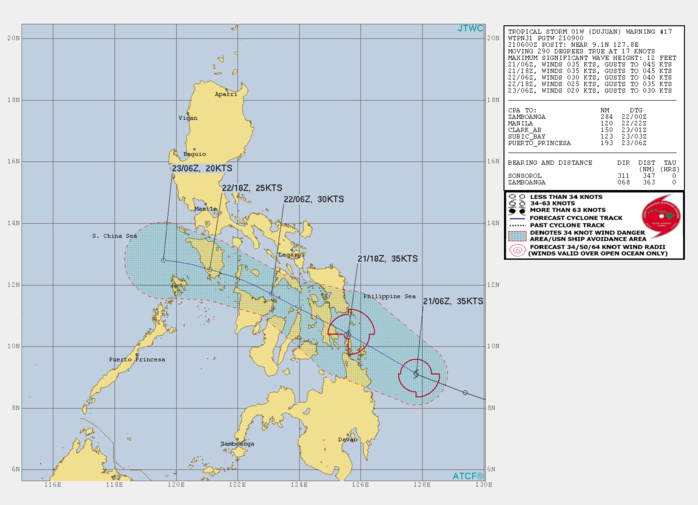 01W(DUJUAN). WARNING 17 ISSUED AT 22/09UTC.ANALYSIS INDICATES WARM (29C) ALONG-TRACK SST IN THE PHILIPPINE SEA AND ROBUST WEST AND POLEWARD OUTFLOW ALOFT. A SLIGHT DECREASE IN WIND SHEAR DUE TO THE STORM MOTION MOVING MORE IN-PHASE WITH THE MID AND UPPER LEVEL WIND FLOW HAS ENHANCED THE CONVECTION AHEAD OF THE LOW LEVEL CENTER. ADDITIONALLY, THE WARM MOIST AIR AHEAD OF 01W IS CONTINUALLY OVERRUNNING THE COLDER NORTHEASTERLY WIND IN THE PHILIPPINE SEA INCREASING THE INSTABILITY. THE CYCLONE IS TRACKNG UNDER THE STEERING INFLUENCE OF THE SUBTROPICAL RIDGE TO THE NORTHEAST. TS DUJUAN WILL CONTINUE TRACKING NORTHWESTWARD UNDER THE SUBTROPICAL RIDGE, MAKING INITIAL LANDFALL OVER LEYTE, PHILIPPINES, AFTER 12H AND THEN CROSS THE VISAYAN ISLANDS, CLIPPING THE SOUTHERN TIP OF MINDORO, BEFORE EXITING INTO THE SOUTH CHINA SEA. THE SYSTEM WILL MAINTAIN ITS CURRENT INTENSITY UP TO 12H. AFTERWARD, INCREASED RELATIVE WIND SHEAR (25KTS+) COMBINED WITH THE RUGGED TERRAIN OF THE ISLANDS WILL ERODE 01W TO DISSIPATION BY 48H, POSSIBLY SOONER.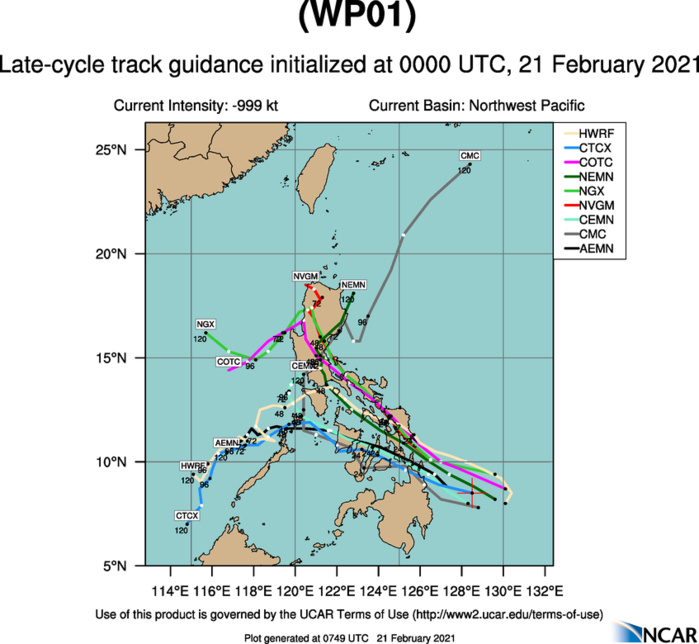 01W(DUJUNA). NUMERICAL MODELS DIVERGE AND BIFURCATE TO 590KM+ BY 48H WITH NAVGEM, UKMET, AND JGSM OFFERING A MORE POLEWARD SOLUTION AND THE REMAINDER OF THE MODEL ENVELOPE, INCLUDING ECMWF AND GFS, OFFERING A MORE EQUATORWARD TRACK. THIS INDICATES UNCERTAINTY IN THE MODELS TRACKING A WEAK CIRCULATION, LENDING OVERALL LOW CONFIDENCE IN THE JTWC TRACK FORECAST BEYOND 24H.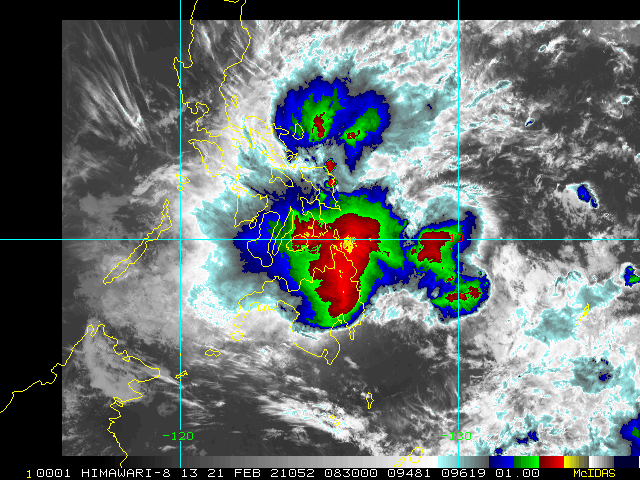 01W(DUJUAN). 22/0830UTC. ACTIVE CONVECTION WITH HIGH CHANCES OF HEAVY RAIN OVER PARTS OF THE PHILIPPINES.