WESTERN NORTH PACIFIC: INVEST 98W. UP-GRADED TO MEDIUM AT 23/06UTC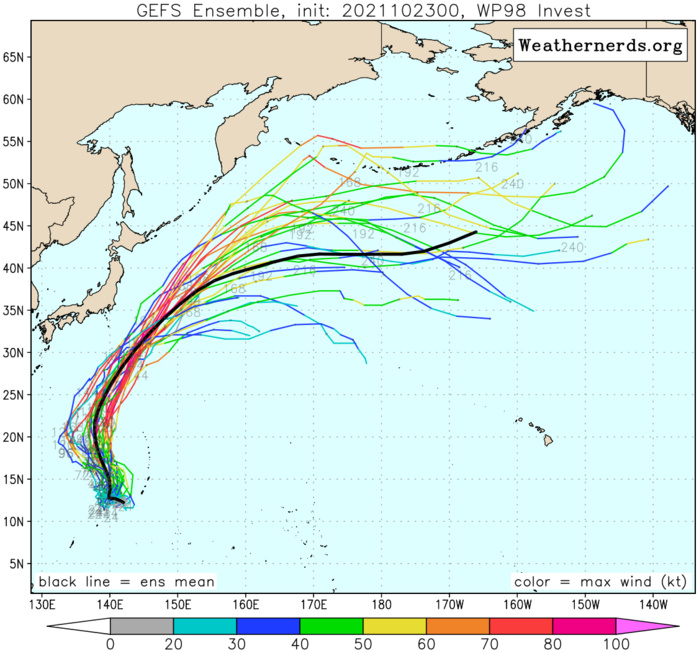 AN AREA OF CONVECTION (INVEST 98W) HAS PERSISTED NEAR 9.6N 143.8E, APPROXIMATELY 415 KM SOUTH-SOUTHWEST OF GUAM. ANIMATED ENHANCED INFRARED SATELLITE IMAGERY DEPICTS A BROAD LOW-LEVEL CIRCULATION (LLC) WITH FLARING, DISORGANIZED CONVECTION OVER THE SOUTH AND EAST QUADRANTS. A 220635Z SSMIS 91GHZ MICROWAVE IMAGE REVEALS A WEAKLY-DEFINED LLC. A 221034Z ASCAT-A IMAGE SHOWS A BROAD CIRCULATION WITH 05-15 KNOT WINDS SURROUNDING A WEAK CORE. UPPER- LEVEL ANALYSIS INDICATES A MARGINALLY FAVORABLE ENVIRONMENT WITH WEAK EQUATORWARD OUTFLOW AND LOW VERTICAL WIND SHEAR. SEA SURFACE TEMPERATURES OF 30C ARE CONDUCIVE FOR FURTHER DEVELOPMENT. GLOBAL MODELS INDICATE THIS DISTURBANCE WILL GRADUALLY DEVELOP AS IT TRACKS NORTHWESTWARD OVER THE NEXT TWO DAYS WITH MORE SIGNIFICANT DEVELOPMENT ANTICIPATED WEST OF GUAM. MAXIMUM SUSTAINED SURFACE WINDS ARE ESTIMATED AT 10 TO 15 KNOTS. MINIMUM SEA LEVEL PRESSURE IS ESTIMATED TO BE NEAR 1008 MB. THE POTENTIAL FOR THE DEVELOPMENT OF A SIGNIFICANT TROPICAL CYCLONE WITHIN THE NEXT 24 HOURS IS LOW.
EASTERN NORTH PACIFIC: TS 17E(RICK). WARNING 3 ISSUED AT 23/04UTC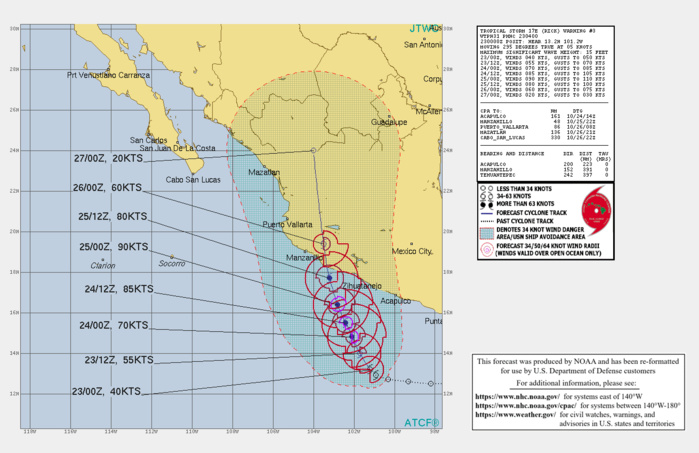 CURRENT INTENSITY IS 40KNOTS AND IS FORECAST TO RAPIDLY INCREASE TO PEAK AT 90KNOTS/CAT 2 BY 15/00UTC.
1721102012 127N 919W 25
1721102018 127N 928W 25
1721102100 127N 937W 25
1721102106 127N 947W 25
1721102112 126N 958W 25
1721102118 125N 970W 25
1721102200 125N 982W 25
1721102206 126N 993W 25
1721102212 127N1003W 30
1721102218 129N1009W 35
1721102300 132N1012W 40
NNNN