WESTERN PACIFIC.TS 20W(MINDULLE). WARNING 7 ISSUED AT 24/03UTC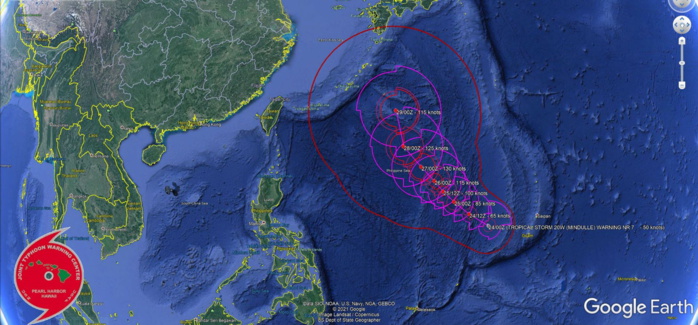 SIGNIFICANT FORECAST CHANGES: THERE ARE NO SIGNIFICANT CHANGES TO THE FORECAST FROM THE PREVIOUS WARNING. FORECAST DISCUSSION: TD 20W WILL GENERALLY CONTINUE ON ITS CURRENT TRACK UNDER THE SUBTROPICAL RIDGE(STR) UP TO 96H; AFTERWARD, THE SYSTEM WILL TURN MORE NORTHWARD AS IT BEGINS TO ROUND THE WESTERN EDGE OF THE STR. THE FAVORABLE ENVIRONMENT WILL FUEL GRADUAL THEN RAPID INTENSIFICATION TO A PEAK OF 130KNOTS/CAT 4 BY 72H AS INCREASED POLEWARD OUTFLOW IS ANTICIPATED IN CONJUNCTION WITH INITIAL EXPOSURE TO THE STRONG WESTERLIES AHEAD OF A MIDLATITUDE TROUGH. AFTERWARD, INCREASING VERTICAL WIND SHEAR WILL BEGIN TO WEAKEN THE SYSTEM, DOWN TO 115KNOTS/CAT 4 BY 120H.
2021092012 97N1567E 15
2021092018 102N1555E 15
2021092100 107N1541E 15
2021092106 109N1526E 20
2021092112 109N1517E 20
2021092118 109N1510E 20
2021092200 108N1503E 20
2021092206 110N1495E 20
2021092212 112N1486E 25
2021092218 118N1475E 30
2021092300 123N1460E 30
2021092306 130N1447E 35
2021092312 138N1428E 40
2021092318 141N1418E 45
2021092400 146N1409E 50
NNNN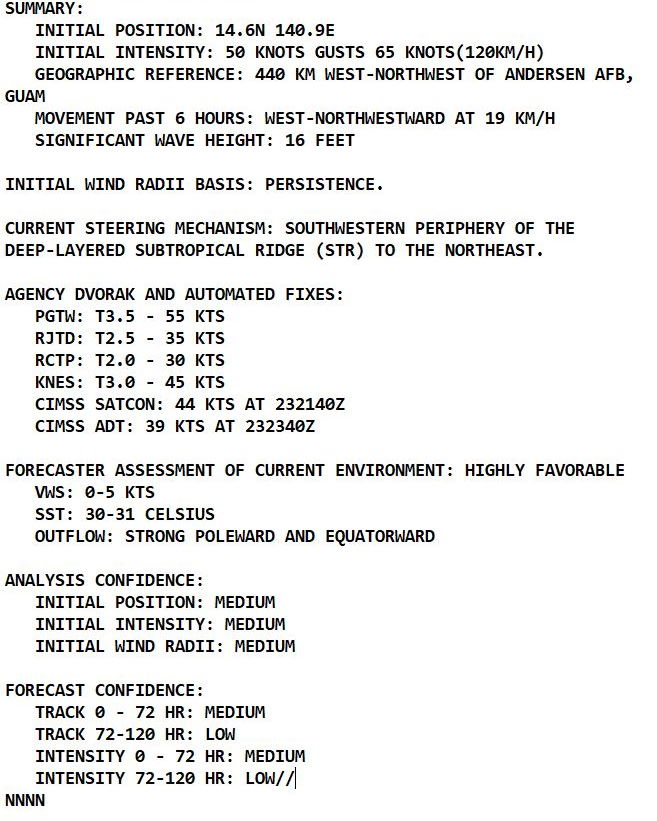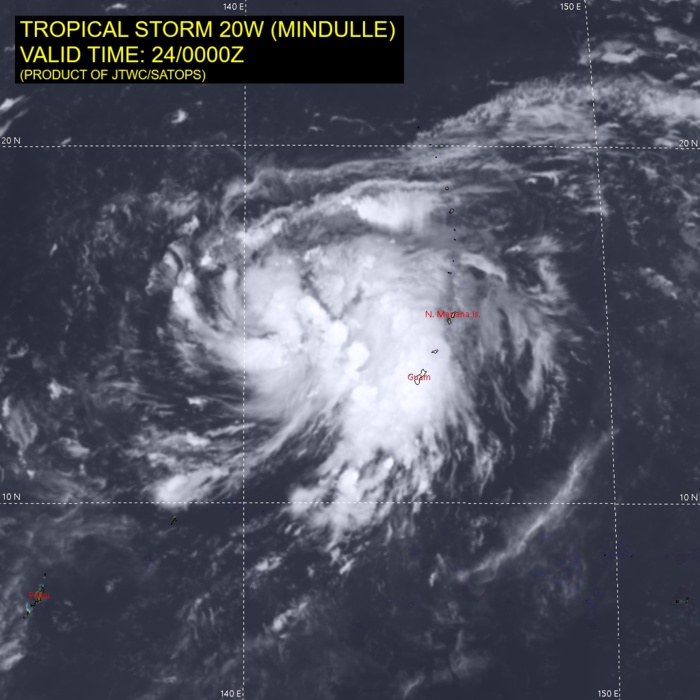 SATELLITE ANALYSIS, INITIAL POSITION AND INTENSITY DISCUSSION: ANIMATED MULTISPECTRAL SATELLITE IMAGERY (MSI) SHOWS THE SYSTEM CONTINUED TO SLOWLY CONSOLIDATE AS THE CIRCULATION HAS BECOME MORE DEFINED AND FEEDER BANDS HAVE DEEPENED AND WRAPPED TIGHTER INTO THE CENTER. THE INITIAL POSITION IS PLACED WITH MEDIUM CONFIDENCE BASED ON THE EVOLVING CIRCULATION IN THE MSI LOOP. THE INITIAL INTENSITY OF 50 KNOTS IS ASSESSED WITH MEDIUM CONFIDENCE BASED ON THE HIGH END OF AGENCY AND AUTOMATED DVORAK ESTIMATES AND REFLECTS THE SLIGHT IMPROVEMENT IN THE SYSTEM. ENVIRONMENTAL ANALYSIS INDICATES HIGHLY FAVORABLE CONDITIONS WITH LOW VERTICAL WIND SHEAR, STRONG UPPER LEVEL OUTFLOW, AND VERY WARM SSTS IN THE PHILIPPINE SEA. THE CYCLONE IS TRACKING ALONG THE SOUTHWESTERN PERIPHERY OF THE DEEP-LAYERED STR TO THE NORTHEAST.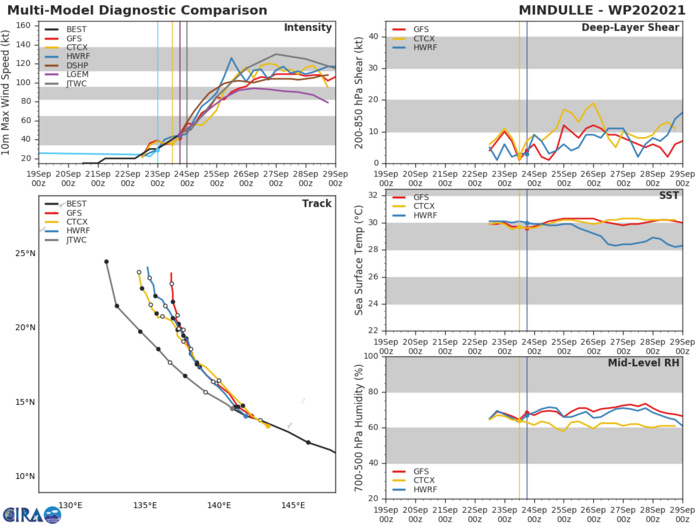 MODEL DISCUSSION: NUMERICAL MODELS ARE IN LOOSE AGREEMENT WITH THE TRACK FORECAST WITH THE SPREAD REACHING 1000 KM BY 120H MAINLY CAUSED BY A TIGHT CLUSTER OF TRACKERS INCLUDING UEMN, EGRR, AND AFUM THAT ARE ON THE EXTREME LEFT MARGIN OF THE MODEL ENVELOPE. IN VIEW OF THIS, THERE IS MEDIUM CONFIDENCE IN THE JTWC TRACK FORECAST UP TO 72H AND LOW CONFIDENCE AFTERWARD, PROPORTIONALLY ADJUSTED TO THE RIGHT OF THE MODEL CONSENSUS AFTER 72H TO OFFSET THE LEFT OUTLIERS. CONSEQUENTLY, THERE IS ALSO MEDIUM CONFIDENCE IN THE INTENSITY FORECAST UP TO 72H AND LOW AFTERWARD.
WESTERN PACIFIC.TD 21W(DIANMU) WARNING 5/FINAL ISSUED AT 23/15UTC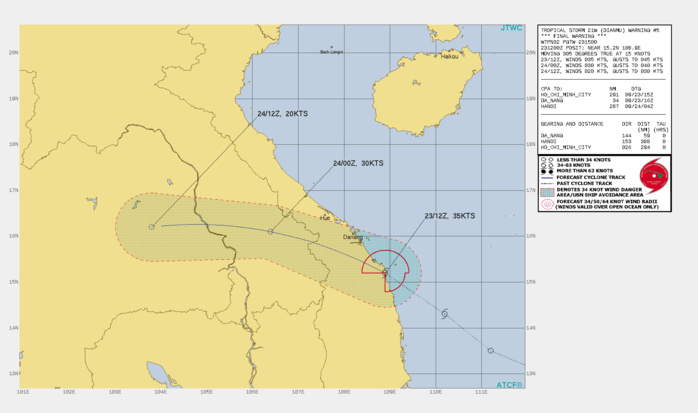 2121092100 114N1180E 15
2121092106 114N1175E 15
2121092112 114N1169E 15
2121092118 116N1163E 15
2121092200 119N1154E 15
2121092206 123N1143E 20
2121092212 128N1133E 25
2121092218 130N1124E 25
2121092300 135N1112E 30
2121092306 143N1102E 35
2121092312 152N1089E 35
NNNN
ATLANTIC. TS 18L(SAM). WARNING 6 ISSUED AT 24/03UTC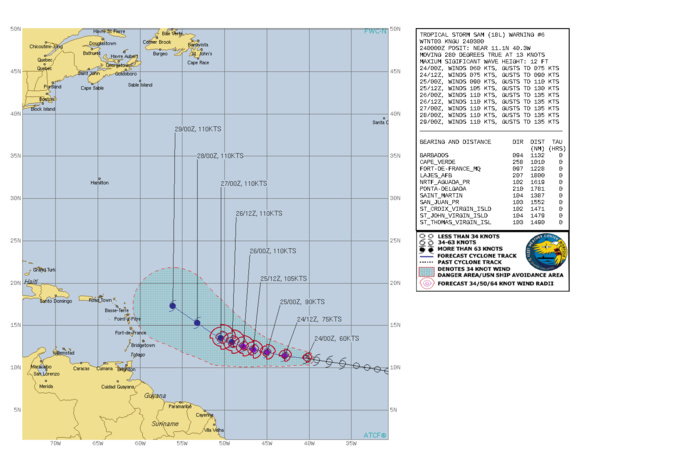 CURRENT INTENSITY IS 60KNOTS AND IS FORECAST TO PEAK AT 110KNOTS/CAT 3 BY 26/00UTC.
1821091900 103N 115W 15
1821091906 100N 131W 15
1821091912 98N 147W 15
1821091918 96N 163W 15
1821092000 95N 178W 20
1821092006 95N 193W 25
1821092012 93N 210W 25
1821092018 94N 228W 25
1821092100 95N 247W 25
1821092106 95N 261W 25
1821092112 95N 273W 25
1821092118 95N 285W 25
1821092200 96N 296W 25
1821092206 96N 307W 25
1821092212 98N 319W 30
1821092218 100N 331W 30
1821092300 102N 344W 30
1821092306 106N 360W 35
1821092312 108N 376W 45
1821092318 110N 391W 50
1821092400 111N 403W 60