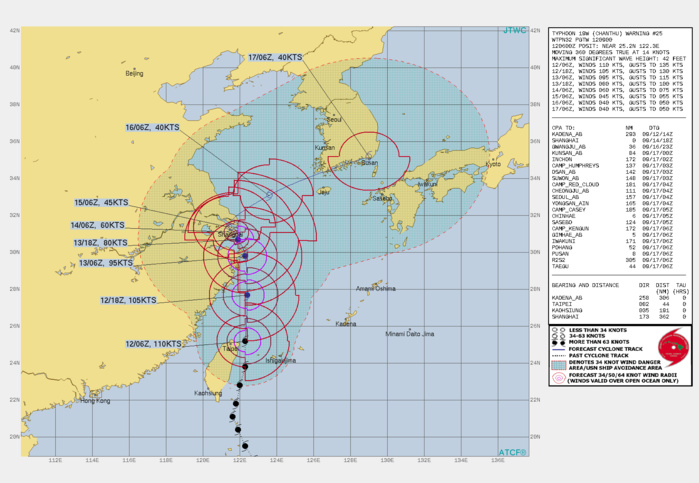 TY 19W(CHANTHU). WARNING 25 ISSUED AT 12/09UTC.SIGNIFICANT FORECAST CHANGES: THERE ARE NO SIGNIFICANT CHANGES TO THE FORECAST FROM THE PREVIOUS WARNING. FORECAST DISCUSSION: TY 19W IS FORECAST TO CONTINUE TRACKING NORTHWARD ALONG THE WESTERN PERIPHERY OF THE DEEP-LAYER SUBTROPICAL RIDGE(STR) TO THE EAST THROUGH 24H, BEFORE ENTERING A WEAK STEERING ENVIRONMENT BETWEEN A TRIO OF RIDGES TO THE NORTHWEST, EAST AND SOUTHWEST. ONCE THE SYSTEM ENTERS THE WEAK STEERING PATTERN, IT WILL SLOW SIGNIFICANTLY AND STALL IN THE VICINITY OF SHAHGHAI, REMAINING QUASI-STATIONARY OR DRIFTING SLIGHTLY POLEWARD BETWEEN 36H AND 72H. AN APPROACHING DEEP MID-LATITUDE TROUGH WILL BEGIN TO ERODE THE RIDGE TO THE WEST BY 72H AND BY 96H, TY 19W WILL BEGIN TO ACCELERATE TO THE EAST ALONG THE NORTHWEST BOUNDARY OF THE DEEP STR TO THE SOUTHEAST AND AHEAD OF THE TROUGH. AS THE SYSTEM MOVES OVER THE SOUTHERN COAST OF KOREA BY 120H IT IS EXPECTED TO BEGIN EXTRATROPICAL TRANSITION (ETT) AS IT INTERACTS WITH THE BAROCLINIC ZONE, EMBEDS WITHIN THE UPPER-LEVEL WESTERLIES AND DEVELOPS MODERATE THERMAL ADVECTION. TY 19W IS EXPECTED TO STEADILY WEAKEN OVER THE NEXT 72 HOURS AS IT ENCOUNTERS MID-LEVEL NORTHWESTERLY SHEAR, DECREASING OUTFLOW AND DECREASING MID-LEVEL RELATIVE HUMIDITY. ONCE IT BECOMES QUASI-STATIONARY NEAR SHANGHAI. ONCE IT BEGINS MOVING NORTHEAST, SYSTEM WILL MAINTAIN MINIMAL TROPICAL STORM STRENGTH AS THE COMPETING EFFECTS OF STRONG POLEWARD OUTFLOW AND MODERATE TO STRONG VWS OFFSET ONE ANOTHER PRIOR TO ETT.
1921090506 123N1397E 15
1921090512 126N1395E 20
1921090518 130N1389E 20
1921090600 135N1385E 20
1921090606 141N1382E 25
1921090612 148N1379E 35
1921090618 152N1373E 45
1921090700 156N1366E 50
1921090706 161N1357E 70
1921090712 163N1346E 95
1921090718 163N1335E 125
1921090800 160N1323E 130
1921090806 156N1313E 140
1921090812 155N1303E 135
1921090818 153N1291E 135
1921090900 155N1281E 140
1921090906 157N1272E 130
1921090912 161N1260E 120
1921090918 166N1250E 120
1921091000 171N1241E 130
1921091006 179N1235E 145
1921091012 187N1228E 150
1921091018 195N1223E 155
1921091100 204N1219E 145
1921091106 211N1216E 135
1921091112 218N1218E 120
1921091118 228N1220E 115
1921091200 238N1223E 110
1921091206 252N1223E 110
NNNN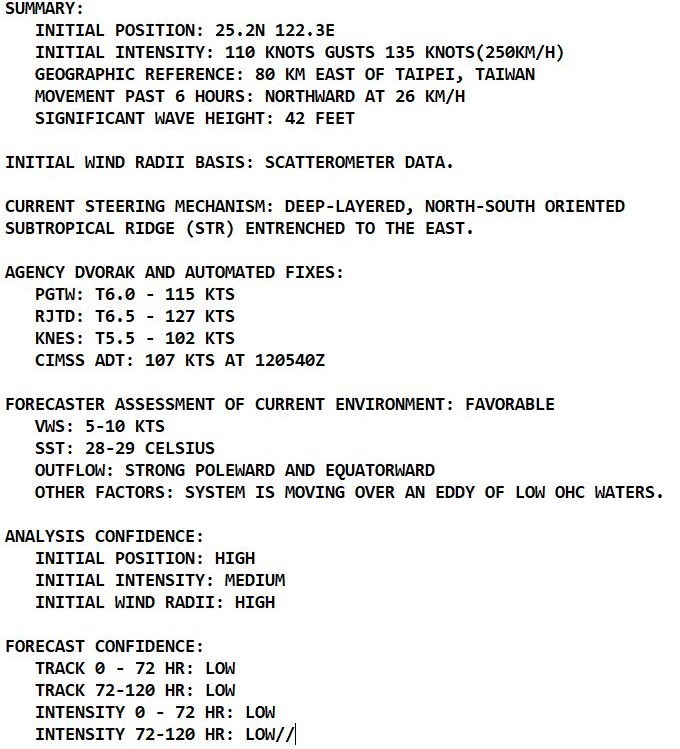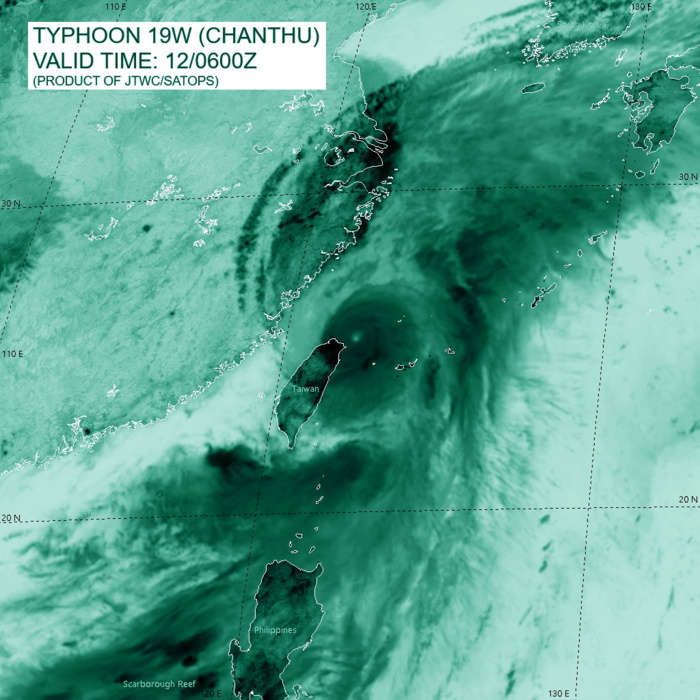 TY 19W(CHANTHU). SATELLITE ANALYSIS, INITIAL POSITION AND INTENSITY DISCUSSION: TY 19W APPEARS TO HAVE COMPLETED ANOTHER EYEWALL REPLACEMENT CYCLE (ERC) BASED ON THE SINGLE EYEWALL EVIDENT IN A PARTIAL 120650Z GMI 89GHZ MICROWAVE IMAGE. THE VISIBLE AND INFRARED EYE BY 0600Z HAD SHRUNK DOWN TO APPROXIMATELY 19-KM ONCE AGAIN. ANIMATED RADAR IMAGERY DEPICTED A SMALL CORE OF INTENSE CONVECTION AND A WELL DEFINED EYE. HOWEVER, BY THE 0600Z HOUR, INFRARED IMAGERY REVEALED WEAKENING CONVECTION AS EVIDENCED BY WARMING CLOUD TOP TEMPERATURES AND THE RADAR EYE WAS SHOWING SIGNS OF BECOMING INCREASINGLY RAGGED. THE CENTER OF TY 19W HAD TRACKED IN A SHALLOW ARC TO THE EAST BETWEEN 0000Z AND 0600Z, HOWEVER THE TRACK MADE GOOD OVER THAT TIME WAS DUE NORTH FROM THE PREVIOUS POSITION. THE INITIAL POSITION WAS ASSESSED WITH HIGH CONFIDENCE BASED ON THE MSI AND RADAR DATA. THE INITIAL INTENSITY WAS ASSESSED WITH MEDIUM CONFIDENCE BASED ON THE PGTW AND KNES CURRENT INTENSITY ESTIMATES BETWEEN 5.5-6.0 AND THE ADT ESTIMATE. RJTD DATA-T NUMBERS ARE 5.5 (102 KTS), WHILE THE CURRENT INTENSITY REMAINS HELD CONSERVATIVELY HIGH AT 6.5 (127 KTS). THE SYSTEM IS MOVING NORTHWARD THROUGH A GENERALLY FAVORABLE ENVIRONMENT WITH LOW VERTICAL WIND SHEAR AND ROBUST POLEWARD AND EQUATORWARD OUTFLOW CHANNELS. WHILE SSTS REMAIN WARM (28-29C), THE SYSTEM IS CURRENTLY MOVING INTO AN EDDY OF LOW OHC WATERS NORTHEAST OF TAIWAN.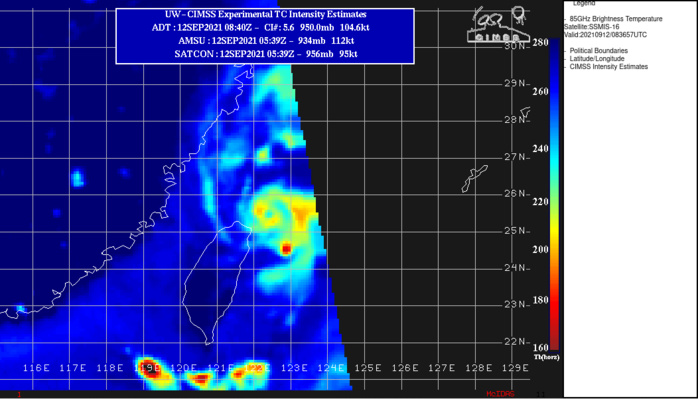 TY 19W(CHANTHU) APPEARS TO HAVE COMPLETED ANOTHER EYEWALL REPLACEMENT CYCLE (ERC) BASED ON THE SINGLE EYEWALL EVIDENT IN A PARTIAL 120836Z MICROWAVE IMAGE.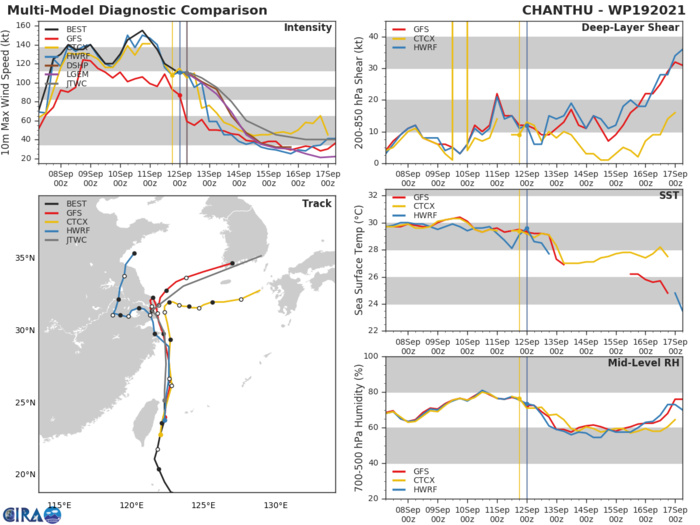 TY 19W(CHANTHU).MODEL DISCUSSION: TRACK GUIDANCE IS IN TIGHT AGREEMENT, WITH A 110KM SPREAD AT 24H. THEREAFTER GUIDANCE IS HIGHLY UNCERTAIN AS THE SYSTEM ENTERS THE WEAK STEERING PATTERN. ALL GUIDANCE SUGGESTS A QUASI-STATIONARY MOTION OVERALL, THOUGH MODELS ARE DIVIDED INTO TWO CAMPS; ONE CONSISTING OF THE HWRF, ECMWF, JGSM AND TO A LESSER DEGREE THE GFS, INDICATE A DRIFT OF THE CIRCULATION FAIRLY FAR INLAND TO THE WEST OF SHANGHAI BEFORE LOOPING BACK TO THE EAST AFTER 72H. THE REMAINDER OF THE CONSENSUS MEMBERS KEEP THE CENTER OFFSHORE OF SHANGHAI AND THEN RESUME THE EASTWARD TRACK AFTER 72H. THE JTWC FORECAST TRACK LIES CLOSE TO THE GFS SOLUTION WITH LOW CONFIDENCE DUE TO THE LARGE UNCERTAINTIES ASSOCIATED WITH THE MODEL SOLUTIONS. IN THE EXTENDED FORECAST, ALL GUIDANCE AGREES ON AN EJECTION OF THE SYSTEM TO THE EAST BY 96H WITH A 415KM SPREAD BY 120H. ALONG-TRACK SPREAD INCREASES AS THE SYSTEM UNDERGOES EXTRATROPICAL TRANSITION BUT THE BULK OF THE GUIDANCE IS CLUSTERED AROUND THE JTWC FORECAST, WITH LOW CONFIDENCE. INTENSITY GUIDANCE IS IN GOOD AGREEMENT ON THE OVERALL SCENARIO, AND THE JTWC FORECAST LIES JUST ABOVE THE CONSENSUS MEAN THROUGH THE FORECAST PERIOD. CONFIDENCE IS LOW DUE THE UNCERTAINTIES SURROUNDING THE EXACT TRACK AND INTERACTIONS WITH TERRAIN OVER EASTERN CHINA AND HOW STRONG THE SYSTEM MAY BE ONCE IT RESUMES THE EASTWARD TRACK.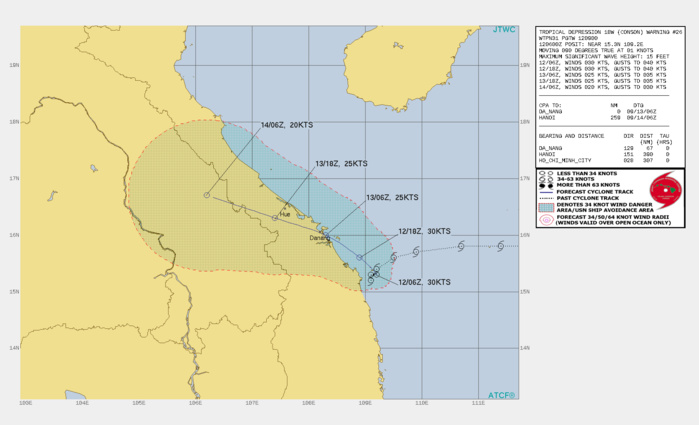 TD 18W(CONSON). WARNING 26 ISSUED AT 12/09UTC.SIGNIFICANT FORECAST CHANGES: THERE ARE NO SIGNIFICANT CHANGES TO THE FORECAST FROM THE PREVIOUS WARNING. FORECAST DISCUSSION: TD 18W IS CURRENTLY EMBEDDED IN A COMPLEX STEERING PATTERN WITH THREE RIDGES COMPETING TO DOMINATE THE STEERING FLOW. OVER THE NEXT 12 HOURS, THE RIDGE TO THE NORTH IS FORECAST TO WEAKEN AND MOVE EASTWARD, WHILE THE RIDGE TO THE EAST BUILDS IN OVER THE SOUTH CHINA SEA AND PUSHES TD 18W OUT OF ITS CURRENT QUASI-STATIONARY POSITION. THROUGH THE REMAINDER OF THE FORECAST PERIOD THE SYSTEM WILL TRACK NORTHWESTWARD ALONG THE WESTERN PERIPHERY OF DEEP SUBTROPICAL RIDGING. THE SYSTEM IS EXPECTED TO MAKE LANDFALL NEAR DA NANG, VIETNAM IN ABOUT 24 HOURS, BEFORE PROCEEDING FURTHER INLAND. DUE TO THE PERSISTENT HIGH VERTICAL WIND SHEAR, THE SYSTEM IS NOT EXPECTED TO INTENSIFY, AND WILL MAINTAIN ITS CURRENT INTENSITY THROUGH LANDFALL. ONCE OVER LAND, TERRAIN INTERACTION WILL LEAD TO RAPID DISSIPATION NO LATER THAN 48H.
1821090412 110N1319E 15
1821090418 111N1315E 15
1821090500 110N1310E 15
1821090506 108N1305E 15
1821090512 104N1296E 30
1821090518 102N1285E 40
1821090600 105N1275E 50
1821090606 108N1268E 60
1821090612 112N1259E 65
1821090618 115N1249E 60
1821090700 119N1243E 55
1821090706 125N1233E 50
1821090712 130N1228E 55
1821090718 133N1220E 55
1821090800 137N1214E 55
1821090806 141N1208E 55
1821090812 147N1201E 50
1821090818 148N1192E 50
1821090900 153N1183E 50
1821090906 160N1171E 50
1821090912 162N1150E 45
1821090918 161N1137E 45
1821091000 159N1130E 45
1821091006 158N1122E 45
1821091012 158N1114E 45
1821091018 158N1107E 50
1821091100 157N1099E 50
1821091106 156N1095E 50
1821091112 154N1092E 40
1821091118 152N1091E 35
1821091200 153N1091E 30
1821091206 153N1092E 30
NNNN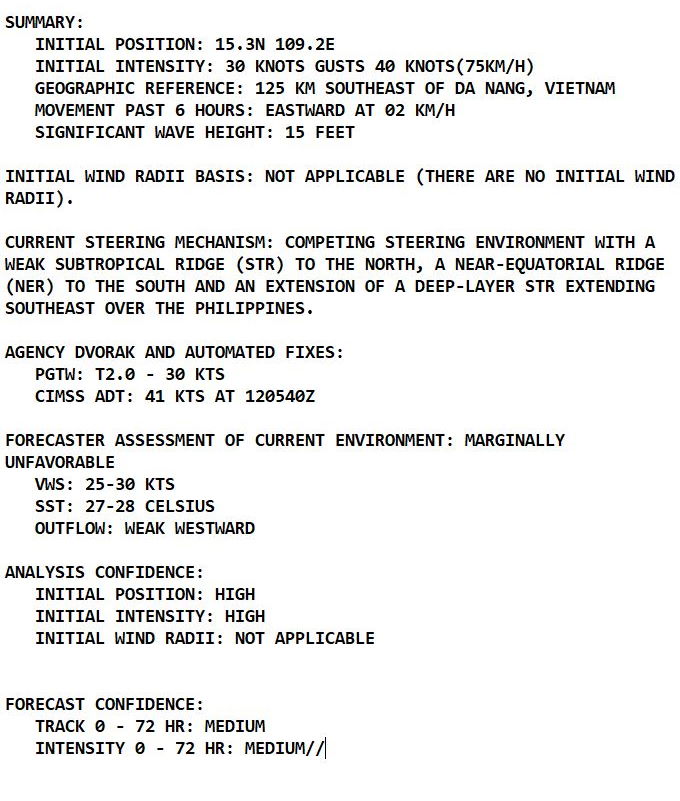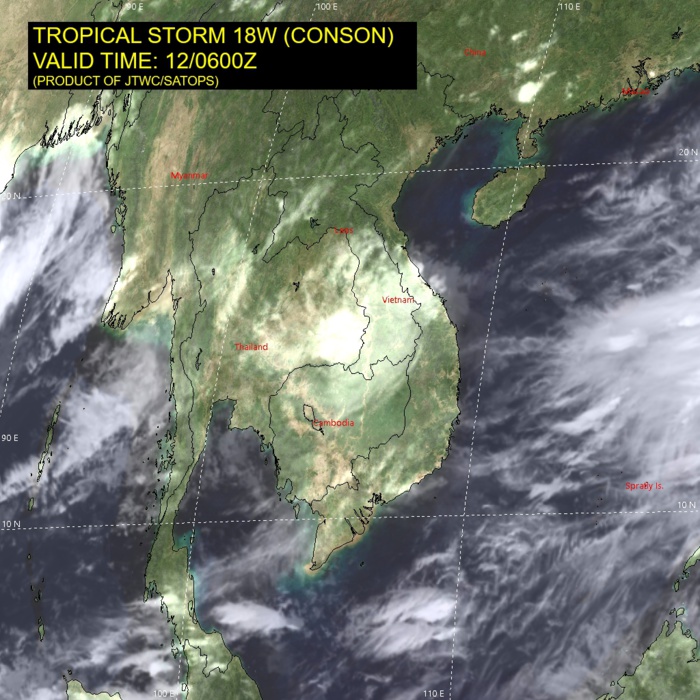 TD 18W(CONSON).SATELLITE ANALYSIS, INITIAL POSITION AND INTENSITY DISCUSSION: ANIMATED MULTISPECTRAL SATELLITE IMAGERY (MSI) DEPICTS A FULLY EXPOSED LOW LEVEL CIRCULATION CENTER (LLCC) WITH WELL DEFINED LOW LEVEL CLOUD BANDS WRAPPING INTO A CLEAR CENTER. ANIMATED RADAR IMAGERY PROVIDES ADDITIONAL SUPPORT AND LENT HIGH CONFIDENCE TO THE INITIAL POSITION. THE SYSTEM HAS REMAINED STATIONARY OVER THE PAST SIX HOURS, WITH ONLY VERY SLIGHT MOVEMENTS TOWARDS THE EAST. THE INITIAL INTENSITY OF 30 KNOTS IS ASSESSED WITH HIGH CONFIDENCE BASED ON PGTW CURRENT INTENSITY ESTIMATES OF 30 KNOTS, SUPPORTED BY A 120254Z ASCAT PASS WHICH SHOWED A SMATTERING OF 30 KNOT WINDS BOTH SOUTH AND NORTH OF THE LLCC. WHILE THE ADT CURRENT INTENSITY IS ASSESSED AT 41 KNOTS, THE RAW DATA T-NUMBER IS ONLY 1.5 (25 KNOTS) AND MORE SUPPORTIVE OF THE TRUE INTENSITY. ENVIRONMENTAL CONDITIONS ARE MARGINALLY UNFAVORABLE WITH HIGH (25-30 KTS) VWS OFFSETTING WEAK DIVERGENT OUTFLOW ALOFT AND WARM SSTS.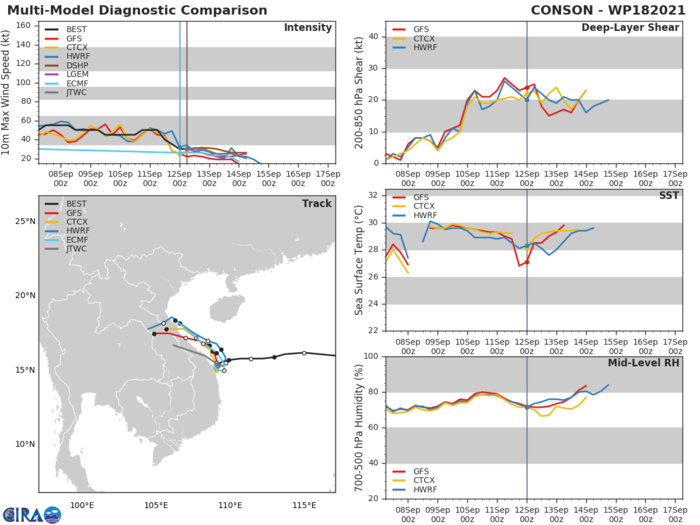 TD 18W(CONSON). MODEL DISCUSSION: THE BULK OF THE TRACK GUIDANCE, WITH THE EXCEPTION OF NAVGEM, SUPPORTS A TURN TO THE NORTH BY 12H, FOLLOWED BY AN ACCELERATION NORTHWESTWARD THROUGH THE REMAINDER OF THE FORECAST PERIOD, THOUGH THE GFS AND HWRF SOLUTIONS KEEP THE TRACK OFFSHORE UNTIL 48H. THE JTWC FORECAST IS A BIT FURTHER EAST THAN THE PREVIOUS FORECAST, AND CLOSELY TRACKS THE CONSENSUS MEAN WITH MEDIUM CONFIDENCE. THE JTWC INTENSITY FORECAST IS HELD SLIGHTLY HIGHER THAN THE GUIDANCE THROUGH 12H, THEN FOLLOWS THE CONSENSUS MEAN THEREAFTER WITH MEDIUM CONFIDENCE.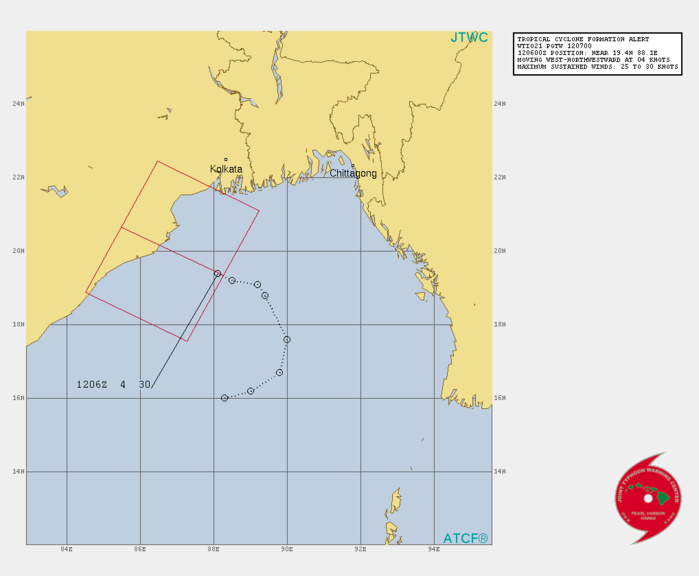 NORTH INDIAN. INVEST 95B. TROPICAL CYCLONE FORMATION ALERT ISSUED AT 12/07UTC.1. FORMATION OF A SIGNIFICANT TROPICAL CYCLONE IS POSSIBLE WITHIN 220 KM EITHER SIDE OF A LINE FROM 19.4N 88.2E TO 20.7N 85.5E WITHIN THE NEXT 12 TO 24 HOURS. AVAILABLE DATA DOES NOT JUSTIFY ISSUANCE OF NUMBERED TROPICAL CYCLONE WARNINGS AT THIS TIME. WINDS IN THE AREA ARE ESTIMATED TO BE 25 TO 30 KNOTS. METSAT IMAGERY AT 120600Z INDICATES THAT A CIRCULATION CENTER IS LOCATED NEAR 19.4N 88.1E. THE SYSTEM IS MOVING WEST-NORTHWESTWARD AT 07 KM/H. 2. REMARKS:AN AREA OF CONVECTION HAS PERSISTED NEAR 19.4N 88.1E, APPROXIMATELY 340 KM SOUTH OF KOLKATA. ANIMATED MULTISPECTRAL IMAGERY DEPICTS DEEP CONVECTION SURROUNDING MOST OF THE BROAD LOW LEVEL CIRCULATION CENTER (LLCC), WHILE STEADILY CONSOLIDATING. ENVIRONMENTAL ANALYSIS NOW INDICATES A FAVORABLE ENVIRONMENT DUE TO A DECREASE IN VERTICAL WIND SHEAR (VWS) FROM MODERATE TO LOW (10KT), GOOD EQUATORWARD OUTFLOW ALOFT AND VERY WARM (30C) SEA SURFACE TEMPERATURES (SST). MAXIMUM SUSTAINED SURFACE WINDS ARE ESTIMATED AT 25-30 KNOTS. MINIMUM SEA LEVEL PRESSURE IS ESTIMATED TO BE NEAR 996 MB. THE POTENTIAL FOR THE DEVELOPMENT OF A SIGNIFICANT TROPICAL CYCLONE WITHIN THE NEXT 24 HOURS IS HIGH. //
9521091012 160N 883E 25
9521091018 162N 890E 25
9521091100 167N 898E 25
9521091106 176N 900E 25
9521091112 188N 894E 25
9521091118 191N 892E 25
9521091200 192N 885E 25
9521091206 194N 881E 30
NNNN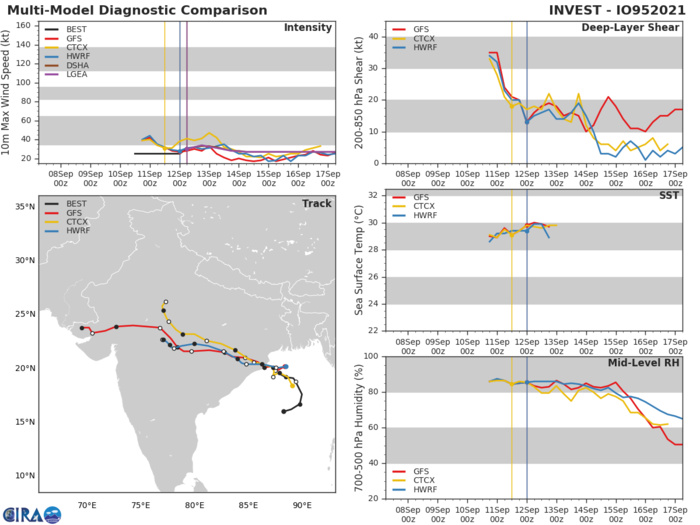 INVEST 95B. GLOBAL MODELS ARE GOOD IN AGREEMENT THAT INVEST 95B WILL CONTINUE TO CONSOLIDATE AND TRACK NORTHWESTWARD OVER THE NEXT 12 TO 24 HOURS AND THERE EXISTS A BRIEF WINDOW OF OPPORTUNITY FOR THE SYSTEM TO REACH MINIMAL TROPICAL STORM STRENGTH(35KNOTS) PRIOR TO LANDFALL ALONG THE NORTHEAST COAST OF INDIA.
IF NEEDED CLICK ON THE IMAGERY TO GET IT ANIMATED