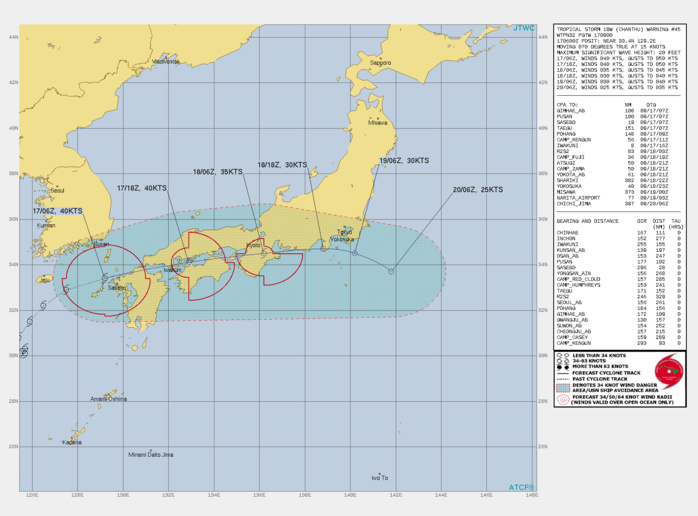 TS 19W(CHANTHU). WARNING 45 ISSUED AT 17/09UTC.SIGNIFICANT FORECAST CHANGES: THERE ARE NO SIGNIFICANT CHANGES TO THE FORECAST FROM THE PREVIOUS WARNING. FORECAST DISCUSSION: TS 19W HAS ROUNDED THE RIDGE AXIS AND IS NOW ACCELERATING TOWARDS THE EAST-NORTHEAST. THE SYSTEM HAS SKIRTED THE NORTHWESTERN TIP OF KYUSHU AND IS RAPIDLY MOVING TOWARDS A LANDFALL IN THE VICINITY OF FUKUOKA IN THE NEXT COUPLE OF HOURS. IT IS FORECAST TO CONTINUE MOVING GENERALLY EASTWARD, THROUGH THE INLAND SEA AND EMERGE BACK OVER THE PACIFIC JUST AFTER 24H. AS THE SYSTEM MOVES THROUGH THE INLAND SEA, INTERACTION WITH THE COMPLEX AND RUGGED TERRAIN WILL, IN CONJUNCTION WITH STEADILY INCREASING WESTERLY SHEAR, LEAD TO STEADY WEAKENING THROUGH THE FORECAST PERIOD. ANALYSIS OF 500MB DATA INDICATES A SMALL SHORT-WAVE TROUGH JUST WEST OF THE SYSTEM, WHICH IS EXPECTED TO MOVE IN PHASE WITH TS 19W OVER THE NEXT 24 HOURS, FACILITATING THE START OF EXTRA-TROPICAL TRANSITION (ETT). HOWEVER, BY 36H THIS SHORTWAVE TROUGH WILL OUTPACE TS 19W, PUTTING IT UNDER CONVERGENT FLOW ALOFT LEADING TO FURTHER WEAKENING AFTER 48H AS THE SYSTEM MOVES BACK OVER WATER. GLOBAL MODELS CONTINUE TO SHOW THE DEVELOPMENT OF A SECONDARY LOW PRESSURE AREA, A POSSIBLE TRIPLE POINT LOW, TO THE WEST OF HONSHU, WHICH THEN MOVES NORTHEAST IN PHASE WITH THE SHORTWAVE TROUGH MENTIONED EARLIER. THIS LOW THEN BECOMES THE DOMINATE EXTRA-TROPICAL SYSTEM, DEVELOPING STRONG FRONTAL FEATURES WHICH WILL EXTEND SOUTHWESTWARD TO THE VICINITY OF TS 19W, WHICH WILL MERGE WITH THE FRONT BOUNDARY SOUTH OF TOKYO. STRONG RIDGING BUILDING INTO FROM THE NORTHWEST BEHIND THE PRIMARY LOW WILL BLOCK FURTHER NORTHEAST MOVEMENT OF TS 19W AND THE SYSTEM IS EXPECTED TO SLOW AND TURN SOUTH TO THE SOUTHEAST OF TOKYO AFTER 48H, ALONG THE TAIL END OF THE DECAYING FRONTAL BOUNDARY. TS 19W WILL COMPLETE ETT BY 36H AND WILL REMAIN A WEAK EXTRA-TROPICAL LOW THROUGH 72H, WHILE SLOWLY DISSIPATING.
1921090506 123N1397E 15
1921090512 126N1395E 20
1921090518 130N1389E 20
1921090600 135N1385E 20
1921090606 141N1382E 25
1921090612 148N1379E 35
1921090618 152N1373E 45
1921090700 156N1366E 50
1921090706 161N1357E 70
1921090712 163N1346E 95
1921090718 163N1335E 125
1921090800 160N1323E 130
1921090806 156N1313E 140
1921090812 155N1303E 135
1921090818 153N1291E 135
1921090900 155N1281E 140
1921090906 157N1272E 130
1921090912 161N1260E 120
1921090918 166N1250E 120
1921091000 171N1241E 130
1921091006 179N1235E 145
1921091012 187N1228E 150
1921091018 195N1223E 155
1921091100 204N1219E 145
1921091106 211N1216E 135
1921091112 218N1218E 120
1921091118 228N1220E 115
1921091200 238N1223E 110
1921091206 252N1223E 105
1921091212 263N1227E 95
1921091218 275N1232E 90
1921091300 290N1236E 85
1921091306 307N1234E 75
1921091312 310N1234E 65
1921091318 311N1236E 55
1921091400 313N1238E 50
1921091406 307N1243E 45
1921091412 305N1249E 40
1921091418 303N1253E 35
1921091500 303N1257E 35
1921091506 301N1257E 45
1921091512 301N1255E 45
1921091518 302N1252E 50
1921091600 304N1251E 55
1921091606 308N1254E 55
1921091612 315N1259E 50
1921091618 322N1265E 45
1921091700 329N1275E 45
1921091706 334N1292E 40
NNNN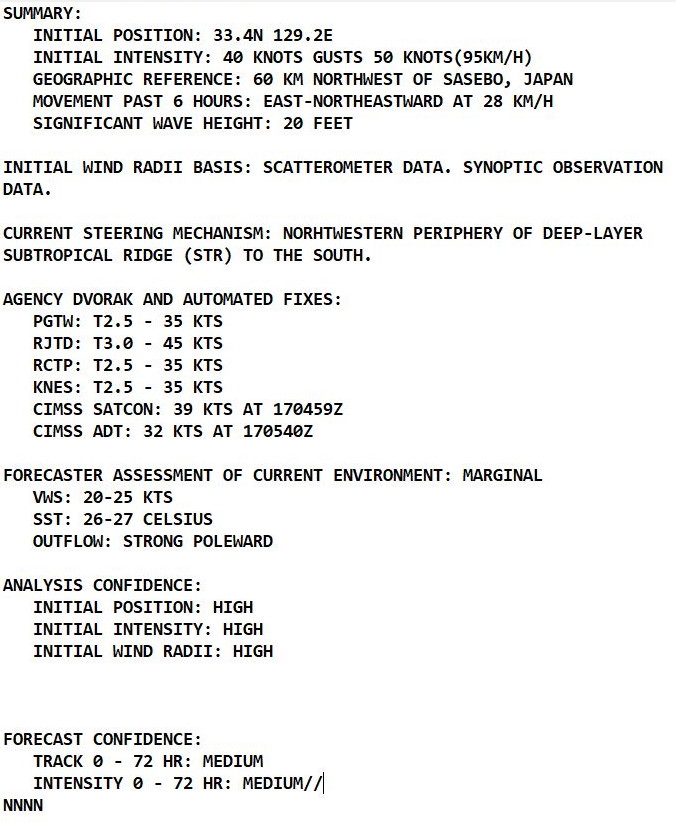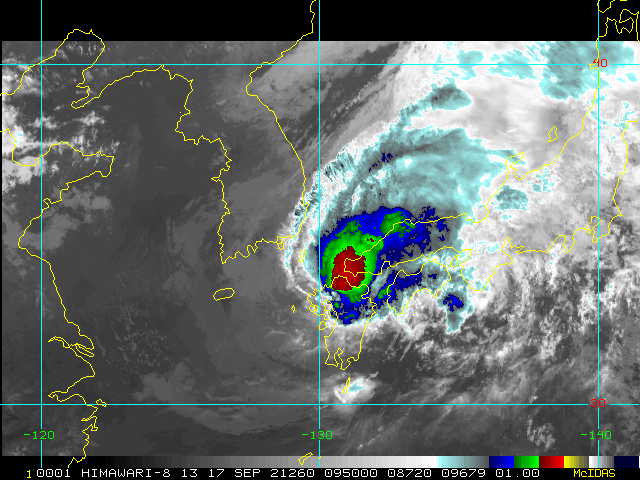 TS 19W(CHANTHU).SATELLITE ANALYSIS, INITIAL POSITION AND INTENSITY DISCUSSION: ANIMATED MULTISPECTRAL SATELLITE IMAGERY (MSI) AND ANIMATED JMA RADAR DATA INDICATE THE SYSTEM WAS CROSSING JUST OFFSHORE OF IKITSUKI-SHIMA AT THE 0600Z HOUR HAD NOT YET MADE LANDFALL. ANIMATED MULTISPECTRAL SATELLITE IMAGERY (MSI) DEPICTED A PARTIALLY EXPOSED LOW LEVEL CIRCULATION CENTER (LLCC) WITH SHEARED, FLARING CONVECTION TO THE NORTHEAST. THE INITIAL POSITION IS PLACED WITH HIGH CONFIDENCE BASED ON THE PARTIALLY EXPOSED LLCC AND THE RADAR DATA. THE INITIAL INTENSITY HAS BEEN LOWERED TO 40 KNOTS WITH HIGH CONFIDENCE BASED ON A COMBINATION OF FACTORS. AGENCY CURRENT INTENSITY ESTIMATES RANGE BETWEEN T2.5-T3.0 (35-45 KNOTS), WHILE ADT WAS A PALTRY 32 KNOTS AND SATCON WAS 39 KNOTS, PLACING THE INITIAL INTENSITY SQUARELY IN THE AVERAGE OF THESE DATA. ADDITIONALLY, SURFACE OBSERVATIONS FROM THE REGION AT 0600Z SHOWED PRESSURES BETWEEN 994-997MB, WHICH WOULD SUPPORT A 40 KNOT SYSTEM. LASTLY, WIND READINGS FROM NAGASAKI WERE 41 KNOTS SUSTAINED WITH GUSTS TO 60 KNOTS, 29 KNOTS GUSTING TO 40 KNOTS AT SAGA AND 28 KNOTS GUSTING TO 40 KNOTS AT SASEBO. THE SYSTEM IS MOVING THROUGH AN INCREASINGLY HOSTILE ENVIRONMENT, WITH MODERATE AND INCREASING WESTERLY SHEAR OFFSETTING STRONG POLEWARD OUTFLOW.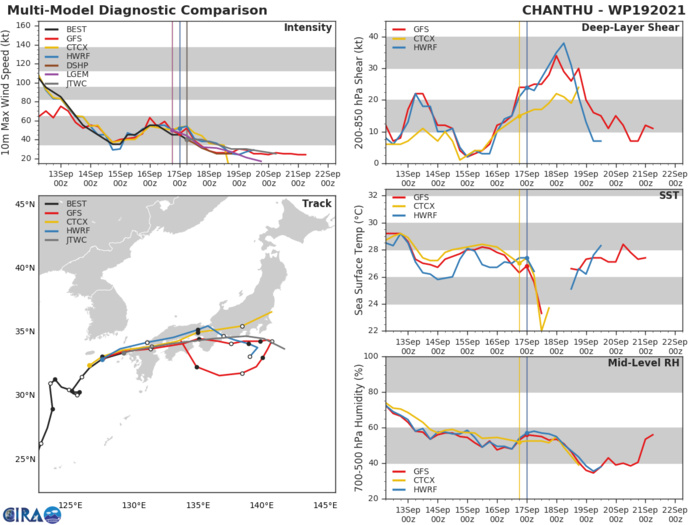 TS 19W(CHANTHU). MODEL DISCUSSION: WITH THE EXCEPTION OF GALWEM, WHICH APPARENTLY JUMPS CIRCULATIONS TO THE EXTRA-TROPICAL SYSTEM WEST OF HONSHU AND TRACKS RAPIDLY NORTHEAST, TRACK GUIDANCE IS IN FAIRLY GOOD AGREEMENT WITH AN 160KM SPREAD AT 24H. AFTER 24H, AS THE SYSTEM BECOMES INCREASINGLY BROAD AND DISORGANIZED, THE GUIDANCE DIVERGES, WITH ALL TRACKERS WITH THE EXCEPTION OF THE ECMWF ENSEMBLE, AGREEING ON A SLOW TRACK PASSING SOUTH OF TOKYO FOLLOWED BY A TURN SOUTHWARD AFTER 48H. THE JTWC FORECAST LIES ON THE NORTH SIDE OF THE GUIDANCE ENVELOPE THROUGH 48H, THEN JUST EAST OF THE CONSENSUS MEAN THROUGH 72H. OVERALL CONFIDENCE IS MEDIUM, WITH SIGNIFICANT UNCERTAINTY AFTER 36H. THE JTWC INTENSITY FORECAST IS SLIGHTLY HIGHER THAN THE CONSENSUS MEAN WITH MEDIUM CONFIDENCE.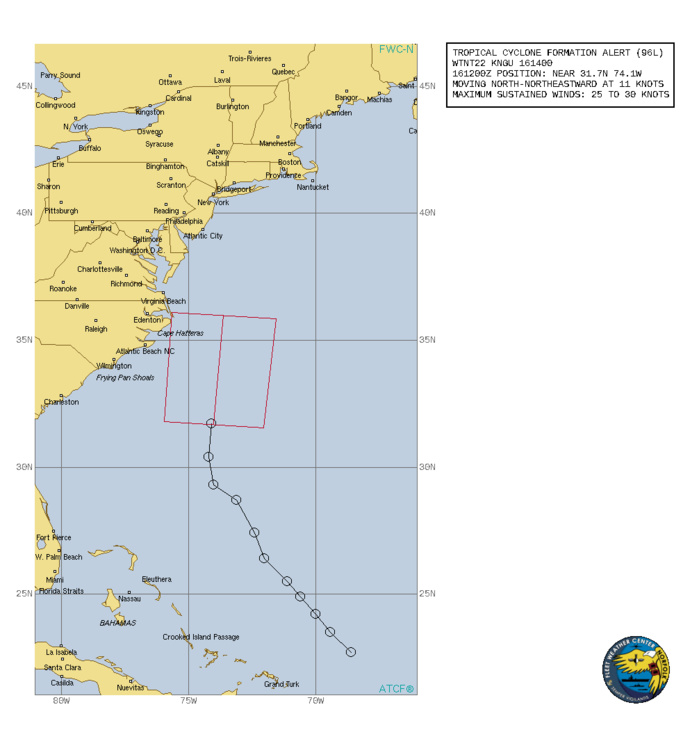 ATLANTIC. INVEST 96L. TROPICAL CYCLONE FORMATION ALERT ISSUED AT 16/14UTC.
9621091400 227N 686W 20
9621091406 235N 694W 20
9621091412 242N 700W 20
9621091418 249N 706W 20
9621091500 255N 711W 25
9621091506 264N 720W 25
9621091512 274N 724W 30
9621091518 287N 731W 30
9621091600 293N 740W 30
9621091606 304N 742W 30
9621091612 317N 741W 30
9621091618 326N 753W 30
9621091700 335N 753W 30
9621091706 340N 750W 30