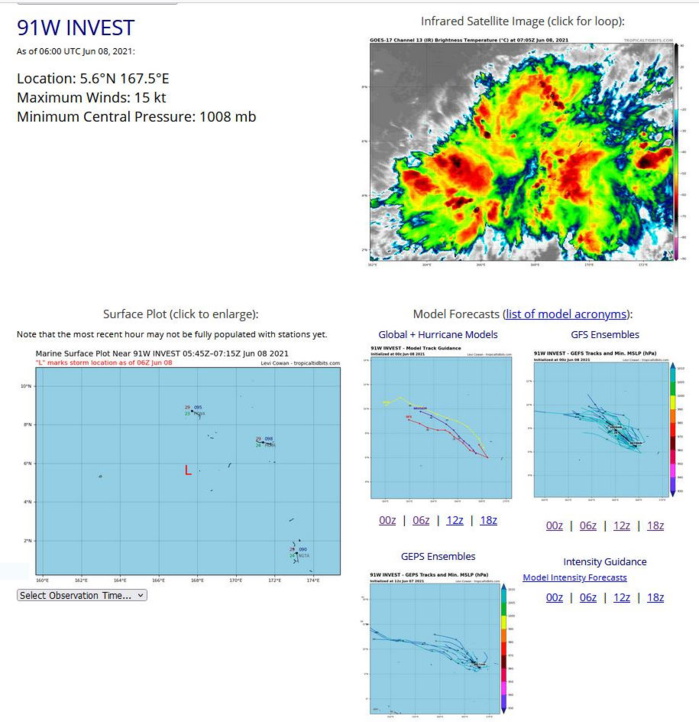 INVEST 91W.ANIMATED MULTISPECTRAL SATELLITE IMAGERY SHOWS A CONSOLIDATING AREA OF CONVECTION AROUND A LOW LEVEL CIRCULATION. A 080502Z SSMIS 91GHZ MICROWAVE PASS DEPICTS DISORGANIZED CONVECTIVE BANDS WRAPPING INTO THE LLC. INVEST 91W IS IN AN ENVIRONMENT FAVORABLE FOR TROPICAL DEVELOPMENT WITH GOOD EQUATORWARD OUTFLOW ALOFT, LOW (5-10KTS) VERTICAL WIND SHEAR (VWS) AND WARM (30-31C) SEA SURFACE TEMPERATURES (SST). GLOBAL MODELS ARE NOT IN AGREEMENT WITH A TROPICAL CYCLONE DEVELOPING FROM INVEST 91W, HOWEVER, JTWC WILL CLOSELY MONITOR FOR POTENTIAL DEVELOPMENT DUE TO A FAVORABLE APPEARANCE IN SATELLITE ANALYSIS.
2021 JUNE 08 07UTC #WESTERNNORTHPACIFIC
INVEST #91W
UPDATE
As of 06:00 UTC June 08, 2021:
Location: 5.6°N 167.5°E
Maximum Winds: 15 kt
Minimum Central Pressure: 1008 mb
LOCATED AT 08/06UTC APPROXIMATELY 340KM SOUTH-SOUTHWEST OF KWAJALEIN ATOLL.
CURRENT POTENTIAL FOR THE NEXT 24HOURS: LOW
Cheers,
Patrick Hoareau
JTWC PH
ILES SOEURS
Joint Typhoon Warning Center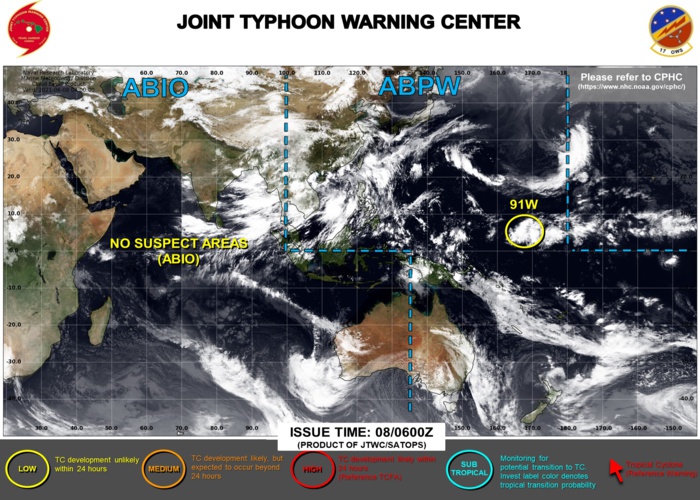 08/06UTC. INVEST 91W NOW ON THE MAP: LOW CHANCES OF DEVELOPING 25KNOT WINDS NEAR ITS CENTER WITHIN 24HOURS.