CLICK TO ANIMATE.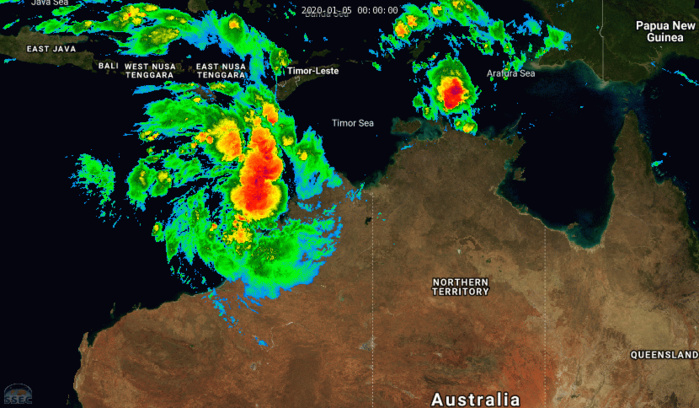 INVEST 91S SOUTH INDIAN
As of 00:00 UTC Jan 05, 2020:
Location: 15.7°S 121.1°E
Maximum Winds: 30 kt ( 55km/h)
Gusts: 40 kt ( 75km/h)
Minimum Central Pressure: 1003 mb
WTXS21 PGTW 050330
MSGID/GENADMIN/JOINT TYPHOON WRNCEN PEARL HARBOR HI//
SUBJ/TROPICAL CYCLONE FORMATION ALERT (INVEST 91S)//
RMKS/
1. FORMATION OF A SIGNIFICANT TROPICAL CYCLONE IS POSSIBLE WITHIN
120 NM EITHER SIDE OF A LINE FROM 14.9S 121.2E TO 19.0S 120.9E
WITHIN THE NEXT 12 TO 24 HOURS. AVAILABLE DATA DOES NOT JUSTIFY
ISSUANCE OF NUMBERED TROPICAL CYCLONE WARNINGS AT THIS TIME.
WINDS IN THE AREA ARE ESTIMATED TO BE 28 TO 33 KNOTS. METSAT
IMAGERY AT 050000Z INDICATES THAT A CIRCULATION CENTER IS LOCATED
NEAR 15.7S 121.1E. THE SYSTEM IS MOVING SOUTHWARD AT 14 KNOTS.
2. REMARKS: THE AREA OF CONVECTION (INVEST 91S) PREVIOUSLY LOCATED
NEAR 13.7S 120.3E IS NOW LOCATED NEAR 15.7S 121.1E, APPROXIMATELY
145 NM NORTHWEST OF BROOME, AUSTRALIA. ANIMATED ENHANCED INFRARED
SATELLITE IMAGERY SHOWS A WELL-ORGANIZED SYSTEM THAT AGENCIES ARE
NOW FIXING ON. A 042225Z SSMIS 91GHZ MICROWAVE IMAGE REVEALS A
CONSOLIDATING LOW LEVEL WITH BANDING WRAPPING INTO THE LOW LEVEL
CIRCULATION CENTER, AND A 050051Z METOP-A PARTIAL ASCAT PASS TO THE
EAST SHOWS A VERY BROAD AREA OF 25-30 KT WINDS STRETCHING OVER 100NM
TO THE NORTH AND SOUTH OF THE CENTER. NEARBY OBSERVATIONS REPORT
WINDS FROM 25-30 KTS AND PRESSURE FALLS TO 1002MB. THE ENVIRONMENT
IS FAVORABLE WITH GOOD EQUATORWARD AND ROBUST POLEWARD OUTFLOW, A
SMALL POCKET OF LOW TO MODERATE (15-20 KNOT) VERTICAL WIND SHEAR AND
WARM (30-31 DEGREES CELSIUS) SEA SURFACE TEMPERATURES. GLOBAL MODELS
AGREE THAT THE SYSTEM WILL QUICKLY CONSOLIDATE AND INTENSIFY WITHIN
12-24 HOURS WHILE TRACKING POLEWARD TOWARDS AUSTRALIA. MAXIMUM
SUSTAINED SURFACE WINDS ARE ESTIMATED AT 28 TO 33 KNOTS. MINIMUM SEA
LEVEL PRESSURE IS ESTIMATED TO BE NEAR 1001 MB. THE POTENTIAL FOR
THE DEVELOPMENT OF A SIGNIFICANT TROPICAL CYCLONE WITHIN THE NEXT 24
HOURS IS HIGH.
TROPICAL CYCLONE FORMATION ALERT
TRACK AND INTENSITY GUIDANCE
DMSP 04/2201UTC. BROAD AREA OF INTENSE CONVECTION.
05/00UTC