2021 JUNE 21 0230UTC #WESTERNNORTHPACIFIC
TD #06W
WARNING 1
As of 00:00 UTC June 21, 2021:
Location: 11.2°N 147.4°E
Maximum Winds: 30 kt ( 55km/h)
Gusts: 40 kt ( 75km/h)
Minimum Central Pressure: 1002 mb
INTENSIFYING
LOCATED AT 21/00UTC APPROXIMATELY 390 KM SOUTHEAST OF ANDERSEN AFB, HAS TRACKED WEST-NORTHWESTWARD AT
19 KM/H OVER THE PAST SIX HOURS.
Satellite bulletins are to be found in the comments of this post on
JTWC BIS
Cheers,
Patrick Hoareau
JTWC PH
ILES SOEURS
Joint Typhoon Warning Center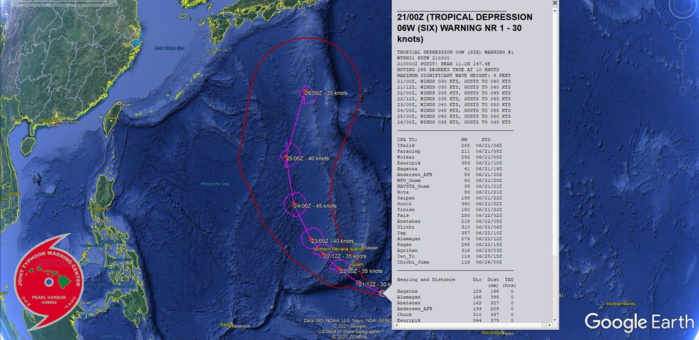 WARNING 1 ISSUED AT 21/03UTC.THE UPPER-LEVEL ENVIRONMENT IS MARGINALLY FAVORABLE DUE TO THE WEAK POLEWARD OUTFLOW INTO A NARROW, WEAK TUTT POSITIONED TO THE NORTH. THIS IS OFFSET SOMEWHAT BY WARM SST VALUES AND LOW VERTICAL WIND SHEAR. AGENCY DVORAK AND AUTOMATED FIXES: PGTW: T2.0 - 30 KTS KNES: T1.5 - 25 KTS FORECASTER ASSESSMENT OF CURRENT ENVIRONMENT: MARGINALLY FAVORABLE : VERTICAL WIND SHEAR: 5-10 KTS / SST: 29-30 CELSIUS / OUTFLOW: WEAK POLEWARD // ANALYSIS CONFIDENCE: INITIAL POSITION: MEDIUM/ INITIAL INTENSITY: MEDIUM / INITIAL WIND RADII: NOT APPLICABLE .TD 06W IS FORECAST TO TRACK AROUND THE SOUTHWEST PERIPHERY OF THE DEEP-LAYERED SUBTROPICAL RIDGE(STR) THEN POLEWARD THROUGH THE REMAINDER OF THE FORECAST PERIOD. THE SYSTEM SHOULD SLOW SLIGHTLY AS IT ROUNDS THE STR THEN ACCELERATE AS IT APPROACHES A SHORTWAVE TROUGH EXPECTED TO DIG SOUTH OF HONSHU. DUE TO THE WEAK OUTFLOW AND FORMATIVE LOW-LEVEL CONVECTIVE STRUCTURE, THE SYSTEM WILL INTENSIFY SLOWLY AS IT APPROACHES GUAM WITH A SLIGHT INCREASE IN INTENSITY TO 35 KNOTS BY 24H THEN GRADUAL INTENSIFICATION TO A PEAK OF 45 KNOTS BY 72H. AFTER 72H, THE SYSTEM WILL WEAKEN DUE TO INCREASING NORTHERLY VERTICAL WIND SHEAR ASSOCIATED WITH THE UPPER-LEVEL STR TO THE NORTHWEST AND A TUTT CELL FORECAST TO TRACK SOUTHEAST OF HONSHU BY 72H.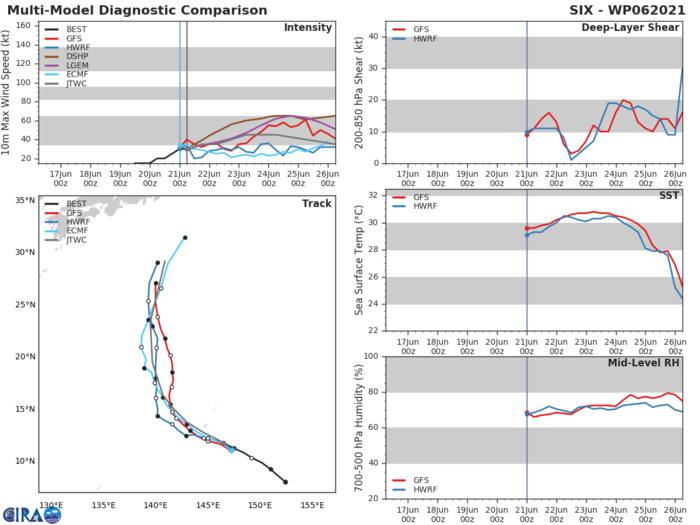 MODEL DISCUSSION: NUMERICAL MODEL GUIDANCE, IN GENERAL, SUPPORTS THE FORECAST TRACK JUST SOUTH OF GUAM WITH A SPREAD OF 115KM AT 24H. THE JTWC FORECAST TRACK IS POSITIONED CLOSE TO THE MULTI-MODEL CONSENSUS BUT SLIGHTLY POLEWARD TOWARD THE ECMF AND EEMN SOLUTIONS, WHICH ARE ON THE NORTHERN EDGE OF THE AIDS ENVELOPE. THE PRIMARY REASON FOR THIS ADJUSTMENT IS THAT THE ECMF AND EEMN INITIALIZED THE SYSTEM CENTER BETTER THAN GFS, WHICH WAS A BIT FURTHER SOUTH. AFTER 24H, THE BULK OF THE GUIDANCE REMAINS IN CLOSE AGREEMENT WITH THE JTWC FORECAST TRACK WITH THE EXCEPTION OF THE UKMO ENSEMBLE MEAN AND THE GFS TRACKERS, WHICH DIVERGE SIGNIFICANTLY ON THE WESTERN AND EASTERN SIDES OF THE AIDS ENVELOPE. FORECAST CONFIDENCE: TRACK 0 - 72 HR: MEDIUM TRACK 72-120 HR: LOW INTENSITY 0 - 72 HR: HIGH INTENSITY 72-120 HR: MEDIUM//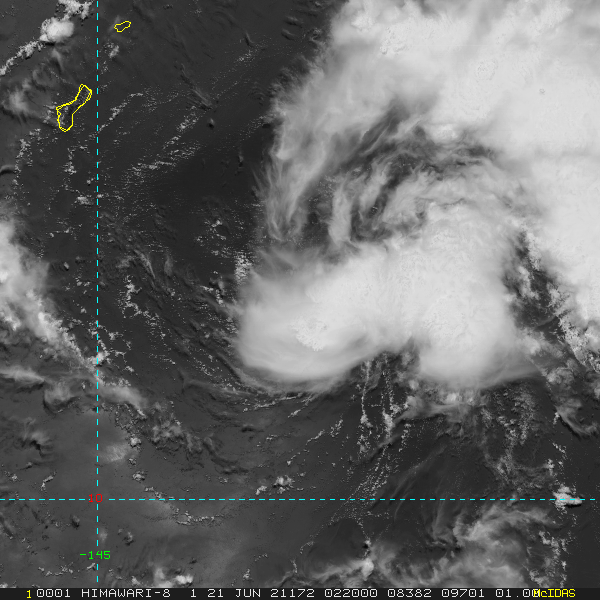 21/0220UTC.ANIMATED MULTISPECTRAL SATELLITE IMAGERY DEPICTS A PARTIALLY EXPOSED LOW LEVEL CIRCULATION CENTER WITH DEEP CONVECTIVE BURSTS OVER THE CENTER AND PERSISTENT CONVECTIVE BANDING DISPLACED OVER THE EASTERN AND NORTHERN SEMICIRCLES. A 202341Z MHS 89GHZ MICROWAVE IMAGE INDICATES FRAGMENTED, FORMATIVE BANDING PRIMARILY OVER THE NORTHERN SEMICIRCLE.