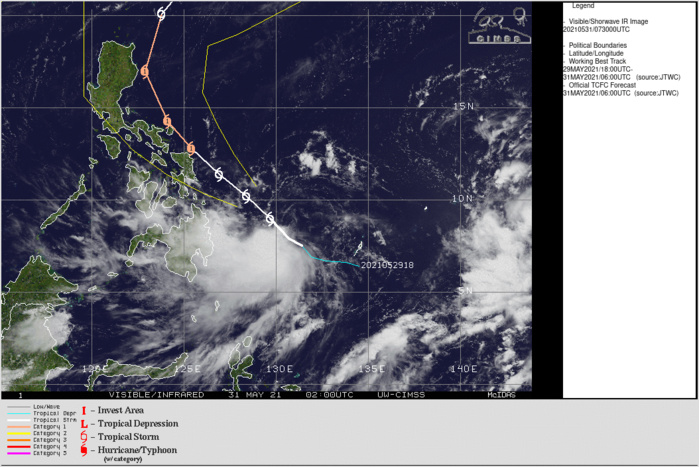 TS 04W(CHOI-wan). ANIMATED MULTISPECTRAL SATELLITE IMAGERY SHOWS THE LOW-LEVEL CIRCULATION (LLC) IS PARTIALLY EXPOSED, OFFSETTING THE REGION OF DEEPENED CENTRAL CONVECTION WITH OVERSHOOTING CLOUD TOPS JUST SOUTHWEST OF THE MAIN LLC. IF NECESSARY CLICK TO ANIMATE.
2021 MAY 31 0830UTC #WESTERNNORTHPACIFIC
TS #04W #CHOI-WAN
WARNING 7
As of 06:00 UTC May 31, 2021:
Location: 9.0°N 129.7°E
Maximum Winds: 50 kt (95km/h)
Gusts: 65 kt ( 120km/h)
Minimum Central Pressure: 993 mb
INTENSIFYING
LOCATED AT 31/06UTC APPROXIMATELY 495 KM NORTHWEST OF SONSOROL, HAS TRACKED NORTHWESTWARD AT 20 KM/H OVER
THE PAST SIX HOURS.
Satellite bulletins are to be found in the comments of this post on
JTWC BIS
Cheers,
Patrick Hoareau
M974World
ILES SOEURS
Cyclone Class 4
Cheers,PH.
Joint Typhoon Warning Center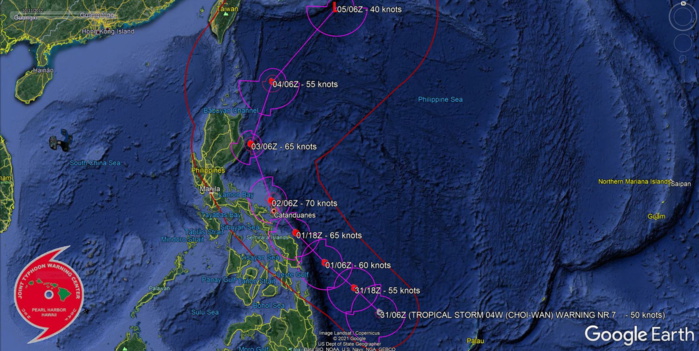 TS 04W(CHOI-wan). WARNING 7 ISSUED AT 31/09UTC.ENVIRONMENTAL ANALYSIS INDICATES THE SYSTEM RESIDES IN A SEMI- HOSTILE ENVIRONMENT. FAIR EASTERLY OUTFLOW ALONG WITH WARM (30- 31C) SEA SURFACE TEMPERATURES (SSTS) ARE BEING OFFSET BY MODERATE (20-25KT) NORTHEASTERLY VERTICAL WIND SHEAR (VWS) AND DRY AIR- ENTRAINING, AS SHOWN ON THE TOTAL PRECIPITABLE WATER LOOP. THE CYCLONE IS TRACKING ALONG THE SOUTHWEST PERIPHERY OF A DEEP-LAYERED SUBTROPICAL RIDGE (STR) TO THE NORTHEAST. UNDER THE STEERING INFLUENCE OF THE STR, TS 04W WILL CONTINUE TO TRACK NORTHWESTWARD OVER THE WARM PHILIPPINE SEA UP TO 72H. THE SYSTEM IS FORECAST TO STEADILY INTENSIFY AS CONDITIONS WILL BEGIN TO SLIGHTLY IMPROVE ONCE IT APPROACHES THE RIDGE AXIS, PEAKING TO 70KNOTS/US CAT 1 BY 48H.AFTER 72H, TS 04W WILL CREST THE STR AXIS AND TURN NORTHWARD, THEN ACCELERATE NORTHEASTWARD. AS TS 04W TRANSITS TO THE NORTHEAST, IT WILL MOVE IN A REGION OF HIGHER VWS AS IT APPROACHES THE MEI-YU BOUNDARY IN THE PREVAILING WESTERLIES. THE SYSTEM WILL BEGIN ERODING DUE TO COOLING SSTS AND DECREASE INTENSITY TO 55KNOTS BY 96H. CONCURRENTLY AT 96H, THE CYCLONE WILL BEGIN EXTRA- TROPICAL TRANSITION AS IT ENTERS THE COLD BAROCLINIC ZONE AND COMPLETE TRANSITION BY 120H.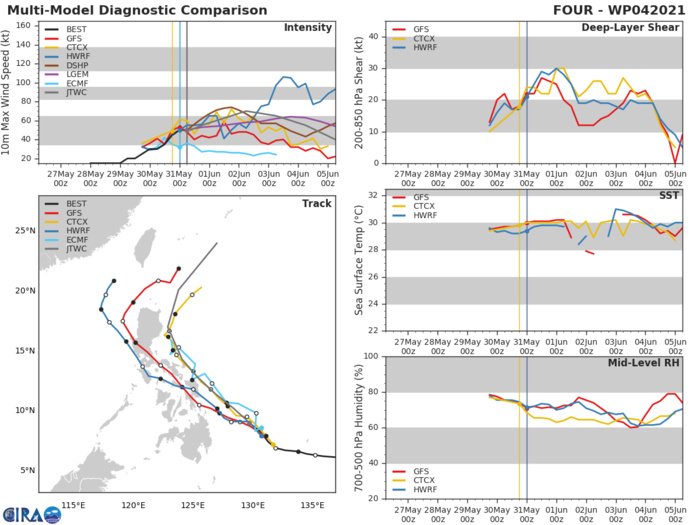 TS 04W. NUMERICAL MODELS ARE IN TIGHT AGREEMENT, AND GRADUALLY SPREAD FROM 135KM AT 12H TO 500KM BY 72H. NUMERICAL MODEL GUIDANCE HAS IMPROVED OVER THE LAST SIX HOURS, LENDING FAIR CONFIDENCE TO THE JTWC TRACK FORECAST THAT IS LAID SLIGHTLY RIGHT OF THE MODEL CONSENSUS, OFFSETTING THE FAR LEFT OUTLIER OF GFS. AFTER 72H NUMERICAL MODELS REMAIN IN GOOD AGREEMENT, LENDING ALSO FAIR CONFIDENCE IN THE EXTENDED PORTION OF THE JTWC FORECAST TRACK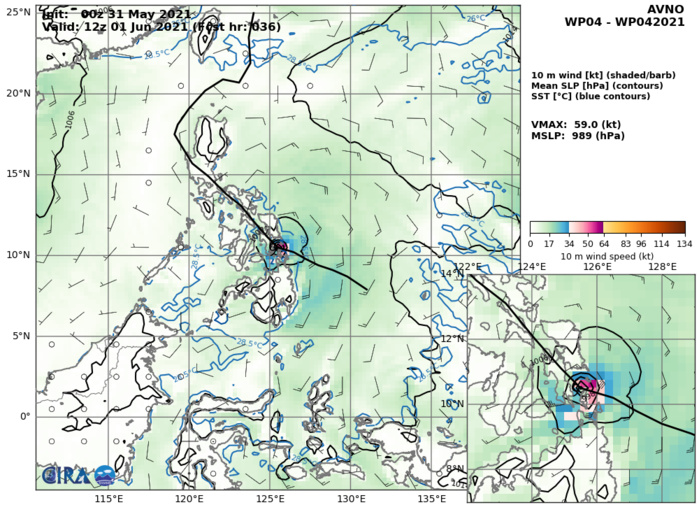 31/00UTC. AVN INTENSITY GUIDANCE. 59KNOTS AT +36H. GFS TRACK GUIDANCE IS TO THE WEST OF THE OTHER RELIABLE MODELS.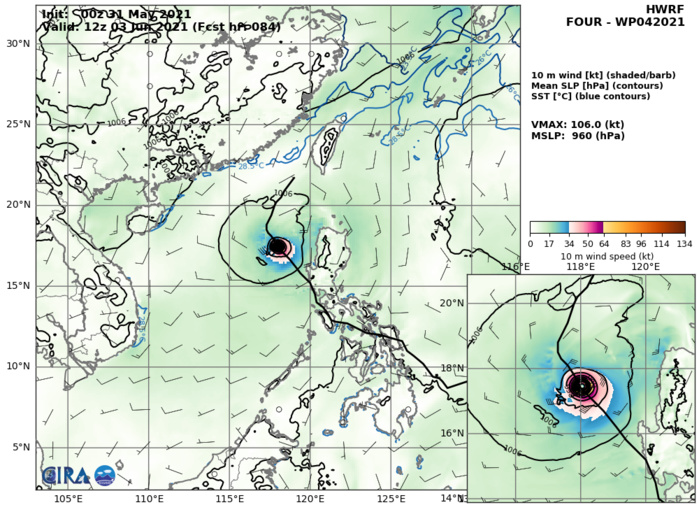 31/00UTC. HWRF INTENSITY GUIDANCE.106KNOTS AT 84H.HWRF SOLUTION IS MUCH TO THE WEST OF THE OTHER RELIABLE MODELS. THIS SOLUTION IS ASSESSED AS UNLIKELY BY THE JTWC.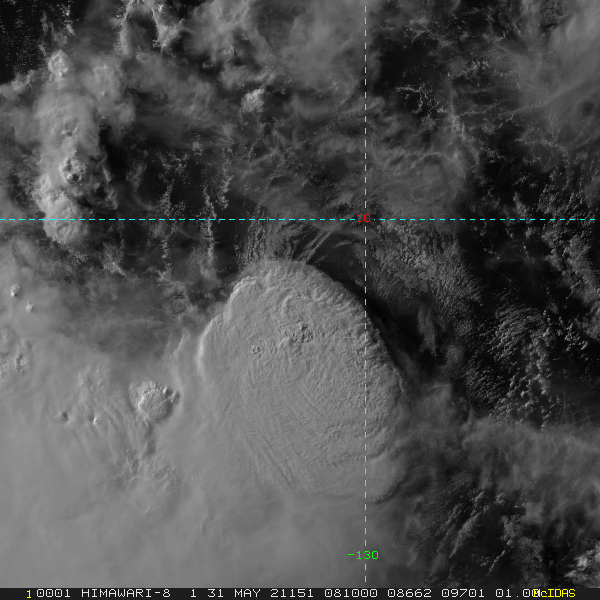 31/0810UTC. FLARING CONVECTION CLOSE TO THE LOW LEVEL CIRCULATION CENTER.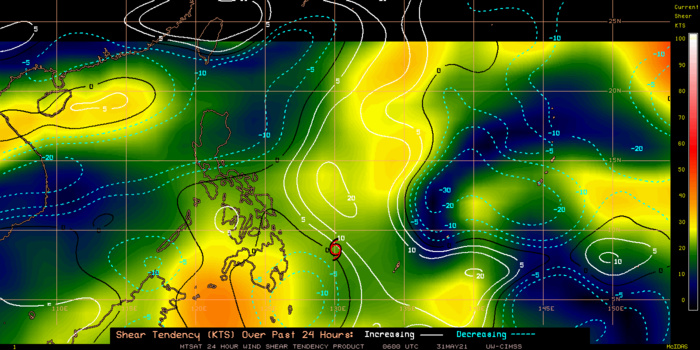 TS 04W. 31/06UTC.24H SHEAR TENDENCY.UW-CIMSS Experimental Vertical Shear and TC Intensity Trend Estimates: CIMSS Vertical Shear Magnitude : 11.6 m/s (22.6 kts)Direction : 41.6deg Outlook for TC Intensification Based on Current Env. Shear Values and MPI Differential: FAVOURABLE OVER 24H.