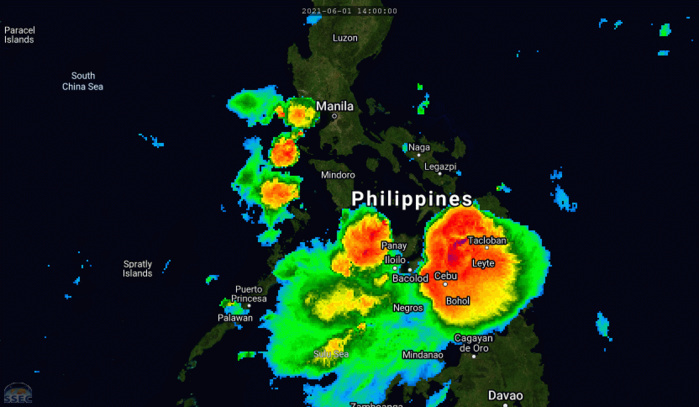 TD 04W. 01/20UTC. 6H LOOP.ANIMATED ENHANCED INFRARED SATELLITE IMAGERY DEPICTS A DISORGANIZED LOW-LEVEL CIRCULATION WITH DEEP CONVECTION BEING SHEARED TO THE SOUTHWEST OF THE CENTER.
2021 JUNE 01 21UTC #WESTERNNORTHPACIFIC
TD #04W #CHOI-WAN
WARNING 13
As of 18:00 UTC Jun 01, 2021:
Location: 11.9°N 124.0°E
Maximum Winds: 30 kt (55km/h)
Gusts: 40 kt ( 75km/h)
Minimum Central Pressure: 1001 mb
LOCATED AT 01/18UTC APPROXIMATELY 440 KM SOUTHEAST OF MANILA, PHILIPPINES, HAS TRACKED WESTWARD
AT 26 KM/H OVER THE PAST SIX HOURS.
Satellite bulletins are to be found in the comments of this post on
JTWC BIS
Cheers,
Patrick Hoareau
M974World
ILES SOEURS
Cyclone Class 4
Cheers,PH.
Joint Typhoon Warning Center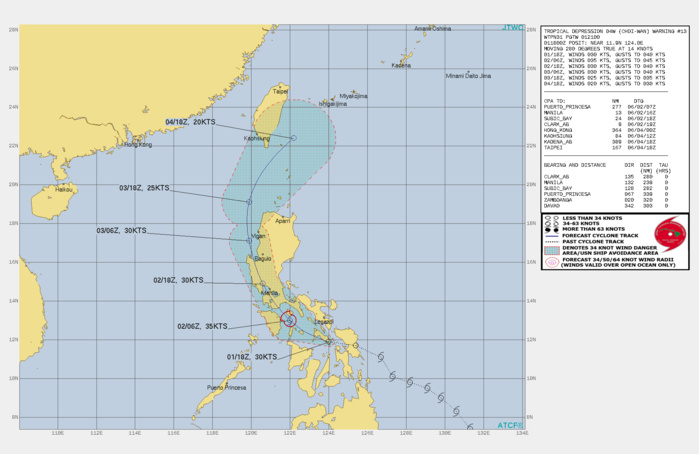 TD 04W. WARNING 13 ISSUED AT 01/21UTC. TD 04W IS CURRENTLY IN A MARGINAL ENVIRONMENT FOR FURTHER DEVELOPMENT WITH MODERATE TO HIGH (15-25 KTS) VWS AND CONVERGENT FLOW ALOFT DUE TO AN UPPER LEVEL TROUGH. HOWEVER, THERE IS GOOD EQUATORWARD OUTFLOW AND WARM (30C) SSTS SUSTAINING THE SYSTEM. TD 04W IS TRACKING WESTWARD ALONG THE SOUTHWEST EDGE OF THE A SUBTROPICAL RIDGE TO THE NORTH AND NORTHEAST. TD 04W IS FORECAST TO BEGIN TURNING NORTHWESTWARD AND REACH AN INTENSITY OF 35KNOTS OVER THE SIBUYAN SEA JUST BEFORE MAKING LANDFALL OVER LUZON AND PASSING SLIGHTLY TO THE WEST OF MANILA JUST BEFORE 24H. THE MOUNTAINOUS TERRAIN OF NORTHERN LUZON WILL DISRUPT THE LOW LEVEL CIRCULATION, WEAKENING THE SYSTEM TO 30 KNOTS AS IT REEMERGES OVER WATER UNDER UPPER-LEVEL EASTERLIES AND MODERATE VWS. THIS WEAKENING TREND WILL CONTINUE AS TD 04W RECURVES NORTH- NORTHEASTWARD AT 48H AND TRACKS INTO THE WESTERLIES BY 72H, WHICH FURTHER DISSIPATE THE SYSTEM.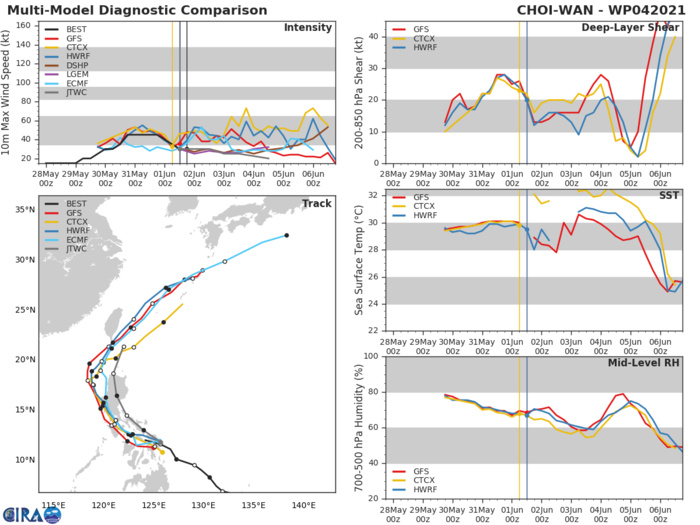 TD 04W. THE JTWC FORECAST TRACK LIES SLIGHTLY WEST OF THE MULTI-MODEL CONSENSUS THROUGHOUT THE FORECAST PERIOD, BUT DUE TO THE UNCERTAINTY OF THE IMPACT OF THE LAND INTERACTION, THERE IS LOW CONFIDENCE IN BOTH THE JTWC FORECAST TRACK AND INTENSITY.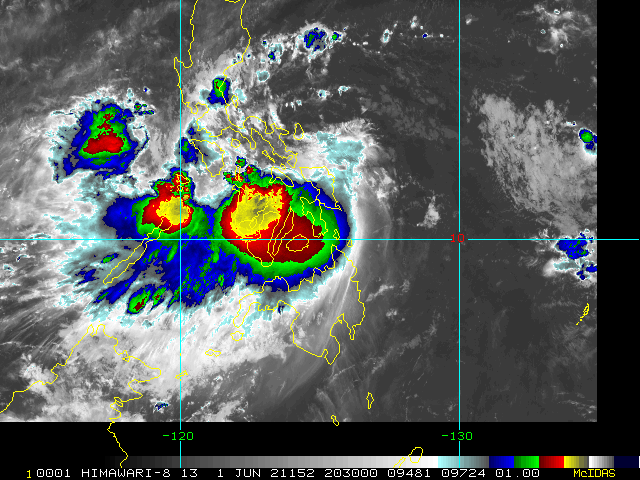 TD 04W. 01/2030UTC.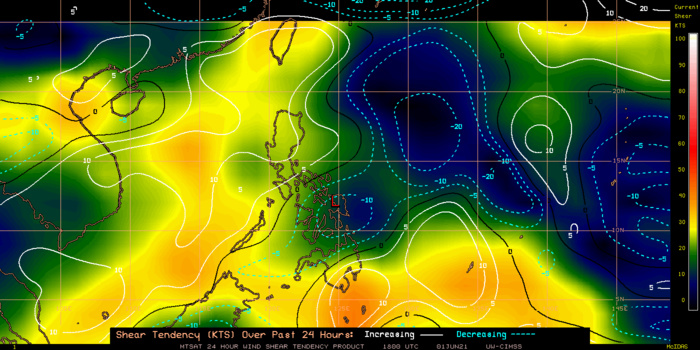 TD 04W. 01/18UTC. 24H SHEAR TENDENCY.UW-CIMSS Experimental Vertical Shear and TC Intensity Trend Estimates: CIMSS Vertical Shear Magnitude : 7.0 m/s (14.9 kts)Direction : 69.0deg Outlook for TC Intensification Based on Current Env. Shear Values and MPI Differential: NEUTRAL OVER 24H.