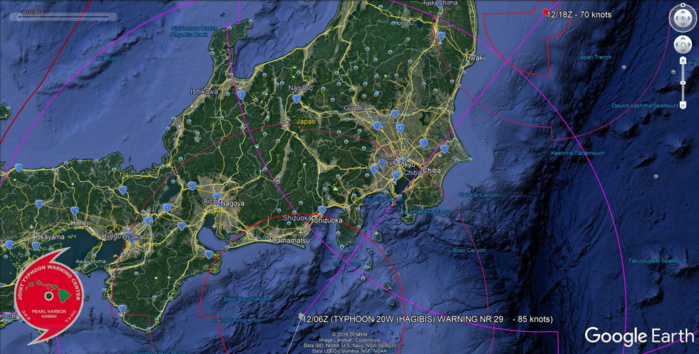 Météo974
WESTERN NORTH PACIFIC
Location: 33.7°N 138.2°E
Maximum Winds: 85 kt ( 160km/h)
Gusts: 105 kt ( 195km/h)
Minimum Central Pressure: 951 mb
CATEGORY 2 US
WDPN31 PGTW 120900
MSGID/GENADMIN/JOINT TYPHOON WRNCEN PEARL HARBOR HI//
SUBJ/PROGNOSTIC REASONING FOR TYPHOON 20W (HAGIBIS) WARNING NR 029//
RMKS/
1. FOR METEOROLOGISTS.
2. 6 HOUR SUMMARY AND ANALYSIS.
TYPHOON (TY) 20W (HAGIBIS), LOCATED APPROXIMATELY 121 NM SOUTHWEST
OF YOKOSUKA, JAPAN, HAS TRACKED NORTH-NORTHEASTWARD AT 18 KNOTS (KTS)
OVER THE PAST SIX HOURS. ANIMATED MULTISPECTRAL SATELLITE IMAGERY
(AMSI) DEPICTS AN ASYMMETRIC CLOUD PATTERN WITH DEEPER CONVECTION TO
THE NORTH AND SHALLOWER RAIN BANDS TO THE SOUTH OF THE OBSCURED LOW
LEVEL CIRCULATION CENTER. THERE IS GOOD CONFIDENCE IN THE INITIAL
POSITION BASED ON THE AMSI AND RADAR FIXES FROM RJTD. THE INITIAL
INTENSITY OF 85 KTS IS CONSISTENT WITH PGTW/RJTD DVORAK INTENSITY
ESTIMATES OF T4.5/5.0 (77-90 KTS). HIGH (25-30 KT) VERTICAL WIND
SHEAR (VWS) IS OFFSETTING EXCELLENT POLEWARD OUTFLOW TO MAKE THE
ENVIRONMENT UNFAVORABLE. SEA SURFACE TEMPERATURES (SST) AROUND 25-26
CELSIUS ARE MARGINALLY SUPPORTIVE. TY 20W IS TRACKING ALONG THE
PERIPHERY OF A SUBTROPICAL RIDGE (STR) TO THE SOUTHEAST, JUST
POLEWARD OF THE STR AXIS.
3. FORECAST REASONING.
A. THERE IS NO SIGNIFICANT CHANGE TO THE FORECAST PHILOSOPHY FROM
THE PREVIOUS PROGNOSTIC REASONING MESSAGE.
B. FOR THE DURATION OF THE FORECAST, TY 20W WILL SHIFT ONTO A
NORTHEASTWARD TRACK AS IT BECOMES EMBEDDED IN THE MID-LATITUDE
WESTERLIES AND UNDERGOES EXTRATROPICAL TRANSITION (ETT). LANDFALL
OVER HONSHU SHOULD OCCUR PRIOR TO TAU 6. SHORTLY AFTER LANDFALL, ETT
SHOULD BEGIN AND COMPLETION IS EXPECTED BY TAU 36. THE INTENSITY
SHOULD BE 75-80 KTS AT LANDFALL. HIGH VWS, LAND INTERACTION, AND COOL
SST SHOULD CONTRIBUTE TO STEADY WEAKENING FOR THE DURATION OF THE
FORECAST. WITH THE EXCEPTION OF NAVGEM, NUMERICAL MODEL GUIDANCE IS
IN STRONG AGREEMENT, LENDING TO HIGH CONFIDENCE IN THE JTWC FORECAST
TRACK.//
NNNN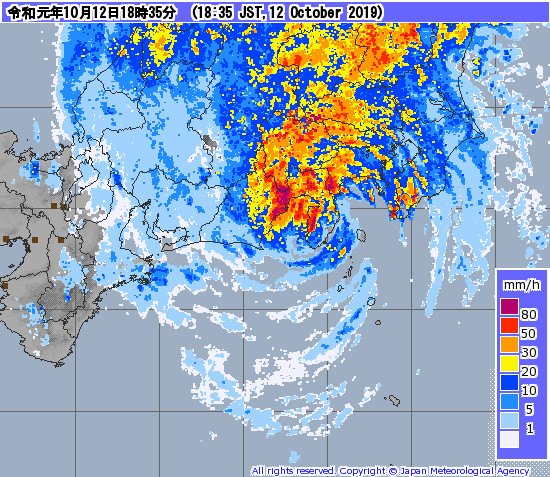 12/0935UTC. TOKAI RADAR. JMA