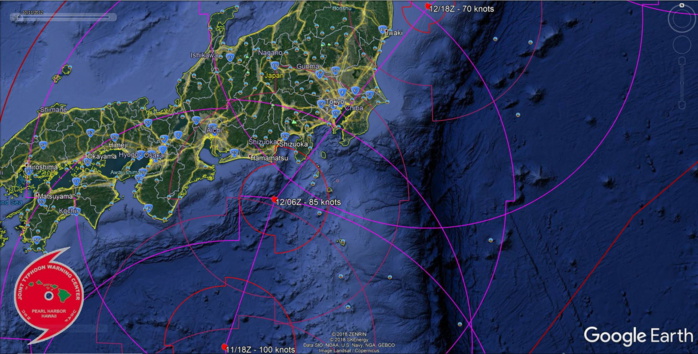 Météo974
WESTERN NORTH PACIFIC
Location: 28.8°N 137.5°E
Maximum Winds: 115 kt ( 215km/h)
Gusts: 140 kt ( 260km/h)
Minimum Central Pressure: 929 mb
CATEGORY 4 US
WDPN31 PGTW 110900
MSGID/GENADMIN/JOINT TYPHOON WRNCEN PEARL HARBOR HI//
SUBJ/PROGNOSTIC REASONING FOR TYPHOON 20W (HAGIBIS) WARNING NR
025//
RMKS/
1. FOR METEOROLOGISTS.
2. 6 HOUR SUMMARY AND ANALYSIS.
TYPHOON 20W (HAGIBIS), LOCATED APPROXIMATELY 406 NM SOUTH-SOUTHWEST
OF YOKOSUKA, JAPAN, HAS TRACKED NORTH-NORTHWESTWARD AT 15 KNOTS OVER
THE PAST SIX HOURS. THE CURRENT POSITION IS BASED ON RECENT SATELLITE
FIXES FROM PGTW AND RJTD ON A 23 NM EYE. THE INTENSITY OF 115 KNOTS
IS CONSISTENT WITH A CONSENSUS OF SUBJECTIVE DVORAK CURRENT INTENSITY
AND OBJECTIVE ESTIMATES FROM MULTIPLE REPORTING AGENCIES. TYPHOON 20W
HAS CONTINUED A SLOW WEAKENING TREND WHILE TRACKING POLEWARD ALONG
THE WESTERN PERIPHERY OF A DEEP-LAYERED SUBTROPICAL RIDGE OVER THE
PAST SIX HOURS. A REORGANIZATION OF THE CONVECTIVE STRUCTURE IS
ONGOING. CONVECTIVE BANDING ON THE PERIPHERY OF THE SYSTEM IS
BECOMING SHALLOWER, BUT DEEP CONVECTION PERSISTS AROUND THE EYE.
ENVIRONMENTAL ANALYSIS INDICATES LOW TO MODERATE (10-15 KNOT)
VERTICAL WIND SHEAR, STRONG POLEWARD OUTFLOW ALOFT AND MARGINAL SEA
SURFACE TEMPERATURES (ABOUT 27-28C).
3. FORECAST REASONING.
A. THERE IS NO SIGNIFICANT CHANGE TO THE FORECAST PHILOSOPHY FROM
THE PREVIOUS PROGNOSTIC REASONING MESSAGE. THE FORECAST PERIOD HAS
BEEN REDUCED TO 48 HOURS BASED ON THE TIMELINE OF ANTICIPATED
EXTRATROPICAL TRANSITION.
B. TY 20W WILL CONTINUE TO TRACK POLEWARD AND GRADUALLY TURN
TOWARD THE NORTHEAST AFTER TAU 12 AS IT CONTINUES ALONG THE WESTERN
PERIPHERY OF THE STEERING RIDGE. SLOW BUT STEADY WEAKENING IS
EXPECTED PRIOR TO LANDFALL (JUST AFTER TAU 24) UNDER THE DUAL
INFLUENCES OF INCREASING VERTICAL WIND SHEAR AND LAND INTERACTION
WITH THE NORTHERN PORTION OF THE STORM CIRCULATION. THE SYSTEM CENTER
IS EXPECTED TO PASS CLOSE TO THE TOKYO AREA AROUND TAU 30 BEFORE THE
SYSTEM ACCELERATES QUICKLY OUT TO SEA TO THE EAST OF HONSHU AHEAD OF
AN APPROACHING MID-LATITUDE TROUGH. TY 20W WILL BECOME FULLY EMBEDDED
WITHIN THIS APPROACHING TROUGH AND TRANSITION INTO A STRONG
EXTRATROPICAL LOW PRESSURE SYSTEM BY TAU 48. NUMERICAL MODEL TRACK
FORECAST GUIDANCE REMAINS IN VERY GOOD AGREEMENT IN TERMS OF
DIRECTION AND FORWARD SPEED. THERE IS HIGH CONFIDENCE TO THE JTWC
FORECAST TRACK, WHICH LIES NEAR THE MULTI-MODEL CONSENSUS.//
NNNN