WESTEN NORTH PACIFIC/SOUTH CHINA SEA: TY 28W(RAI). WARNING 23 ISSUED AT 18/15UTC.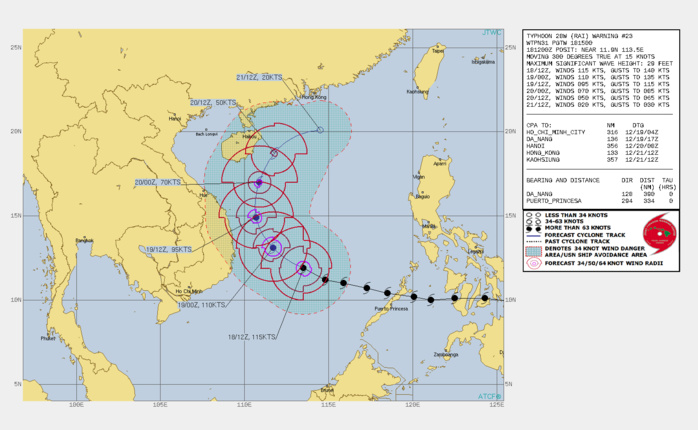 FORECAST REASONING. SIGNIFICANT FORECAST CHANGES: THERE ARE NO SIGNIFICANT CHANGES TO THE FORECAST FROM THE PREVIOUS WARNING. FORECAST DISCUSSION: TY 28W IS EXPECTED TO CONTINUE A GENERALLY NORTHWEST TRACK AS IT APPROACHES THE SUBTROPICAL RIDGE AXIS OVER THE NEXT 12 HOURS. AFTER 12H, IT WILL CROSS INTO SEA SURFACE TEMPERATURES OF BELOW 26C WHICH WILL BEGIN TO RAPIDLY WEAKEN THE SYSTEM, WHICH WILL REMAIN OVER COOLER WATERS FOR THE REMAINDER OF THE FORECAST. AROUND 24H, TY 28W WILL BEGIN TO ROUND THE RIDGE AXIS AND BEGIN TO EXPERIENCE INCREASED VERTICAL WIND SHEAR ( OVER 30 KTS). BY 48H, THE SYSTEM WILL TURN NORTHEASTWARD AND BEGIN TO ENCOUNTER DRIER AIR FROM THE WEST, FURTHER DECREASING THE INTENSITY TO 50 KTS. FOR THE REMAINDER OF FORECAST, THE SYSTEM WILL TRACK NORTHEASTWARD UNDER THE INFLUENCE OF STRONG WESTERLIES AND DISSIPATE BY 72H.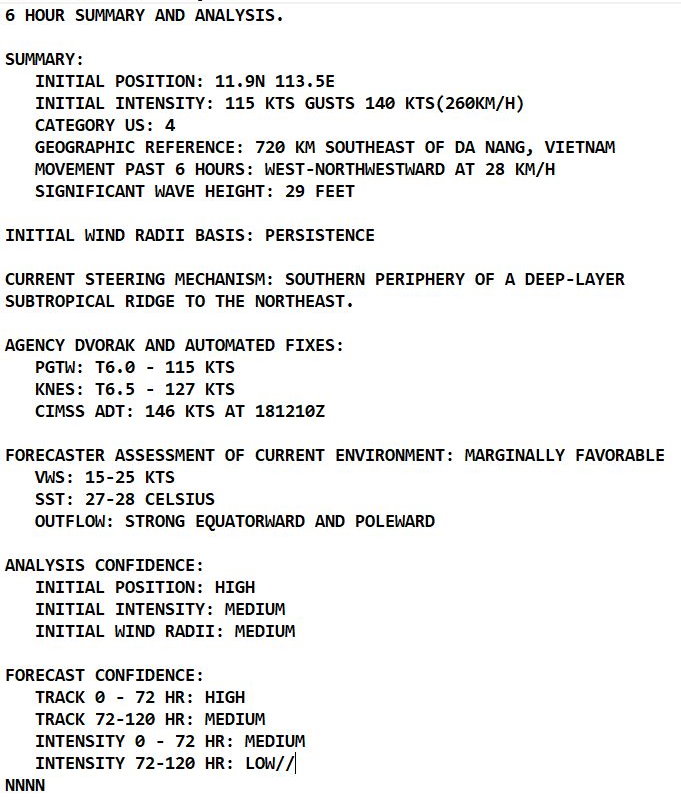 CLICK ON THE IMAGERY BELOW TO GET IT ANIMATED AND ENLARGED.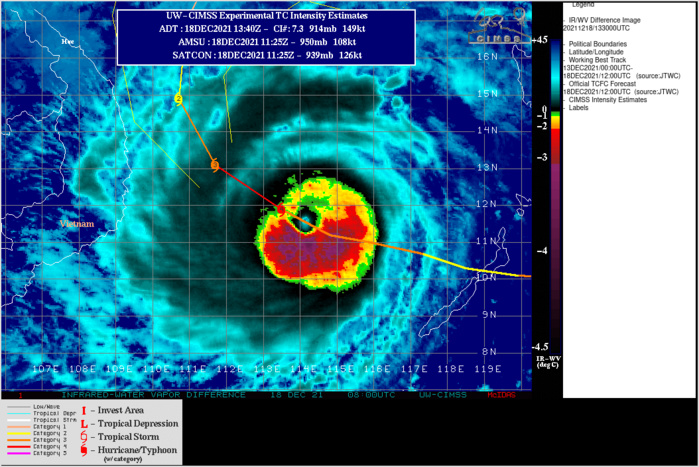 SATELLITE ANALYSIS, INITIAL POSITION AND INTENSITY DISCUSSION: ANIMATED ENHANCED INFRARED SATELLITE IMAGERY (EIR) DEPICTS A BROAD, SYMMETRIC SYSTEM THAT HAS DEVELOPED AN EYE ABOUT 45-55 KM IN DIAMETER. TY 28W IS IN A MARGINALLY FAVORABLE ENVIRONMENT WITH STRONG EQUATORWARD AND POLEWARD OUTFLOW ALOFT, MODERATE (15-25 KTS) VERTICAL WIND SHEAR, AND WARM (27-28 C) SEA SURFACE TEMPERATURES. THE INITIAL POSITION AND INITIAL INTENSITY OF 115 KTS/CAT 4 IS BASED ON THE PGTW POSITION FIX AND DVORAK CURRENT INTENSITY ESTIMATE OF T6.0 (115 KTS).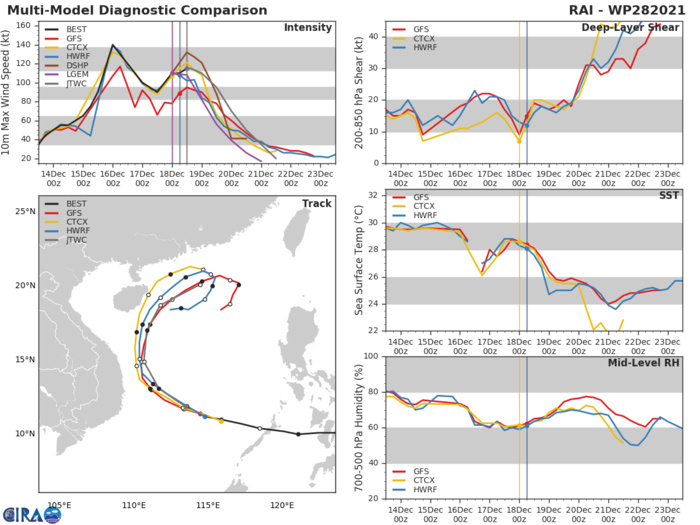 MODEL DISCUSSION: NUMERICAL MODEL GUIDANCE CONTINUES TO BE IN RELATIVELY GOOD AGREEMENT IN REGARDS TO THE NEAR PORTION OF THE FORECAST TRACK WITH ONLY A 55 KM CROSS-TRACK SPREAD AT 24H. THE SPREAD INCREASES AFTERWARDS BUT ALL MODELS AGREE ON THE SAME GENERAL TRACK DIRECTION FOR THE REMAINDER OF THE JTWC FORECAST PERIOD. THEREFORE, THE JTWC FORECAST TRACK IS PLACED CLOSE TO CONSENSUS. INTENSITY GUIDANCE IS IN GOOD AGREEMENT WITH ALL MODELS SHOWING THE SYSTEM AT CURRENT PEAK INTENSITY FOLLOWED BY A RAPID DECREASE IN INTENSITY FROM NOW UNTIL 72H. THE JTWC FORECAST INTENSITY IS PLACED CLOSE TO CONSENSUS.
HWRF AT 18/06UTC: 108KNOTS AT +0H.
HWRF AT 18/06UTC: 32KNOTS AT +72H.
GFS ENSEMBLE AT 18/06UTC: 120H.
ECMWF ENSEMBLE AT 18/06UTC: 120H.
MICROWAVE SIGNATURE AT 18/1028UTC.
AFTER 12HOURS OCEAN HEAT CONTENT WILL RAPIDLY DROP. THE CYCLONE WILL NOT BE ABLE TO SUSTAIN ITS INTENSITY.
NORTH INDIAN OCEAN/BAY OF BENGAL: INVEST 94B. STILL LOW.
SOUTHERN HEMISPHERE/SOUTH INDIAN OCEAN: INVEST 96S. THIS SYSTEM IS STILL VERY WEAK AT THE MOMENT AND IS NOT OF THE JTWC MAP YET.