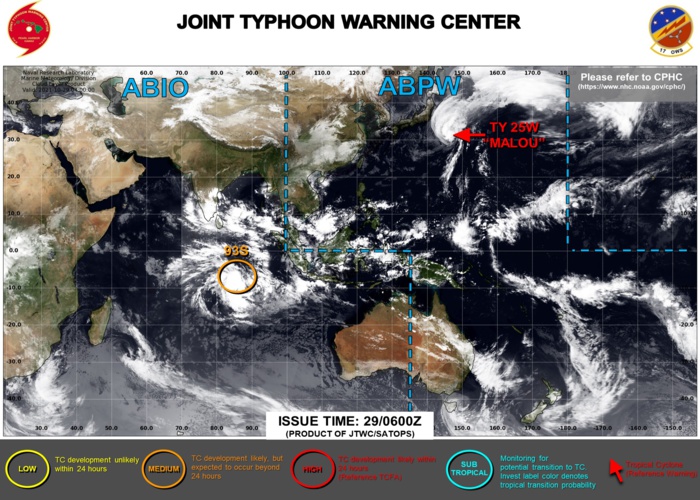 JTWC IS ISSUING 6HOURLY WARNINGS ON 25W. 3HOURLY SATELLITE BULLETINS ARE ISSUED FOR 25W AND 93S.
WESTERN NORTH PACIFIC: TY 25W(MALOU). WARNING 21 ISSUED AT 29/03UTC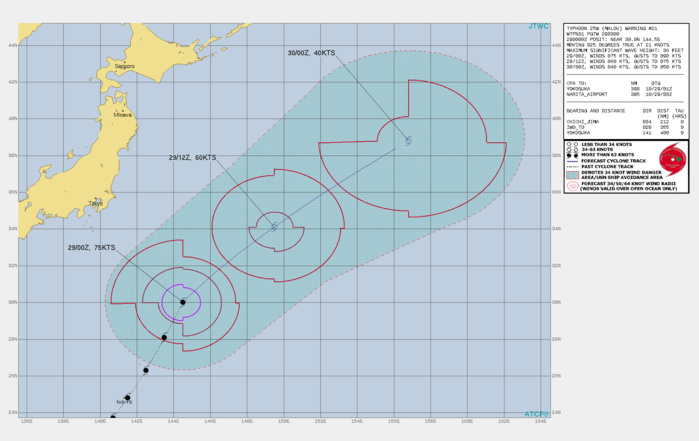 FORECAST REASONING. SIGNIFICANT FORECAST CHANGES: EXTRATROPICAL TRANSITION IS NOW EXPECTED TO OCCUR MORE QUICKLY, COMPLETING WITHIN 12 TO 24 HOURS. FORECAST DISCUSSION: RAPID WEAKENING IS BEGINNING AS TYPHOON 25W (MALOU) MERGES WITH THE NEARBY FRONTAL BOUNDARY AND TRANSLATES NORTHEASTWARD OVER COOLER WATERS, WHICH WILL ALSO RESULT IN A QUICK TRANSITION TO AN EXTRATROPICAL CYCLONE DURING THE NEXT 12-24 HOURS. DYNAMICAL MODEL GUIDANCE AGREES THAT THE VORTEX WILL LOSE VERTICAL COHERENCE BY THAT TIME AS IT BECOMES BAROCLINIC IN NATURE. THE JTWC FORECAST TERMINATES AT 24 HOURS AS MALOU BECOMES A GALE-FORCE EXTRATROPICAL CYCLONE WELL EAST OF HOKKAIDO.
2521102200 79N1455E 15
2521102206 87N1446E 15
2521102212 96N1438E 15
2521102218 105N1431E 15
2521102300 108N1424E 20
2521102306 110N1416E 20
2521102312 114N1410E 20
2521102318 118N1404E 20
2521102400 122N1400E 30
2521102406 128N1397E 30
2521102412 134N1397E 30
2521102418 148N1392E 35
2521102500 167N1385E 35
2521102506 178N1382E 40
2521102512 184N1380E 35
2521102518 189N1381E 40
2521102600 191N1383E 45
2521102606 195N1387E 50
2521102612 200N1390E 55
2521102618 204N1390E 55
2521102700 207N1391E 60
2521102706 213N1394E 65
2521102712 218N1397E 70
2521102718 226N1400E 80
2521102800 237N1407E 80
2521102806 248N1415E 85
2521102812 263N1425E 85
2521102818 281N1435E 75
2521102900 300N1445E 75
NNNN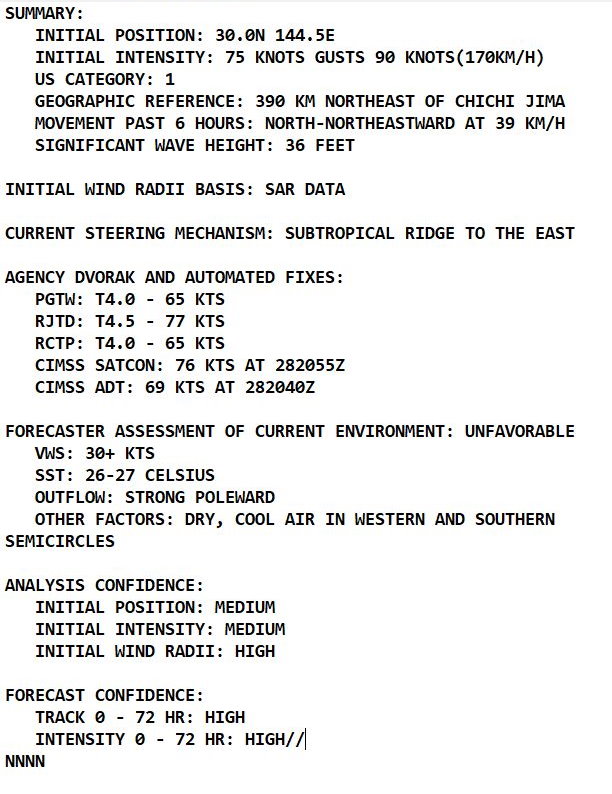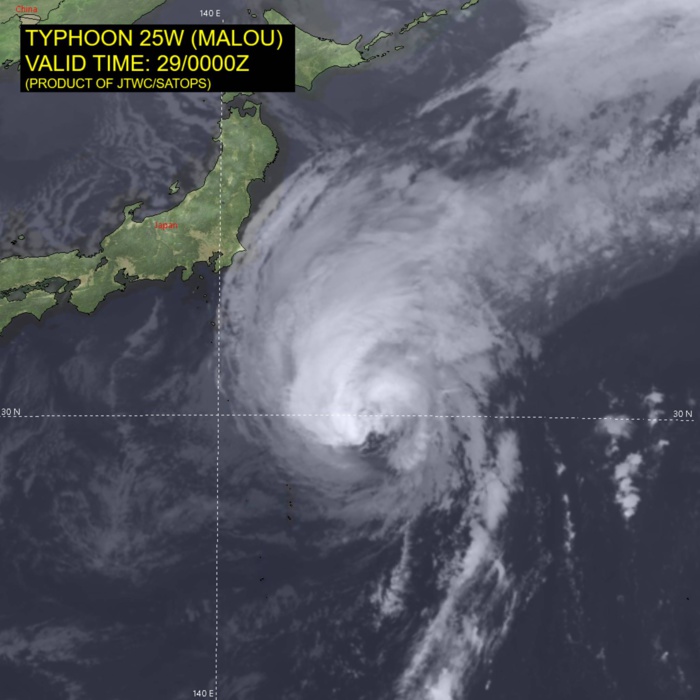 SATELLITE ANALYSIS, INITIAL POSITION AND INTENSITY DISCUSSION: ANIMATED MULTISPECTRAL SATELLITE IMAGERY (MSI) INDICATES THAT THE TYPHOON IS NOW IN THE EXTRATROPICAL TRANSITION STAGE, WITH THE INNER CORE QUICKLY APPROACHING A SHARPLY-DEFINED COLD FRONT JUST TO THE NORTH. THE COOL, DRY MID-LATITUDE AIR MASS TO THE WEST CAN NOW BE SEEN WRAPPING AROUND THE SOUTHERN SEMICIRCLE, DENOTED BY A DECK OF STRATOCUMULUS IN THE SOUTHWEST QUADRANT OF THE CIRCULATION. THE EYE STRUCTURE HAS COLLAPSED, AND A RAGGED AREA OF MODERATE CONVECTION NOW OBSCURES THE LOW-LEVEL CENTER. A SYNTHETIC APERTURE RADAR (SAR) PASS FROM 282021Z INDICATED THAT MAXIMUM WINDS WERE AROUND 80 KT AT THE TIME, AND THE CURRENT INTENSITY IS SET A LITTLE LOWER AT 75 KT DUE TO THE ONGOING DECAY IN SATELLITE PRESENTATION.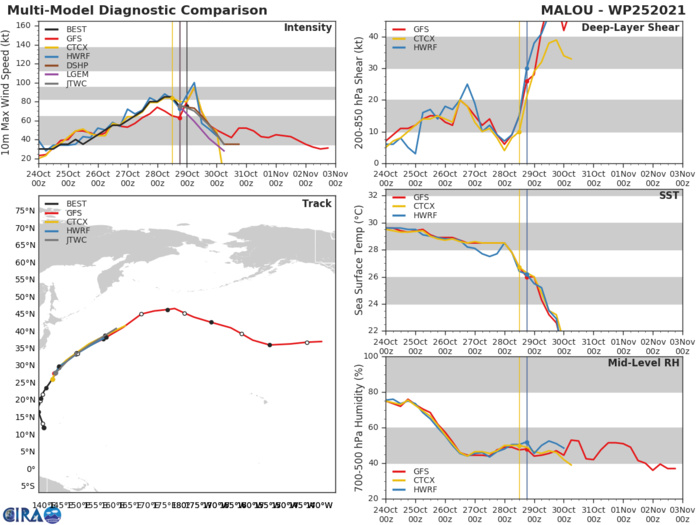 MODEL DISCUSSION: MODEL GUIDANCE REMAINS TIGHTLY CLUSTERED DURING THE FORECAST PERIOD. THE JTWC TRACK FORECAST IS CLOSE TO THE MULTI-MODEL CONSENSUS, AS IS THE INTENSITY FORECAST.
TY 25W(MALOU). GFS SHOWING RAPID WEAKENING NEXT 24HOURS WHILE THE CYCLONE WILL RAPIDLY GAINS LATITUDE AS A COLD-CORE LOW.
SOUTHERN HEMISPHERE/SOUTH INDIAN OCEAN: INVEST 93S UP-GRADED TO MEDIUM AT 29/0230UTC. IF NEEDED CLICK TO ANIMATE.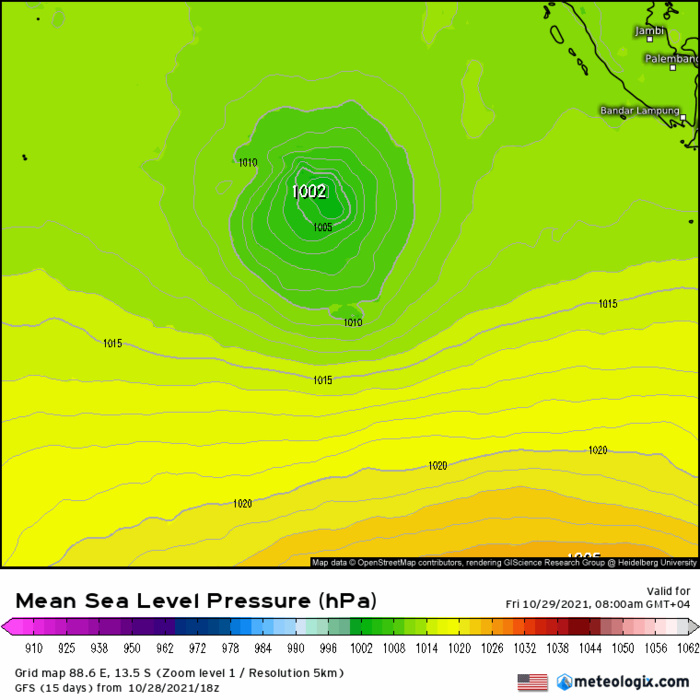 THE AREA OF CONVECTION (INVEST 93S) PREVIOUSLY LOCATED NEAR 6.6S 86.6E IS NOW LOCATED NEAR 7.8S 87.1E, APPROXIMATELY 1610 KM EAST OF DIEGO GARCIA. ANIMATED MULTISPECTRAL SATELLITE IMAGERY DEPICTS FLARING CONVECTION PARTIALLY OBSCURING A LOW LEVEL CIRCULATION (LLC) THAT HAS BECOME MORE WELL DEFINED. A 290028Z SSMIS 91GHZ IMAGE SHOWS DEEP CONVECTION IN THE WESTERN SEMICIRCLE AS WELL AS FORMATIVE BANDING WRAPPING INTO THE LLC. ENVIRONMENTAL ANALYSIS INDICATES MARGINAL CONDITIONS FOR DEVELOPMENT WITH STRONG OUTFLOW AND WARM (28-29C) SEA SURFACE TEMPERATURES OFFSET BY STRONG (30+ KT) VERTICAL WINDSHEAR. GLOBAL MODELS CONTINUE TO AGREE THAT 93S WILL TRACK WEST-SOUTHWESTWARD OVER THE NEXT 48 HOURS. MAXIMUM SUSTAINED SURFACE WINDS ARE ESTIMATED AT 30 TO 35 KNOTS. MINIMUM SEA LEVEL PRESSURE IS ESTIMATED TO BE NEAR 1002 MB. THE POTENTIAL FOR THE DEVELOPMENT OF A SIGNIFICANT TROPICAL CYCLONE WITHIN THE NEXT 24 HOURS IS UPGRADED TO MEDIUM.
INVEST 93S. TRACK AND INTENSITY GUIDANCE.