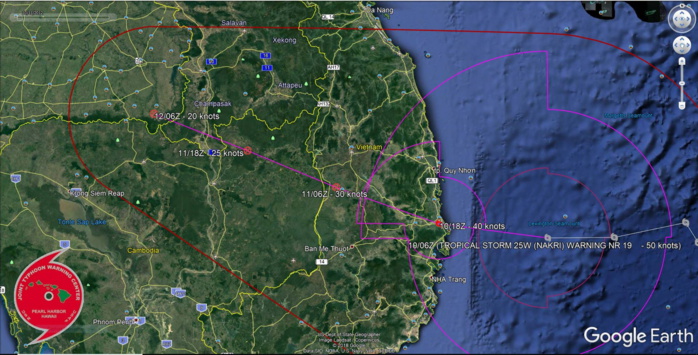 Météo974
WESTERN NORTH PACIFIC
Location: 12.8°N 110.9°E
Maximum Winds: 50 kt ( 95km/h)
Gusts: 65 kt ( 120km/h)
Minimum Central Pressure: 995 mb
WDPN32 PGTW 100900
MSGID/GENADMIN/JOINT TYPHOON WRNCEN PEARL HARBOR HI//
SUBJ/PROGNOSTIC REASONING FOR TROPICAL STORM 25W (NAKRI) WARNING NR 019//
RMKS/
1. FOR METEOROLOGISTS.
2. 6 HOUR SUMMARY AND ANALYSIS.
TROPICAL STORM 25W (NAKRI), LOCATED APPROXIMATELY 274 NM EAST-NORTHEAST OF HO CHI MINH CITY, VIETNAM, HAS TRACKED WESTWARD AT 10 KNOTS OVER THE PAST SIX HOURS. ANIMATED MULTISPECTRAL SATELLITE IMAGERY (MSI) SHOWS A LARGE SWATH OF CONVECTION DISPLACED TO THE SOUTHWEST OF A PARTIALLY EXPOSED LOW LEVEL CIRCULATION CENTER (LLCC). FURTHERMOR, A 100546Z AMSR2 91 GHZ MICROWAVE IMAGE SHOWS CONVECTIVE BANDING WRAPPING INTO THE CENTER OF THE SYSTEM, GIVING GOOD CONFIDENCE IN THE INITIAL POSITION. BASED ON A 100540Z SATCON ESTIMATE OF 54 KNOTS AND MULTI-AGENCY DVORAK CURRENT INTENSITY ESTIMATES OF T3.0-3.5 (45-55 KNOTS), THE INITIAL INTENSITY IS SET AT 50 KNOTS. THE SYSTEM REMAINS IN A REGION WHERE MODERATE WESTWARD DIFFLUENCE IS CONSISTENTLY BEING OFFSET BY MODERATE TO HIGH (20-25 KNOTS) VERTICAL WIND SHEAR (VWS). SEA SURFACE TEMPERATURES ARE WARM AT 28-29 CELSIUS. TS 25W CONTINUES TO TRACK WESTWARD ALONG THE SOUTHERN PERIPHERY OF A SUBTROPICAL RIDGE (STR) TO THE NORTH.
3. FORECAST REASONING.
A. THERE IS NO SIGNIFICANT CHANGE TO THE FORECAST PHILOSOPHY FROM
THE PREVIOUS PROGNOSTIC REASONING MESSAGE.
B. THROUGH TAU 12, TS 25W WILL TRACK GENERALLY WEST-NORTHWESTWARD UNDER THE STEERING INFLUENCE OF THE AFOREMENTIONED STR, MAKING LANDFALL AROUND TAU 12. AS IT TRANSITS, THE SYSTEM IS EXPECTED TO SLOWLY WEAKEN AS CONTINUED MODERATE VWS AND OFFSET UPPER-LEVEL OUTFLOW PRECLUDE FURTHER DEVELOPMENT. TS 25W WILL TURN NORTHWESTWARD AFTER TAU 12, BEGINNING TO RAPIDLY WEAKEN AS IT TRAVERSES THE RUGGED TERRAIN OF INDOCHINA. THE SYSTEM WILL REMAIN ON THIS TRACK THROUGH THE REMAINDER OF THE FORECAST PERIOD, DISSIPATING OVER LAND BY TAU 48. NUMERICAL MODEL GUIDANCE IS IN OVERALL GOOD AGREEMENT IN THE NEAR-TERM. AS THE SYSTEM PROGRESSES, THERE ARE VARIATIONS IN FORWARD STORM MOTION WHICH RESULT IN INCREASING ALONG-TRACK MODEL SPREAD AFTER TAU 24. THE CROSS-TRACK SPREAD INCREASES AFTER LANDFALL, PRODUCING A BIFURCATION IN MODEL SOLUTIONS. THE MAJORITY OF THE MODEL SOLUTIONS TRACK WESTWARD ACROSS VIETNAM WHILE A FEW MODELS (AFUM, ECMWF, AND GALWEM) PURSUE A MORE NORTH-NORTHWESTWARD TRACK AFTER LANDFALL. THE OFFICIAL JTWC FORECAST TRACK IS PLACED NEAR THE MULTI-MODEL CONSENSUS, FOLLOWING THE WEST-NORTHWESTWARD TRACK SOLUTION WITH FAIR CONFIDENCE.//
NNNN