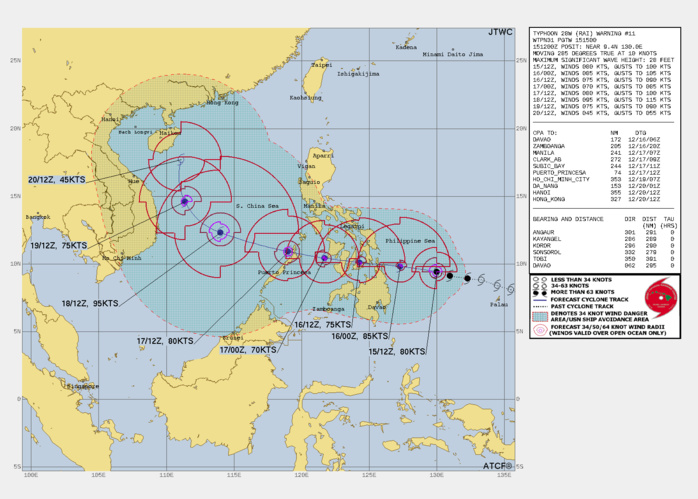 FORECAST REASONING. SIGNIFICANT FORECAST CHANGES: THERE ARE NO SIGNIFICANT CHANGES TO THE FORECAST FROM THE PREVIOUS WARNING. FORECAST DISCUSSION: TYPHOON RAI WILL CONTINUE ON ITS WESTWARD TRACK, MAKING LANDFALL OVER SURIGAO, PHILIPPINES AROUND 18H THEN TRACK ACROSS THE PHILIPPINE ARCHIPELAGO. BY 48H, THE SYSTEM WILL ENTER THE SOUTH CHINA SEA (SCS) AND TURN MORE NORTHWESTWARD THEN NORTHWARD AS IT ROUNDS THE WESTERN EDGE OF THE SUBTROPICAL RIDGE (STR). THE FAVORABLE ENVIRONMENT WILL FUEL A SLIGHT INTENSIFICATION TO 85KTS/CAT 2 JUST BEFORE LANDFALL. AFTERWARD, INTERACTION WITH THE ISLANDS WILL REDUCE IT TO 70KTS/CAT 1 BY 36H. AFTER IT DRIFTS INTO THE OPEN WARM WATERS OF THE SCS, AIDED BY INCREASED POLEWARD OUTFLOW, A SECONDARY INTENSIFICATION TO A PEAK OF 95KTS/CAT 2 BY 72H WILL OCCUR. AFTER 72H, INCREASING VERTICAL WIND SHEAR (WS) AND EXPOSURE TO THE DRY NORTHEAST SURGE IN THE SCS WILL RAPIDLY WEAKEN THE SYSTEM DOWN TO 45KTS BY 120H AS IT HEADS TOWARD HAINAN.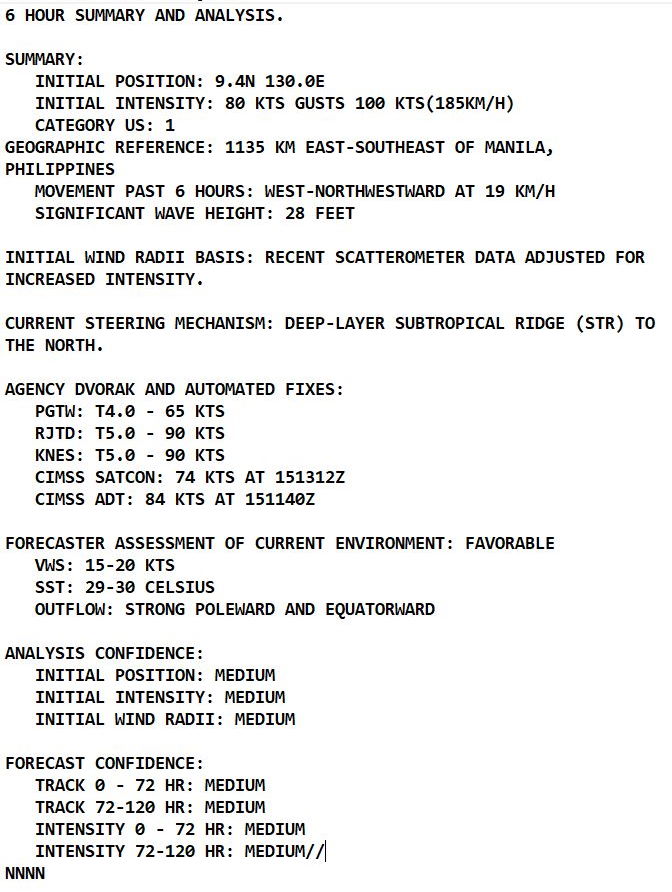 FORECAST TRACK NEXT 48H ACROSS THE PHILIPPINES. CLICK ON THE IMAGERY BELOW TO GET IT ENLARGED.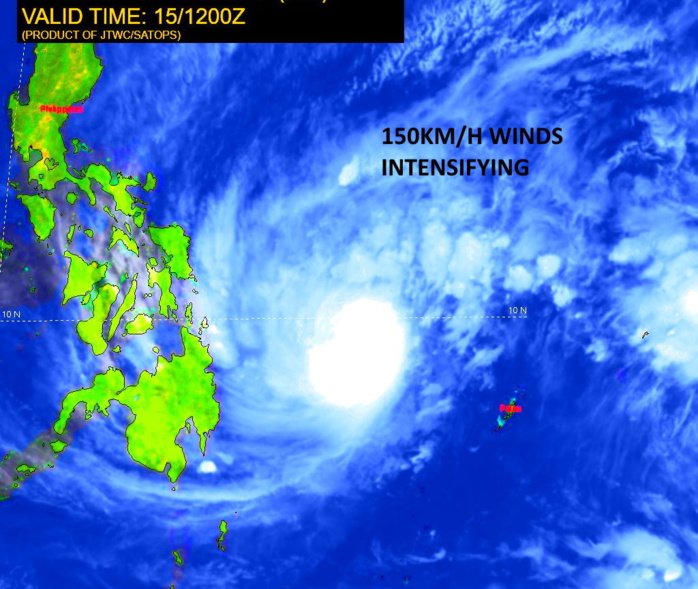 SATELLITE ANALYSIS, INITIAL POSITION AND INTENSITY DISCUSSION: ANIMATED ENHANCED INFRARED (EIR) SATELLITE IMAGERY DEPICTS A DEEPENING SYSTEM WITH A MORE SYMMETRICAL CENTRAL CONVECTION. THE INITIAL POSITION IS PLACED WITH MEDIUM CONFIDENCE BASED ON A 150925Z SSMIS 91GHZ MICROWAVE EYE. THE INITIAL INTENSITY OF 80KTS/CAT 1 IS BASED ON AN OVERALL ASSESSMENT OF AGENCY AND AUTOMATED DVORAK ESTIMATES AND REFLECTS THE IMPROVED STATE OF THE SYSTEM. TY 28W IS IN A FAVORABLE ENVIRONMENT WITH LOW VWS, VERY WARM SST IN THE PHILIPPINE SEA, AND STRONG POLEWARD AND EQUATORWARD OUTFLOW. THE CYCLONE IS TRACKING ALONG THE SOUTHERN PERIPHERY OF THE DEEP-LAYER STR TO THE NORTH.
CLICK ON THE IMAGERY BELOW TO GET IT ANIMATED AND ENLARGED.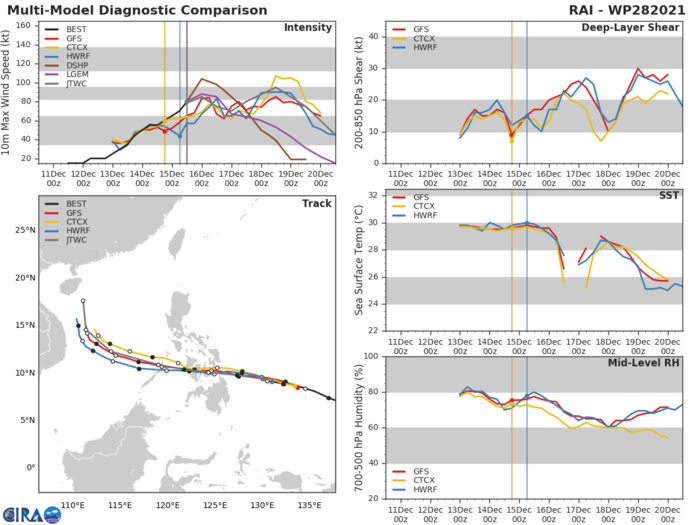 MODEL DISCUSSION: NUMERICAL MODELS REMAIN IN VERY TIGHT AGREEMENT; HOWEVER, DUE TO THE TRACK VARIABILITY INTRODUCED BY LAND INTERACTION AND THE DRY NORTHEAST SURGE IN THE SCS, THERE IS ONLY MEDIUM CONFIDENCE IN THE JTWC TRACK AND INTENSITY FORECASTS.
MICROWAVE EYE DEPICTED AT 15/0926UTC.
28W IS TRACKING OVER VERY WARM SST IN THE PHILIPPINE SEA.
BOTH ECWMF AND GFS ENSEMBLES DEPICT TY 28W(RAI) PEAKING OVER THE SOUTH CHINA SEA.
GFS 24H PRECIPITATION( FROM THE 16TH). CLICK ON THE IMAGERY BELOW TO GET IT ANIMATED AND ENLARGED.