JTWC IS ISSUING 6HOURLY WARNINGS ON TY 20W. 3HOURLY SATELLITE BULLETINS ARE ISSUED ON TY 20W,INVEST 91W AND THE REMNANTS OF TC 03B.
WESTERN NORTH PACIFIC: TY 20W(MINDULLE). WARNING 30 ISSUED AT 29/21UTC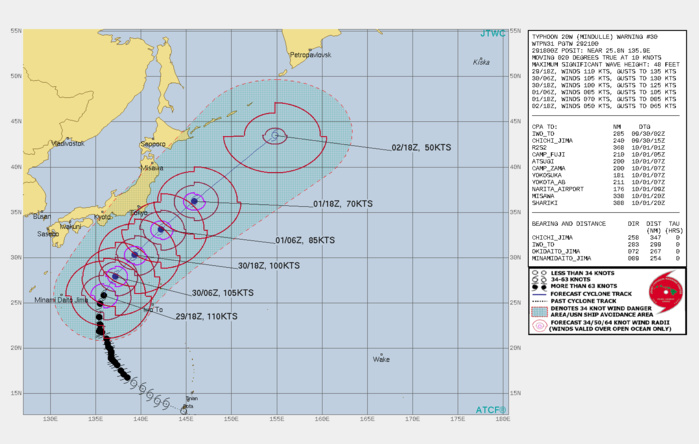 SIGNIFICANT FORECAST CHANGES: THERE ARE NO SIGNIFICANT CHANGES TO THE FORECAST FROM THE PREVIOUS WARNING. FORECAST DISCUSSION: TYPHOON 20W HAS FINALLY CLOCKED OVER TO THE EAST OF NORTH AND ENTERED ITS NORTHEASTWARD LEG. DUE TO THE CLIMATOLOGICALLY ANOMALOUS HEIGHT CENTER OVER THE MARIANAS, THIS IS NOT THE STEREOTYPICAL CASE OF THE STORM ROUNDING THE SOUTHWESTERN FLANK OF THE SUBTROPICAL RIDGE AND ROARING INTO THE MID-LATITUDES. THE MARIANAS HIGH IS BLOCKING THE VORTEX FROM EASTWARD MOVEMENT AS IT DRIFTS POLEWARD UNDER WEAK STEERING. THE RIDGE THAT EXTENDED FROM AN ANTICYCLONE SOUTH OF SHANGHAI ALL THE WAY OVER THE RYUKUS HAS PULLED BACK OVER THE PAST 48 HOURS AND IS ALLOWING THE STORM TO MOVE POLEWARD MORE QUICKLY, BUT A WEDGE OF DRY SUBTROPICAL AIR EXTENDING OVER THE RYUKUS IS KEEPING THE STORM SEPARATED FROM THE MID-LATITUDE WESTERLIES. HENCE, ALTHOUGH THE STORM WILL TRACK POLEWARD AND EVENTUALLY UNDERGO TRANSITION INTO A MID-LATITUDE LOW, IT WILL DO SO AT A SLOWER RATE THAN TYPICAL FOR THE SEASON. IN FACT, PHASE-BASED DIAGRAMS INDICATE THAT THE SYSTEM WILL MAINTAIN ITS WARM CORE EVEN AFTER DEVELOPING THE FRONTAL CHARACTERISTICS OF A WARM OCCLUSION (A SECLUSION AS OPPOSED TO AN OCCLUSION). COUPLED MODELS INDICATE THAT 20W HAS SEEN ITS WARMEST WATERS AND WILL TRACK THROUGH PROGRESSIVELY COOLER SEA WATERS. THE LEISURELY EXTRA-TROPICAL TRANSITION PERIOD WILL COMMENCE AFTER THE VORTEX CROSSES THE 30TH LATITUDE, ROUGHLY AT 30H, AND NOT BE FULLY COMPLETE UNTIL THE STORM IS WELL NORTH OF THE KANTO PLAIN.
2021092012 97N1567E 15
2021092018 102N1555E 15
2021092100 107N1541E 15
2021092106 109N1526E 20
2021092112 109N1517E 20
2021092118 109N1510E 20
2021092200 108N1503E 20
2021092206 110N1495E 20
2021092212 112N1486E 25
2021092218 118N1475E 30
2021092300 123N1460E 30
2021092306 130N1447E 35
2021092312 138N1428E 40
2021092318 141N1418E 45
2021092400 148N1410E 45
2021092406 155N1402E 45
2021092412 161N1392E 55
2021092418 167N1385E 65
2021092500 171N1381E 80
2021092506 175N1378E 90
2021092512 181N1374E 115
2021092518 184N1371E 115
2021092600 186N1369E 140
2021092606 188N1367E 145
2021092612 190N1367E 130
2021092618 194N1367E 110
2021092700 196N1367E 100
2021092706 199N1366E 95
2021092712 201N1364E 90
2021092718 205N1363E 90
2021092800 210N1362E 95
2021092806 217N1357E 95
2021092812 220N1355E 100
2021092818 226N1355E 110
2021092900 234N1354E 115
2021092906 218N1354E 115
2021092912 249N1355E 110
2021092918 258N1359E 110
NNNN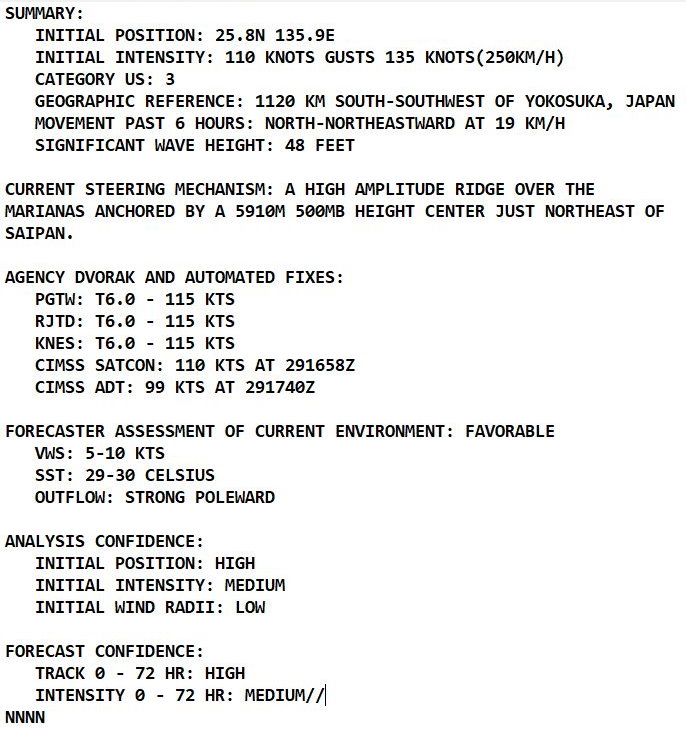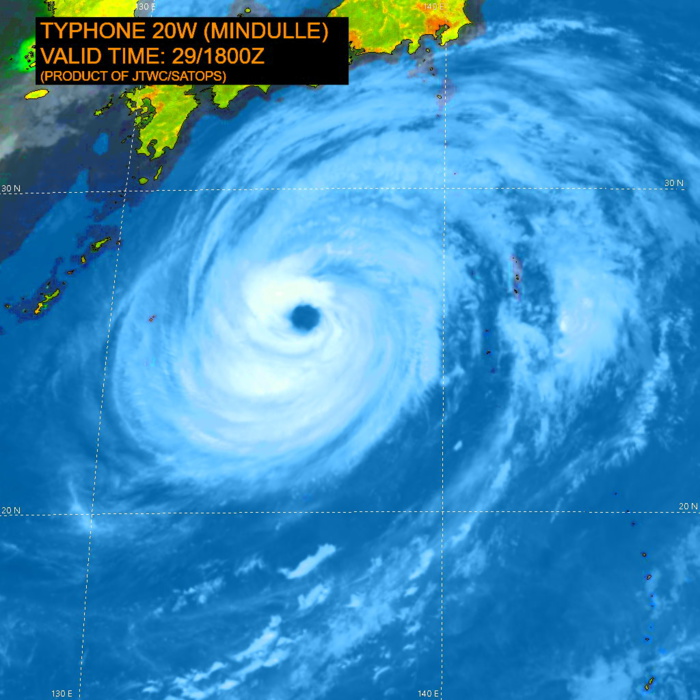 SATELLITE ANALYSIS, INITIAL POSITION AND INTENSITY DISCUSSION: ANIMATED ENHANCED INFRARED (EIR) SATELLITE IMAGERY SHOW TYPHOON 20W (MINDULLE) MAINTAINING EYEWALL INTEGRITY OVER THE PAST SIX HOURS, LIKELY DUE TO A BOOST FROM DIURNAL CYCLING. BOTH SUBJECTIVE AND OBJECTIVE DVORAK ASSESSMENTS WERE BEGINNING TO FALL, BUT AFTER 291500Z CLOUD TOPS RESUMED COOLING AND DATA T MEASUREMENTS ACTUALLY ROSE AGAIN. THE EYE REMAINS ROUGHLY 75KM WIDE AND CORE TEMPS ARE HOLDING STEADY, AND BOTH SATCON AND ADT VALUES ARE RISING AGAIN, ALBEIT SLIGHTLY. A 291700Z AMSR2 SERIES DOES SHOW CLEAR INDICATIONS OF DRIER AIR WRAPPING AROUND THE WESTERN SEMICIRCLE BUT THUS FAR THE SYSTEM HAS BEEN ABLE TO ABSORB THE CHALLENGE. THE CURRENT INTENSITY ASSESSMENT IS PREDICATED ON THE JTWC DVORAK ANALYSIS AND SUPPORTED BY SATCON.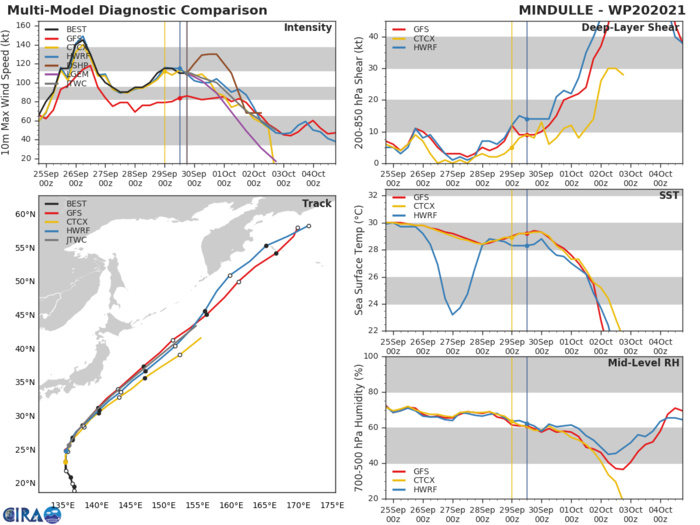 MODEL DISCUSSION: TRACK GUIDANCE CONTINUES TO BE OUTSTANDING. THERE ARE NOT EVEN ANY OUTLIERS IN THE MULTI-MODEL CONSENSUS TO COMPLAIN ABOUT. INTENSITY GUIDANCE HAS ALSO CONGEALED WITH EACH SUCCESSIVE MODEL RUN AND THE GAP BETWEEN STATISTICAL-DYNAMICAL AND DETERMINISTIC GUIDANCE HAS CLOSED. THE JTWC FORECAST TRACK STAYS STRAIGHT ON THE MULTI-MODEL CONSENSUS WHILE THE INTENSITY FORECAST STAYS JUST ABOVE THE CONSENSUS AND CLOSER TO THE STATISICAL-DYNAMICAL OUTPUT DURING THE FIRST 36 HOURS, THEN GOES STRAIGHT ON CONSENSUS THROUGH THE DURATION OF THE FORECAST.
NORTH INDIAN OCEAN/ARABIAN SEA: REMNANTS OF TC 03B(GULAB). TROPICAL CYCLONE FORMATION ALERT ISSUED AT 29/1730UTC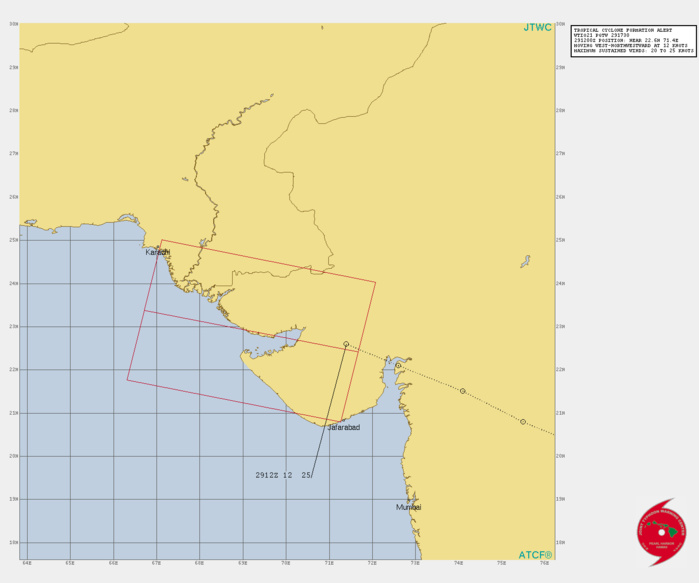 THE AREA OF CONVECTION (REMNANTS OF TC 03B) PREVIOUSLY LOCATED NEAR 22.1N 72.4E IS NOW LOCATED NEAR 22.6N 71.4E, APPROXIMATELY 190 KM NORTH OF JAFARABAD, INDIA. ANIMATED ENHANCED INFRARED (EIR) SATELLITE IMAGERY AND A 291314Z SSMIS 91GHZ SATELLITE IMAGE DEPICT FORMATIVE BAND OF DEEP CONVECTION DEVELOPING ALONG THE WESTERN PERIPHERY OF A LOW LEVEL CIRCULATION CENTER AT THE EDGE OF THE INDIAN SHORELINE. ENVIRONMENTAL ANALYSIS INDICATES AN OVERALL FAVORABLE ENVIRONMENT CHARACTERIZED BY VERY WARM (30-31C) SEA SURFACE TEMPERATURES (SST) AND AN UPPER LEVEL ANTICYCLONE THAT IS ENHANCING EQUATORWARD OUTFLOW. THE CIRCULATION ALSO IS MOVING TOWARDS AN AREA OF LOW VERTICAL WIND SHEAR (VWS). MAXIMUM SUSTAINED SURFACE WINDS ARE ESTIMATED AT 20 TO 25 KNOTS. MINIMUM SEA LEVEL PRESSURE IS ESTIMATED TO BE NEAR 1001 MB. THE POTENTIAL FOR THE DEVELOPMENT OF A SIGNIFICANT TROPICAL CYCLONE WITHIN THE NEXT 24 HOURS IS UPGRADED TO HIGH.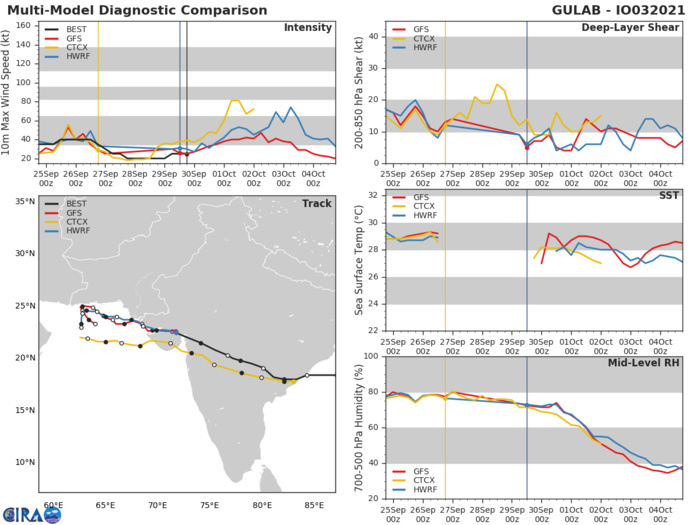 GLOBAL MODELS ARE GOOD IN AGREEMENT THAT THE REMNANTS OF TC 03B WILL STRENGTHEN AND CONSOLIDATE AS IT EMERGES OVER THE ARABIAN SEA AND PROPAGATES WEST NORTHWESTWARD.
ATLANTIC: HU 18L(SAM). WARNING 29 ISSUED AT 29/21UTC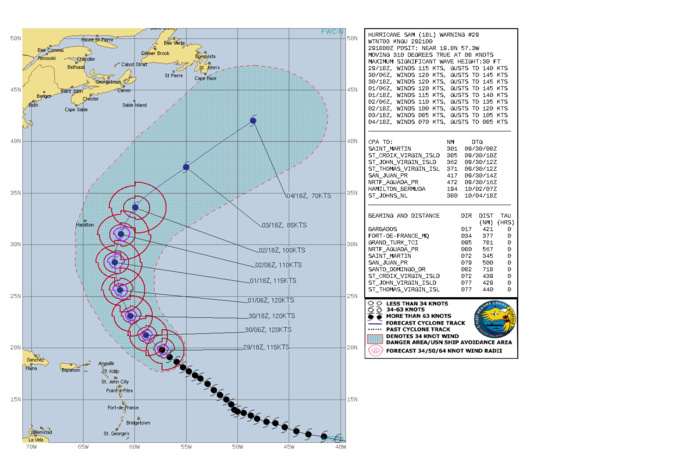 CURRENT INTENSITY IS 115KNOTS/CAT4 AND IS FORECAST TO PEAK AT 120KNOTS WITHIN THE NEXT 24H.
1821091900 103N 115W 15
1821091906 100N 131W 15
1821091912 98N 147W 15
1821091918 96N 163W 15
1821092000 95N 178W 20
1821092006 95N 193W 25
1821092012 93N 210W 25
1821092018 94N 228W 25
1821092100 95N 247W 25
1821092106 95N 261W 25
1821092112 95N 273W 25
1821092118 95N 285W 25
1821092200 96N 296W 25
1821092206 96N 307W 25
1821092212 98N 319W 30
1821092218 100N 331W 30
1821092300 102N 344W 30
1821092306 105N 360W 35
1821092312 107N 376W 45
1821092318 109N 391W 50
1821092400 111N 403W 60
1821092406 114N 416W 65
1821092412 116N 431W 65
1821092418 119N 443W 70
1821092500 123N 454W 85
1821092506 127N 463W 95
1821092512 128N 472W 105
1821092518 131N 481W 115
1821092600 134N 487W 125
1821092606 137N 494W 125
1821092612 138N 500W 130
1821092618 140N 503W 135
1821092700 145N 506W 130
1821092706 150N 511W 115
1821092712 154N 517W 105
1821092718 159N 523W 105
1821092800 165N 529W 105
1821092806 170N 536W 115
1821092812 173N 541W 115
1821092818 177N 547W 115
1821092900 181N 553W 120
1821092906 186N 559W 115
1821092912 191N 566W 115
1821092918 198N 573W 115


TS 20L(VICTOR). WARNING 2 ISSUED AT 29/21UTC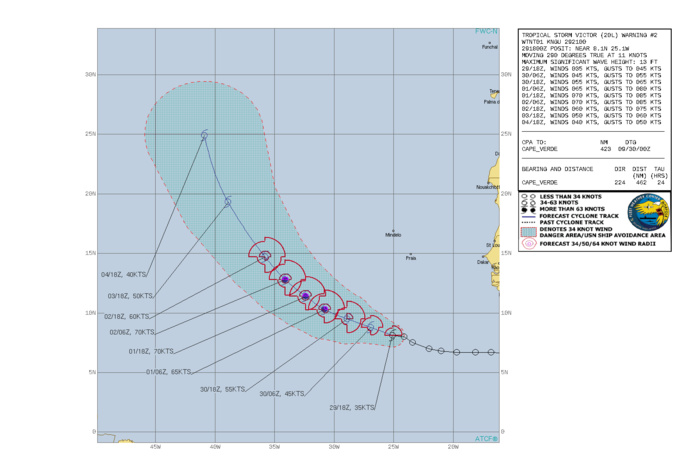 CURRENT INTENSITY IS 35KNOTS AND IS FORECAST TO PEAK AT 70KNOTS/CAT 1 BY 01/18UTC
2021092700 64N 104W 15
2021092706 64N 120W 15
2021092712 65N 136W 20
2021092718 66N 152W 20
2021092800 67N 168W 20
2021092806 67N 181W 25
2021092812 67N 197W 25
2021092818 68N 210W 25
2021092900 70N 220W 30
2021092906 75N 234W 30
2021092912 80N 241W 30
2021092918 81N 251W 35