WESTERN NORTH PACIFIC. TY 20W(MINDULLE). WARNING 24 ISSUED AT 28/09UTC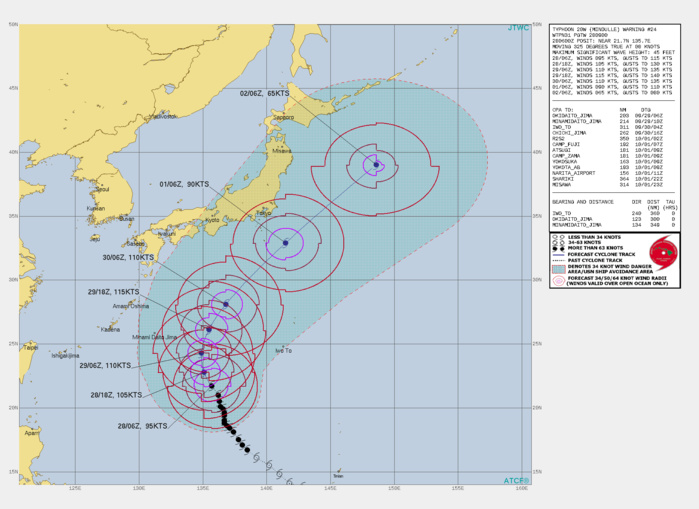 SIGNIFICANT FORECAST CHANGES: THERE ARE NO SIGNIFICANT CHANGES TO THE FORECAST FROM THE PREVIOUS WARNING. HOWEVER THE FORECAST HAS BEEN TRUNCATED TO 96 HOURS DUE TO EXTRA-TROPICAL TRANSITION. FORECAST DISCUSSION: THE MAJORITY OF GLOBAL MODEL FIELDS AND JMA UPPER-LEVEL ANALYSIS CHARTS INDICATE THAT THE BLOCKING RIDGE TO THE NORTH HAS ERODED AND RETREATED WESTWARD, AND THUS THE SUBTROPICAL RIDGE(STR) TO THE SOUTHEAST HAS BECOME THE DOMINANT STEERING MECHANISM. THUS, TY 20W HAS STARTED MOVING NORTHWEST AT A FAIR CLIP OVER THE PAST SIX HOURS. IT IS FORECAST TO CONTINUE TO ACCELERATE, SLOWLY AT FIRST, THEN AT A GRADUALLY INCREASING PACE, THROUGH THE NEXT 24 TO 36 HOURS. AS THE RIDGE TO THE EAST REORIENTS TO A NORTH-SOUTH AXIS, TY 20W WILL IN RESPONSE TURN NORTHWARD. THE SYSTEM THEN TURNS NORTHEAST AND ACCELERATES SHARPLY AFTER 36H AHEAD OF A MID-LATITUDE TROUGH RAPIDLY APPROACHING FROM THE WEST. A SURFACE LOW AND COLD FRONT ASSOCIATED WITH THIS MID-LATITUDE SYSTEM WILL DRAG ACROSS THE SEA OF JAPAN AND LIE ROUGHLY ALONG CENTRAL HONSHU BY 48H. BY 72H, TY 20W WILL APPROACH AND BEGIN INTERACTING WITH THIS BAROCLINIC ZONE AT THE SURFACE, AND START TO BECOME ABSORBED UNDER THE ASSOCIATED UPPER-LEVEL TROUGH, MARKING THE START OF EXTRA-TROPICAL TRANSITION (ETT). BY 84H THE SYSTEM SHOWS MARKED THERMAL ADVECTION WITH STRONG, COLD, DRY, NORTHWESTERLY WINDS PUSHING SOUTH FROM HONSHU AND WRAPPING INTO THE CORE OF THE SYSTEM. THE ETT PROCESS IS FORECAST TO BE COMPLETE BY 96H WITH THE SYSTEM DEVELOPING WELL-DEFINED COLD AND WARM FRONTS AND EMBEDDED UNDER A 500 MB LOW HEIGHT CENTER. WHILE THE TRACK IS FORECAST TO REMAIN OFFSHORE AND BE UNDERGOING ETT AS IT PASSES YOKOSUKA, STRONG GALE FORCE WINDS CAN BE EXPECTED OVER EASTERN HONSHU, PARTICULARLY AS THE SYSTEM PASSES AND THE STRONG GRADIENT-INDUCED WINDS BETWEEN TY 20W AND THE TRANSIENT HIGH PRESSURE SYSTEM MOVING IN BEHIND THE SYSTEM DEVELOP OVER EAST-CENTRAL HONSHU.
2021092012 97N1567E 15
2021092018 102N1555E 15
2021092100 107N1541E 15
2021092106 109N1526E 20
2021092112 109N1517E 20
2021092118 109N1510E 20
2021092200 108N1503E 20
2021092206 110N1495E 20
2021092212 112N1486E 25
2021092218 118N1475E 30
2021092300 123N1460E 30
2021092306 130N1447E 35
2021092312 138N1428E 40
2021092318 141N1418E 45
2021092400 148N1410E 45
2021092406 155N1402E 45
2021092412 161N1392E 55
2021092418 167N1385E 65
2021092500 171N1381E 80
2021092506 175N1378E 90
2021092512 181N1374E 115
2021092518 184N1371E 115
2021092600 186N1369E 140
2021092606 188N1367E 145
2021092612 190N1367E 130
2021092618 194N1367E 110
2021092700 196N1367E 100
2021092706 199N1366E 95
2021092712 201N1364E 90
2021092718 205N1363E 90
2021092800 210N1362E 95
2021092806 217N1357E 95
NNNN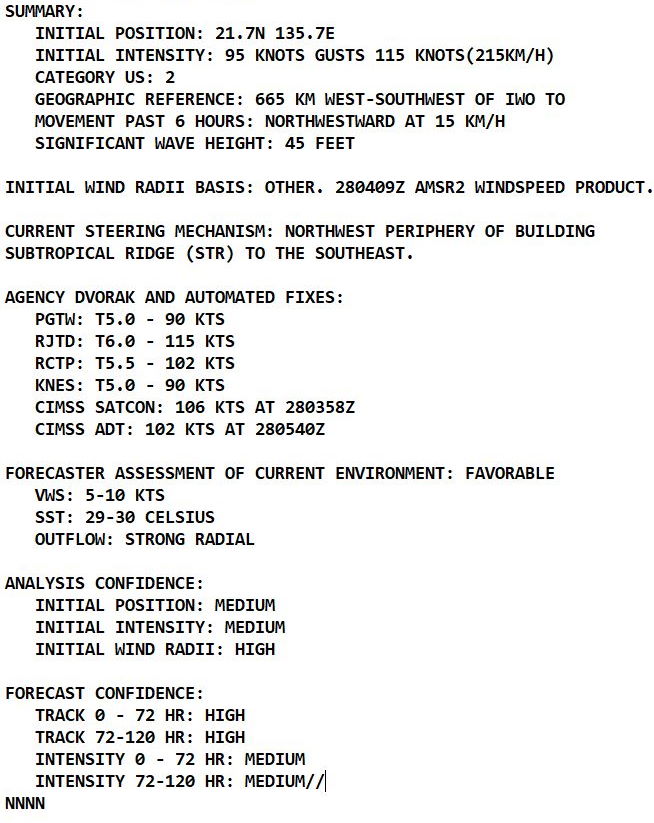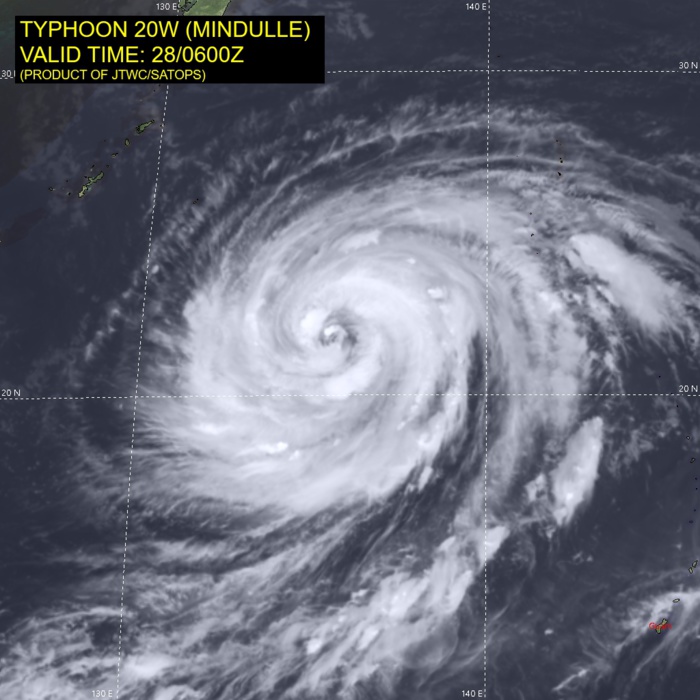 SATELLITE ANALYSIS, INITIAL POSITION AND INTENSITY DISCUSSION: TY 20W SEEMS TO STILL BE STRUGGLING TO REINTENISFY AFTER BEING KNOCKED LOW BY THE RECENT EYEWALL REPLACEMENT CYCLE (ERC) AND THE EFFECTS OF UPWELLING. ANIMATED MULTISPECTRAL SATELLITE IMAGERY (MSI) DEPICTS A RAGGED, ROUGHLY 55 KM WIDE EYE, THOUGH BOTH THE SUBJECTIVE AND OBJECTIVE FIXES ARE BEGINNING TO SCATTER AS THEY STRUGGLE TO LOCATE A PRECISE CENTER. A PICTURESQUE 280409Z AMSR2 89GHZ MICROWAVE IMAGE SHOWED AN INNER BAND OF WEAK CONVECTION IN THE MIDDLE OF A QUITE LARGE OUTER BAND OF MORE SIGNIFICANT CONVECTION. LATER ENHANCED INFRARED IMAGERY SHOWS DEEP CONVECTION AND VERTICAL HOT TOWERS FLARING UP ON THE UPSHEAR (SOUTHWEST) SIDE OF THIS OUTER BAND AND WRAPPING CLOSER TO THE CORE, POSSIBLY INDICATING THAT FINALLY, THE CORE MAY START CONSTRICTING ONCE MORE AND START THE LONG-AWAITED REINTENSIFICATION. THE INITIAL POSITION, DUE TO THE RAGGED NATURE OF THE EYE, IS ASSESSED WITH ONLY MEDIUM CONFIDENCE. THE INITIAL INTENSITY REMAINS ASSESSED AT 95 KNOTS/CAT 2 WITH MEDIUM CONFIDENCE JUST SLIGHTLY BELOW THE ADT AND SATCON AND AT THE MEDIAN OF THE AGENCY CURRENT INTENSITY ESTIMATES, THOUGH THE AGENCY DATA-T NUMBERS WERE FAR LOWER, WITH PGTW AND KNES AT T4.5. THE SYSTEM IS NOW MOVING NORTHWEST AT ABOUT 15 KM/H, TAKING IT OVER A BETTER OCEANOGRAPHIC ENVIRONMENT AND AWAY FROM THE COLD POOL. OTHERWISE THE ENVIRONMENT IS VERY FAVORABLE, WITH LOW SHEAR, AND ROBUST RADIAL OUTFLOW. THE INITIAL WIND RADII HAVE BEEN ADJUSTED ABOUT 20 PERCENT LARGER BASED ON A THE AMSR2 WINDSPEED PRODUCT FROM 280409Z.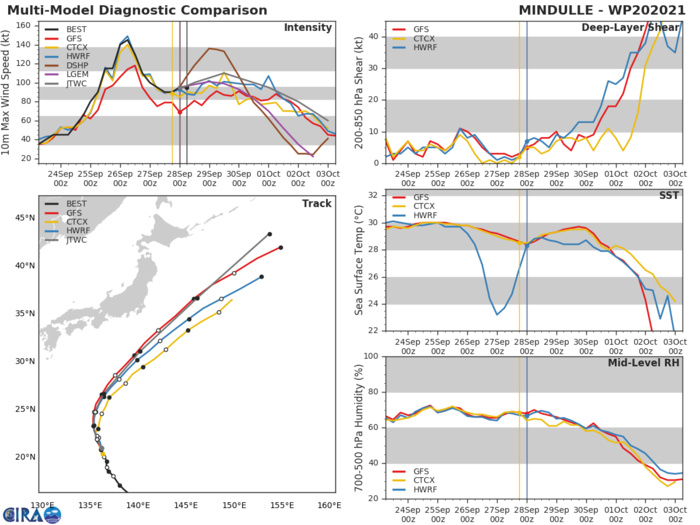 MODEL DISCUSSION: TRACK GUIDANCE IS IN VERY GOOD CROSS-TRACK AGREEMENT THROUGH THE FORECAST PERIOD, WITH MINIMAL SPREAD OF 120 KM AT 48H, INCREASING TO 240 KM AT 96H. ALONG-TRACK SPREAD UNSURPRISINGLY INCREASES STEADILY AFTER 48H, TO 410 KM BY 120H. THE JTWC TRACK REMAINS CONSISTENT WITH THE PRIOR FORECAST WITH HIGH CONFIDENCE THROUGH THE DURATION. THE BULK OF THE INTENSITY GUIDANCE IS IN FAIRLY GOOD AGREEMENT, THOUGH THE COAMPS-TC FAMILY ARE DISSENTING, AND SHOWING STEADY WEAKENING FROM 00H. THE REMAINDER OF THE GUIDANCE SUPPORTS THE SHAPE OF THE INTENSITY CURVE IT SHOULD BE NOTED THAT THE RAPID INTENSIFICATION PREDICTION AID (RIPA) HAS BEEN TRIGGERED FOR THE SECOND CONSECUTIVE RUN, INDICATING A NEAR-TERM RI TO 135 KNOTS/CAT 4 BY 24H. AT THIS POINT, WHILE THE AID IS TRIGGERING, THE CONSTITUENTS OF IT, INCLUDING THE MID-LEVEL HUMIDITY, SST POTENTIAL AND 200 MB DIVERGENCE ARE ALL NEUTRAL OR UNFAVORABLE FOR RI. THUS WHILE THE SYSTEM IS EXPECTED TO INTENSIFY, IT IS NOT EXPECTED TO RI AT THIS TIME. THE JTWC FORECAST TRACES THE INTENSITY CURVE, BUT SITS ABOUT 10 KNOTS HIGHER THAN THE CONSENSUS MEAN AND ABOVE ALL THE GUIDANCE THROUGH 48H, THEN CLOSELY TRACKS THE MEAN THEREAFTER, WITH MEDIUM CONFIDENCE.
WESTERN NORTH PACIFIC: INVEST 91W.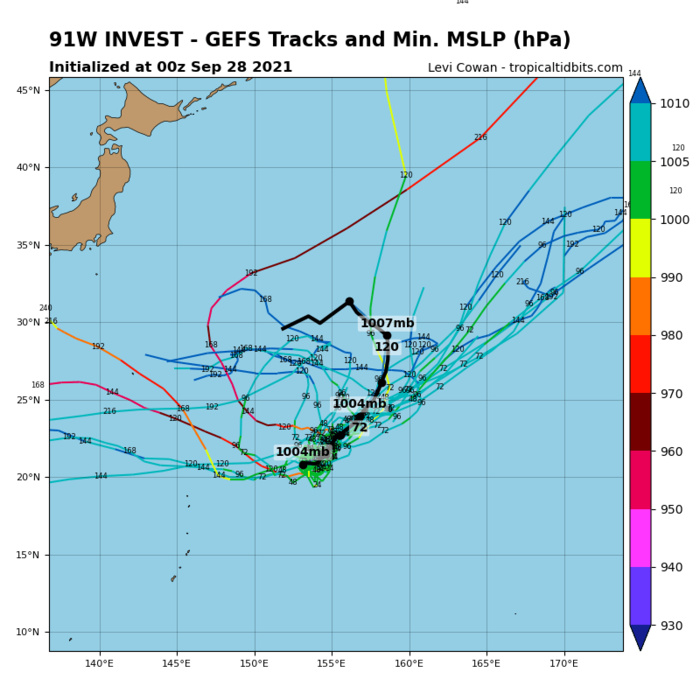 THE AREA OF CONVECTION (INVEST 91W) HAS PERSISTED NEAR 21.3N 153.2E, APPROXIMATELY 1470 KM EAST-SOUTHEAST OF IWO TO. MULTISPECTRAL SATELLITE IMAGERY (MSI) AND A 280650Z SSMIS 89GHZ MICROWAVE IMAGE DEPICT PERSISTENT CONVECTION OFFSET TO THE SOUTHEASTERN PERIPHERY OF AN EXPOSED LOW LEVEL CIRCULATION (LLC). A 272143Z METOP-A ASCAT PASS SHOWS HIGHER WINDS IN THE EASTERN HEMISPHERE OF THE ELONGATED LLC. ENVIRONMENTAL ANALYSIS INDICATES GENERALLY FAVORABLE CONDITIONS FOR DEVELOPMENT, WITH GOOD EQUATORWARD OUTFLOW AND WARM (30C) SEA SURFACE TEMPERATURES (SST) AND LOW (10-15 KTS) VERTICAL WIND SHEAR (VWS). NUMERICAL MODELS AGREE THAT 91W WILL TRACK NORTH-NORTHEAST OVER THE NEXT SEVERAL DAYS, BUT DISAGREE REGARDING INTENSIFICATION, WITH NAVGEM SHOWING INTENSIFICATION BUT ECMWF AND JMA REMAINING BELOW WARNING CRITERIA. MAXIMUM SUSTAINED SURFACE WINDS ARE ESTIMATED AT 15 TO 20 KNOTS. MINIMUM SEA LEVEL PRESSURE IS ESTIMATED TO BE NEAR 1010 MB. THE POTENTIAL FOR THE DEVELOPMENT OF A SIGNIFICANT TROPICAL CYCLONE WITHIN THE NEXT 24 HOURS REMAINS MEDIUM.
NORTH INDIAN OCEAN/BAY OF BENGAL: INVEST 98B. UP-GRADED TO MEDIUM AT 28/0530UTC AND UP-GRADED TO HIGH AT 28/0930UTC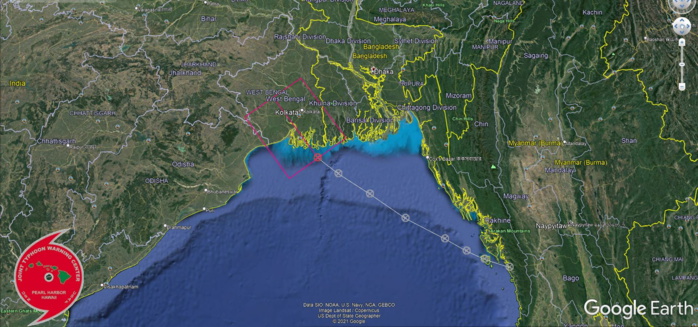 THE AREA OF CONVECTION (INVEST 98B) PREVIOUSLY LOCATED NEAR 21.3N 89.0E IS NOW LOCATED NEAR 21.3N 88.9E, APPROXIMATELY 147 KM SOUTH-SOUTHEAST OF KOLKATA. ANIMATED MULTISPECTRAL SATELLITE IMAGERY (MSI) SHOWS THAT INVEST 98B CONTINUES TO RAPIDLY CONSOLIDATE, WITH BANDS OF DEEP CONVECTION NOW WRAPPING INTO A WELL- DEFINED CENTER JUST OFFSHORE SOUTH OF KOLKATA, INDIA. ANIMATED RADAR DATA FROM INDIA INDICATES THE PRESENCE OF A WELL-DEFINED LOW LEVEL CIRCULATION CENTER (LLCC) WITH MODERATE TO STRONG CONVECTIVE BANDS, PARTICULARLY ON THE SOUTHEAST SIDE, WRAPPING INTO AND AROUND THE LLCC. SIMILARLY AT 280726Z AMSR2 89 GHZ MICROWAVE IMAGE SHOWS DEVELOPMENTAL BANDING WRAPPING INTO THE CENTER DEFINED BY A LOW EMISSIVITY REGION. A PREVIOUS 280246Z ASCAT-B AND 280314Z ASCAT-C PASS INDICATED 30-35 KNOT WINDS WITH SOME HIGHER WINDS UNDER DEEP CONVECTION IN THE EASTERN SEMICIRCLE, THOUGH WINDS IN THE REMAINDER OF THE CIRCULATION WERE 25 KNOTS OR LESS. THE ENVIRONMENT IS FAVORABLE FOR DEVELOPMENT, WITH AN ANTICYCLONE ALOFT JUST TO THE NORTHEAST PROVIDING GOOD RADIAL OUTFLOW AND LOW VERTICAL WIND SHEAR. SSTS REMAIN VERY WARM. WHILE THE SYSTEM IS CURRENTLY MOVING ONSHORE, IT WILL DO SO OVER A REGION OF SWAMPY GROUND IN A RIVER DELTA. THUS INTENSIFICATION OVER LAND IS A DISTINCT POSSIBILITY. MAXIMUM SUSTAINED SURFACE WINDS ARE ESTIMATED AT 28 TO 34 KNOTS. MINIMUM SEA LEVEL PRESSURE IS ESTIMATED TO BE NEAR 1000 MB. THE POTENTIAL FOR THE DEVELOPMENT OF A SIGNIFICANT TROPICAL CYCLONE WITHIN THE NEXT 24 HOURS IS UPGRADED TO HIGH.
9821092612 186N 943E 15
9821092618 188N 936E 15
9821092700 190N 931E 15
9821092706 193N 925E 15
9821092712 198N 914E 15
9821092718 204N 904E 25
9821092800 209N 895E 30
9821092806 213N 889E 30
NNNN
IF NEEDED CLICK ON THE IMAGERY TO GET IT ANIMATED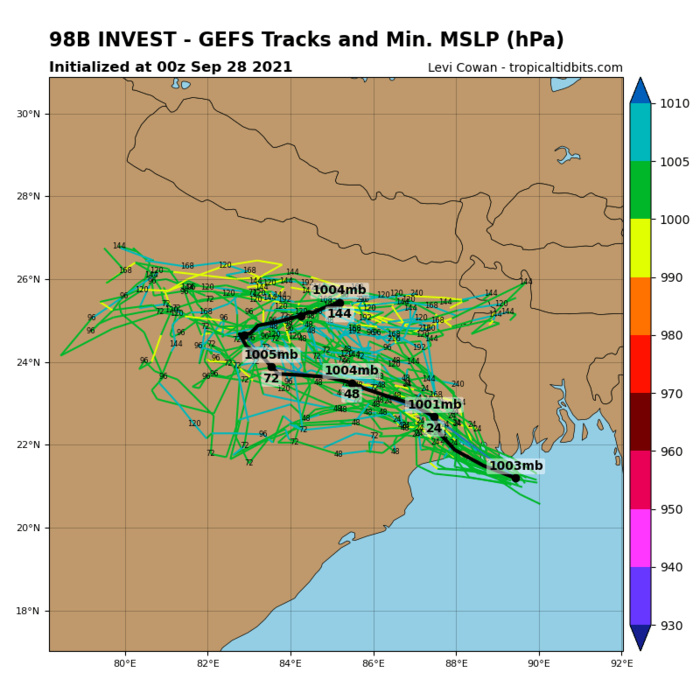 INVEST 98B. NUMERICAL MODEL GUIDANCE IS CURRENTLY LIMITED, BUT GENERALLY AGREES ON SLOW BUT STEADY NORTHWEST MOVEMENT OVER THE NEXT 24 HOURS.
ATLANTIC. HU 18L(SAM). WARNING 23 ISSUED AT 28/09UTC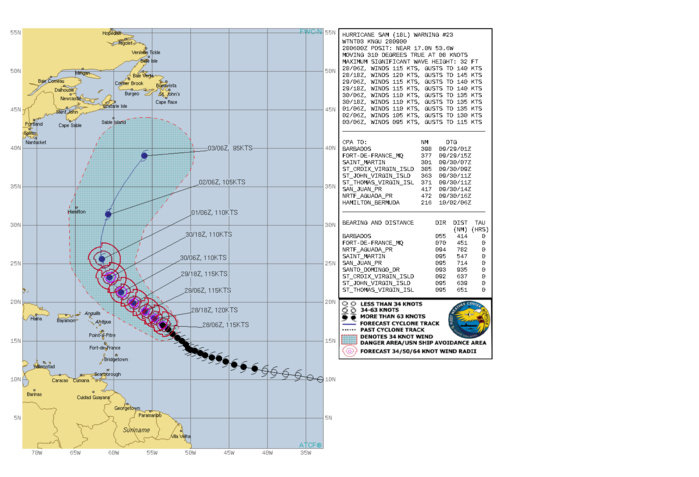 CURRENT INTENSITY IS 115KNOTS/CAT 4 AND IS FORECAST TO PEAK AT 120KNOTS BY 28/18UTC.
1821091900 103N 115W 15
1821091906 100N 131W 15
1821091912 98N 147W 15
1821091918 96N 163W 15
1821092000 95N 178W 20
1821092006 95N 193W 25
1821092012 93N 210W 25
1821092018 94N 228W 25
1821092100 95N 247W 25
1821092106 95N 261W 25
1821092112 95N 273W 25
1821092118 95N 285W 25
1821092200 96N 296W 25
1821092206 96N 307W 25
1821092212 98N 319W 30
1821092218 100N 331W 30
1821092300 102N 344W 30
1821092306 105N 360W 35
1821092312 107N 376W 45
1821092318 109N 391W 50
1821092400 111N 403W 60
1821092406 114N 416W 65
1821092412 116N 431W 65
1821092418 119N 443W 70
1821092500 123N 454W 85
1821092506 127N 463W 95
1821092512 128N 472W 105
1821092518 131N 481W 115
1821092600 134N 487W 125
1821092606 137N 494W 125
1821092612 138N 500W 130
1821092618 140N 503W 135
1821092700 145N 506W 130
1821092706 150N 511W 115
1821092712 154N 517W 105
1821092718 159N 523W 105
1821092800 165N 529W 105
1821092806 170N 536W 115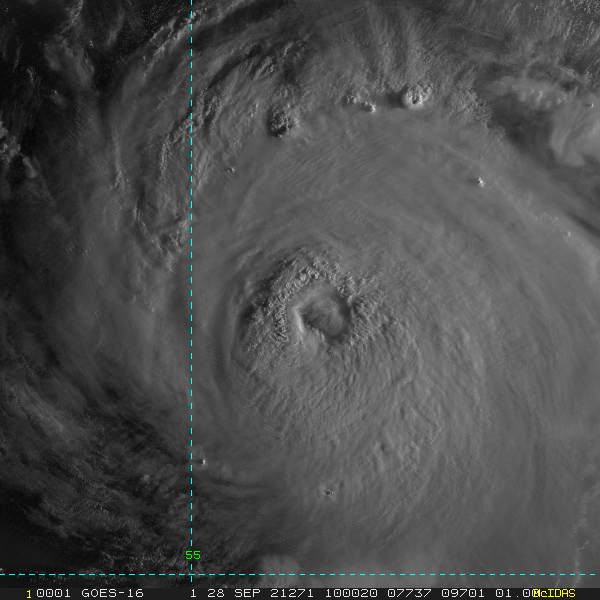 HU 18L(SAM). 28/10UTC. EARLY DAILIGHT IMAGERY.