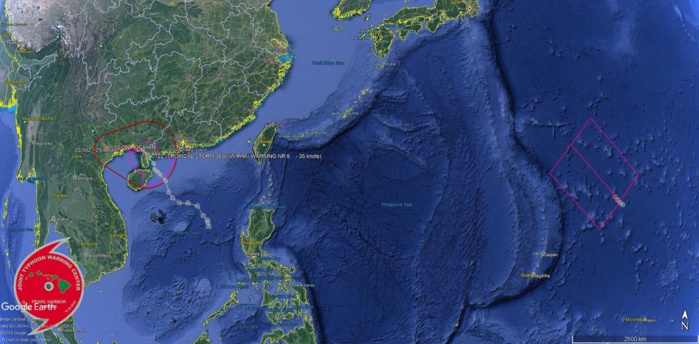 WIPHA(08W) & INVEST 93W
Météo974
M974World
WESTERN NORTH PACIFIC
Location: 21.3°N 110.2°E
Maximum Winds: 35 kt ( 65km/h)
Gusts: 45 kt ( 85km/h)
Minimum Central Pressure: 994 mb
WDPN31 PGTW 011500
MSGID/GENADMIN/JOINT TYPHOON WRNCEN PEARL HARBOR HI//
SUBJ/PROGNOSTIC REASONING FOR TROPICAL STORM 08W (WIPHA)
WARNING NR 08//
RMKS//
1. FOR METEOROLOGISTS.
2. 6 HOUR SUMMARY AND ANALYSIS.
TROPICAL STORM (TS) 08W (WIPHA), LOCATED APPROXIMATELY 241 NM
EAST OF HANOI, VIETNAM, HAS TRACKED NORTHWESTWARD AT 10 KNOTS OVER
THE PAST SIX HOURS. ANIMATED ENHANCED INFRARED SATELLITE IMAGERY
DEPICTS A GENERAL WEAKENING TREND WITH DECAYING DEEP CONVECTION OVER
THE LOW-LEVEL CIRCULATION. HOWEVER, A 011046Z SSMIS 91GHZ MICROWAVE
IMAGE INDICATES CONVECTIVE BANDING WRAPPING TIGHTLY INTO A DEFINED
LOW-LEVEL CIRCULATION CENTER, WHICH SUPPORTS THE INITIAL POSITION
WITH GOOD CONFIDENCE. THE INITIAL INTENSITY ASSESSMENT OF 35 KNOTS
IS BASED ON A RECENT ASCAT IMAGE SHOWING A DEFINED CENTER WITH 30 TO
35 KNOT WINDS OVER THE SOUTH AND EAST QUADRANTS. UPPER-LEVEL
ANALYSIS INDICATES A MARGINALLY-FAVORABLE ENVIRONMENT WITH LOW TO
MODERATE VERTICAL WIND SHEAR OFFSET BY GOOD POLEWARD AND EQUATORWARD
OUTFLOW. TS 08W IS TRACKING UNDER THE STEERING INFLUENCE OF THE LOW-
TO MID-LEVEL SUBTROPICAL RIDGE (STR) POSITIONED TO THE NORTH.
3. FORECAST REASONING.
A. THERE IS NO CHANGE TO THE FORECAST PHILOSOPHY SINCE THE
PREVIOUS PROGNOSTIC REASONING MESSAGE.
B. TS 08W WILL GRADUALLY TURN WESTWARD TO WEST-SOUTHWESTWARD AS
IT TRACKS UNDER THE DOMINANT STEERING INFLUENCE OF THE STR
ENTRENCHED TO THE NORTH. THERE IS SOME UNCERTAINTY IN THE TIMING OF
THIS WESTWARD TURN, WHICH INTRODUCES UNCERTAINTY IN THE INTENSITY
FORECAST AND EXACT TRACK OVER THE GULF OF TONKIN. THE CURRENT JTWC
FORECAST TRACK SKIRTS THE SOUTHERN COAST OF CHINA WITH LANDFALL
ALONG THE NORTHEAST COAST OF VIETNAM NEAR TAU 30 AND DISSIPATION BY
TAU 48 NEAR HANOI. DYNAMIC MODEL GUIDANCE REFLECTS THIS UNCERTAINTY
WITH SOME SOLUTIONS FURTHER NORTH OVER THE COAST, WHICH COULD LEAD
TO A FASTER WEAKENING TREND. DUE TO THIS UNCERTAINTY, THERE IS
MODERATE CONFIDENCE IN THE JTWC FORECAST TRACK.//
NNNN
--------------------------------------------------------------------------------------------------------------------
INVEST 93W
Location: 19.2°N 153.6°E
Maximum Winds: 20 kt
Minimum Central Pressure: 1003 mb
WTPN21 PGTW 011330
MSGID/GENADMIN/JOINT TYPHOON WRNCEN PEARL HARBOR HI//
SUBJ/TROPICAL CYCLONE FORMATION ALERT (INVEST 93W)//
RMKS/
1. FORMATION OF A SIGNIFICANT TROPICAL CYCLONE IS POSSIBLE WITHIN
190 NM EITHER SIDE OF A LINE FROM 18.7N 154.1E TO 24.0N 148.9E
WITHIN THE NEXT 12 TO 24 HOURS. AVAILABLE DATA DOES NOT JUSTIFY
ISSUANCE OF NUMBERED TROPICAL CYCLONE WARNINGS AT THIS TIME. WINDS
IN THE AREA ARE ESTIMATED TO BE 20 TO 25 KNOTS. METSAT IMAGERY AT
011300Z INDICATES THAT A CIRCULATION CENTER IS LOCATED NEAR 19.2N
153.6E. THE SYSTEM IS MOVING NORTHWESTWARD AT 04 KNOTS.
2. REMARKS: THE AREA OF CONVECTION (INVEST 93W) PREVIOUSLY LOCATED
NEAR 19.3N 153.2E, IS NOW LOCATED NEAR 19.2N 153.6E, APPROXIMATELY
601 NM NORTHEAST OF ANDERSEN AFB, GUAM. ANIMATED ENHANCED INFRARED
SATELLITE IMAGERY AND A 011033Z AMSU 89GHZ IMAGE SHOW AN IMPROVING
CONVECTIVE STRUCTURE WITH DEEP BANDING OVER THE SOUTHERN SEMICIRCLE
WRAPPING INTO THE EASTERN QUADRANT. A 011033Z ASCAT-B PASS INDICATES
AN ELONGATED CIRCULATION WITH 15-20 KNOT WINDS AND AN ISOLATED PATCH
OF 30 KNOT WINDS OVER THE EASTERN QUADRANT. UPPER LEVEL ANALYSIS
SHOWS STRONG EQUATORWARD DIFFLUENCE AND ENHANCED POLEWARD OUTFLOW
WITH A FAVORABLE SHEAR ENVIRONMENT. SEA SURFACE TEMPERATURES REMAIN
WARM (28-30C) IN THE VICINITY OF 93W. GLOBAL MODELS SHOW STEADY
DEVELOPMENT AS THE SYSTEM CONTINUES ON A NORTHWESTWARD TRACK.
MAXIMUM SUSTAINED SURFACE WINDS ARE ESTIMATED AT 20 TO 25 KNOTS.
MINIMUM SEA LEVEL PRESSURE IS ESTIMATED TO BE NEAR 1003 MB. THE
POTENTIAL FOR THE DEVELOPMENT OF A SIGNIFICANT TROPICAL CYCLONE
WITHIN THE NEXT 24 HOURS IS HIGH.
3. THIS ALERT WILL BE REISSUED, UPGRADED TO WARNING OR CANCELLED BY
021330Z.//
NNNN