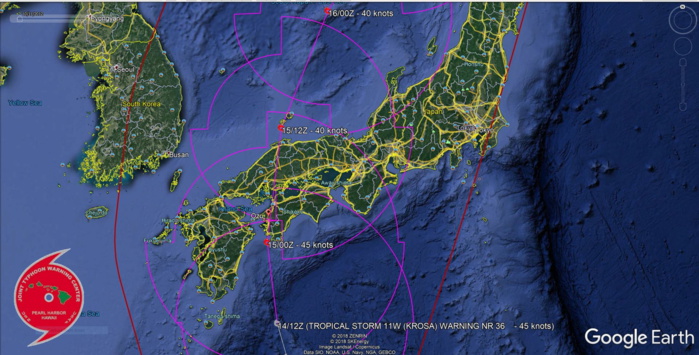 Météo974
WESTERN NORTH PACIFIC
TS KROSA(11W)
Location: 30.4°N 132.8°E
Maximum Winds: 45 kt ( 85km/h)
Gusts: 55 kt (100km/h)
Minimum Central Pressure: 975 mb
WDPN33 PGTW 141500
MSGID/GENADMIN/JOINT TYPHOON WRNCEN PEARL HARBOR HI//
SUBJ/PROGNOSTIC REASONING FOR TROPICAL STORM 11W (KROSA) WARNING NR
036//
RMKS/
1. FOR METEOROLOGISTS.
2. 6 HOUR SUMMARY AND ANALYSIS.
TROPICAL STORM 11W (KROSA), LOCATED APPROXIMATELY 237 NM
SOUTH OF IWAKUNI, JAPAN, HAS TRACKED NORTH-NORTHWESTWARD AT 10
KNOTS OVER THE PAST SIX HOURS. ANIMATED ENHANCED INFRARED (EIR)
SATELLITE IMAGERY SHOWS A BROAD SYSTEM WITH A RAGGED, EXPOSED LOW
LEVEL CIRCULATION CENTER AND POCKETS OF DEEP CONVECTION, MOSTLY
DISPLACED TO THE SOUTH. THE INITIAL POSITION IS BASED ON THE CENTROID
OF ROTATION IN THE EIR IMAGERY WITH FAIR CONFIDENCE AND SUPPORTED BY
THE ELONGATED LLC EVIDENT IN A 141133Z PARTIAL METOP-A ASCAT PASS. THE
INITIAL INTENSITY OF 45 KNOTS IS BASED ON THE AFOREMENTIONED ASCAT
PASS THAT SHOWS AREAS OF 40-44 KT WIND BARBS DISPLACED OVER 60 NM TO
THE NORTH AND SOUTH AND EXTENSIVE BANDS OF GALE FORCE WINDS. THE
ASSESSED INTENSITY IS BELOW THE PGTW AND RJTD DVORAK CURRENT INTENSITY
ESTIMATES OF T3.5 (55 KTS), BUT IN AGREEMENT WITH THE KNES ESTIMATE OF
T3.0 (45 KTS) AND A 141200Z AUTOMATED DVORAK INTENSITY ESTIMATE OF
T2.9 (43 KTS). OBSERVATIONS FROM 95-185 NM AWAY ALONG THE JAPANESE
COAST REPORT MAXIMUM SUSTAINED WINDS OF 37 KTS AND PRESSURES FROM 978-
990 MB, DEMONSTRATING THE EXPANSIVE WIND FIELD. UPPER LEVEL ANALYSIS
INDICATES AN OVERALL MARGINAL ENVIRONMENT WITH AN UPPER LEVEL LOW
DIRECTLY OVER THE LLC, WHICH IS INHIBITING CENTRAL CONVECTION.
HOWEVER, UPPER LEVEL OUTFLOW HAS RECENTLY INCREASED AS TS 11W BEGINS
TO TAP INTO AN APPROACHING MIDLATITUDE TROUGH TO ITS WEST, AND THE
EQUATORWARD OUTFLOW CHANNEL REMAINS EXCELLENT. SEA SURFACE
TEMPERATURES (SST) REMAIN CONDUCIVE (28-29 DEGREES CELSIUS). THE
CYCLONE HAS ACCELERATED NORTHWARD ALONG THE WESTERN PERIPHERY OF AN
EXTENSION OF THE SUBTROPICAL RIDGE (STR) TO THE NORTHEAST.
3. FORECAST REASONING.
A. THERE IS NO CHANGE TO THE FORECAST PHILOSOPHY SINCE THE
PREVIOUS PROGNOSTIC REASONING MESSAGE.
B. OVER THE NEXT 12 HOURS, TS 11W WILL CONTINUE ON ITS CURRENT
TRACK AS IT ROUNDS THE WESTERN PERIPHERY OF THE AFOREMENTIONED STR.
NEAR TAU 12, A MIDLATITUDE TROUGH WILL APPROACH FROM THE WEST, ERODING
THE STR AND ALLOWING TS 11W TO RECURVE POLEWARD AROUND THE STR AXIS.
INCREASING POLEWARD OUTFLOW AHEAD OF THE AFOREMENTIONED TROUGH WILL
COMPETE WITH UNFAVORABLE LAND INTERACTION TO MAINTAIN A 45 KT
INTENSITY THROUGH TAU 12. AFTERWARDS, LAND INTERACTION OVER JAPAN,
INCREASINGLY UNFAVORABLE (20-30 KNOTS) VERTICAL WIND SHEAR (VWS), AND
COOLER SSTS (22-25 DEGREES CELSIUS) IN THE SEA OF JAPAN (SOJ) WILL
COMBINE TO WEAKEN THE SYSTEM GRADUALLY DOWN TO 25 KNOTS BY TAU 72 AS
IT TRACKS THROUGH THE SOJ. MODELS ARE IN EXCELLENT AGREEMENT ON TRACK
THROUGH TAU 48, DIVERGING AFTERWARDS AS THE SYSTEM TRACKS TOWARDS
HOKKAIDO. THE JTWC FORECAST TRACK IS PLACED CLOSE TO THE MULTI-MODEL
CONSENSUS WITH HIGH CONFIDENCE. TS 11W WILL BEGIN EXTRATROPICAL
TRANSITION AS IT INTERACTS WITH THE AFOREMENTIONED TROUGH AT TAU 36,
AND IS EXPECTED TO BECOME FULLY EXTRATROPICAL AS IT TRACKS OVER
HOKKAIDO NEAR TAU 72.//
NNNN