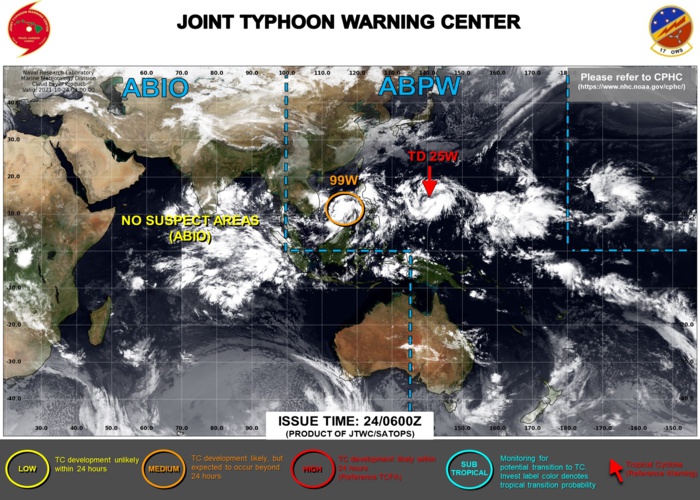 JTWC IS ISSUING 6HOURLY WARNINGS AND 3HOURLY SATELLITE BULLETINS ON TD 25W. INVEST 99W HAS BEEN UP-GRADED TO MEDIUM AT 24/06UTC.
WESTERN NORTH PACIFIC: TD 25W WARNING 1 ISSUED AT 24/03UTC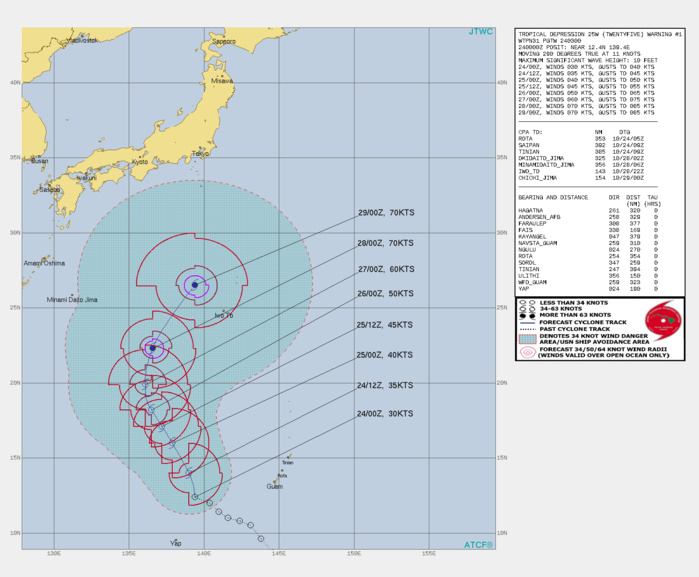 FORECAST REASONING. SIGNIFICANT FORECAST CHANGES: THIS INITIAL PROGNOSTIC REASONING MESSAGE ESTABLISHES THE FORECAST PHILOSOPHY. FORECAST DISCUSSION: TD 25W WILL TRACK TO THE NORTH OVER THE NEXT 72 HOURS AS THE MAIN STEERING FROM THE SUBTROPICAL RIDGE(STR) REMAINS TO THE EAST. AT 48H A LOW PRESSURE SYSTEM WILL FORM JUST SOUTH OF HONSHU AND BEGIN TRACKING TO THE EAST WITH A WEAK FRONTAL BOUNDARY DRAWING 25W IN ITS WAKE. BY 72H TD 25W WILL SPEED UP AND INTENSIFY TO 60 KNOTS AS IT BEGINS TO ROUND THE STR AXIS. SHORTLY BEFORE 96H THE SYSTEM WILL CONTINUE TO INTENSIFY TO TYPHOON STRENGTH AS IT REACHES A PEAK INTENSITY OF 70 KNOTS/CAT 1. THEREAFTER, THE SYSTEM WILL CONTINUE TRACKING ALONG THE WESTERN SIDE OF THE STR AND APPROACH THE BAROCLINIC ZONE WELL TO THE EAST OF MAINLAND JAPAN AND BEGIN EXPERIENCING GREATER SHEAR AND COOLER SSTS.
2521102200 79N1455E 15
2521102206 87N1446E 15
2521102212 96N1438E 15
2521102218 105N1431E 15
2521102300 108N1424E 20
2521102306 110N1416E 20
2521102312 114N1410E 20
2521102318 120N1404E 20
2521102400 124N1394E 30
NNNN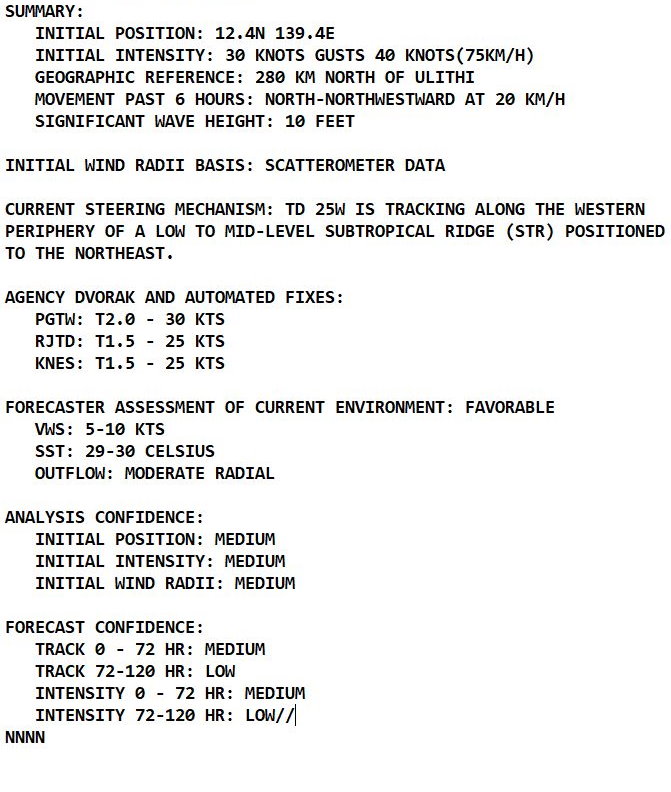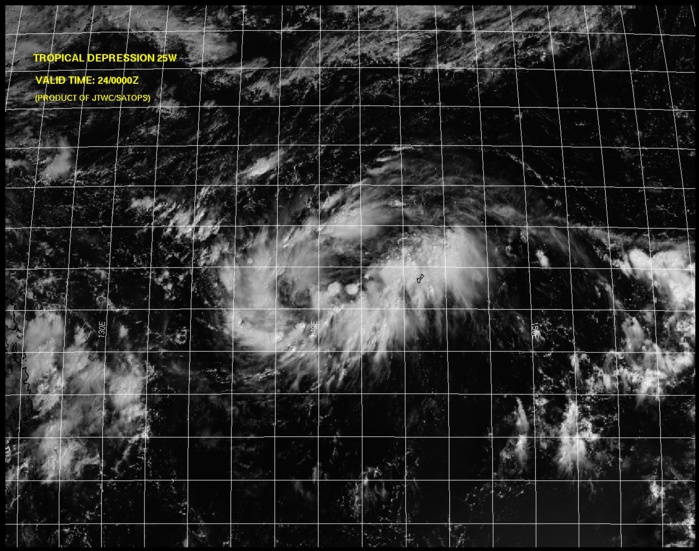 SATELLITE ANALYSIS, INITIAL POSITION AND INTENSITY DISCUSSION: ANIMATED MULTISPECTRAL SATELLITE IMAGERY (MSI) DEPICTS DEEP CONVECTION WRAPPING INTO A LOW LEVEL CIRCULATION CENTER (LLCC) WEST OF GUAM. A TIMELY 240004Z ASCAT METOP-B PASS INDICATES A MODEST REGION WITH MOSTLY 20 KNOT WINDS NEAR THE LLCC. OVERALL, THERE IS MODERATE CONFIDENCE IN THE INITIAL POSITION AND INTENSITY BASED ON THE MSI, ASCAT IMAGE, AND MULTIPLE AGENCY DVORAK ESTIMATES FIXES OF 30 KNOTS FROM PGTW, RJTD. ENVIRONMENTAL CONDITIONS REMAIN FAVORABLE WITH MODERATE RADIAL OUTFLOW, LOW VERTICAL WIND SHEAR AND WARM (29-30C) SEA SURFACE TEMPERATURES (SST).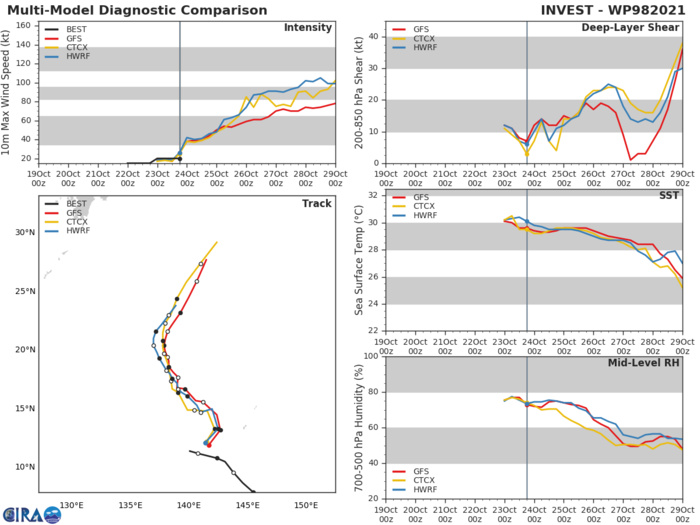 MODEL DISCUSSION: NUMERICAL MODEL GUIDANCE IS IN FAIR AGREEMENT WITH A GRADUAL SPREAD FROM 85KM AT 12H TO A MAXIMUM OF 280KM BY 72H, LENDING TO MEDIUM CONFIDENCE THROUGH 72H AND LOW THEREAFTER. THE JTWC FORECAST TRACK IS POSITIONED NEAR THE MULTI-MODEL CONSENSUS (CONW) WITH UKMET AS THE LEFT OUTLIER AND NAVGEM THE OUTERMOST RIGHT OUTLIER.
WESTERN NORTH PACIFIC: INVEST 99W. UP-GRADED TO MEDIUM AT 24/06UTC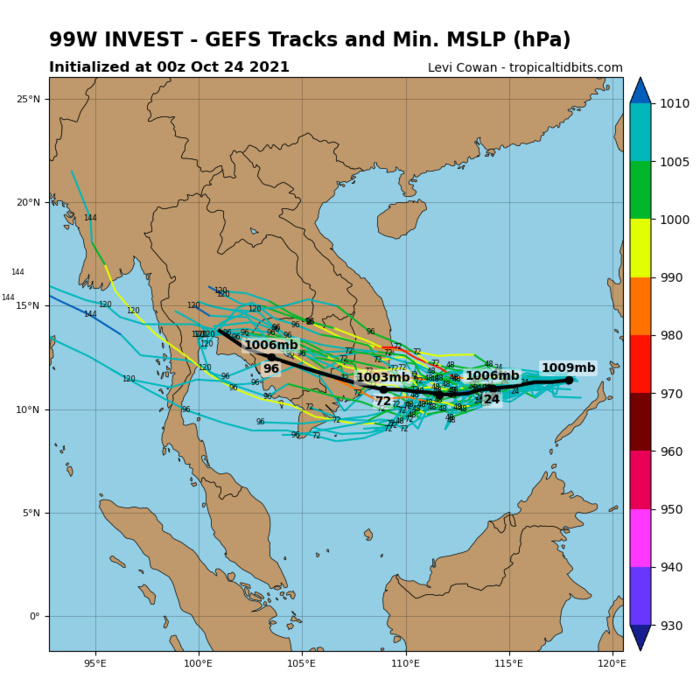 THE AREA OF CONVECTION (INVEST 99W) PREVIOUSLY LOCATED NEAR 10.5N 117.8E IS NOW LOCATED NEAR 11.1N 116.9E, APPROXIMATELY 255 KM NORTHWEST OF PUERTO PRINCESA. ANIMATED MULTISPECTRAL SATELLITE IMAGERY(MSI) DEPICTS FLARING CONVECTION WRAPPING INTO A SLOWLY CONSOLIDATING LLC. ENVIRONMENTAL ANALYSIS INDICATES GENERALLY FAVORABLE CONDITIONS FOR DEVELOPMENT, WITH EQUATORWARD OUTFLOW, LOW (10-15 KTS) VERTICAL WIND SHEAR (VWS) AND WARM (29-30 C) SEA SURFACE TEMPERATURES (SST). NUMERICAL MODELS ARE IN GOOD AGREEMENT THAT INVEST 99W WILL TRACK WEST-NORTHWESTWARD AND INTENSIFY. MAXIMUM SUSTAINED SURFACE WINDS ARE ESTIMATED AT 18 TO 23 KNOTS. MINIMUM SEA LEVEL PRESSURE IS ESTIMATED TO BE NEAR 1010 MB. THE POTENTIAL FOR THE DEVELOPMENT OF A SIGNIFICANT TROPICAL CYCLONE WITHIN THE NEXT 24 HOURS IS UPGRADED TO MEDIUM.
EASTERN NORTH PACIFIC: HU 17E(RICK). WARNING 7 ISSUED AT 24/04UTC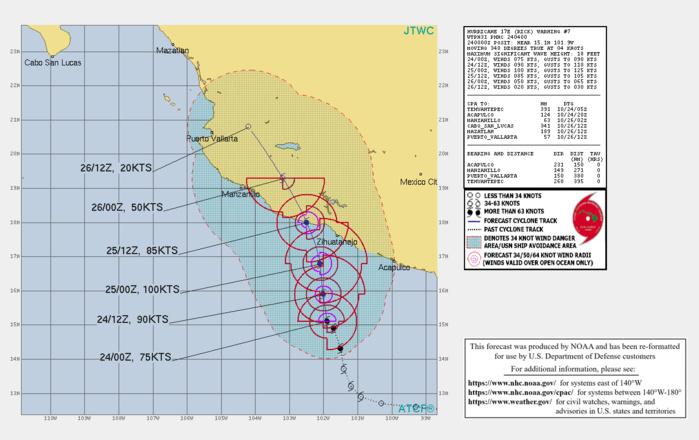 CURRENT INTENSITY IS 75KNOTS/CAT 1 AND IS FORECAST TO PEAK AT 100KNOTS/CAT 3 BY 25/00UTC WHILE THE HURRICANE WILL BE BEARING DOWN ON THE MEXICAN COASTLINE.
1721102012 127N 919W 25
1721102018 127N 928W 25
1721102100 127N 937W 25
1721102106 127N 947W 25
1721102112 126N 958W 25
1721102118 125N 970W 25
1721102200 125N 982W 25
1721102206 126N 993W 25
1721102212 127N1003W 30
1721102218 129N1009W 35
1721102300 132N1012W 45
1721102306 137N1014W 55
1721102312 143N1015W 65
1721102318 149N1017W 75
1721102400 151N1019W 75
NNNN