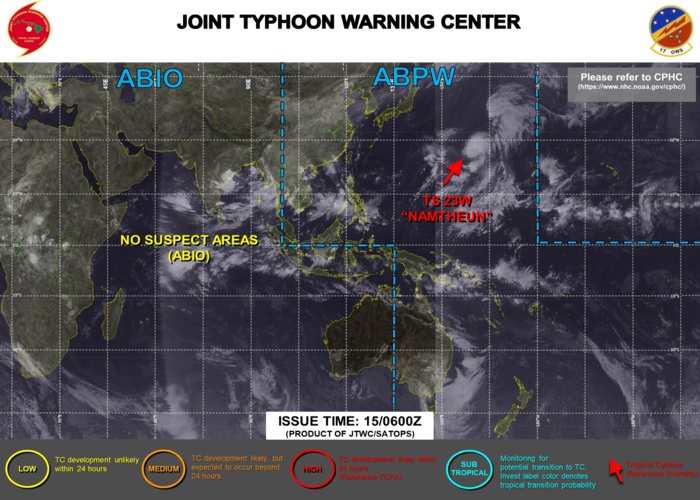 JTWC IS ISSUING 6HOURLY WARNINGS AND 3HOURLY SATELLITE BULLETINS ON TS 23W.
WESTERN NORTH PACIFIC: TS 23W(NAMTHEUN). WARNING 22 ISSUED AT 15/09UTC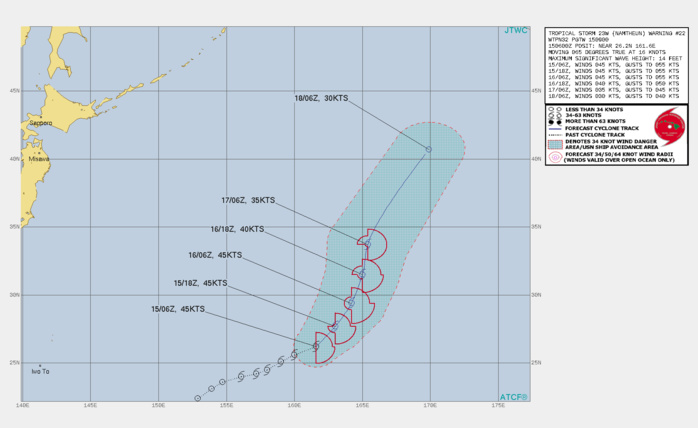 FORECAST REASONING. SIGNIFICANT FORECAST CHANGES: THERE ARE NO SIGNIFICANT CHANGES TO THE FORECAST FROM THE PREVIOUS WARNING. FORECAST DISCUSSION: TS NAMTHEUN WILL CONTINUE ON ITS CURRENT TRACK UP TO 24H. AFTERWARD, A SECONDARY SUBTROPICAL RIDGE(STR) TO THE EAST WILL ASSUME STEERING AND DRIVE THE SYSTEM NORTH-NORTHEASTWARD, ACCELERATING IT AFTER 48H. THE MARGINALLY FAVORABLE ENVIRONMENT WILL SUSTAIN THE CURRENT INTENSITY UP TO 24H. AFTERWARD, INCREASING VERTICAL WIND SHEAR(VWS) AND COOLING SSTS WILL ERODE THE SYSTEM DOWN TO 30KNOTS BY 72H. CONCURRENTLY BY 48H, TS 23W WILL BEGIN EXTRA-TROPICAL TRANSITION (ETT) AS IT ENTERS THE COLD BAROCLINIC ZONE AND TRANSFORM INTO A MODERATE GALE-FORCE COLD CORE LOW BY 72H.
2321100718 142N1671E 15
2321100800 145N1664E 15
2321100806 148N1658E 15
2321100812 151N1651E 15
2321100818 154N1643E 15
2321100900 160N1637E 20
2321100906 164N1628E 20
2321100912 166N1620E 20
2321100918 168N1615E 20
2321101000 170N1603E 30
2321101006 172N1599E 35
2321101012 174N1595E 40
2321101018 180N1584E 45
2321101100 182N1574E 50
2321101106 185N1561E 45
2321101112 186N1551E 45
2321101118 189N1541E 45
2321101200 191N1530E 40
2321101206 193N1522E 40
2321101212 199N1518E 35
2321101218 207N1519E 35
2321101300 216N1523E 30
2321101306 224N1529E 30
2321101312 231N1539E 30
2321101318 236N1547E 30
2321101400 240N1561E 35
2321101406 242N1572E 35
2321101412 245N1580E 35
2321101418 251N1590E 35
2321101500 256N1600E 40
2321101506 262N1616E 45
NNNN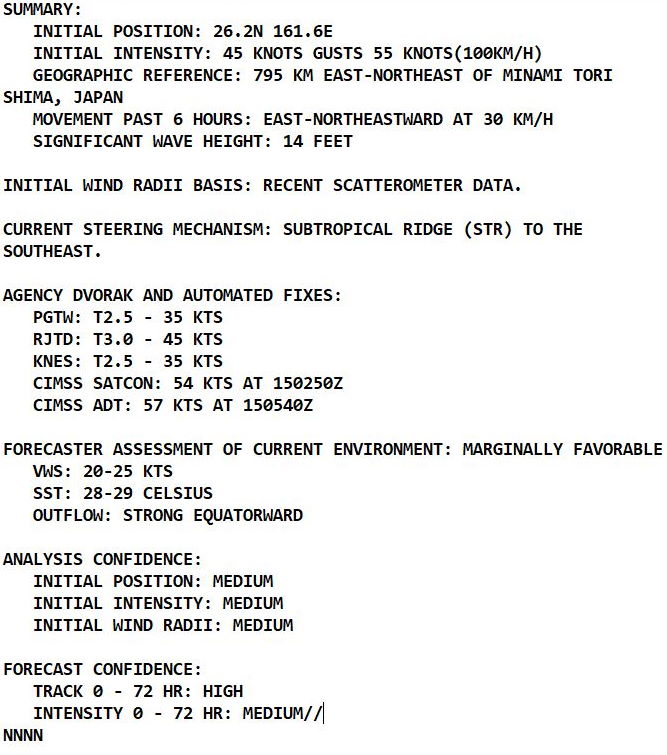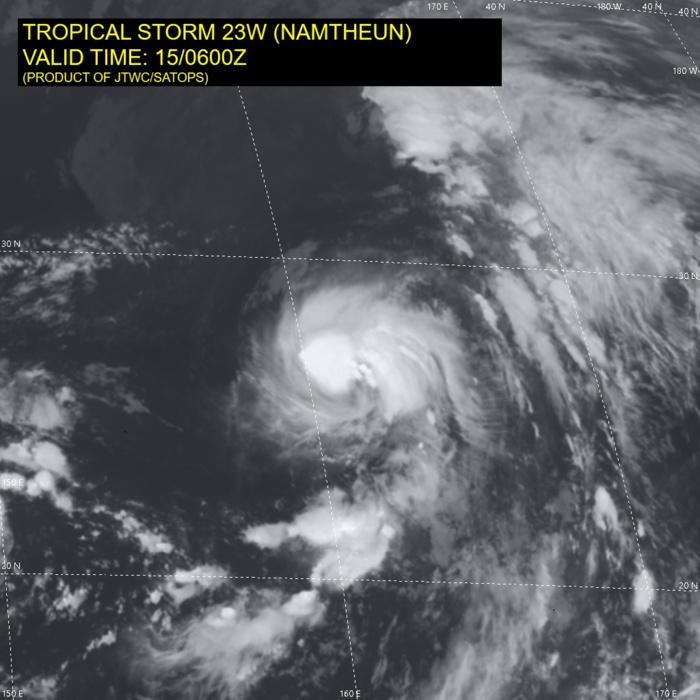 SATELLITE ANALYSIS, INITIAL POSITION AND INTENSITY DISCUSSION: ANIMATED MULTISPECTRAL SATELLITE IMAGERY (MSI) DEPICTS A MEDIUM SIZED SYSTEM WITH PERSISTENT AND DEEPENED CENTRAL CONVECTION TRAILING A FEEDER BAND TO THE SOUTH. THE INITIAL POSITION IS PLACED WITH MEDIUM CONFIDENCE BASED ON A LOW LEVEL CIRCULATION FEATURE IN THE 150443Z SSMIS MICROWAVE IMAGE. THE INITIAL INTENSITY OF 45KNOTS IS PLACED WITH MEDIUM CONFIDENCE BASED ON THE HIGHER END OF AGENCY DVORAK ESTIMATES (SEE BELOW) AND REFLECTS THE 6-HR IMPROVEMENT IN THE CENTRAL CONVECTION. ANALYSIS INDICATES THE SYSTEM IS IN A MARGINALLY FAVORABLE ENVIRONMENT WITH WARM SSTS AND STRONG EQUATORWARD OUTFLOW OFFSET BY MODERATE TO STRONG VWS. THE CYCLONE IS TRACKING ALONG THE NORTHWESTERN PERIPHERY OF THE STR TO THE SOUTHEAST.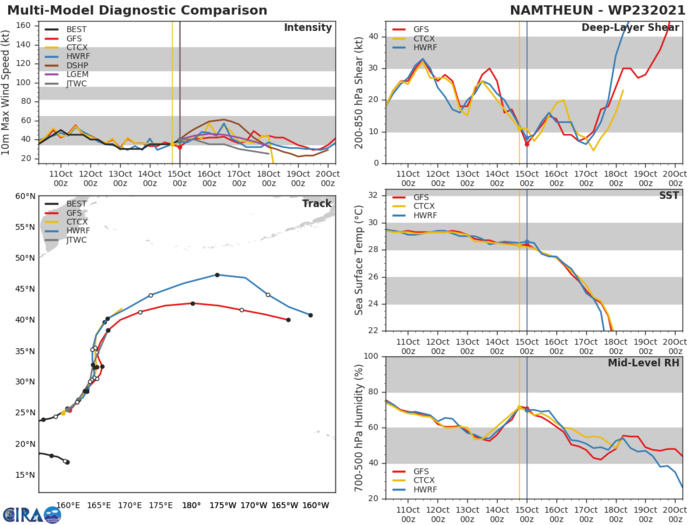 MODEL DISCUSSION: NUMERICAL MODELS ARE IN VERY TIGHT AGREEMENT LENDING HIGH CONFIDENCE TO THE JTWC TRACK FORECAST THAT IS LAID OVER THE MODEL CONSENSUS. CONFIDENCE IN THE INTENSITY FORECAST IS SET AT MEDIUM DUE TO UNCERTAINTIES ASSOCIATED WITH ETT.