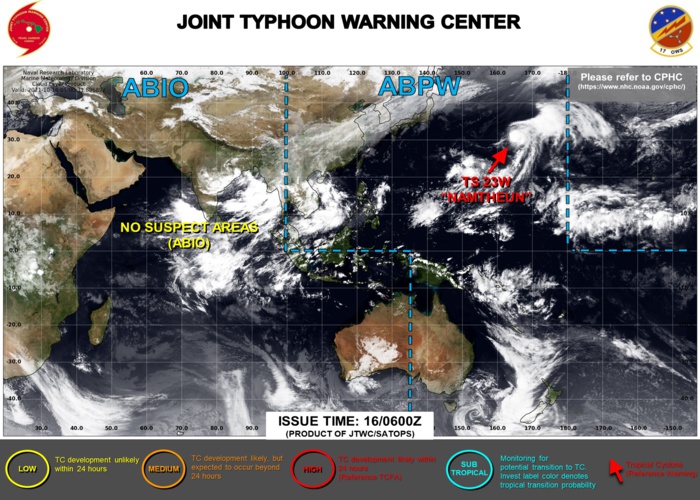 JTWC IS ISSUING 6 HOURLY WARNINGS AND 3HOURLY SATELLITE BULLETINS ON TS 23W.
WESTERN NORTH PACIFIC: TS 23W(NAMTHEUN). WARNING 23 ISSUED AT 16/03UTC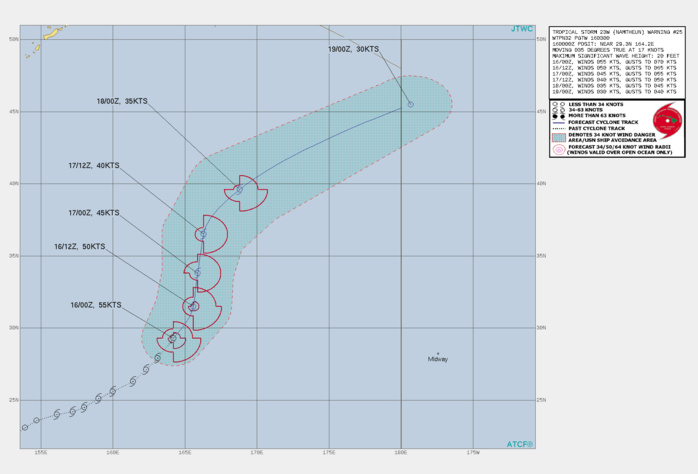 FORECAST REASONING. SIGNIFICANT FORECAST CHANGES: THERE ARE NO SIGNIFICANT CHANGES TO THE FORECAST FROM THE PREVIOUS WARNING, HOWEVER, TRACK SPEEDS HAVE BEEN ADJUSTED SLIGHTLY FASTER BASED ON RECENT ACCELERATION OF FORWARD MOTION. FORECAST DISCUSSION: TS 23W IS IN THE PROCESS OF SHIFTING TO A MORE NORTHERLY TRACK AS THE STEERING RIDGE TO THE EAST CONTINUES TO STRENGTHEN. HIGH AMPLITUDE FLOW IS ALLOWING NAMTHEUN TO MAINTAIN TROPICAL CHARACTERISTICS AS IT TRAVELS WELL INTO THE MID-LATITUDES, AND IT HAS SO FAR REMAINED RESILIENT TO THE EFFECTS OF VWS. SST WILL REMAIN GENERALLY SUPPORTIVE FOR THE NEXT 12-18 HOURS. TS NAMTHEUN SHOULD BE ABLE TO MAINTAIN STRONG TROPICAL STORM INTENSITY OVER THE NEXT 12 HOURS GIVEN THE VERY FAVORABLE OUTFLOW SUPPORT, HOWEVER, AFTER THAT TIME DECLINING SST AND THE EFFECTS OF DRY AIR ENTRAINMENT WILL DRIVE A SLOW WEAKENING TREND. EXTRA-TROPICAL TRANSITION (ETT) WILL BEGIN AROUND 36H, AND BE WELL UNDERWAY BY 48H AS THE SYSTEM BEGINS TO ROUND THE RIDGE. AT THE SAME TIME, TS 23W WILL INCREASINGLY FEEL THE INFLUENCE OF INCREASING VWS DUE TO AN APPROACHING TROUGH. TS 23W WILL COMPLETE ETT BY 72H, WITH THE REMNANT GALE-FORCE LOW ACCELERATING TO THE NORTHEAST.
2321100718 142N1671E 15
2321100800 145N1664E 15
2321100806 148N1658E 15
2321100812 151N1651E 15
2321100818 154N1643E 15
2321100900 160N1637E 20
2321100906 164N1628E 20
2321100912 166N1620E 20
2321100918 168N1615E 20
2321101000 170N1603E 30
2321101006 172N1599E 35
2321101012 174N1595E 40
2321101018 180N1584E 45
2321101100 182N1574E 50
2321101106 185N1561E 45
2321101112 186N1551E 45
2321101118 189N1541E 45
2321101200 191N1530E 40
2321101206 193N1522E 40
2321101212 199N1518E 35
2321101218 207N1519E 35
2321101300 216N1523E 30
2321101306 224N1529E 30
2321101312 231N1539E 30
2321101318 236N1547E 30
2321101400 240N1561E 35
2321101406 242N1572E 35
2321101412 245N1580E 35
2321101418 251N1590E 35
2321101500 256N1600E 40
2321101506 263N1614E 50
2321101518 279N1631E 55
2321101600 293N1642E 55
NNNN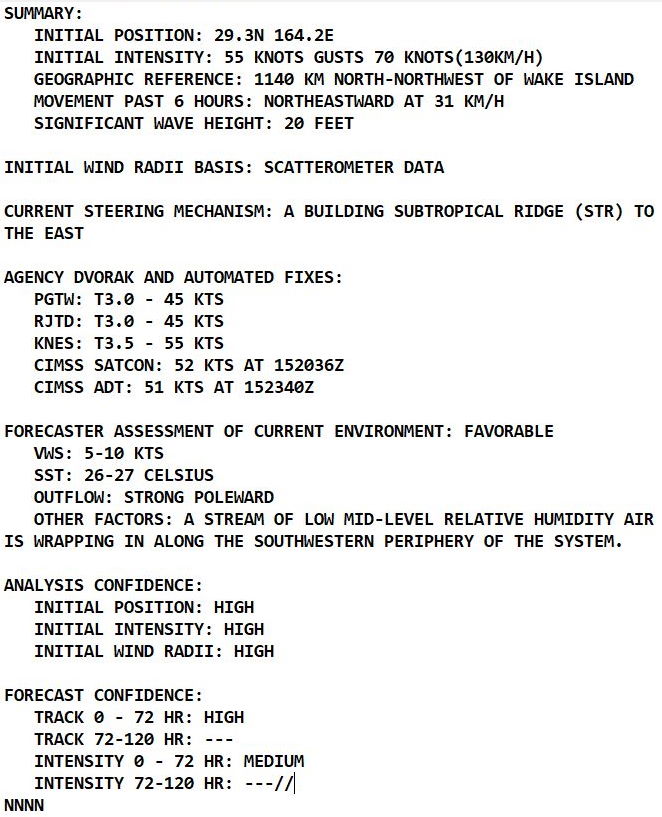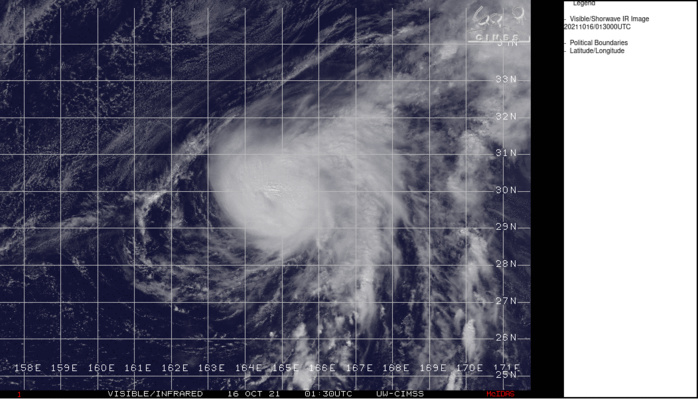 SATELLITE ANALYSIS, INITIAL POSITION AND INTENSITY DISCUSSION: ANIMATED MULTISPECTRAL SATELLITE IMAGERY (MSI) DEPICTS TIGHTLY CURVED BANDING WRAPPING INTO A COMPACT CENTRAL DENSE OVERCAST FEATURE. BANDING IS PARTIALLY EXPOSED ON THE WESTERN SEMI-CIRCLE DUE TO HIGH-LEVEL VERTICAL WIND SHEAR (VWS) AND THE PRESENCE OF DRY AIR. DESPITE WARMING CLOUD TOPS AND DEGRADATION OF THE PRIMARY FEEDER BAND ON THE SE SIDE, A TIMELY 152324Z ASCAT-B PASS REVEALED WINDS OF AT LEAST 55 KNOTS IN THE SE QUADRANT. A 152233Z ASCAT-C ULTRA-HIGH RESOLUTION PRODUCT AND A 151936Z SMAP PASS SUGGESTED THE PRESENCE OF A VERY SMALL AREA OF POSSIBLE 60 KNOT WINDS. SUBJECTIVE DVORAK ESTIMATES REMAINED UNCHANGED, RANGING FROM T3.0 TO T3.5 (45 TO 55 KNOTS). SATCON AND ADT HAVE ALSO REMAINED STEADY AT 52 AND 51 KNOTS, RESPECTIVELY. BASED ON ALL AVAILABLE DATA, THE INITIAL INTENSITY WAS ASSESSED AT 55 KNOTS, AND THE 151800Z INTENSITY WAS REVISED UPWARDS TO 55 KNOTS GIVEN THE LATE-ARRIVING SMAP DATA. THE INITIAL POSITION WAS PLACED WITH HIGH CONFIDENCE BASED ON THE ASCAT-B DATA, AND INDICATES THE TRACK SPEED HAS ACCELERATED OVER THE PAST SIX HOURS. AN UPPER-LEVEL JET TO THE NORTHEAST IS PROVIDING ROBUST OUTFLOW SUPPORT. ADDITIONALLY, VWS HAS BACKED OFF SLIGHTLY, AND SSTS REMAIN SUPPORTIVE.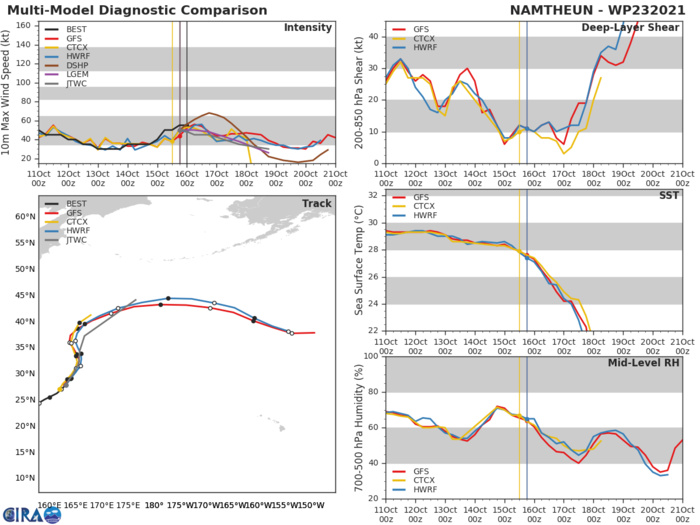 MODEL DISCUSSION: NUMERICAL MODELS REMAIN IN VERY TIGHT AGREEMENT ON THE TRACK SOLUTION, LENDING HIGH CONFIDENCE TO THE JTWC TRACK FORECAST THAT IS LAID CLOSE TO THE MULTI-MODEL CONSENSUS. INTENSITY GUIDANCE HAS CONSISTENTLY UNDERESTIMATED NAMTHEUNS RECENT INTENSIFICATION; HOWEVER, THERE IS VERY LIMITED TIME REMAINING FOR ANY FURTHER INTENSIFICATION. CONFIDENCE IN THE INTENSITY FORECAST IS SET AT MEDIUM DUE TO UNCERTAINTIES ASSOCIATED WITH ETT.