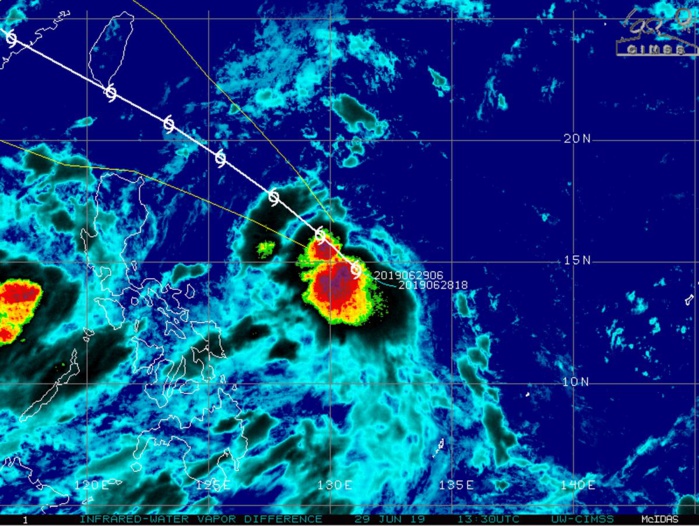 https://www.meteo974.re/M974World_r7.html
https://www.facebook.com/groups/1817419381676514/
WESTERN NORTH PACIFIC
Location: 14.7°N 131.1°E
Maximum Winds: 40 kt ( 75km/h)
Gusts: 50 kt ( 95km/h)
Minimum Central Pressure: 1001 mb
INTENSIFYING
WDPN31 PGTW 291500
MSGID/GENADMIN/JOINT TYPHOON WRNCEN PEARL HARBOR HI//
SUBJ/PROGNOSTIC REASONING FOR TROPICAL STORM 04W (FOUR)
WARNING NR 04//
RMKS//
1. FOR METEOROLOGISTS.
2. 6 HOUR SUMMARY AND ANALYSIS.
TROPICAL STORM 04W (FOUR), LOCATED APPROXIMATELY 586 NM EAST OF
MANILA, PHILIPPINES HAS TRACKED NORTHWESTWARD AT 07 KNOTS OVER THE
PAST SIX HOURS. THE CURRENT POSITION IS BASED ON LOW-LEVEL BANDING
EVIDENT IN ANIMATED ENHANCED SATELLITE IMAGERY AND A 291220Z METOP-A
89GHZ MICROWAVE IMAGE. THE INTENSITY OF 40 KNOTS IS HEDGED BETWEEN
RECENT SUBJECTIVE DVORAK ESTIMATES OF T2.5 FROM PGTW AND KNES, A
290939Z SATCON ESTIMATE OF 44 KNOTS AND A 291310Z ADT OF 45 KNOTS. TS
04W HAS TRACKED NORTHWESTWARD ALONG THE PERIPHERY OF A SUBTROPICAL
STEERING RIDGE (STR) SITUATED TO THE NORTHEAST OVER THE PAST SIX HOURS.
DEEP CONVECTION CONTINUES TO FLARE OVER THE SOUTHWESTERN PORTION OF
THE LOW LEVEL CIRCULATION CENTER (LLCC) AS THE SYSTEM EXPERIENCES
PERSISTENT NORTHEASTERLY VERTICAL WIND SHEAR (VWS). THE SEA SURFACE
TEMPERATURE IN VICINITY OF THE LLCC IS VERY SUPPORTIVE AT 29 TO 30
DEGREES CELSIUS.
3. FORECAST REASONING.
A. THERE IS NO MAJOR CHANGE TO THE FORECAST PHILOSOPHY FROM THE
PREVIOUS WARNING.
B. TS 04W IS EXPECTED TO TRACK NORTHWESTWARD IN THE NEAR TERM UNDER
THE CONTINUED STEERING INFLUENCE OF THE SUBTROPICAL RIDGING TO THE
NORTHEAST. VWS WILL STAY MODERATE TO HIGH THROUGH THE REMAINDER OF
THE FORECAST, LIMITING INTENSIFICATION TO A SLOW RATE DESPITE PASSAGE
OVER VERY WARM WATER AND FAVORABLE SOUTHWESTWARD DIFFLUENCE ALOFT.
NUMERICAL MODEL TRACK FORECAST GUIDANCE HAS GRADUALLY CONVERGED WITH
A MORE CONSISTENT NORTHWESTWARD TRACK WITHIN THE FIRST 72 HOURS. THE
CURRENT FORECAST IS CONSISTENT WITH THE PREVIOUS JTWC TRACK FORECAST
AND CURRENT MULTI-MODEL CONSENSUS THROUGH TAU 72. THE EXACT TRACK
WILL DEPEND ON THE ORIENTATION OF THE AFOREMENTIONED SUBTROPICAL
STEERING RIDGE DURING THIS PERIOD.
C. TS 04W IS EXPECTED TO BEGIN WEAKENING IN THE EXTENDED RANGE IN
RESPONSE TO INCREASING VWS, DECREASING UPPER LEVEL DIVERGENCE AND
LAND INTERACTION. NUMERICAL MODEL TRACK FORECAST SPREAD IS PRONOUNCED
AFTER TAU 72. A FEW CONSENSUS MODELS DEPICT TS 04W CONTINUING
NORTHWESTWARD ALONG THE STR AND OTHER MODELS DEPICT TS 04W TURNING
POLEWARD ALONG THE STEERING RIDGE PERIPHERY. THE CURRENT TRACK
FORECAST IS SET NORTHWESTWARD BASED ON EXPECTATIONS OF SLOW BUT
SUFFICIENT NEAR TERM INTENSIFICATION. OVERALL, THERE IS LOW
CONFIDENCE IN THE CURRENT JTWC TRACK FORECAST.//
NNNN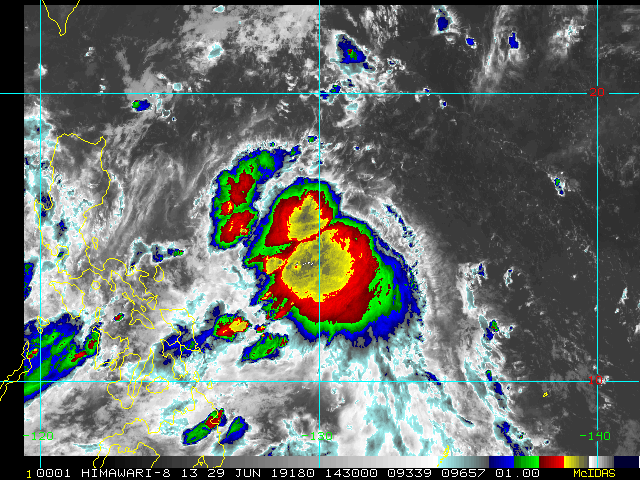 1430UTC