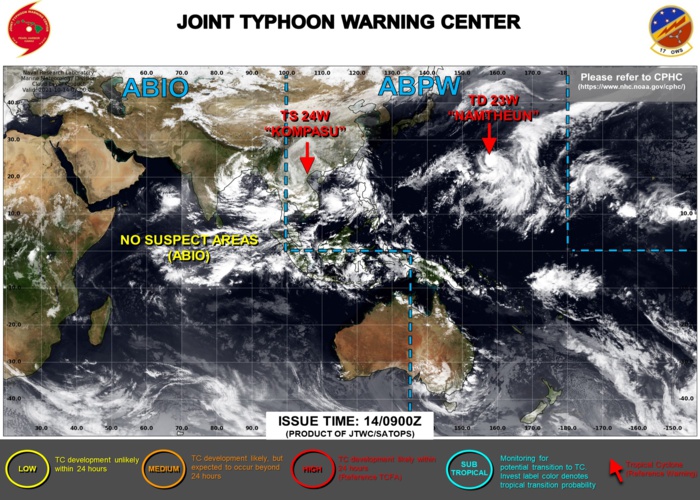 JTWC IS ISSUING 6HOURLY WARNINGS ON TD 23W. FINAL WARNING ON TD 24W WAS ISSUED AT 14/09UTC. 3 HOURLY SATELLITE BULLETINS ARE ISSUED ON BOTH SYSTEMS.
WESTERN NORTH PACIFIC: TD 23W(NAMTHEUN). WARNING 18 ISSUED AT 14/09UTC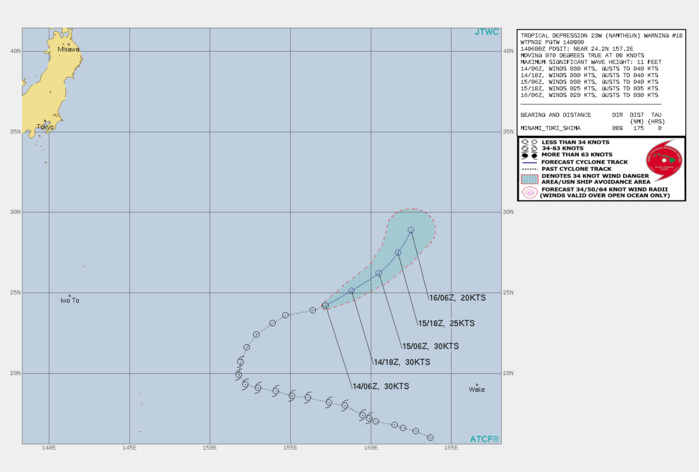 FORECAST REASONING. SIGNIFICANT FORECAST CHANGES: THERE ARE NO SIGNIFICANT CHANGES TO THE FORECAST FROM THE PREVIOUS WARNING. FORECAST DISCUSSION: TD NAMTHEUN WILL CONTINUE ON ITS CURRENT TRACK FOR THE DURATION OF THE FORECAST UNDER THE STEERING INFLUENCE OF THE SUBTROPICAL RIDGE(STR). THE MARGINAL ENVIRONMENT WILL SUSTAIN THE CURRENT INTENSITY FOR UP TO 24H. AFTERWARD, INCREASING VERTICAL WIND SHEAT AND COOLING SSTS WILL GRADUALLY ERODE THE SYSTEM TOWARD DISSIPATION BY 48H, POSSIBLY SOONER. CONCURRENTLY, THE CYCLONE WILL CONTINUE TO GAIN MORE SUBTROPICAL CHARACTERISTICS.
2321100718 142N1671E 15
2321100800 145N1664E 15
2321100806 148N1658E 15
2321100812 151N1651E 15
2321100818 154N1643E 15
2321100900 160N1637E 20
2321100906 164N1628E 20
2321100912 166N1620E 20
2321100918 168N1615E 20
2321101000 170N1603E 30
2321101006 172N1599E 35
2321101012 174N1595E 40
2321101018 180N1584E 45
2321101100 182N1574E 50
2321101106 185N1561E 45
2321101112 186N1551E 45
2321101118 189N1541E 45
2321101200 191N1530E 40
2321101206 193N1522E 40
2321101212 199N1518E 35
2321101218 207N1519E 35
2321101300 216N1523E 30
2321101306 224N1529E 30
2321101312 231N1539E 30
2321101318 236N1547E 30
2321101400 239N1564E 30
2321101406 242N1572E 30
NNNN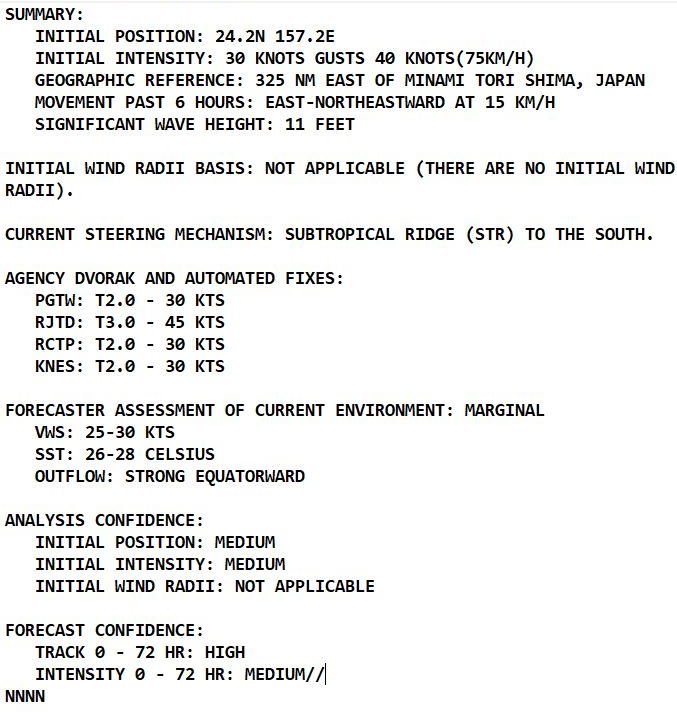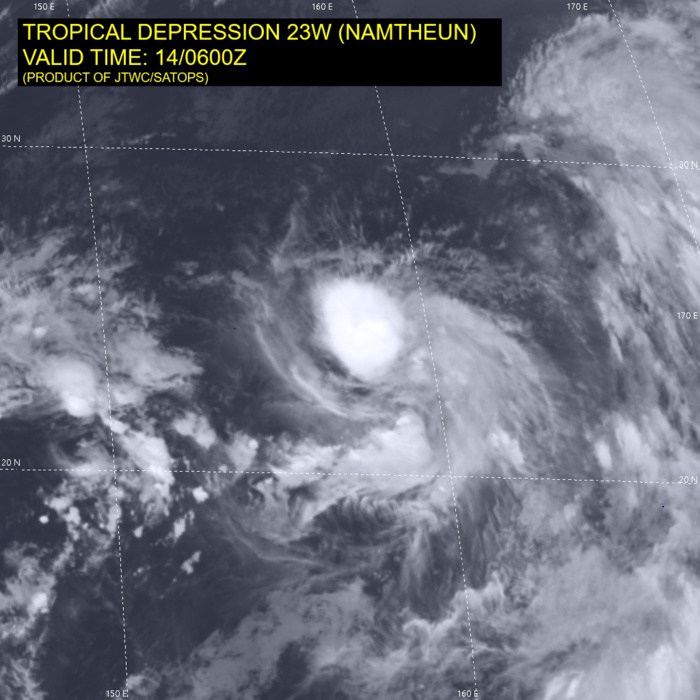 SATELLITE ANALYSIS, INITIAL POSITION AND INTENSITY DISCUSSION: ANIMATED MULTISPECTRAL SATELLITE IMAGERY (MSI) SHOWS A MEDIUM-SIZED SYSTEM WITH PERSISTENT CONVECTION OVER THE CENTRAL DENSE OVERCAST (CDO) THAT IS TRAILING A FEEDER BAND SOUTHWARD. THE INITIAL POSITION IS PLACED WITH MEDIUM CONFIDENCE BASED ON LOW CLOUD LINE TRACING INTO THE OBSCURED LOW LEVEL CIRCULATION (LLC) AND EXTRAPOLATION FROM A WEAK LLC FEATURE IN THE 140232Z AMSR MICROWAVE IMAGE THE INITIAL INTENSITY OF 30KNOTS IS ASSIGNED WITH MEDIUM CONFIDENCE BASED ON AN OVERALL ASSESSMENT OF AGENCY AND AUTOMATED DVORAK ESTIMATES AND REFLECTS THE 6-HR PERSISTENT CONVECTIVE SIGNATURE OF THE SYSTEM. ANALYSIS INDICATES A MARGINAL ENVIRONMENT WITH STRONG EQUATORWARD OUTFLOW AND WARM SST OFFSET BY STRONG VWS. THE SYSTEM HAS BEGUN TO EXHIBIT SUBTROPICAL CHARACTERISTICS, I.E., ASYMMETRIC WIND FIELD AND VORTICITY SIGNATURE AND THE CDO OFFSET EASTWARD AND POLEWARD OF THE LLC. THE CYCLONE IS TRACKING ON THE POLEWARD SIDE OF THE STR TO THE SOUTH.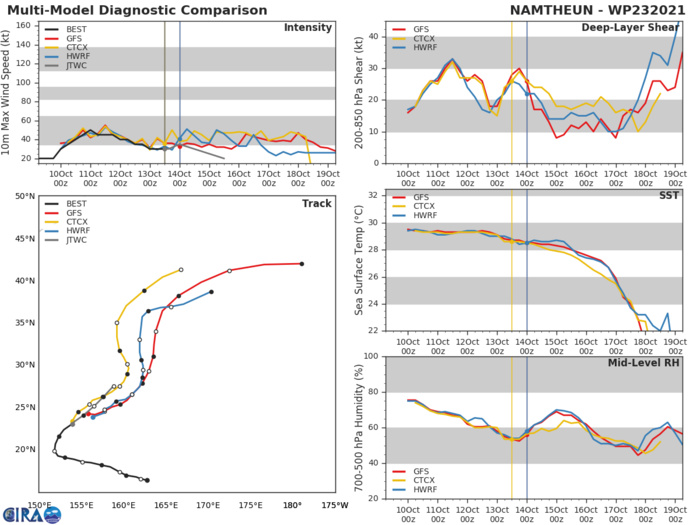 MODEL DISCUSSION: NUMERICAL MODELS ARE IN VERY TIGHT AGREEMENT, GRADUALLY SPREADING TO 180KM AT 48H, LENDING HIGH CONFIDENCE TO THE JTWC TRACK FORECAST. HOWEVER, THERE IS ONLY MEDIUM CONFIDENCE THE INTENSITY FORECAST GIVEN THE UNCERTAINTY IN THE SUBTROPICAL TRANSITION.
WESTERN NORTH PACIFIC/SOUTH CHINA SEA: TS 24W(KOMPASU). WARNING 18/FINAL ISSUED AT 14/09UTC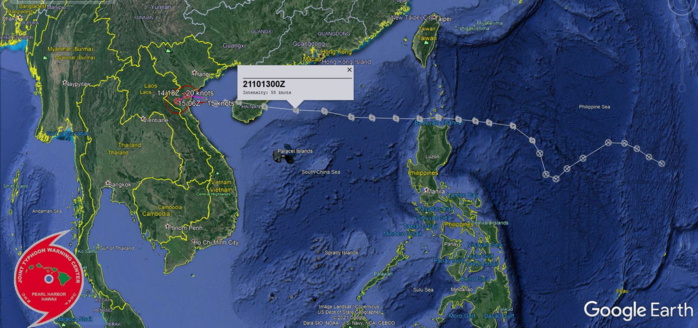 140900Z POSITION NEAR 19.5N 106.4E. 14OCT21. TROPICAL DEPRESSION 24W (KOMPASU), LOCATED APPROXIMATELY 101 NM SOUTH-SOUTHEAST OF HANOI, VIETNAM, HAS TRACKED WEST- NORTHWESTWARD AT 15 KM/H OVER THE PAST SIX HOURS. ANIMATED MULTISPECTRAL SATELLITE IMAGERY SHOWS THE SYSTEM IS COMPLETELY STRIPPED OF ANY DEEP CONVECTION, FULLY EXPOSING A RAGGED AND WEAK LOW LEVEL CIRCULATION WHERE THE INITIAL POSITION IS PLACED WITH HIGH CONFIDENCE. THE INITIAL INTENSITY IS BASED ON OVERALL ASSESSMENT OF AGENCY DVORAK ESTIMATES AND EXTRAPOLATED FROM NEARBY SURFACE OBSERVATIONS. ENVIRONMENTAL ANALYSIS INDICATES MEDIUM (15-20KT) VERTICAL WIND SHEAR, GREATLY DIMINISHED OUTFLOW, AND DRY AIR ENTRAINMENT FROM THE NORTHWEST HAVE DRASTICALLY ERODED THE ASSOCIATED CONVECTION. THIS IS THE FINAL WARNING ON THIS SYSTEM BY THE JOINT TYPHOON WRNCEN PEARL HARBOR HI.
PEAK INTENSITY WAS 55 KNOTS.
2421100718 156N1379E 15
2421100800 161N1368E 20
2421100806 167N1358E 20
2421100812 171N1348E 20
2421100818 172N1335E 30
2421100900 163N1315E 30
2421100906 157N1303E 25
2421100912 151N1295E 25
2421100918 154N1288E 25
2421101000 167N1284E 25
2421101006 175N1279E 35
2421101012 184N1266E 45
2421101018 186N1250E 45
2421101100 187N1241E 45
2421101106 188N1230E 50
2421101112 189N1217E 55
2421101118 188N1205E 55
2421101200 188N1190E 55
2421101206 188N1175E 55
2421101212 188N1162E 55
2421101218 191N1145E 55
2421101300 191N1127E 55
2421101306 192N1107E 55
2421101312 194N1090E 45
2421101318 193N1082E 45
2421101400 192N1075E 30
2421101406 195N1067E 25
NNNN

EASTERN NORTH PACIFIC: TD 16E(PAMELA). WARNING 16/FINAL ISSUED AT 14/04UTC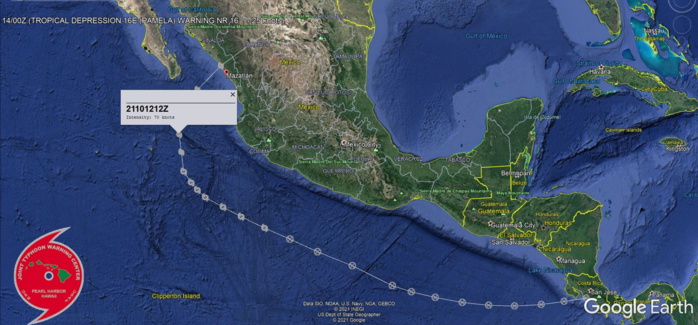 PEAK INTENSITY WAS 70 KNOTS/CAT 1.
1621100712 95N 844W 15
1621100718 95N 859W 15
1621100800 95N 874W 15
1621100806 96N 891W 15
1621100812 98N 907W 20
1621100818 101N 923W 25
1621100900 105N 939W 25
1621100906 109N 953W 25
1621100912 113N 964W 25
1621100918 125N 987W 25
1621101000 133N1007W 25
1621101006 140N1023W 30
1621101012 146N1038W 35
1621101018 152N1052W 40
1621101100 157N1063W 45
1621101106 162N1074W 45
1621101112 166N1079W 55
1621101118 170N1083W 60
1621101200 176N1088W 60
1621101206 187N1090W 65
1621101212 197N1092W 70
1621101218 206N1093W 60
1621101300 215N1089W 60
1621101306 223N1082W 65
1621101312 237N1068W 65
1621101318 251N1048W 40
NNNN