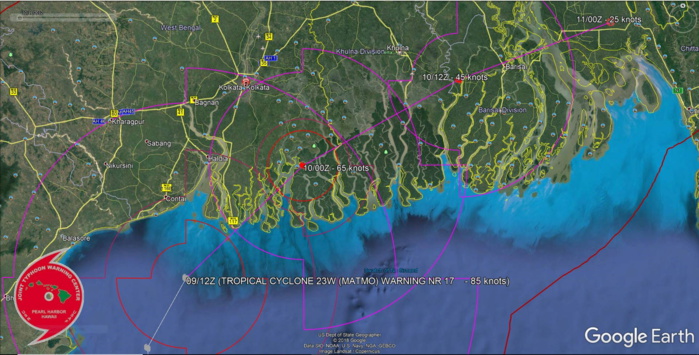 Météo974
NORTH INDIAN
Location: 21.2°N 87.9°E
Maximum Winds: 85 kt ( 160km/h)
Gusts: 105 kt ( 195km/h)
Minimum Central Pressure: 971 mb
CATEGORY US: 2
REMARKS:
091500Z POSITION NEAR 21.4N 88.1E.
09NOV19. TROPICAL CYCLONE 23W (MATMO), LOCATED APPROXIMATELY 88 NM
SOUTH-SOUTHWEST OF KOLKATA, INDIA, HAS TRACKED NORTH-NORTHEASTWARD AT
06 KNOTS OVER THE PAST SIX HOURS. ANIMATED ENHANCED INFRARED (EIR)
SATELLITE IMAGERY SHOWS THAT TC 23W HAS UNDERGONE A PERIOD OF RAPID
INTENSIFICATION OVER THE PAST SIX HOURS, WITH A DISTINCT EYE FORMING
BUT NOW STARTING TO FILL AND WARM ONCE AGAIN. THE INITIAL POSITION
IS PLACED WITH HIGH CONFIDENCE BASED ON A COMBINATION OF BD ENHANCED
EIR IMAGERY DEPICTING A 10 NM WIDE EYE, INDIAN COMPOSITE RADAR DATA
AND SUPPORTED BY A 091206Z SSMIS 89 GHZ COMPOSITE IMAGE SHOWING A
VERY DISTINCT MICROWAVE EYE SURROUNDED BY DEEP CONVECTION,
PARTICULARLY ON THE NORTHWEST SIDE. THE INITIAL INTENSITY HAS BEEN
BUMPED UP TO 85 KNOTS, HEDGED SLIGHTLY LOWER THAN THE PGTW DVORAK
CURRENT INTENSITY ESTIMATE OF T5.0 (90 KNOTS) IN LIGHT OF AN
AUTOMATED TECHNIQUE ESTIMATE OF 87 KNOTS. AS NOTED IN THE PREVIOUS
FORECAST, TC 23W HAS UNDERGONE A SHORT PERIOD OF RAPID
INTENSIFICATION OVER THE PAST SIX HOURS, AS IT MOVED OVER RELATIVELY
SHALLOW, BUT VERY WARM, WATERS AND BEGAN TO TAP INTO THE DIVERGENT
POLEWARD OUTFLOW PROVIDED BY STRONG UPPER-LEVEL WESTERLY FLOW TO THE
NORTH. THE SYSTEM CONTINUES TO TRACK THROUGH A FAVORABLE
ENVIRONMENT, WITH ROBUST POLEWARD OUTFLOW, WARM SSTS AND MODERATE
(20-25 KNOTS) VWS. TC 23W WILL CONTINUE TO TRACK NORTHEASTWARD
THROUGH THE FORECAST PERIOD ALONG THE NORTHWEST PERIPHERY OF A DEEP
SUBTROPICAL RIDGE CENTERED TO THE EAST. THE SYSTEM HAS PEAKED IN
INTENSITY AND IS WILL BEGIN TO WEAKEN SLOWLY EVEN BEFORE MAKING
LANDFALL, WITH A MUCH MORE RAPID WEAKENING AFTER LANDFALL AS A
COMBINATION OF TERRAIN INTERACTION AND DECAPITATION TAKE THEIR TOLL
ON THE SYSTEM. THE FIRST HINTS OF A DECOUPLING OF THE UPPER AND
LOWER LEVELS ARE EVIDENT IN THE 091206Z SSMIS IMAGERY, WITH THE
UPPER LEVEL EYE ABOUT 5 NM NORTH OF THE LOW LEVEL SIGNATURE. THIS
EFFECT IS EXPECTED TO INCREASE AS THE SOUTHERLY SHEAR INCREASES AND
THE SYSTEM MOVES ASHORE. NUMERICAL GUIDANCE IS IN STRONG AGREEMENT
THROUGH TAU 12, BUT THEREAFTER DEVELOPS A BIFURCATION SCENARIO. THE
ECMWF AND THE ECMWF ENSEMBLE REPRESENT THE LEFT ARM OF THE
BIFURCATION, TAKING THE SYSTEM NORTHEASTWARD THROUGH THE END OF THE
FORECAST. THE ALTERNATE SCENARIO IS REPRESENTED BY THE REMAINDER OF
THE CONSENSUS MODELS, WHICH TURN THE LOW LEVEL REMNANTS OF SYSTEM TO
THE SOUTH AND BACK OUT TO SEA AFTER IT IS DECAPITATED BETWEEN TAU 18
AND 24. THE OFFICIAL JTWC FORECAST TRACK FAVORS THE ECMWF SOLUTION.
IN LIGHT OF THE LARGE DIVERGENCE IN THE MODEL SOLUTIONS, THERE IS
OVERALL LOW CONFIDENCE IN THE JTWC FORECAST. MAXIMUM SIGNIFICANT
WAVE HEIGHT AT 091200Z IS 28 FEET. NEXT WARNINGS AT 092100Z,
100300Z, 100900Z AND 101500Z.//
NNNN