TC 25P . CLICK TO ANIMATE IF NECESSARY.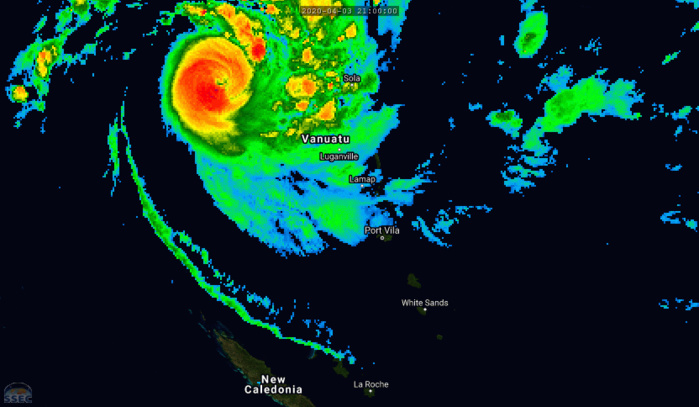 FNMOC
2020 APR 04 0315UTC SOUTH PACIFIC & SOUTH INDIAN
TC
#
25P
#
HAROLD
SOUTH PACIFIC
As of 06:00 UTC Apr 04, 2020:
Location: 14.3°S 163.8°E
Maximum Winds: 110 kt
Gusts : 135 kt
Minimum Central Pressure: 946 mb
CATEGORY US: 3
INTENSIFYING
REMARKS:
040900Z POSITION NEAR 14.4S 164.9E.
04APR20. TROPICAL CYCLONE 25P (HAROLD), LOCATED APPROXIMATELY 287
NM NORTHWEST OF PORT VILA, VANUATU, HAS TRACKED SOUTHEASTWARD AT
07 KNOTS OVER THE PAST SIX HOURS. ANIMATED MULTISPECTRAL SATELLITE
IMAGERY SHOWS AN INTENSE SYSTEM WITH DEEPENING CONVECTION AND VERY
COLD CLOUD TOPS SURROUNDING A PINHOLE EYE THAT IS FILLING WITH
CLOUDS. THE INITIAL POSITION IS BASED WITH HIGH CONFIDENCE ON THE
EYE IN MSI IMAGERY AND SUPPORTED BY A 040620Z SSMIS 37GHZ IMAGE. THE
INITIAL INTENSITY IS ASSESSED AT 110 KNOTS, HEDGED SLIGHTLY UNDER
PHFO AND PGTW DVORAK CURRENT INTENSITY (CI) ESTIMATES OF T6.0 (115
KTS) BUT IN LINE WITH THE ADVANCED DVORAK TECHNIQUE CI OF T5.8 (110
KTS). ENVIRONMENTAL ANALYSIS INDICATES THAT TC 25P LIES IN A HIGHLY
FAVORABLE ENVIRONMENT, WITH VERY ROBUST DIVERGENT OUTFLOW, WARM (29-
30 DEG CELSIUS) SSTS AND LOW TO MODERATE (15-20 KNOTS) VERTICAL WIND
SHEAR (VWS), WITH A RELATIVE SHEAR VALUE MUCH LOWER DUE TO STORM
MOTION AND SHEAR VECTORS BEING IN PHASE. TC 25P IS TRACKING SLOWLY
SOUTHEASTWARD ALONG THE WESTERN PERIPHERY OF A NEAR-EQUATORIAL RIDGE
TO THE EAST. AN EXTENSION OF THE SUBTROPICAL RIDGE WILL BUILD INTO
THE SOUTHEAST OF TC 25P OVER THE NEXT 24-36 HOURS, WHICH WILL IN
TURN LEAD TO VERY SLOW, NEARLY QUASI-STATIONARY SOUTH-SOUTHEASTWARD
MOVEMENT. BEYOND TAU 48, THE AFOREMENTIONED EXTENSION OF THE STR
WEAKENS, ALLOWING TC 25P TO ACCELERATE SOUTHEASTWARD THROUGH THE END
OF THE FORECAST PERIOD. TC 25P IS FORECAST TO SLIGHTLY INTENSIFY
FURTHER TO 120 KTS IN THE NEXT 12 HOURS AS IT TAPS INTO HIGHLY
DIVERGENT UPPER LEVEL FLOW WHILE REMAINING IN A RELATIVELY LOW VWS
ENVIRONMENT. HOWEVER, QUASI-STATIONARY MOVEMENT IN A REGION OF
MIDDLING OCEAN HEAT CONTENT (OHC) WATER WILL COMPETE WITH THE ROBUST
OUTFLOW TO LIMIT MUCH FURTHER INTENSIFICATION AND BEGIN A WEAKENING
TREND AFTER TAU 24. AFTER TAU 48, THE ENVIRONMENT WILL FURTHER
DETERIORATE AS THE SYSTEM EXPERIENCES INCREASING VWS AND CONVERGENCE
ALOFT, AND DECREASING SSTS. BY TAU 96, THE SYSTEM WILL BEGIN TO
INTERACT WITH MID-LATITUDE WESTERLIES AND BEGIN SUBTROPICAL
TRANSITION. NUMERICAL GUIDANCE ALL AGREE ON THE GENERAL
SOUTHEASTWARD TRACK AND SLOW FORWARD MOTION THROUGH TAU 48, BUT
DIFFER ON THE DEGREE, WITH SOME MODELS INDICATING A MOVEMENT DUE
SOUTH OR EVEN SOUTHWEST AT ONE OR TWO KNOTS BEFORE TURNING
SOUTHEAST, WHILE OTHERS MOVE STRAIGHT SOUTHEAST AT THREE TO FOUR
KNOTS THROUGH THE ENTIRE FORECAST. BEYOND TAU 48, MODELS COME INTO
MUCH BETTER AGREEMENT ON BOTH THE TRACK AND FORWARD MOTION. THE JTWC
FORECAST TRACK DRIFTS SLOWLY SOUTHEASTWARD BEFORE ACCELERATING
SOUTHEASTWARD AFTER TAU 72. DUE TO THE OVERALL HIGH UNCERTAINTY IN
THE GUIDANCE IN THE FIRST 48 HOURS AND THE GENERAL UNCERTAINTY IN
THE STEERING ENVIRONMENT, THERE IS LOW CONFIDENCE IN THE JTWC
FORECAST TRACK. MAXIMUM SIGNIFICANT WAVE HEIGHT AT 040600Z IS 30
FEET.
TC #24S #IRONDRO
As of 06:00 UTC Apr 04, 2020:
Location: 21.5°S 78.3°E
Maximum Winds: 95 kt
Gusts : 115 kt
Minimum Central Pressure: 957 mb
CATEGORY US: 2
NEAR PEAK INTENSITY
REMARKS:
040900Z POSITION NEAR 21.8S 78.9E.
04APR20. TROPICAL CYCLONE 24S (IRONDRO), LOCATED APPROXIMATELY
927 NM SOUTH-SOUTHEAST OF DIEGO GARCIA, HAS TRACKED EAST-
SOUTHEASTWARD AT 16 KNOTS OVER THE PAST SIX HOURS. ANIMATED
MULTISPECTRAL SATELLITE IMAGERY DEPICTS A RAGGED EYE WITH AN
INCOMPLETE EYEWALL OF DEEPER CONVECTION SURROUNDING IT. THE INITIAL
INTENSITY IS SET AT 95 KNOTS, HEDGED UNDER CURRENT INTENSITY
ESTIMATES RANGING FROM T5.5 (102 KTS) TO T6.0 (115 KTS) FROM ALL
REPORTING AGENCIES (PGTW/FIMP/FMEE) BASED ON THE STRUGGLING
ORGANIZATION AND A RAW ADT ESTIMATE OF T5.0 (90 KTS). ENVIRONMENTAL
ANALYSIS INDICATES THE SYSTEM LIES IN A MARGINALLY FAVORABLE
ENVIRONMENT, WITH CONVERGENT NORTHWESTERLY WINDS IMPINGING ON THE
NORTHWESTERN QUADRANT OF THE SYSTEM, OFFSET BY LOW (10-15 KNOTS) VWS
THAT IS IN PHASE WITH THE STORM MOTION AND WARM (26-28 DEG CELSIUS)
SSTS. TC 24S IS FORECAST TO TRACK SOUTHEASTWARD THROUGH THE END OF
THE FORECAST PERIOD ALONG THE SOUTHWESTERN FLANK OF AN EXTENSION OF
THE NEAR-EQUATORIAL RIDGE (NER). THE SYSTEM WILL BEGIN TO WEAKEN AS
IT ENCOUNTERS INCREASING VWS, CONVERGENCE ALOFT AND DECREASING SSTS
BELOW 26 CELSIUS. BY TAU 48, TC 24S BEGINS TO INTERACT WITH THE
BAROCLINIC ZONE, AND BY TAU 72 WILL COMPLETE EXTRATROPICAL
TRANSITION AFTER MOVING OVER COOL WATERS (25 DEG CELSIUS OR LOWER),
BECOMING EMBEDDED IN THE BAROCLINIC ZONE AND DEVELOPING FRONTAL
CHARACTERISTICS. NUMERICAL MODEL GUIDANCE IS IN STRONG AGREEMENT
THROUGH THE FORECAST PERIOD, SHOWING THE SOUTHEASTWARD TRACK THAT
ACCELERATES AS TC 24S IS SWEPT UP IN THE MIDLATITUDE JET. THERE IS
HIGH CONFIDENCE IN THE JTWC FORECAST TRACK. MAXIMUM SIGNIFICANT
WAVE HEIGHT AT 040600Z IS 35 FEET.
NNNN
TC 25P. WARNING 7. FORECAST PEAK INTENSITY WITHIN 24H AT 120KT( CAT 4 US).
TC 25P: TRACK AND INTENSITY GUIDANCE.
TC 24S: WARNING 5. NEAR PEAK INTENSITY.
TC 24S. CLICK TO ANIMATE IF NECESSARY.
TC 24S: TRACK AND FORECAST INTENSITY.
TC 24S: SMAP AT 04/0048UTC. 10MN WINDS: 87KT
04/0530UTC
04/00UTC