TC 20S. ANIMATION. 1730UTC. EASTERN OUTLOW RESTRICTED AND CYCLONE UNRAVALLING AT MEDIUM AND HIGH LEVELS.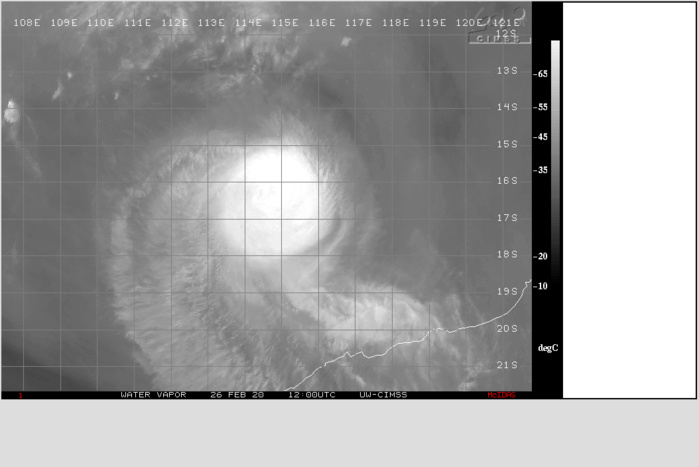 Location: 16.5°S 114.6°E
Maximum Winds: 90 kt ( 170km/h)
Gusts: 110 kt ( 205km/h)
Minimum Central Pressure: 966 mb
CATEGORY US: 2
TPXS10 PGTW 262119
A. TROPICAL CYCLONE 20S (FERDINAND)
B. 26/2040Z
C. 16.43S
D. 114.59E
E. FIVE/HMWRI8
F. T4.0/5.0/W1.0/24HRS STT: W0.5/03HRS
G. IR/EIR
H. REMARKS: 38A/PBO SBC/ANMTN. LLCC EMBEDDED IN MG YIELDS A DT
OF 4.0. MET AND PT AGREE. DBO DT.
I. ADDITIONAL POSITIONS: NONE
RHOADES
REMARKS:
262100Z POSITION NEAR 16.6S 114.5E.
26FEB20. TROPICAL CYCLONE (TC) 20S (FERDINAND), LOCATED APPROXIMATELY
349 NM NORTH OF LEARMONTH, AUSTRALIA, HAS TRACKED SOUTHWESTWARD AT 03
KNOTS (KTS) OVER THE PAST SIX HOURS. ANIMATED ENHANCED INFRARED (EIR)
SATELLITE IMAGERY REVEALS THAT CONVECTION HAS THINNED OVER THE PAST
SIX HOURS AND DRY AIR HAS BECOME EVIDENT IN THE BANDING WRAPPING INTO
THE SYSTEM. HOWEVER, THE CONVECTION CONTINUES TO CYCLE OVER THE
CENTER OF THE SYSTEM, WITH BRIEF PERIODS OF FLARING CONVECTION. THE
INITIAL POSITION IS PLACED WITH GOOD CONFIDENCE BASED ON THE TURNING
EVIDENT IN EIR IMAGERY. THE INITIAL INTENSITY IS SET AT 90 KTS BASED
ON THE ABRF AND KNES DVORAK CURRENT INTENSITY ESTIMATES OF T5.0 (90
KTS). INTENSITY IS HEDGED UNDER THE PGTW DVORAK CURRENT INTENSITY
ESTIMATE OF T5.5 (102 KTS) AND ABOVE THE 261810Z ADVANCED DVORAK
TECHNIQUE AND 261730Z SATCON ESTIMATES OF 77 KTS. ALONG WITH THE EIR,
THE CIMSS TOTAL PRECIPITABLE WATER PRODUCT REVEALS DRY AIR BEING
ENTRAINED INTO TC 20S, SUPPORTING THE WEAKENING TREND. OVERALL, LOW
(10-15 KT) VERTICAL WIND SHEAR AND WARM (29-31 CELSIUS) SEA SURFACE
TEMPERATURES CONTRIBUTE TO A FAVORABLE ENVIRONMENT. HOWEVER, EASTERLY
UPPER LEVEL OUTFLOW FROM THE REMNANTS OF TC 19P, LOCATED 975 NM TO
THE EAST, IS IMPINGING UPON THE EASTERN SIDE OF TC 20S. DESPITE THIS,
TC 20S MAINTAINS A GOOD POLEWARD OUTFLOW CHANNEL. TC 20S IS TRACKING
SOUTHWESTWARD ALONG THE PERIPHERY OF A SUBTROPICAL RIDGE (STR) TO THE
SOUTHEAST. AROUND TAU 36, A SHORTWAVE TROUGH WILL PASS TO THE SOUTH
OF THE SYSTEM, ALTERING THE STEERING ENVIRONMENT. THE GFS AND GFS
ENSEMBLE SOLUTIONS SHOW AN EXTENSION OF THE STR BUILDING IN AND
STEERING TC 20S WEST-NORTHWESTWARD. HOWEVER, OTHER MODELS SHOW THE
SYSTEM RECURVING NORTHWARD AND THEN BACK ON ITSELF AS IT ENTERS A
WEAK STEERING ENVIRONMENT. THESE MODELS ARE LIKELY FEELING THE
EFFECTS OF A STRONGER BINARY TROPICAL CYCLONE INTERACTION WITH THE
REMNANTS OF TC 19P. TC 20S IS FORECAST TO STEADILY WEAKEN AS IT
CONTINUES TO ENTRAIN DRY AIR AND ENCOUNTERS INCREASED SUBSIDENCE
ASSOCIATED WITH THE AFOREMENTIONED TROUGH. FULL DISSIPATION OVER
WATER IS ANTICIPATED BY TAU 96, IF NOT SOONER. THE JTWC FORECAST
TRACK IS HEDGED TOWARDS THE ECMWF AND UKMET ENSEMBLE SOLUTIONS IN THE
EXTENDED RANGE AND IS PLACED NORTH OF THE MULTI-MODEL CONSENSUS. THE
LATEST MODEL RUN OF ECMWF DEPICTS A LESS AGGRESSIVE EASTWARD TURN AND
THE UKMET ENSEMBLE SOLUTION DISSIPATES THE SYSTEM PRIOR TO COMPLETING
THE TURN. DUE TO THE VARIATION IN MODEL SOLUTIONS IN THE EXTENDED
RANGE, THERE IS GOOD CONFIDENCE IN THE JTWC FORECAST TRACK THROUGH
TAU 36, BUT INCREASING UNCERTAINTY AFTERWARDS. MAXIMUM SIGNIFICANT
WAVE HEIGHT AT 261800Z IS 27 FEET. NEXT WARNINGS AT 270300Z, 270900Z,
271500Z AND 272100Z.//
NNNN
Location: 15.6°S 131.4°E
Maximum Winds: 35 kt
Minimum Central Pressure: 996 mb
TPXS11 PGTW 262118
A. REMNANTS OF TROPICAL CYCLONE 19P (ESTHER)
B. 26/2050Z
C. 15.61S
D. 131.25E
E. FIVE/HMWRI8
F. N/A
G. IR/EIR
H. REMARKS: 38A/PBO SBC/ANMTN. DVORAK VALUES UNAVAILABLE DUE TO
LLCC OVER LAND.
I. ADDITIONAL POSITIONS: NONE
RHOADES
ABIO10 PGTW 261800
2. SOUTH INDIAN OCEAN AREA (135E WEST TO COAST OF AFRICA):
B. TROPICAL DISTURBANCE SUMMARY:
(1) THE AREA OF CONVECTION (REMNANTS OF TC 19P) PREVIOUSLY
LOCATED NEAR 17.2S 135.9E IS NOW LOCATED NEAR 15.4S 132.0E,
APPROXIMATELY 191 NM SOUTH-SOUTHEAST OF DARWIN, AUSTRALIA. ANIMATED
ENHANCED INFRARED SATELLITE IMAGERY AND A 261320Z MHS METOP-B 89GHZ
MICROWAVE IMAGE DEPICT THAT THE SYSTEM IS MAINTAINING ITS
ORGANIZATION DESPITE BEING OVER LAND, WITH FLARING DEEP CONVECTION
ALONG THE NORTHERN PERIPHERY OF A LOW LEVEL CIRCULATION CENTER
(LLCC) AND LOW LEVEL BANDING WRAPPING INTO THE LLCC. THE REMNANTS OF
TC 19P ARE EXPERIENCING FAVORABLE UPPER LEVEL CONDITIONS FOR
DEVELOPMENT WITH GOOD POLEWARD OUTFLOW AND LOW (<15KTS) VERTICAL
WIND SHEAR. THE MAJORITY OF GLOBAL MODELS ARE IN AGREEMENT THAT THE
REMNANTS OF TC 19P WILL CONTINUE WESTWARD ACROSS WESTERN AUSTRALIA
AND SKIRT ALONG THE NORTHWESTERN COAST PRIOR TO TURNING TO A
SOUTHWARD TRACK. MAXIMUM SUSTAINED SURFACE WINDS ARE ESTIMATED AT 30
TO 35 KNOTS. MINIMUM SEA LEVEL PRESSURE IS ESTIMATED TO BE NEAR 996
MB. THE POTENTIAL FOR THE DEVELOPMENT OF A SIGNIFICANT TROPICAL
CYCLONE WITHIN THE NEXT 24 HOURS REMAINS MEDIUM.
TC 20S: WARNING 13. WEAKENING MAY BE FASTER THAN INDICATED.
TC 20S: TRACK AND INTENSITY GUIDANCE
OVERLAND TC 19P: TRACK AND INTENSITY GUIDANCE
26/1745UTC
TC 20S.26/2003UTC
TC 19P. 26/1849UTC
TC 20S. 26/1347UTC