TC 20S. ANIMATION. 0950UTC. CLICK TO ANIMATE.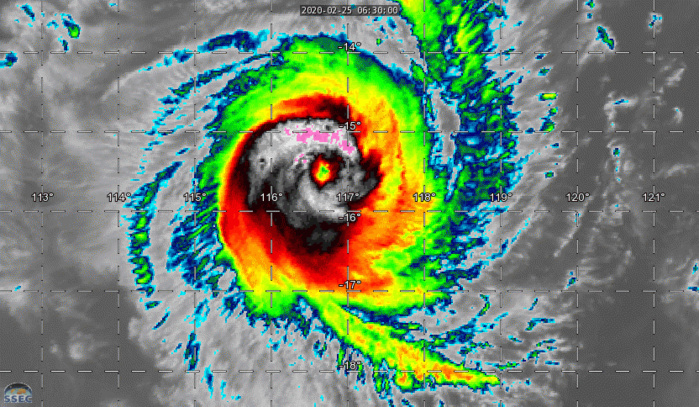 Location: 15.5°S 116.8°E
Maximum Winds: 85 kt ( 160km/h)
Gusts: 105 kt ( 195km/h)
Minimum Central Pressure: 970 mb
CATEGORY US: 2
TPXS10 PGTW 250919
A. TROPICAL CYCLONE 20S (FERDINAND)
B. 25/0850Z
C. 15.68S
D. 116.68E
E. ONE/HMWRI8
F. T5.5/5.5/D2.5/24HRS STT: S0.0/03HRS
G. IR/EIR/VIS/MSI
H. REMARKS: 03A/PBO EYE/ANMTN. OW EYE SURROUNDED BY B YIELDS AN
E# OF 5.5. ADDED 0.5 EYE ADJUSTMENT FOR W, TO YIELD A DT OF
6.0. MET YIELD A 4.5 AND PT YIELD A 5.5. DBO PT. BROKE
CONSTRAINTS OF A T-NUMBER CHANGE OF 2.5 OVER 24HR PERIOD.
I. ADDITIONAL POSITIONS: NONE
ELIAS
REMARKS:
250900Z POSITION NEAR 15.5S 116.6E.
25FEB20. TROPICAL CYCLONE 20S (FERDINAND), LOCATED APPROXIMATELY
436 NM NORTH-NORTHEAST OF LEARMONTH, AUSTRALIA, HAS TRACKED
SOUTHWESTWARD AT 04 KNOTS OVER THE PAST SIX HOURS. ANIMATED ENHANCED
INFRARED SATELLITE IMAGERY SHOWS THE SYSTEM HAS DEVELOPED AN EYE,
CONVECTIVE CLOUD TOPS HAVE DEEPENED, AND THE EYE HAS WARMED,
CONSIDERABLY IN THE LAST 6 HOURS. THE INITIAL POSITION IS PLACED WITH
HIGH CONFIDENCE BASED ON THE EYE. THE INITIAL INTENSITY OF
85 KTS IS BASED ON A RANGE OF DVORAK ESTIMATES FROM APRF, KNES, AND
PGTW OF T4.5 (77 KTS), T5.0 (90 KTS), AND T5.5 (102 KTS)
RESPECTIVELY, AND A 250710Z ADVANCED DVORAK TECHNIQUE ESTIMATE OF
T4.9 (87 KTS), SUPPORTED BY THE RAPID CONSOLIDATION AND APPEARANCE OF
AN EYE AND WELL-DEVELOPED EYEWALL. ANALYSES INDICATE A FAVORABLE
ENVIRONMENT WITH A ROBUST POLEWARD OUTFLOW CHANNEL, LOW (10-20 KT)
VERTICAL WIND SHEAR AND WARM SST VALUES (30-32C). THE FAVORABLE
ENVIRONMENTAL CONDITIONS ENABLED TC 20S TO INTENSIFY 20 KTS IN 6
HOURS. TC 20S WILL CONTINUE ON ITS CURRENT TRACK THROUGH TAU 48 UNDER
THE STEERING INFLUENCE OF THE SUBTROPICAL RIDGE (STR) TO THE
SOUTHEAST. AFTER TAU 72, THE STR WILL BUILD AND FORM AN EXTENSION
THAT WILL DRIVE THE CYCLONE WESTWARD THEN WEST-NORTHWESTWARD. THE
FAVORABLE ENVIRONMENT WILL PROMOTE RAPID INTENSIFICATION TO A PEAK OF
95 KTS AT 12 HOURS. AFTER TAU 24, THE SYSTEM WILL STEADILY WEAKEN DUE
TO UPPER LEVEL SUBSIDENCE AND NEAR-SURFACE DRY AIR ENTRAINMENT WITH
THE APPROACH OF A SHORT WAVE TROUGH FROM THE SOUTHWEST. BY TAU 120,
TC FERDINAND WILL BE REDUCED TO 35KTS AND DISSIPATING. NUMERICAL
MODELS ARE IN BROAD AGREEMENT UP TO TAU 48. AFTERWARD, THEY DIVERGE
SIGNIFICANTLY WITH NAVGEM THE EXTREME EAST OUTLIER, AN INDICATION OF
EXCESSIVE BINARY INTERACTION WITH A SECONDARY CYCLONE, 19P, PROJECTED
TO MOVE OVER WATER OR SKIRT THE COASTLINE OF NORTHERN AUSTRALIA
AROUND TAU 96. THE MOST RECENT RUNS OF GFS, UKMET, AND ECMWF FLATTEN
OUT THE TRACK OF TC 20S TO DUE WESTWARD IN THE LONG TERM, WHILE THE
GFS ENSEMBLE AND UKMET ENSEMBLE STILL SHOW A NORTHWESTWARD CURVE IN
THE LONG TERM. NAVGEM AND THE UKMET ENSEMBLE BOTH LOOP TC 20S BACK
EASTWARD AT THE END OF THE FORECAST PERIOD DUE TO PROJECTED
INTERACTION WITH TC 19P. THE JTWC FORECAST TRACK HAS BEEN SHIFTED
SOUTHWARD TOWARDS THE ECMWF AND GFS SOLUTIONS. AS A RESULT OF THE
SPREAD OF MODEL SOLUTIONS, THERE IS HIGH CONFIDENCE IN THE JTWC TRACK
FORECAST UP TO TAU 48, THEN LOW CONFIDENCE AFTERWARD. MAXIMUM
SIGNIFICANT WAVE HEIGHT AT 250600Z IS 24 FEET. NEXT
WARNINGS AT 251500Z, 252100Z, 260300Z AND 260900Z.//
NNNN
Location: 17.4°S 135.4°E
Maximum Winds: 30 kt
Minimum Central Pressure: 998 mb
TPPS13 PGTW 250908
A. REMNANTS OF TROPICAL CYCLONE 19P (ESTHER)
B. 25/0840Z
C. 17.44S
D. 134.64E
E. FIVE/HMWRI8
F. N/A
G. IR/EIR/VIS/MSI
H. REMARKS: 40A/PBO SBC/ANMTN. DVORAK VALUES UNAVAILABLE DUE TO
LLCC OVER LAND.
I. ADDITIONAL POSITIONS: NONE
ELIAS
ABPW10 PGTW 250600
2. SOUTH PACIFIC AREA (WEST COAST OF SOUTH AMERICA TO 135 EAST):
A. TROPICAL CYCLONE SUMMARY: NONE.
B. TROPICAL DISTURBANCE SUMMARY:
(1) AN AREA OF CONVECTION (REMNANTS OF TC 19P) HAS PERSISTED
NEAR 17.2S 135.9E, APPROXIMATELY 180 NM WEST OF MORNINGTON ISLAND,
AUSTRALIA. ANIMATED ENHANCED INFRARED SATELLITE IMAGERY AND A
242110Z SSMIS 91GHZ IMAGE DEPICT THAT THE SYSTEM IS MAINTAINING ITS
ORGANIZATION DESPITE BEING OVER LAND, WITH FLARING DEEP CONVECTION
ALONG THE NORTHERN PERIPHERY OF A LOW LEVEL CIRCULATION CENTER (LLCC)
AND LOW LEVEL BANDING WRAPPING INTO THE LLCC. THE REMNANTS OF TC 19P
ARE EXPERIENCING FAVORABLE UPPER LEVEL CONDITIONS FOR DEVELOPMENT WITH
GOOD POLEWARD OUTFLOW AND LOW TO MODERATE (10-20KTS) VERTICAL WIND
SHEAR. GLOBAL MODELS ARE IN GENERAL AGREEMENT THAT THE REMNANTS OF TC
19P WILL CONTINUE WESTWARD ACROSS WESTERN AUSTRALIA WHERE THE
DISTURBANCE WILL REACH THE COASTLINE AND QUICKLY INTENSIFY AS IT
TRAVELS OVER VERY WARM (30-32 DEGREES CELSIUS) WATER. MAXIMUM SUSTAINED
SURFACE WINDS ARE ESTIMATED AT 25 TO 30 KNOTS. MINIMUM SEA LEVEL
PRESSURE IS ESTIMATED TO BE NEAR 1000 MB. THE POTENTIAL FOR THE
DEVELOPMENT OF A SIGNIFICANT TROPICAL CYCLONE WITHIN THE NEXT 24 HOURS
IS MEDIUM.
TC 20S: WARNING 7. PEAK INTENSITY FORECAST WITHIN 24H.
TC 20S: TRACK AND INTENSITY GUIDANCE
OVERLAND TC 19P: TRACK AND INTENSITY GUIDANCE
25/0515UTC
TC 20S: 25/0747UTC
TC 20S: 25/0747UTC