ANIMATION. 17UTC. TC 19P & INVEST 90S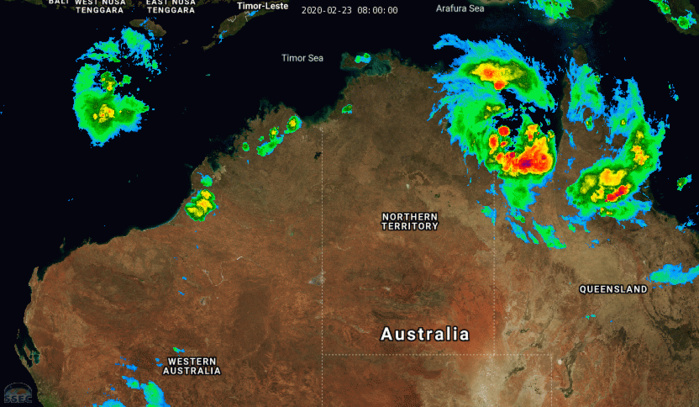 Location: 15.5°S 139.5°W
Maximum Winds: 35 kt ( 65km/h)
Gusts: 45 kt ( 85km/h)
Minimum Central Pressure: 996 mb
TPPS13 PGTW 231529
A. TROPICAL CYCLONE 19P (NINETEEN)
B. 23/1500Z
C. 15.71S
D. 139.09E
E. FIVE/HMWRI8
F. T2.5/2.5/D1.5/24HRS STT: S0.0/03HRS
G. IR/EIR
H. REMARKS: 38A/PBO SBC/ANMTN. CNVCTN WRAPS .55 ON LOG10 SPIRAL
YIELDING A DT OF 2.5. MET/PT AGREE. DBO DT.
I. ADDITIONAL POSITIONS: NONE
MARTIN
REMARKS:
231500Z POSITION NEAR 15.8S 139.4E.
23FEB20. TROPICAL CYCLONE (TC) 19P (NINETEEN), LOCATED APPROXIMATELY
532 NM EAST-SOUTHEAST OF DARWIN, AUSTRALIA, HAS TRACKED SOUTHWARD
AT 07 KNOTS OVER THE PAST SIX HOURS. ANIMATED ENHANCED INFRARED
SATELLITE IMAGERY DEPICTS A CONSOLIDATING LOW-LEVEL CIRCULATION WITH
EXTENSIVE DEEP CONVECTIVE BANDING WRAPPING INTO A BROAD CENTER.
ANIMATED RADAR IMAGERY FROM MORNINGTON ISLAND INDICATES A BROAD BUT
DEFINED LOW-LEVEL CIRCULATION CENTER, WHICH SUPPORTS THE INITIAL
POSITION WITH FAIR CONFIDENCE. A 231243Z ASCAT-B BULLSEYE IMAGE
SHOWS 30-35 KNOT WINDS OVER THE SOUTHERN SEMICIRCLE WITH A BROAD BUT
WELL-DEFINED CENTER. SURFACE OBSERVATIONS FROM MORNINGTON ISLAND
INDICATE GALE-FORCE GUSTS UP TO 38 KNOTS WITH A NOTEWORTHY 24-HOUR
SLP DECREASE OF 9.5MB. ENVIRONMENTAL CONDITIONS ARE FAVORABLE WITH
RADIAL OUTFLOW, LOW VERTICAL WIND SHEAR AND WARM SST VALUES. TC 19P
IS FORECAST TO TRACK SOUTH-SOUTHWESTWARD TO WEST-SOUTHWESTWARD
THROUGH TAU 24 WITH LANDFALL EXPECTED BY TAU 18. TC 19P SHOULD
INTENSIFY RAPIDLY AS IT APPROACHES THE COAST WITH A PEAK INTENSITY
OF 55 KNOTS AT TAU 12. THE SYSTEM WILL TURN WESTWARD AFTER TAU 24 AS
IT TRACKS UNDER THE STEERING INFLUENCE OF A SUBTROPICAL RIDGE
POSITIONED TO THE SOUTH AND WILL GRADUALLY WEAKEN THROUGH THE
FORECAST PERIOD. THE SYSTEM IS FORECAST TO REGENERATE AFTER TAU 120
AS IT TRACKS BACK OVER WATER AND WILL BE MONITORED CLOSELY AS IT
TRANSITS NORTHERN AUSTRALIA. GLOBAL MODEL GUIDANCE IS IN GOOD
AGREEMENT, THEREFORE, THERE IS HIGH CONFIDENCE IN THE JTWC FORECAST
TRACK. MAXIMUM SIGNIFICANT WAVE HEIGHT AT 231200Z IS 12 FEET. NEXT
WARNINGS AT 232100Z, 240300Z, 240900Z AND 241500Z. REFER TO TROPICAL
CYCLONE 18P (WASI) FINAL WARNING (WTPS32 PGTW).
2. THIS CANCELS AND SUPERSEDES REF A (WTPS21 PGTW 230330).//
NNNN
Location: 12.9°S 118.7°E
Maximum Winds: 30 kt ( 55km/h)
Gusts: 40 kt ( 75km/h)
Minimum Central Pressure: 1001 mb
TPXS10 PGTW 231522
A. TROPICAL DISTURBANCE 90S (NW OF AUSTRALIA)
B. 23/1500Z
C. 13.28S
D. 118.72E
E. FIVE/HMWRI8
F. T2.0/2.0 STT: D0.5/03HRS
G. IR/EIR
H. REMARKS: 38A/PBO SBC/ANMTN. CNVCTN WRAPS .35 ON LOG10 SPIRAL
YIELDING A DT OF 2.0. MET/PT AGREE. DBO DT.
I. ADDITIONAL POSITIONS: NONE
MARTIN
ABIO10 PGTW 231030
2. SOUTH INDIAN OCEAN AREA (135E WEST TO COAST OF AFRICA):
A. TROPICAL CYCLONE SUMMARY: NONE.
B. TROPICAL DISTURBANCE SUMMARY:
(1) THE AREA OF CONVECTION (INVEST 90S) PREVIOUSLY LOCATED
NEAR 12.3S 118.9E IS NOW LOCATED NEAR 12.4S 119.1E, APPROXIMATELY
380 NM NORTH-NORTHWEST OF BROOME, AUSTRALIA. ANIMATED MULTISPECTRAL
SATELLITE IMAGERY AND A 230818Z SSMIS F-16 91GHZ MICROWAVE IMAGE
DEPICT A TIGHTENING, WELL-DEFINED LOW LEVEL CIRCULATION CENTER
(LLCC) WITH FORMATIVE FRAGMENTED DEEP CONVECTIVE BANDING BEGINNING
TO WRAP IN FROM THE WEST. A 230151Z METOP-B ASCAT PASS REVEALS A
TIGHT, SYMMETRIC LLCC WITH 20 TO 25 KNOT WINDS LYING UNDER THE
PREVIOUSLY MENTIONED BAND OF DEEP CONVECTION. 90S IS CURRENTLY IN A
FAVORABLE ENVIRONMENT WITH GOOD DUAL CHANNEL OUTFLOW, LOW (5 TO 10
KNOT) VERTICAL WIND SHEAR, AND WARM (30 TO 31 CELSIUS) SEA SURFACE
TEMPERATURES. GLOBAL MODELS ARE IN GOOD AGREEMENT THAT 90S WILL
TRACK SLOWLY WEST-SOUTHWESTWARD, INTENSIFYING TO WARNING THRESHOLD
WITHIN THE NEXT 24 HOURS. MAXIMUM SUSTAINED SURFACE WINDS ARE
ESTIMATED AT 25 TO 30 KNOTS. MINIMUM SEA LEVEL PRESSURE IS ESTIMATED
TO BE NEAR 1002 MB. THE POTENTIAL FOR THE DEVELOPMENT OF A
SIGNIFICANT TROPICAL CYCLONE WITHIN THE NEXT 24 HOURS IS UPGRADED TO
HIGH.
Location: 17.2°S 171.0°W
Maximum Winds: 25 kt
Minimum Central Pressure: 1004 mb
TPPS12 PGTW 231515
A. REMNANTS OF TROPICAL CYCLONE 18P (WASI)
B. 23/1450Z
C. XX.XX
D. XXX.XX
E. N/A/GOES17
F. N/A
G. IR/EIR
H. REMARKS: POSITION OF LOW LEVEL CIRCULATION CENTER COULD NOT
BE FOUND.
I. ADDITIONAL POSITIONS: NONE
MARTIN
Location: 22.8°S 169.5°W
Maximum Winds: 20 kt
Minimum Central Pressure: 1005 mb
TPPS11 PGTW 231518
A. REMNANTS OF TROPICAL CYCLONE 17P (VICKY)
B. 23/1450Z
C. 22.89S
D. 169.69W
E. FIVE/GOES17
F. N/A
G. IR/EIR
H. REMARKS: 63A/PBO PRLY ORGNZD LLCC/ANMTN. THIS SYSTEM IS TOO
WEAK TO CLASSIFY.
I. ADDITIONAL POSITIONS: NONE
MARTIN
TC 19P. WARNING 1: FORECAST TO INTENSIFY RAPIDLY UNTIL LANDFALL WITHIN 12H.
INVEST 90S: TCFA
TC 19P: TRACK AND INTENSITY GUIDANCE
INVEST 90S: TRACK AND INTENSITY GUIDANCE
02/23 15UTC
TC 19P: 23/1243UTC