TC 16S: ANIMATION. CLICK IF NECESSARY.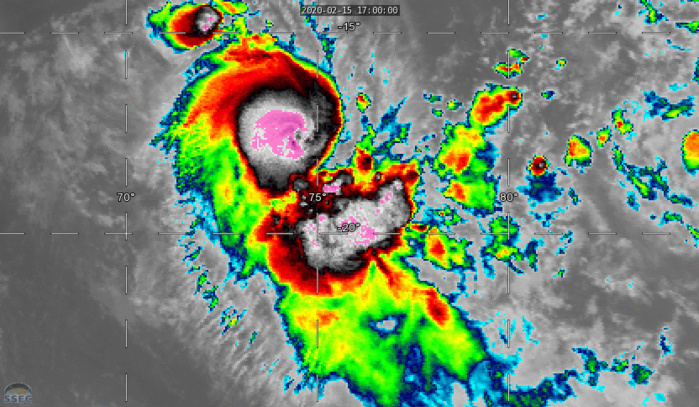 CIRA/US
TC 16S(GABEKILE) SOUTH INDIAN
Location: 19.2°S 74.7°E
Maximum Winds: 75 kt ( 140km/h)
Gusts: 90 kt ( 170km/h)
Minimum Central Pressure: 980 mb
CATEGORY US: 1
TPXS11 PGTW 160622
A. TROPICAL CYCLONE 16S (GABEKILE)
B. 16/0600Z
C. 19.11S
D. 74.79E
E. FIVE/MET8
F. T5.0/5.0/D2.5/24HRS STT: D0.5/03HRS
G. IR/EIR
H. REMARKS: 46A/PBO EMBD CNTR/ANMTN. LLCC EMBEDDED IN B YIELDS
A DT OF 5.0. MET YIELDS A 5.0 AND PT A 4.0. DBO DT.
I. ADDITIONAL POSITIONS: NONE
RICHARDSON
REMARKS:
160300Z POSITION NEAR 18.6S 74.6E.
16FEB20. TROPICAL CYCLONE (TC) 16S (GABEKILE), LOCATED APPROXIMATELY
689 NM SOUTH OF DIEGO GARCIA, HAS TRACKED SOUTH-SOUTHEASTWARD AT 08
KNOTS OVER THE PAST SIX HOURS. ANIMATED ENHANCED INFRARED (EIR)
SATELLITE IMAGERY SHOWS THE SYSTEM HAS RAPIDLY CONSOLIDATED AND
INTENSIFIED OVER THE LAST 12HRS. RAIN BANDS HAVE BECOME MORE COMPACT
AND A FORMATIVE EYE HAS APPEARED ON AND OFF WHILE MAINTAINING A
FAIRLY SYMMETRICAL CENTRAL DENSE OVERCAST. THE INITIAL POSITION IS
PLACED WITH HIGH CONFIDENCE BASED ON THE INTERMITTENT EYE IN THE EIR
LOOP THAT LINED UP WELL WITH A MICROWAVE EYE FEATURE IN THE 152221Z
GPM COLORIZED 36GHZ IMAGE. THE INITIAL INTENSITY IS BASED ON THE
DVORAK ESTIMATE OF T4.5/77KTS FROM PGTW AND REFLECTS THE RAPID
INTENSIFICATION. THE SYSTEM IS IN A HIGHLY FAVORABLE ENVIRONMENT WITH
DUAL OUTFLOW, LOW 5-10KT VERTICAL WIND SHEAR (VWS), AND VERY WARM 29C
ALONG-TRACK SST. IT IS CURRENTLY TRACKING ALONG THE WESTERN PERIPHERY
OF A SUBTROPICAL RIDGE (STR)TO THE EAST. TC 16S WILL BEGIN TO TURN
MORE SOUTH-SOUTHWESTWARD AFTER TAU 12 AND SLOW DOWN SIGNIFICANTLY AS
THE STR RECEDES AND WEAKENS WITH THE APPROACH OF A MAJOR SHORTWAVE
TROUGH FROM THE SOUTHWEST. THE CYCLONE WILL BECOME QUASI-STATIONARY
UP TO TAU 48. SUBSIDENCE ASSOCIATED WITH THE TROUGH AND INCREASING
VWS WILL GRADUALLY ERODE THE TC DOWN TO 40KTS BY TAU 48. AFTERWARD, A
BUILDING STR TRANSITING TO THE SOUTH WILL DRIVE THE CYCLONE SLOWLY
SOUTHWESTWARD. BY TAU 120, TC GABEKILE WILL DISSIPATE. NUMERICAL
MODELS ARE IN EXCESSIVELY WIDE DISAGREEMENT, LENDING LOW CONFIDENCE
TO THE JTWC TRACK FORECAST. MAXIMUM SIGNIFICANT WAVE HEIGHT AT
160000Z IS 28 FEET. NEXT WARNINGS AT 161500Z AND 170300Z.//
NNNN
Location: 11.3°S 178.3°W
Maximum Winds: 30 kt ( 55km/h)
Gusts: 40 kt ( 75km/h)
Minimum Central Pressure: 997 mb
ABPW10 PGTW 152100
2. SOUTH PACIFIC AREA (WEST COAST OF SOUTH AMERICA TO 135 EAST):
A. TROPICAL CYCLONE SUMMARY: NONE.
B. TROPICAL DISTURBANCE SUMMARY:
(1) THE AREA OF CONVECTION (INVEST 93P) PREVIOUSLY LOCATED
NEAR 11.7S 175.4E IS NOW LOCATED NEAR 12.3S 177.8E, APPROXIMATELY
692 NM WEST OF PAGO PAGO, AMERICAN SAMOA. ANIMATED ENHANCED INFRARED
IMAGERY AND A 151355Z AMSR2 89GHZ SATELLITE IMAGE DEPICT AN
EXTREMELY LARGE ELONGATED AREA OF DISORGANIZED, ALBEIT PERSISTENT,
CONVECTION WITHOUT A CLEAR CIRCULATION CENTER. THE SYSTEM IS THE
RESULT OF A COMPLEX DYNAMICAL ENVIRONMENT WITH CONVERGING WINDS FROM
THE MONSOON TROUGH (EXTENDING FROM THE CORAL SEA TO SAMOA), THE
SOUTH PACIFIC CONVERGENCE ZONE (SOUTH OF FIJI), AND INTERACTING WITH
WESTERLY WIND BURSTS ASSOCIATED WITH AN ACTIVE MADDEN-JULIAN
OSCILLATION TO THE NORTH NEAR THE EQUATOR. THIS SYSTEM IS NOT A
TROPICAL CYCLONE AND ASSESSED AS A HYBRID TROPICAL SYSTEM. 93P
EXISTS IN A FAVORABLE ENVIRONMENT FOR DEVELOPMENT WITH LOW TO
MODERATE (10-20KT) VERTICAL WIND SHEAR, GOOD EQUATORWARD AND
POLEWARD OUTFLOW, AND WARM (29-30C) SEA SURFACE TEMPERATURES. GLOBAL
MODELS ALL AGREE 93P WILL GENERATE SIGNIFICANT STORM FORCE WINDS AND
HEAVY PRECIPITATION ESPECIALLY ALONG THE NORTHERN CONVERGENT
PERIPHERY. THE LEADING EDGE OF THIS CONVERGENT LINE WILL APPROACH
AND IMPACT AMERICAN SAMOA WITHIN THE NEXT 24 HOURS. MAXIMUM
SUSTAINED SURFACE WINDS ARE ESTIMATED AT 25 TO 30 KNOTS. MINIMUM SEA
LEVEL PRESSURE IS ESTIMATED TO BE NEAR 999 MB. THE POTENTIAL FOR
THE DEVELOPMENT OF A SIGNIFICANT TROPICAL CYCLONE WITHIN THE NEXT 24
HOURS IS UPGRADED TO HIGH. SEE REF A (WTPS21 PGTW 151700) FOR
FURTHER DETAILS.
TC 16S: WARNING 3 AT 00UTC WITH 06UTC POSITION INDICATED
TC 16S: TRACK AND INTENSITY GUIDANCE
INVEST 93P: TRACK AND INTENSITY GUIDANCE
TC 16S: 16/0305UTC
TC 16S: 15/2129UTC. DMSP DEPICTED A SMALL AND COOL EYE FEATURE WHICH WAS ON AND OFF ON ANIMATION
16/0530UTC