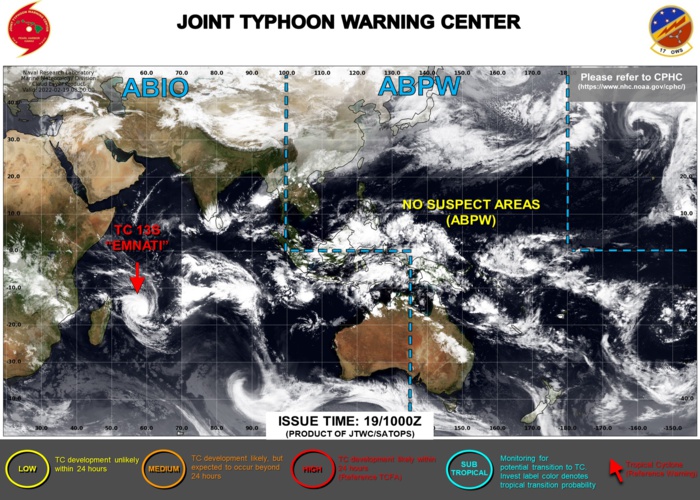 JTWC IS ISSUING 12HOURLY WARNINGS ON TC 13S(EMNATI) AND 3HOURLY SATELLITE BULLETINS ON TC 13S AND INVEST 97S(FEZILE).
SOUTHERN HEMISPHERE/SOUTH INDIAN OCEAN: TC 13S(EMNATI). WARNING 6 ISSUED AT 19/03UTC. CLICK ON THE IMAGERY BELOW TO ENLARGE IT.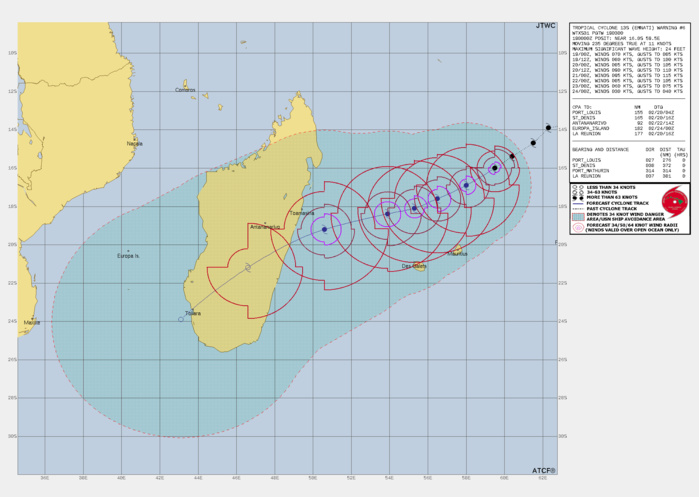 FORECAST REASONING. SIGNIFICANT FORECAST CHANGES: THERE ARE NO SIGNIFICANT CHANGES TO THE FORECAST FROM THE PREVIOUS WARNING, HOWEVER THERE IS A POTENTIAL FOR AN ALTERNATE SCENARIO AS DESCRIBED IN THE MODEL DISCUSSION. FORECAST DISCUSSION: TC EMNATI WILL CONTINUE ITS TRACK TO THE SOUTHWEST OVER THE NEXT 36 HOURS WHILE STEADILY INCREASING IN INTENSITY TO 90 KTS/CAT2 US AT THIS TIME. AFTER 36H, THE SYSTEM WILL TAKE A SLIGHT JOG EQUATORWARD AS THE SUBTROPICAL RIDGE (STR) TO THE SOUTHEAST WILL BUILD. AT THIS POINT, TC EMNATI WILL REACH ITS MAX INTENSITY OF 95 KTS/CAT 2 US. AFTERWARDS, AS THE SYSTEM APPROACHES THE EAST COAST OF MADAGASCAR, IT WILL BEGIN TO SHOW SIGNS OF WEAKENING IN INTENSITY AS THE OCEAN HEAT CONTENT WILL BEGIN TO FALL DUE TO UPWELLING THAT WAS INITIALLY KICKED-OFF WITH THE PASSING OF TC 08S AND TC 12S. DUE TO THIS UPWELLING, TC EMNATI WILL DECREASE IN INTENSITY 85 KTS/CAT 2 US BY 72H, ROUGHLY 6 HOURS BEFORE LANDFALL. THE SYSTEM WILL CONTINUE TO DECAY AS IT UNDERGOES TERRAIN INTERACTION BY 96H. BY 120H, TC EMNATI IS EXPECTED TO REEMERGE OVER THE SOUTHERN PORTION OF THE MOZAMBIQUE CHANNEL AT 30 KTS.
1322021800 137S 633E 55
1322021800 137S 633E 55
1322021806 139S 623E 65
1322021812 147S 615E 70
1322021818 154S 604E 70
1322021900 160S 595E 70
CLICK ON THE IMAGERY BELOW TO ENLARGE IT.
CLICK ON THE IMAGERY BELOW TO ENLARGE IT.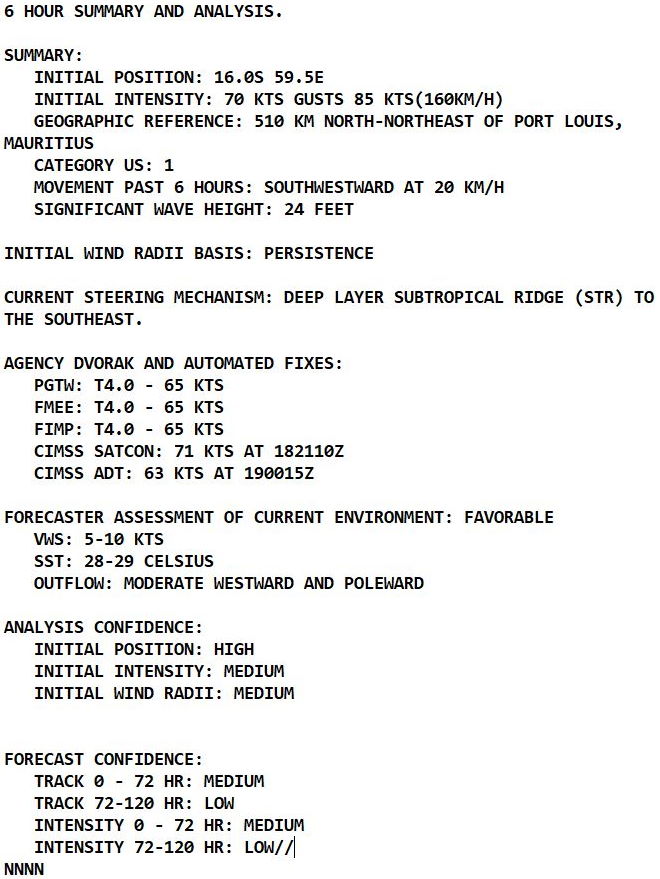 CIMSS ANALYSIS: FAVOURABLE OVER 24HOURS. CLICK ON THE IMAGERY BELOW TO ENLARGE IT.
CLICK ON THE IMAGERY BELOW TO ANIMATE AND ENLARGE IT.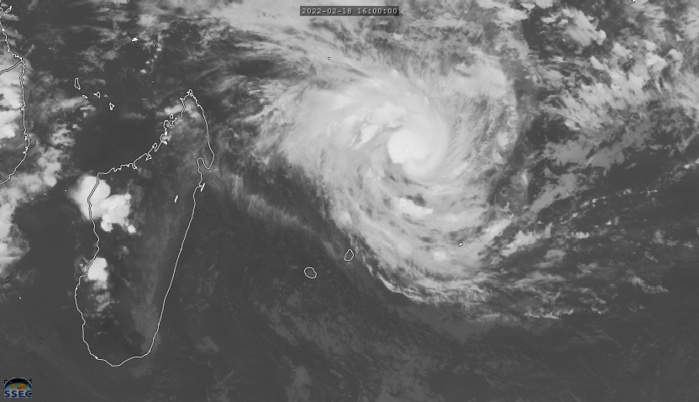 SATELLITE ANALYSIS, INITIAL POSITION AND INTENSITY DISCUSSION: ANIMATED ENHANCED INFRARED (EIR) SATELLITE IMAGERY DEPICTS THE CENTRAL CONVECTION HAS BECOME BETTER ORGANIZED OVER THE ASSESSED LOW LEVEL CIRCULATION CENTER (LLCC) WITHIN THE PAST 12 HOURS. A 190020Z SSMIS 91 GHZ IMAGE SHOWS FRAGMENTED BANDING WITH ASSOCIATED DEEP CONVECTION IN THE WESTERN PERIPHERY WRAPPING AROUND A WELL-DEFINED MICROWAVE EYE. INITIAL POSITION IS PLACED WITH HIGH CONFIDENCE BASED ON THE AFOREMENTIONED MICROWAVE IMAGERY. THE INITIAL INTENSITY OF 70 KTS IS ASSESSED WITH MEDIUM CONFIDENCE HEDGED SLIGHTLY HIGHER THAN THE ADT ESTIMATE OF 65 KTS AND MULTI- AGENCY DVORAK ESTIMATES OF 4.0, AND IS MORE ALIGNED WITH THE SATCON ESTIMATE OF 71 KTS.
19/0213UTC. MICROWAVE SIGNATURE IS STILL DEPICTING A BANDING EYE FEATURE. CLICK ON THE IMAGERY BELOW TO ENLARGE IT.
CLICK ON THE IMAGERY BELOW TO ENLARGE IT.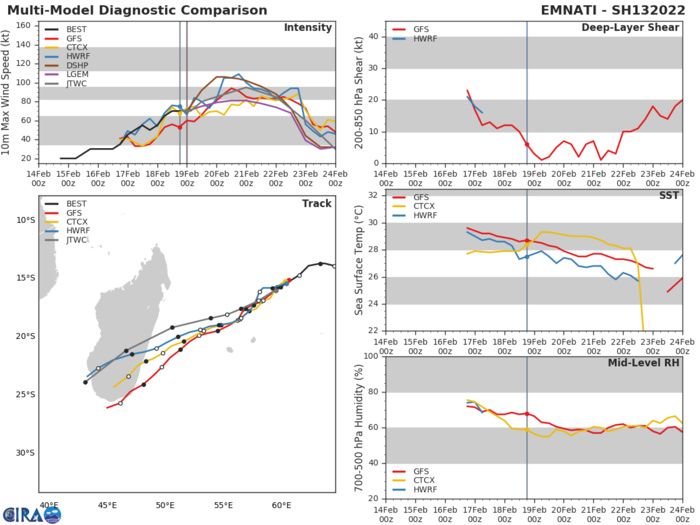 MODEL DISCUSSION: FORECAST TRACK GUIDANCE IS IN GREAT AGREEMENT THROUGH 12H. HOWEVER AFTER 12H THEY BEGIN TO SPLIT EXPONENTIALLY. THERE IS A 90 KM SPREAD AT 24H, SPREADING TO A 890 KM SPREAD BY 120H. ECWMF AND AFUM LAY THERE TRACKS MORE EQUATORWARD; GFS IS MORE POLEWARD, WITH NAVGEM BEING THE OUTLIER AND TURNING THE STORM SOUTH-SOUTHWEST AFTER 72H. THE JTWC TRACK IS PLACED WITH MEDIUM CONFIDENCE THROUGH 72H, SLIGHTLY RIGHT OF CONSENSUS GUIDANCE. AFTER 72H, TRACK CONFIDENCE IS LOW DUE TO THE SPORADIC NATURE OF THE MODEL GUIDANCE. IT SHOULD BE NOTED THAT THE LAST THREE GFS DETERMINISTIC AND ENSEMBLE RUNS SHOW A MORE POLEWARD TRACK AFTER 72H. INTENSITY GUIDANCE IS IN FAIR AGREEMENT THROUGH 72H. THE FORECAST INTENSITY IS PLACED SLIGHTLY HIGHER THAN CONSENSUS, THEN BELOW CONSENSUS AFTER 72H TO ACCOUNT FOR THE AFOREMENTIONED UPWELLING EAST OF MADAGASCAR.
HWRF AT 18/18UTC: 109 KNOTS AT +48H. CLICK ON THE IMAGERY BELOW TO ENLARGE IT.
ECMWF ENSEMBLE AT 18/18UTC.
GFS ENSEMBLE AT 18/18UTC.