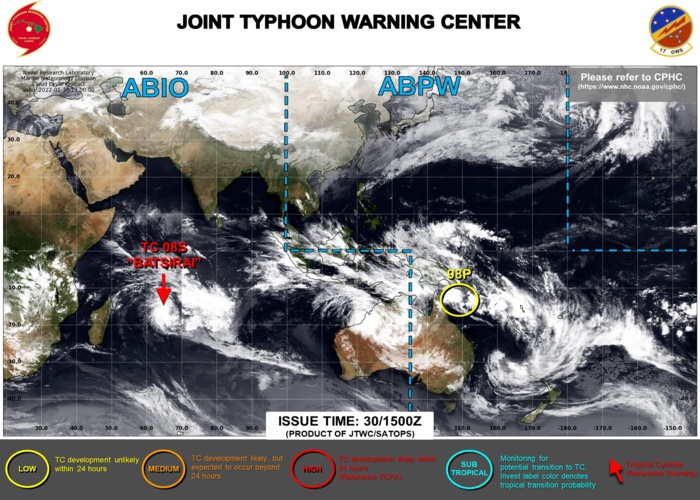 JTWC IS ISSUING 12HOURLY WARNINGS ON TC 08S(BATSIRAI) AND 3HOURLY SATELLITE BULLETINS ON 08S AND INVEST 98P.
SOUTHERN HEMISPHERE/SOUTH INDIAN OCEAN: TC 08S(BATSIRAI). WARNING 8 ISSUED AT 30/15UTC.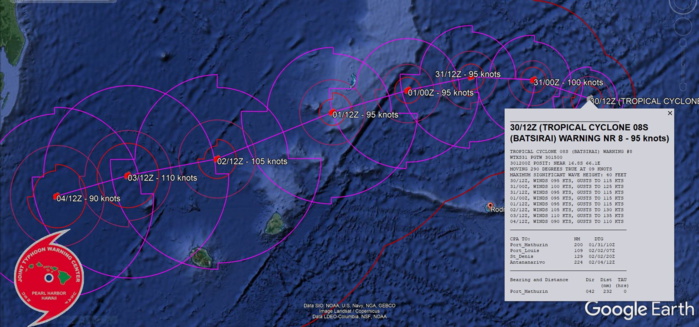 3. FORECAST REASONING. SIGNIFICANT FORECAST CHANGES: THERE ARE NO SIGNIFICANT CHANGES TO THE FORECAST FROM THE PREVIOUS WARNING. FORECAST DISCUSSION: TC BATSIRAI WILL CONTINUE ON ITS CURRENT TRACK UNDER THE INFLUENCE OF THE SUBTROPICAL RIDGE (STR) TO THE SOUTHWEST. AFTER 24H, THE STR IS EXPECTED TO BE WEAKENED BY A TRANSITORY MID-LATITUDE TROUGH RESULTING IN A WEST-SOUTHWESTWARD TRACK FOR THE REMAINDER OF THE FORECAST. THE FAVORABLE ENVIRONMENT WILL FUEL FURTHER INTENSIFICATION TO 100KTS/CAT 3 US BY 12H. AFTERWARD, THE ENTRY OF COOLER DRY AIR AT THE LOW LEVELS WILL SLIGHTLY TEMPER AND SUSTAIN THE INTENSITY AT 95KTS/CAT 2 US UP TO 48H. AFTER 48H, INCREASING POLEWARD OUTFLOW WILL ASSIST IN RE-INTENSIFICATION TO A PEAK OF 110KTS/CAT 3 US BY 96H BEFORE WEAKENING TO 90KTS/CAT 2 US AS VWS INCREASES AND LAND INTERACTION, WITH THE APPROACH INTO MADAGASCAR, BEGINS.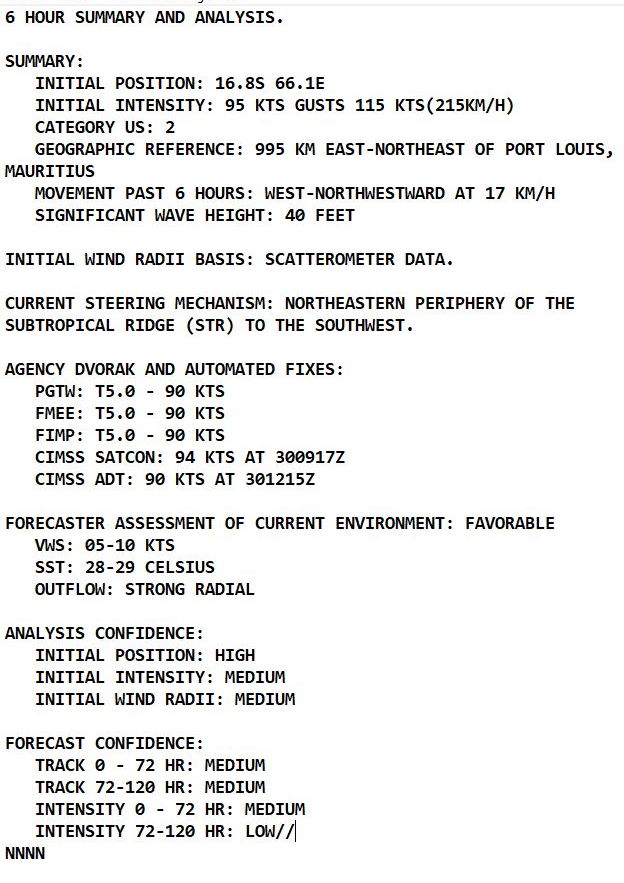 CLICK ON THE IMAGERY BELOW TO ANIMATE AND ENLARGE IT.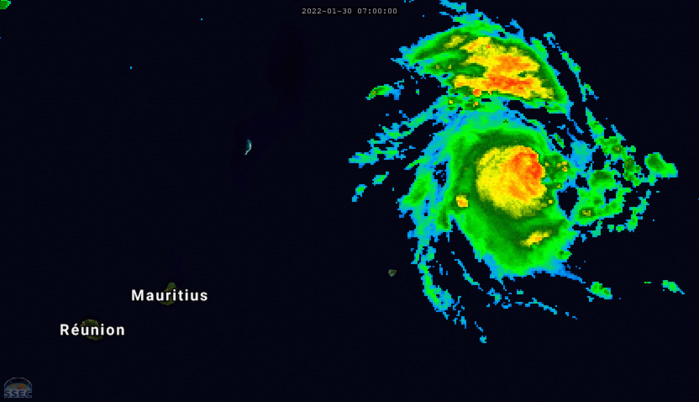 SATELLITE ANALYSIS, INITIAL POSITION AND INTENSITY DISCUSSION: ANIMATED MULTISPECTRAL SATELLITE IMAGERY (MSI) SHOWS THE SYSTEM HAS MAINTAINED A COMPACT AND FAIRLY SYMMETRICAL STRUCTURE WITH DEEPENED CENTRAL CONVECTION AND THE FORMATION OF A 9-KM PINHOLE EYE. THE INITIAL POSITION IS PLACED WITH HIGH CONFIDENCE BASED ON THE PINHOLE EYE THAT LINED UP WELL WITH A MICROWAVE EYE FEATURE IN THE 300931Z AMSR2 36GHZ IMAGE, THE HALFWAY POINT FROM THE LAST BEST TRACK POSITION. THE INITIAL INTENSITY OF 95KTS/CAT 2 US IS PLACED WITH MEDIUM CONFIDENCE BASED ON THE HIGHER END OF AGENCY AND AUTOMATED DVORAK ESTIMATES AND REFLECTS THE 6-HR CONVECTIVE IMPROVEMENT. ANALYSIS INDICATES A HIGHLY FAVORABLE ENVIRONMENT WITH LOW VWS, STRONG RADIAL OUTFLOW, AND WARM ALONG-TRACK SST IN THE SOUTH INDIAN OCEAN.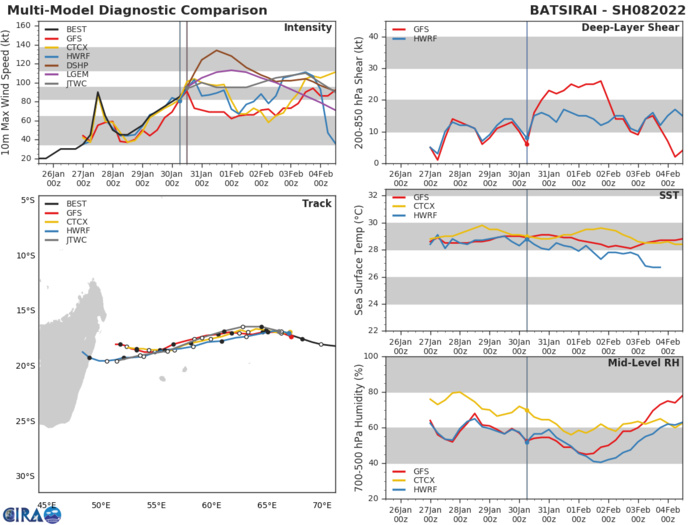 MODEL DISCUSSION: NUMERICAL MODELS ARE IN OVERALL GOOD AGREEMENT WITH A GRADUAL AND EVEN SPREAD TO 465KM AT 120H, LENDING MEDIUM CONFIDENCE TO THE JTWC TRACK FORECAST THAT IS LAID CLOSE TO THE MODEL CONSENSUS. THERE IS ALSO MEDIUM CONFIDENCE TO THE INTENSITY FORECAST UP TO 72H; AFTERWARD, LOW CONFIDENCE DUE TO THE INCREASING VWS AND LAND INTERACTION.
HWRF AT 30/06UTC: 111KNOTS AT +102H.
30/06UTC. ECMWF ENSEMBLE.
SOUTHERN HEMISPHERE/CORAL SEA: INVEST 98P. ADDED TO THE JTWC MAP AT 30/15UTC. ADVISORY(ABPW) ISSUED AT 30/15UTC.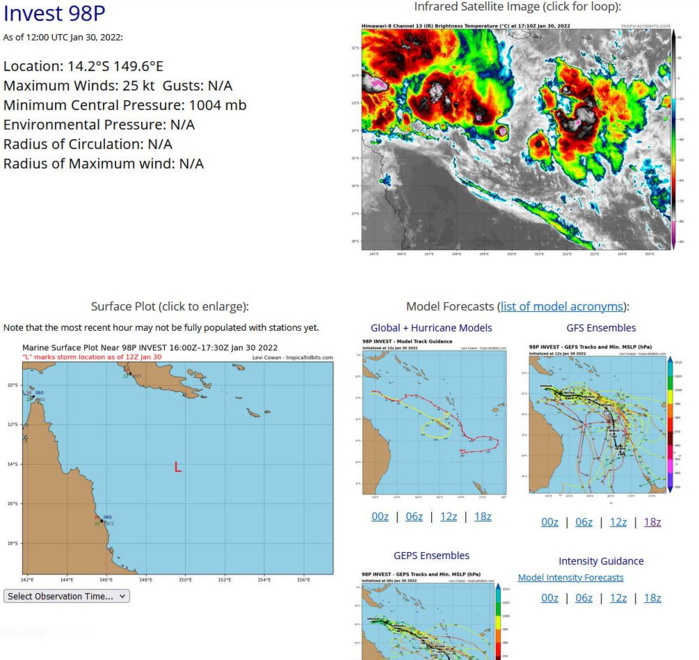 AN AREA OF CONVECTION (INVEST 98P) HAS PERSISTED NEAR 14.2S 149.6E, APPROXIMATELY 235 KM NORTH OF WILLIS ISLAND. A 301128Z METOP-C ASCAT PASS SHOWS 20 TO 25 KNOTS MAX WINDS AROUND AN ELONGATED CIRCULATION WITH PATCHES OF 30KTS IN THE NORTHERN PERIPHERY UNDER THE DEEP CONVECTION. ANIMATED MULTISPECTRAL IMAGERY AND A 1208Z SSMIS 37GHZ MICROWAVE IMAGE DEPICTS A DISORGANIZED SYSTEM WITH LOW LEVEL CIRCULATION (LLC) PARTLY EXPOSED AND DISPLACED SOUTHWARD FROM THE DEEP CONVECTION. UPPER LEVEL ANALYSIS INDICATES A MARGINALLY FAVORABLE ENVIRONMENT WITH GOOD POLEWARD OUTFLOW ALOFT, WARM (30-31C) SEA SURFACE TEMPERATURE OFFSET BY MODERATE (15-20 KNOTS) VERTICAL WIND SHEAR. GLOBAL MODELS ARE IN AN AGREEMENT OF A WEAK AND SLOW DEVELOPMENT OVER THE NEXT 48-72 HOURS. MAXIMUM SUSTAINED SURFACE WINDS ARE ESTIMATED AT 20 TO 25 KNOTS. MINIMUM SEA LEVEL PRESSURE IS ESTIMATED TO BE NEAR 1004 MB. THE POTENTIAL FOR THE DEVELOPMENT OF A SIGNIFICANT TROPICAL CYCLONE WITHIN THE NEXT 24 HOURS IS UPGRADED TO LOW.
30/06UTC. ECMWF ENSEMBLE.