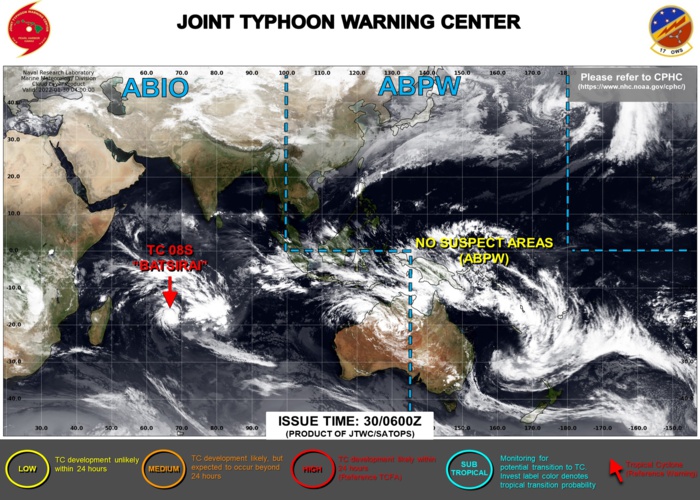 JTWC IS ISSUING 12HOURLY WARNINGS AND 3HOURLY SATELLITE BULLETINS ON TC 08S(BATSIRAI). 3HOURLY SATELLITE BULLETINS ARE NOW ISSUED ON INVEST 98P.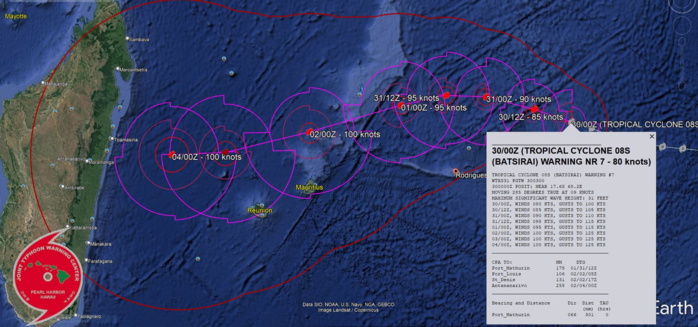 FORECAST REASONING. SIGNIFICANT FORECAST CHANGES: THERE ARE NO SIGNIFICANT CHANGES TO THE FORECAST FROM THE PREVIOUS WARNING. FORECAST DISCUSSION: TC 08S WILL CONTINUE WEST-NORTHWESTWARD ON ITS CURRENT TRACK UNDER THE INFLUENCE OF A SUBTROPICAL RIDGE (STR) BUILDING TO THE SOUTHWEST. AFTER 24H, THE TRACK WILL BEGIN A MORE WEST-SOUTHWEST TRAJECTORY AS THE STR RECEDES EASTWARD. AROUND 120H, THE STR IS EXPECTED TO AGAIN PUSH 08S IN A SLIGHTLY WEST-NORTHWESTWARD DIRECTION. THE SYSTEM IS FORECAST TO REMAIN IN A FAVORABLE ENVIRONMENT WITH LOW TO MODERATE VERTICAL WIND SHEAR AND WARM SEA SURFACE TEMPERATURES FOR THE REMAINDER OF THE FORECAST. THIS WILL ALLOW FOR STEADY INTENSIFICATION TO 100 KTS/CAT 3 US BY 72H. AFTERWARDS, THE SYSTEM WILL MAINTAIN AN INTENSITY AROUND 90-100 KTS FOR THE REMAINDER OF THE FORECAST.
0822012318 83S 883E 20
0822012400 88S 890E 20
0822012406 93S 896E 20
0822012412 98S 898E 20
0822012418 103S 901E 25
0822012500 110S 904E 25
0822012506 115S 907E 20
0822012512 122S 909E 20
0822012518 132S 906E 20
0822012600 142S 896E 25
0822012606 144S 881E 30
0822012612 150S 866E 30
0822012618 157S 852E 30
0822012700 164S 837E 35
0822012706 169S 819E 45
0822012712 180S 796E 90
0822012718 185S 777E 65
0822012800 184S 761E 50
0822012806 183S 747E 45
0822012812 183S 734E 45
0822012818 183S 724E 50
0822012900 182S 716E 55
0822012900 182S 716E 55
0822012906 181S 707E 65
0822012912 180S 699E 70
0822012918 178S 691E 75
0822013000 176S 682E 80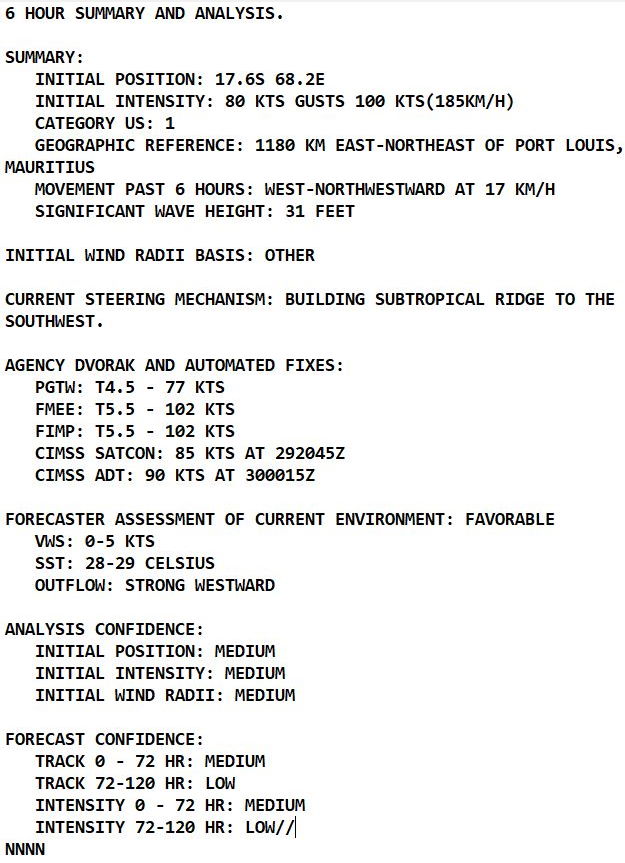 CLICK ON THE IMAGERY BELOW TO ANIMATE AND ENLARGE IT.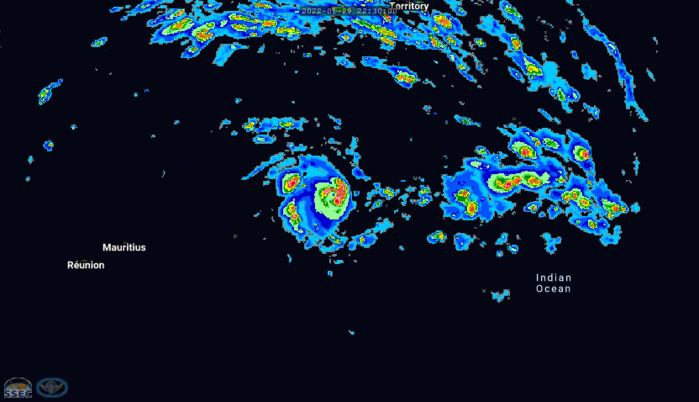 SATELLITE ANALYSIS, INITIAL POSITION AND INTENSITY DISCUSSION: ANIMATED ENHANCED INFRARED (EIR) SATELLITE IMAGERY SHOWS THE SYSTEM HAS MAINTAINED A COMPACT STRUCTURE WITH A CLOUD DENSE OVERCAST BUT IS NOW DEVELOPING A CONVECTIVE BAND TO THE WEST OF THE CENTER. THE INITIAL POSITION IS BASED ON AN EXTRAPOLATION FROM A MICROWAVE EYE FEATURE IN THE AMSR2 PASS AT 292109Z. THE INITIAL INTENSITY OF 80KTS/CAT 1 US IS BASED ON THE PGTW CURRENT INTENSITY ESTIMATE OF T4.5 AND IS SUPPORTED BY THE WIND SPEED PRODUCT FOR THE PREVIOUSLY MENTIONED AMSR2 IMAGE WHICH SHOWED A MAX WIND OF 74 KTS THREE HOURS PRIOR TO SYNOPTIC TIME.
DMSP AT 30/0113UTC.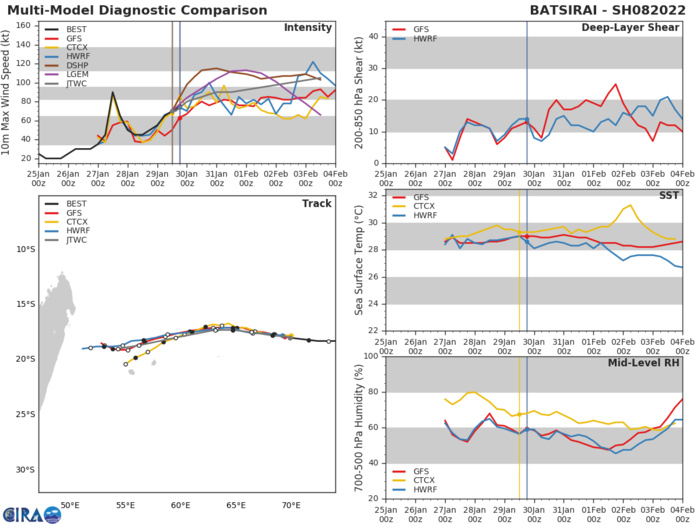 MODEL DISCUSSION: NUMERICAL MODELS ARE IN GENERALLY GOOD AGREEMENT IN REGARDS TO FORECAST TRACK WITH NAVGEM AS AN OUTLIER TO THE SOUTH, BUT STILL SHOWING THE SAME GENERAL TRACK DIRECTION WESTWARD AS THE REST OF THE MODELS. THOUGH MODELS ARE IN BETTER AGREEMENT THAN 24 HOURS AGO, THERE REMAINS A MODEST CROSS-TRACK SPREAD OF 280 KM AT 72H. INTENSITY GUIDANCE IS IN GENERAL AGREEMENT WITH GFS AND EC INDICATING AN INTENSITY AROUND 80-85 UP TO 72H FOLLOWED BY A SLIGHT JUMP TO 90-95 KTS AFTERWARDS. HWRF IS INDICATING SOMETHING SIMILAR BUT JUMPS TO 110 KTS AT 96H. THE FORECAST INTENSITY IS SET SLIGHTLY HIGHER OVERALL TO ACCOUNT FOR THE MODELS POSSIBLY UNDERESTIMATING INTENSITY DUE TO THE COMPACT NATURE OF THE STORM.
HWRF AT 29/18UTC: 122KNOTS AT +108H.
29/18UTC. ECMWF ENSEMBLE.
SOUTHERN HEMISPHERE/CORAL SEA: INVEST 98P. THIS SYSTEM IS NOT OVER THE JTWC MAP AT THE MOMENT. KEEPING TABS ON IT.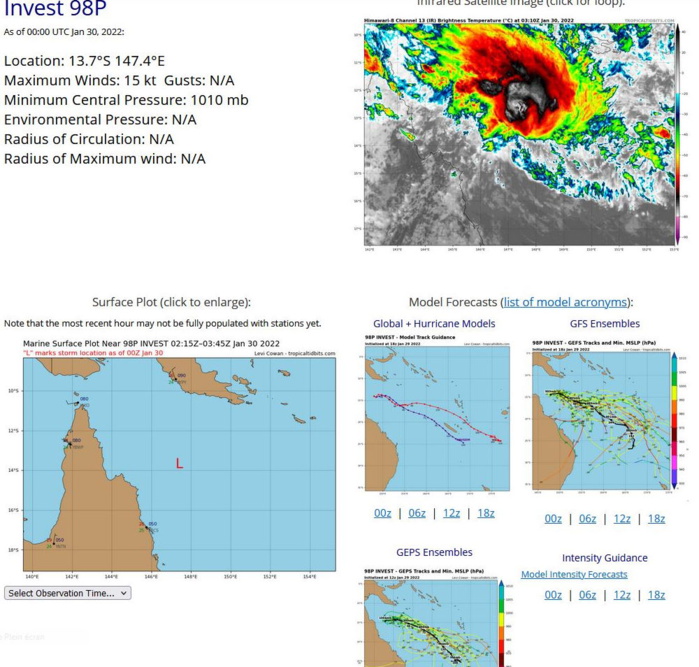 SH, 98, 2022012900, , BEST, 0, 139S, 1446E, 15, 1010, DB
SH, 98, 2022012906, , BEST, 0, 140S, 1455E, 15, 1010, DB
SH, 98, 2022012912, , BEST, 0, 139S, 1461E, 15, 1010, DB
SH, 98, 2022012918, , BEST, 0, 138S, 1469E, 15, 1010, DB
SH, 98, 2022013000, , BEST, 0, 137S, 1474E, 15, 1010, DB
SOUTHERN HEMISPHERE/SOUTH PACIFIC: INVEST 97P. THIS SYSTEM IS NOT OVER THE JTWC MAP AT THE MOMENT. KEEPING TABS ON IT.
SH, 97, 2022012806, , BEST, 0, 183S, 1645E, 20, 1004, DB
SH, 97, 2022012812, , BEST, 0, 190S, 1648E, 20, 1007, DB
SH, 97, 2022012818, , BEST, 0, 196S, 1651E, 20, 1007, DB
SH, 97, 2022012900, , BEST, 0, 203S, 1656E, 20, 1007, DB
SH, 97, 2022012906, , BEST, 0, 210S, 1664E, 20, 1007, DB
SH, 97, 2022012912, , BEST, 0, 218S, 1674E, 20, 1007, DB
SH, 97, 2022012918, , BEST, 0, 223S, 1681E, 20, 1007, DB