CLICK TO ANIMATE: EXTREMELY INTENSE CONVECTION( YELLOW AND PINK)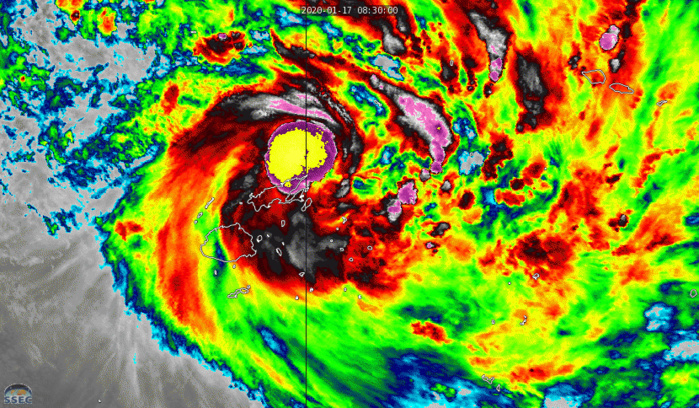 TC 08P(TINO) SOUTH PACIFIC
Location: 15.3°S 179.4°E
Maximum Winds: 55 kt (100km/h)
Gusts: 55 kt ( 130km/h)
Minimum Central Pressure: 974 mb
REMARKS:
170900Z POSITION NEAR 15.9S 180.0E.
17JAN20. TROPICAL CYCLONE (TC) 08P (TINO), LOCATED APPROXIMATELY
178 NM NORTH-NORTHEAST OF SUVA, FIJI, HAS TRACKED SOUTHEASTWARD AT
08 KNOTS (KTS) OVER THE PAST SIX HOURS. ANIMATED MULTISPECTRAL
SATELLITE IMAGERY DEPICTS A CONSOLIDATING SYSTEM WITH DEEP
CONVECTIVE BANDING WRAPPING TIGHTLY INTO AN OBSCURED LOW-LEVEL
CIRCULATION CENTER (LLCC). THE INITIAL POSITION IS BASED ON AN
EXTRAPOLATION OF THE 170429Z SSMIS 37 GHZ MICROWAVE IMAGE, PLACING
FAIR CONFIDENCE IN THE INITIAL POSITION. BASED ON PGTW/KNES DVORAK
CURRENT INTENSITY ESTIMATES OF T3.5 (55 KTS), AN ADVANCED DVORAK
TECHNIQUE ESTIMATE OF T3.6 (57 KTS), AND A SATELLITE CONSENSUS
ESTIMATE OF 56 KTS, THE CURRENT INTENSITY IS ASSESSED AT 55 KNOTS
WITH GOOD CONFIDENCE. THERE REMAIN AREAS OF DEEP CONVECTION WITHIN
THE NORTHERN SEMICIRCLE WHICH ARE ASSOCIATED WITH LOW-LEVEL
CONVERGENT WESTERLY FLOW AND UPPER-LEVEL DIVERGENCE. UPPER-LEVEL
ANALYSIS INDICATES GOOD OUTFLOW, SUPPORTED BY A POINT SOURCE
POSITIONED OVER THE SYSTEM AND WELL-DEVELOPED POLEWARD AND
EQUATORWARD OUTFLOW CHANNELS. ADDITIONALLY, THE SYSTEM IS IN A
REGION OF LOW TO MODERATE (15-20 KTS) VERTICAL WIND SHEAR AND WARM
(28-29 CELSIUS) SEA SURFACE TEMPERATURES (SST), CONTRIBUTING TO
THE OVERALL FAVORABLE ENVIRONMENT. TC 08P IS TRACKING ALONG A
SUBTROPICAL RIDGE (STR) ENTRENCHED TO THE EAST, WHICH WILL REMAIN
AS THE PRIMARY STEERING FEATURE THROUGHOUT THE FORECAST PERIOD. TC
08P IS EXPECTED TO GRADUALLY INTENSIFY TO 60 KTS IN THE NEAR TERM
AS IT TRANSITS THROUGH THIS FAVORABLE ENVIRONMENT. AFTER TAU 36,
COOLING SST (LESS THAN 26 CELSIUS) WILL CAUSE TC 08P TO WEAKEN AS
IT BEGINS EXTRATROPICAL TRANSITION (ETT). THROUGHOUT ETT, SST WILL
CONTINUE TO DECREASE, DROPPING BELOW 20 CELSIUS, AND VWS WILL
RAPIDLY INCREASE TO VALUES GREATER THAN 60 KTS. TC 08P WILL
COMPLETE ETT BY TAU 72, GAINING FRONTAL CHARACTERISTICS AS IT
TRACKS NEAR THE JET STREAM. DYNAMIC MODEL GUIDANCE IS IN STRONG
AGREEMENT, INCREASING TO A 70 NM SPREAD IN MODELS BY TAU 36. AFTER
THIS, MODEL AGREEMENT REMAINS GOOD; HOWEVER, AS THE SYSTEM BEGINS
TO INTERACT WITH THE JET AND THE BAROCLINIC ZONE, MODEL SPREAD
INCREASES SIGNIFICANTLY. OVERALL, THERE IS GOOD CONFIDENCE IN THE
JTWC TRACK FORECAST WHICH IS PLACED NEAR THE MULTI-MODEL
CONSENSUS. MAXIMUM SIGNIFICANT WAVE HEIGHT AT 170600Z IS 23 FEET.
NEXT WARNINGS AT 171500Z, 172100Z, 180300Z AND 180900Z.//
NNNN
WARNING 3: FORECAST TO PEAK NEAR 60KNOTS WITHIN 12H
TRACK AND INTENSITY GUIDANCE: MODEL GUIDANCE IS IN STRONG AGREEMENT