SOUTHERN HEMISPHERE/MOZAMBIQUE CHANNEL: TC 07S(ANA). WARNING 3/FINAL ISSUED AT 24/15UTC.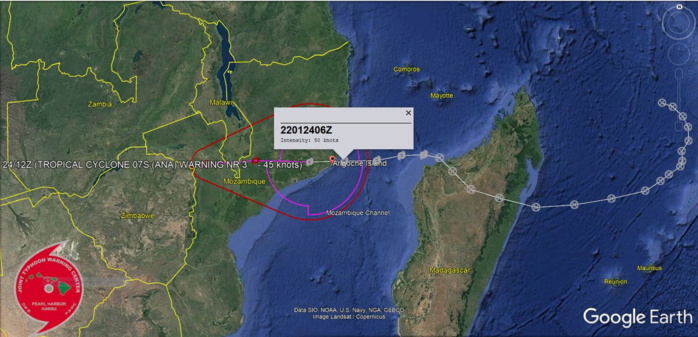 REMARKS: 241500Z POSITION NEAR 16.3S 38.1E. 24JAN22. TROPICAL CYCLONE (TC) 07S (ANA), LOCATED APPROXIMATELY 285 KM SOUTHWEST OF NACALA, MOZAMBIQUE, HAS TRACKED WESTWARD AT 30 KM/H OVER THE PAST SIX HOURS. TC 07S MADE LANDFALL AT APPROXIMATELY 240800Z NEAR ANGOCHE, MOZAMBIQUE. SURFACE WINDS AT ANGOCHE SWITCHED FROM SOUTHERLY AT 20 KNOTS AT 240800Z TO NORTHEASTERLY AT 22 KM/H AT 240900Z AS THE SYSTEM CENTER TRACKED INLAND. ANIMATED ENHANCED INFRARED SATELLITE IMAGERY INDICATES A WELL-ORGANIZED SYSTEM WITH CONVECTIVE BANDING WRAPPING INTO A DEFINED LOW-LEVEL CIRCULATION CENTER (LLCC). A 241137Z AMSR2 89GHZ MICROWAVE IMAGE ALSO SHOWS CURVED BANDING OVER THE WESTERN SEMICIRCLE AND A DEFINED LLCC, WHICH SUPPORTS THE INITIAL POSITION WITH FAIR CONFIDENCE. BASED ON THE CONVECTIVE STRUCTURE, THE INITIAL INTENSITY IS ASSESSED CONSERVATIVELY AT 45 KNOTS. TC 07S IS EXPECTED TO CONTINUE TRACKING WESTWARD AND WILL DISSIPATE BY 24H. NUMERICAL MODEL GUIDANCE IS IN TIGHT AGREEMENT LENDING HIGH CONFIDENCE TO THE JTWC FORECAST TRACK. THIS IS THE FINAL WARNING ON THIS SYSTEM BY THE JOINT TYPHOON WRNCEN PEARL HARBOR HI.
Estimated peak intensity was 50knots.
0722011900 118S 572E 15
0722011906 119S 579E 15
0722011912 123S 586E 15
0722011918 128S 590E 20
0722012000 135S 591E 20
0722012006 141S 587E 25
0722012012 146S 588E 25
0722012018 149S 587E 30
0722012100 154S 580E 30
0722012106 158S 575E 30
0722012112 164S 566E 30
0722012118 170S 546E 30
0722012200 175S 525E 30
0722012206 178S 504E 30
0722012212 175S 484E 30
0722012218 172S 469E 25
0722012300 164S 459E 25
0722012306 158S 452E 30
0722012312 157S 444E 35
0722012318 158S 433E 40
0722012400 161S 421E 45
0722012406 162S 405E 50
0722012412 163S 388E 45
CLICK ON THE IMAGERY BELOW TO ANIMATE AND ENLARGE IT.
WESTERN NORTH PACIFIC/PHILIPPINE SEA: INVEST 91W. ADVISORY(ABPW) ISSUED AT 24/06UTC. CLICK ON THE IMAGERY BELOW TO ANIMATE AND ENLARGE IT.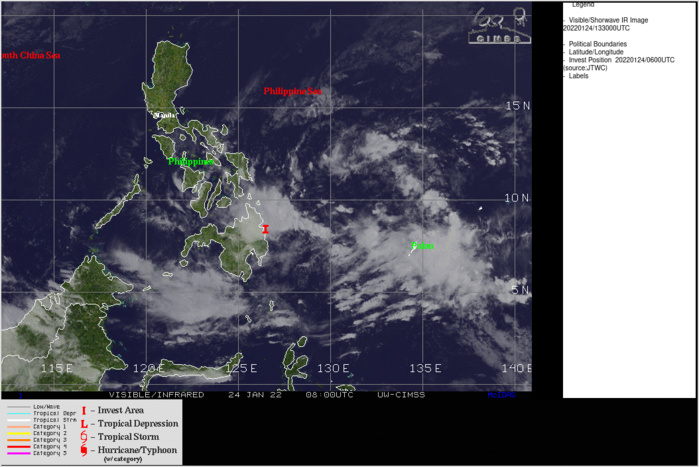 THE AREA OF CONVECTION (INVEST 91W) PREVIOUSLY LOCATED NEAR 8.4N 129.6E IS NOW LOCATED NEAR 8.6N 126.5E, APPROXIMATELY 190 KM NORTH-NORTHEAST OF DAVAO, PHILIPPINES. ANIMATED MULTISPECTRAL SATELLITE IMAGERY AND A 240410Z GMI 89GHZ MICROWAVE IMAGE DISPLAY SOME ORGANIZED BANDING WRAPPING INTO A PARTIALLY EXPOSED LOW LEVEL CIRCULATION (LLC). ENVIRONMENTAL ANALYSIS INDICATES OVERALL FAVORABLE CONDITIONS DEFINED BY LOW TO MODERATE (15-20 KNOTS) VERTICAL WIND SHEAR, BEING OFFSET BY FAIR POLEWARD OUTFLOW AND WARM (27-28C) SEA SURFACE TEMPERATURES. ECMWF AND GFS ARE IN GENERAL AGREEMENT ON THE WESTWARD TRACK OF INVEST 91W AND DESPITE THE OVERALL FAVORABLE ENVIRONMENT, LIMITED TIME OVER WATER BEFORE MAKING LANDFALL OVER MINDANAO INDICATES THE SYSTEM IS NOT EXPECTED TO REACH WARNING CRITERIA IN THE NEXT 48 HOURS. MAXIMUM SUSTAINED SURFACE WINDS ARE ESTIMATED AT 10 TO 15 KNOTS. MINIMUM SEA LEVEL PRESSURE IS ESTIMATED TO BE NEAR 1004 MB. THE POTENTIAL FOR THE DEVELOPMENT OF A SIGNIFICANT TROPICAL CYCLONE WITHIN THE NEXT 24 HOURS REMAINS LOW.
WP, 91, 2022012318, , BEST, 0, 72N, 1317E, 15, 1004, DB
WP, 91, 2022012400, , BEST, 0, 74N, 1304E, 20, 1003, DB
WP, 91, 2022012406, , BEST, 0, 77N, 1287E, 20, 1007, DB
WP, 91, 2022012412, , BEST, 0, 80N, 1269E, 20, 1007, DB
SOUTHERN HEMISPHERE/SOUTH INDIAN OCEAN: INVEST 96S. CLICK ON THE IMAGERY BELOW TO ANIMATE AND ENLARGE IT.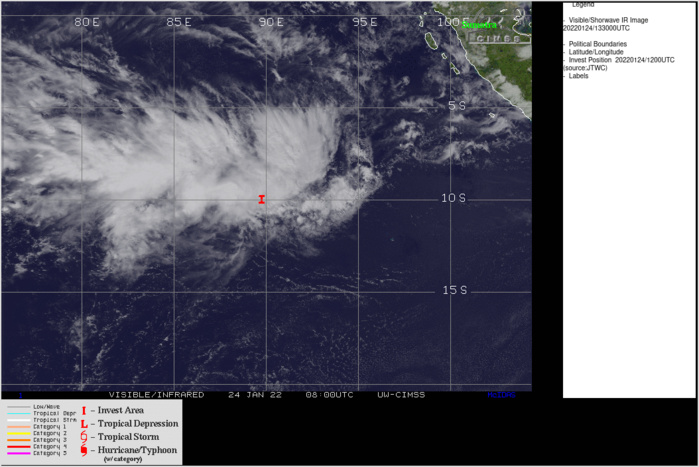 SH, 96, 2022012318, , BEST, 0, 83S, 883E, 20, 1006, DB
SH, 96, 2022012400, , BEST, 0, 88S, 890E, 20, 1005, DB
SH, 96, 2022012406, , BEST, 0, 93S, 896E, 20, 1005, DB
SH, 96, 2022012412, , BEST, 0, 98S, 898E, 20, 1004, DB