CLICK TO ANIMATE. TC 06S AND INVEST 92S(MEDIUM) TO THE EAST.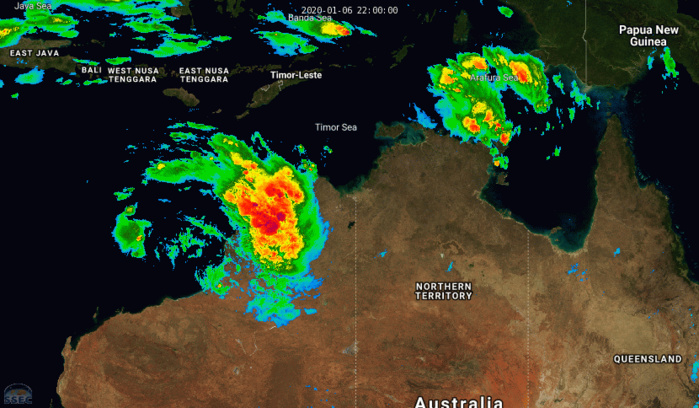 TC 06S SOUTH INDIAN
As of 00:00 UTC Jan 07, 2020:
Location: 18.5°S 121.6°E
Maximum Winds: 40 kt ( 75km/h)
Gusts: 50 kt ( 95km/h)
Minimum Central Pressure: 996 mb
REMARKS:
070300Z POSITION NEAR 18.7S 121.5E.
07JAN20. TROPICAL CYCLONE (TC) 06S (BLAKE), LOCATED APPROXIMATELY 50
NM SOUTHWEST OF BROOME, AUSTRALIA, HAS TRACKED SOUTH-
SOUTHWESTWARD AT 06 KNOTS OVER THE PAST SIX HOURS. THE CURRENT
POSITION IS BASED ON ANIMATED MULTISPECTRAL SATELLITE IMAGERY AND A
070010Z METOP-A ASCAT PASS SHOWING A SWATH OF 35-40 KNOT WINDS WEST OF
THE LOW LEVEL CIRCULATION CENTER (LLCC). THE INTENSITY OF 40 KNOTS IS
BASED ON THE AFOREMENTIONED ASCAT WITH GOOD CONFIDENCE. TC 06S IS
TRACKING SOUTH-SOUTHWESTWARD ALONG THE PERIPHERY OF A SUBTROPICAL
STEERING RIDGE SITUATED TO THE SOUTHEAST. THE PRIMARY DEEP CONVECTION
ASSOCIATED WITH THE SYSTEM IS CURRENTLY CONFINED TO THE SOUTHERN
PORTION OF THE CIRCULATION. TC 06S WILL CONTINUE TO FOLLOW THE FLOW
ASSOCIATED WITH THIS STEERING RIDGE TOWARD AN ANTICIPATED LANDFALL TO
THE EAST OF PORT HEDLAND, AUSTRALIA. STORM INTENSITY IS EXPECTED TO
SLOWLY WEAKEN OVER THE NEXT 36 HOURS AS LAND INTERACTION OFFSETS THE
ENVIRONMENTAL INFLUENCES OF LOW VERTICAL WIND SHEAR (5 TO 10 KNOTS),
VERY WARM SEA SURFACE TEMPERATURES (30 TO 31 DEGREES CELSIUS) AND A
FAVORABLE POLEWARD UPPER-LEVEL OUTFLOW PATTERN. AFTER LANDFALL AROUND
TAU 12, THE SYSTEM IS EXPECTED TO CONTINUE MOVING INLAND AND DISSIPATE
BY TAU 36. NUMERICAL MODELS ARE IN GOOD OVERALL AGREEMENT WITH THE
CURRENT TRACK FORECAST, WHICH LIES NEAR THE MULTI-MODEL CONSENSUS WITH
HIGH CONFIDENCE. MAXIMUM SIGNIFICANT WAVE HEIGHT AT 070000Z IS 15
FEET. NEXT WARNINGS AT 070900Z, 071500Z, 072100Z AND 080300Z.//
NNNN

WARNING 6. LANDFALL NEAR WALLAL SHORTLY AFTER 12H
TRACK AND INTENSITY GUIDANCE
SATELLITE: FY2G . A.BANKS ENHANCED BY PH.