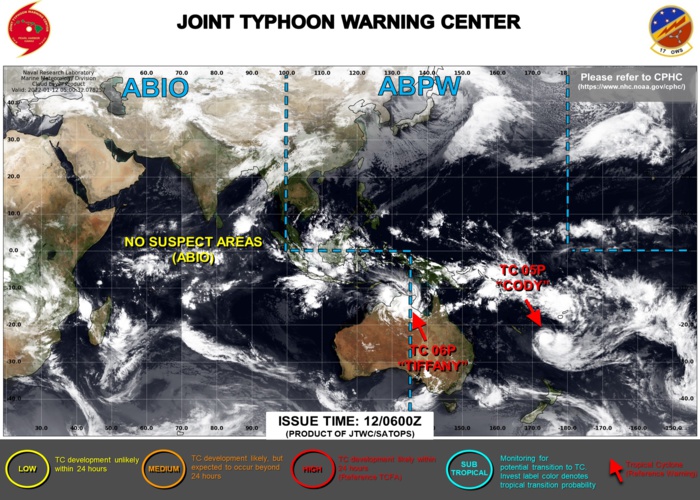 JTWC IS ISSUING 6HOURLY WARNINGS ON TC 05P(CODY). WARNING 12/FINAL ON TC 06P(TIFFANY) WAS ISSUED AT 12/03UTC.THE OVER-LAND SYSTEM IS STILL CLOSELY MONITORED. 3HOURLY SATELLITE BULLETINS ARE STILL ISSUED ON BOTH SYSTEMS.
SOUTHERN HEMISPHERE/SOUTH PACIFIC: TC 05P(CODY). WARNING 16 ISSUED AT 12/15UTC.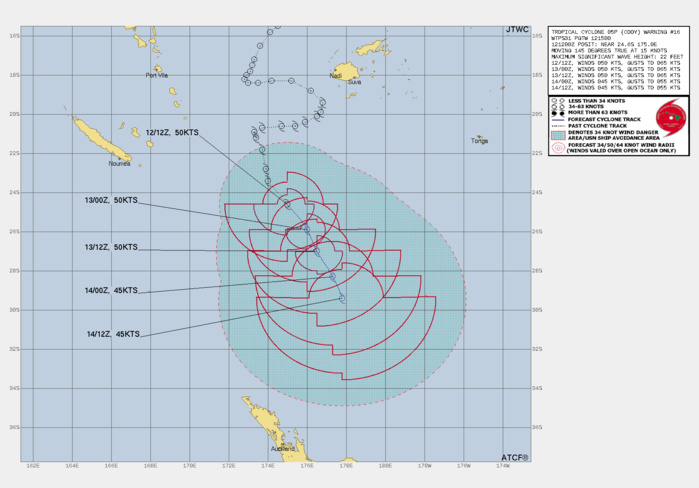 FORECAST DISCUSSION: AS EXPECTED THE COOLER WATER TO THE SOUTH IS BEGINNING TO HINDER THE DEVELOPMENT OF TC 05P. TC 05P WILL CONTINUE TRACKING SOUTHEASTWARD UNDER THE INFLUENCE OF THE STR AND START WRAPPING DRIER AIR INTO THE SYSTEM FROM THE EQUATORWARD SIDE. THE DRIER AIR, HIGHER VWS TO THE SOUTH, AND COOLER SSTS WILL WANE HEAVILY ON THE SYSTEM. TC 05P WILL BEGIN EXPERIENCING A SLIGHT INCREASE IN POLEWARD OUTFLOW AS IT INTERACTS WITH THE BAROCLINIC ZONE TO THE SOUTH ALONG WITH AN INCREASE IN CONVECTION IN THAT SAME REGION. THE CONTINUED INTERACTION WITH THE POLEWARD OUTFLOW, WILL ALLOW THE SYSTEM TO MAINTAIN INTENSITY AT A PEAK OF 50KTS, WHEREBY IT WILL ONLY SLIGHTLY DECREASE TO 45KTS BY 36H AND BEYOND. BETWEEN 24 AND 36H, TC 05P WILL BEGIN TRANSITIONING INTO AN EXTRA- TROPICAL LOW WITH AN EXPANDED WIND FIELD, AND BY 48H THE TC WILL HAVE TRANSITIONED INTO A STRONG GALE-FORCE COLD-CORE LOW.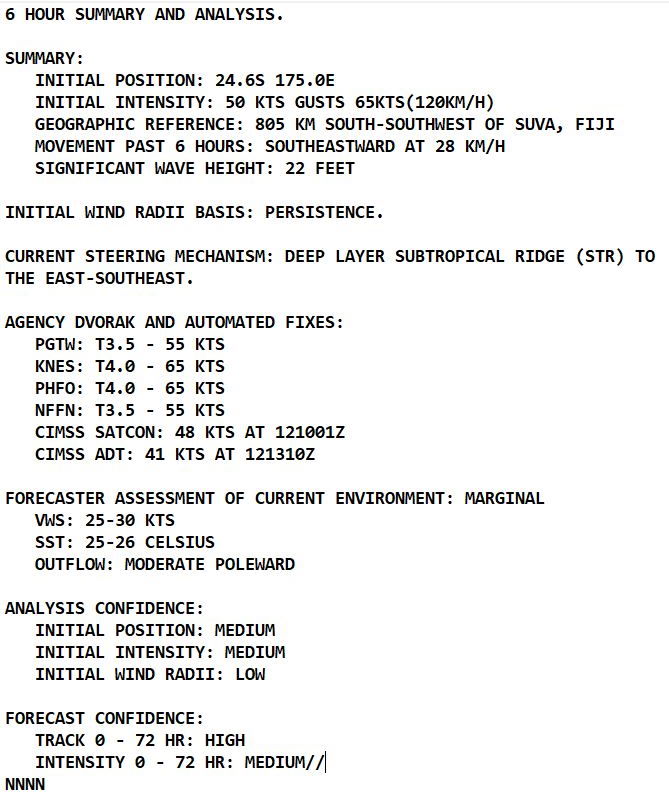 CLICK ON THE IMAGERY BELOW TO ANIMATE AND ENLARGE IT.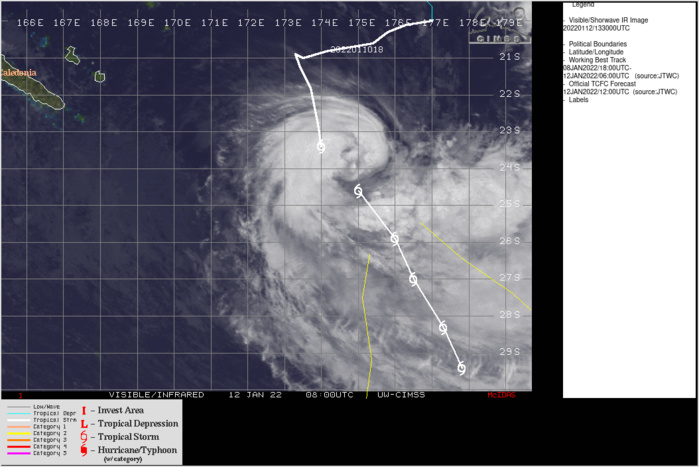 SATELLITE ANALYSIS, INITIAL POSITION AND INTENSITY DISCUSSION: ANIMATED ENHANCED INFRARED (EIR) IMAGERY DEPICTS THE SYSTEM WITH MODERATE CONVECTION TO THE SOUTH AND EAST REGION OF THE LLC. THE INITIAL POSITION IS PLACED WITH MEDIUM CONFIDENCE BASED UPON EXTRAPOLATION OF A 121000Z METOP-B AMSU 89GHZ IMAGE. THE INITIAL INTENSITY OF 50KTS IS HELD SLIGHTLY LOWER THAN THE PGTW AND HIGHER THAN ADT DVORAK AND SATCON ESTIMATES, AND REMAINS LOWER THAN OTHER FORECASTING AGENCIES. ANALYSIS INDICATES A MARGINAL ENVIRONMENT WITH STRONG VERTICAL WIND SHEAR, COOL SSTS, LOW-LEVEL DRY AIR INTRUSION, AND MODERATE POLEWARD OUTFLOW. TC 05P IS TRACKING ALONG THE WESTERN PERIPHERY OF THE STR TO THE EAST-SOUTHEAST.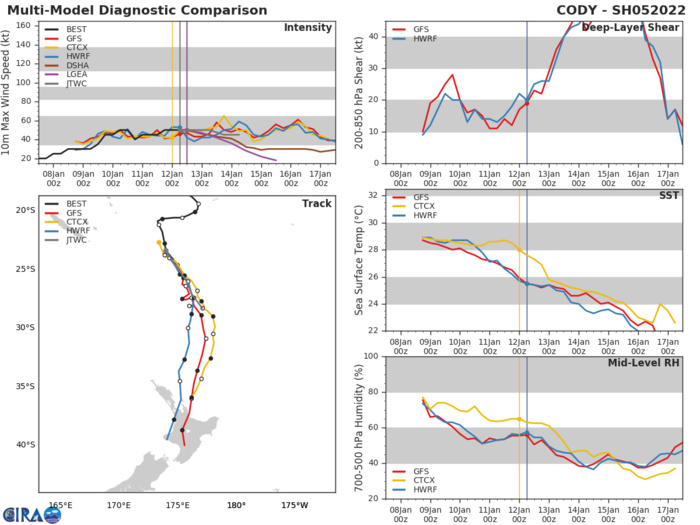 MODEL DISCUSSION: NUMERICAL MODELS ARE IN EXTREMELY TIGHT AGREEMENT THROUGH THE FIRST 24 HOURS WITH A SPREAD OF ONLY 65KM. ONCE THE SYSTEM ENCROACHES UPON THE BAROCLINIC ZONE THE MODEL GUIDANCE ALONG- TRACK SPREAD INCREASES WHILE THE CROSS-TRACK SPREAD IS MINIMAL TO A MERE 80KM WITH THE EXCLUSION OF NAVGEM. REGARDLESS, THERE IS HIGH CONFIDENCE IN THE JTWC TRACK FORECAST WHICH IS LAID JUST TO THE WEST OF THE MODEL CONSENSUS THROUGH 24H OFFSETTING NAVGEM, AND ONLY MEDIUM CONFIDENCE IN THE INTENSITY AS THE SYSTEM UNDERGOES TRANSITION INTO A COLD-CORE LOW.
SOUTHERN HEMISPHERE/NORTHERN AUSTRALIA: OVER-LAND TC 06P(TIFFANY).
12/06UTC. ECWMF AT +240H.
12/06UTC. ECWMF AT +240H.