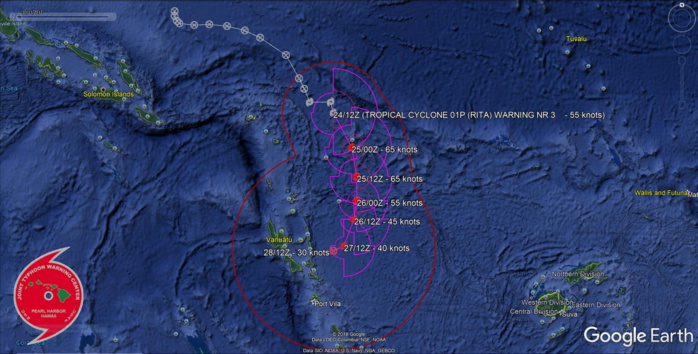 CURRENT INTENSITY IS 55KTS.
Météo974
SOUTHERN HEMISPHERE SOUTH PACIFIC
Location: 10.6°S 169.1°E
Maximum Winds: 55 kt ( 100km/h)
Gusts: 70 kt ( 130km/h)
Minimum Central Pressure: 988 mb
REMARKS:
241500Z POSITION NEAR 10.9S 169.3E.
24NOV19. TROPICAL CYCLONE (TC) 01P (RITA), LOCATED APPROXIMATELY 429
NM NORTH OF PORT VILA, VANUATU, HAS TRACKED SOUTH-SOUTHEASTWARD AT
04 KNOTS OVER THE PAST SIX HOURS. ANIMATED MULTISPECTRAL SATELLITE
IMAGERY REVEALS SPIRAL RAIN BANDS WRAPPING UNDER DEEP CENTRAL
CONVECTION THAT IS OBSCURING THE LOW LEVEL CIRCULATION CENTER
(LLCC). THE INITIAL POSITION IS SUPPORTED WITH GOOD CONFIDENCE BY A
241043Z AMSU 89 GHZ IMAGE THAT SHOWS A CLEAR MICROWAVE EYE. A
241045Z METOP-B ASCAT PASS SHOWS 45 KNOT WIND BARBS TIGHTLY WRAPPED
AROUND THE LLCC. THE INITIAL INTENSITY OF 55 KNOTS IS CONSISTENT
WITH THE MULTI-AGENCY DVORAK CURRENT INTENSITY ESTIMATES OF T3.5 (45
KNOTS) AND A 241140Z ADVANCED DVORAK TECHNIQUE ESTIMATE OF 55 KNOTS.
THE ENVIRONMENT, WITH LOW (10-15 KNOT) VERTICAL WIND SHEAR (VWS),
EXCELLENT POLEWARD OUTFLOW, AND WARM (29-30 DEGREES CELSIUS) SEA
SURFACE TEMPERATURE, IS FAVORABLE FOR FURTHER DEVELOPMENT THROUGH
TAU 12. TC 01P IS TRACKING ALONG THE SOUTHWEST PERIPHERY OF A
NORTHWEST-TO-SOUTHEAST ORIENTED SUBTROPICAL RIDGE (STR) SITUATED TO
THE EAST. FOR THE DURATION OF THE FORECAST, THE AFOREMENTIONED STR
WILL STEER TC 01P GENERALLY WITH THE EXCEPTION OF NAVGEM, MODEL
GUIDANCE HAS IMPROVED WITH A TRACK SPREAD OF 150 NM BY TAU 72. THE
JTWC TRACK FORECAST IS LAID NEAR CONSENSUS. WITH THE CURRENT
FORECAST TRACK, THE SYSTEM WILL ENCOUNTER STRONG (25-30 KNOT) VWS
AND DIMINISHED UPPER LEVEL SUPPORT AFTER TAU 72 AND SHOULD DISSIPATE
BY TAU 96. BASED ON HIGH UNCERTAINTY IN THE GUIDANCE BEYOND TAU 48,
THERE IS LOW CONFIDENCE IN THE JTWC TRACK FORECAST. MAXIMUM
SIGNIFICANT WAVE HEIGHT AT 241200Z IS 14 FEET. NEXT WARNINGS AT
242100Z, 250300Z, 250900Z AND 251500Z.//
NNNN
CLICK TO ANIMATE