CLICK ON THE IMAGERIES BELOW TO GET THEM ENLARGED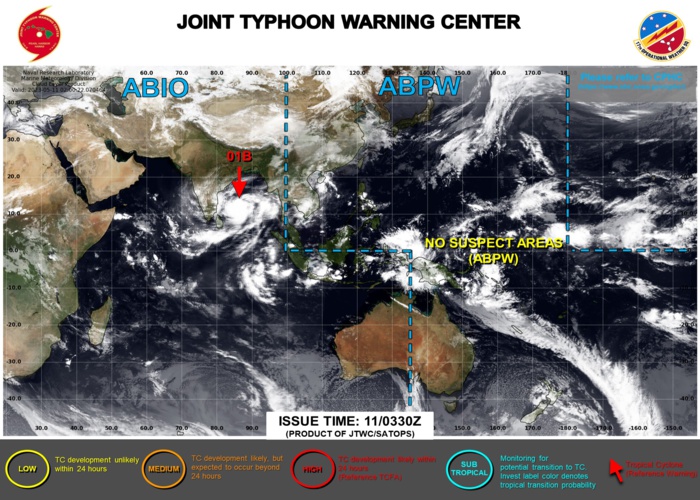 JTWC IS ISSUING 6HOURLY WARNINGS AND 3HOURLY SATELLITE BULLETINS ON TC 01B.
NORTH INDIAN/BAY OF BENGAL: TC 01B. CURRENT ESTIMATED INTENSITY IS 35 KNOTS AT 11/00UTC.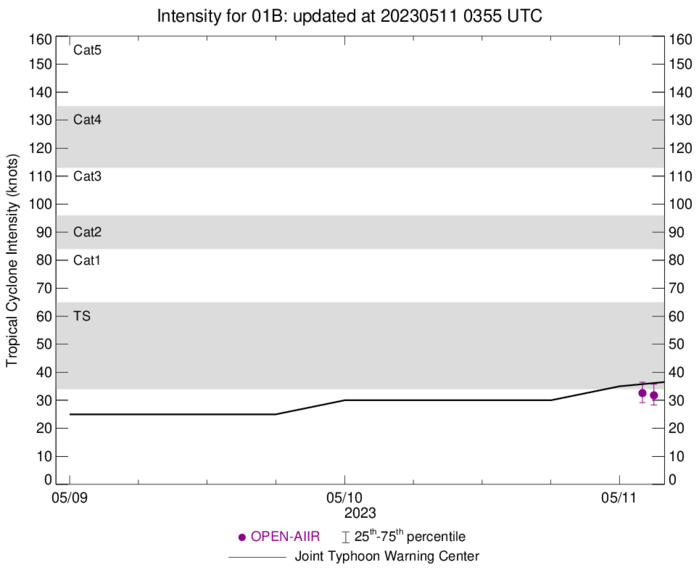 0123050712 61N 935E 15
0123050718 61N 935E 15
0123050800 66N 933E 15
0123050806 70N 926E 20
0123050812 73N 917E 20
0123050818 75N 910E 20
0123050900 75N 905E 25
0123050906 76N 901E 25
0123050912 78N 896E 25
0123050918 82N 891E 25
0123051000 88N 887E 30
0123051006 96N 887E 30
0123051012 106N 886E 30
0123051018 109N 884E 30
0123051100 111N 882E 35
WARNING 1 ISSUED AT 11/03UTC.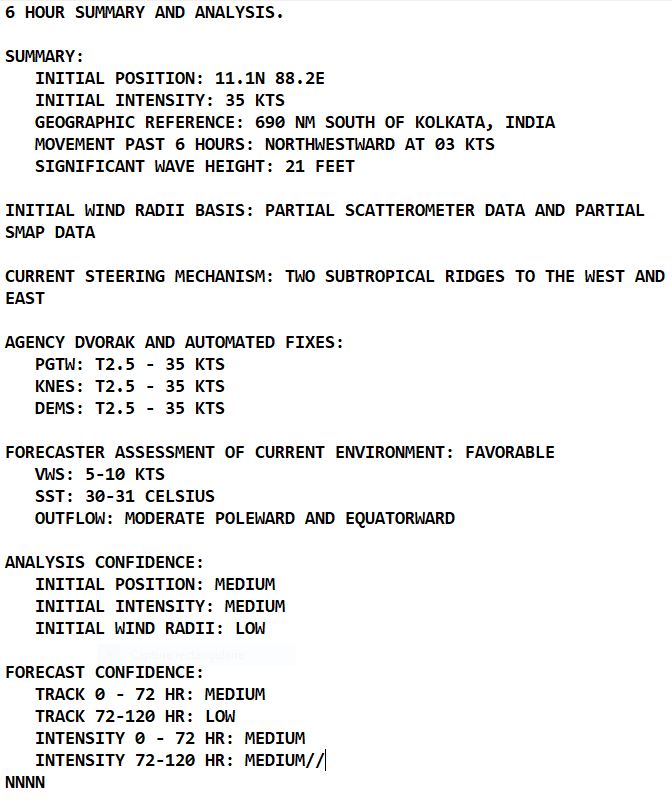 CLICK ON THE IMAGERY BELOW TO GET IT ANIMATED AND ENLARGED.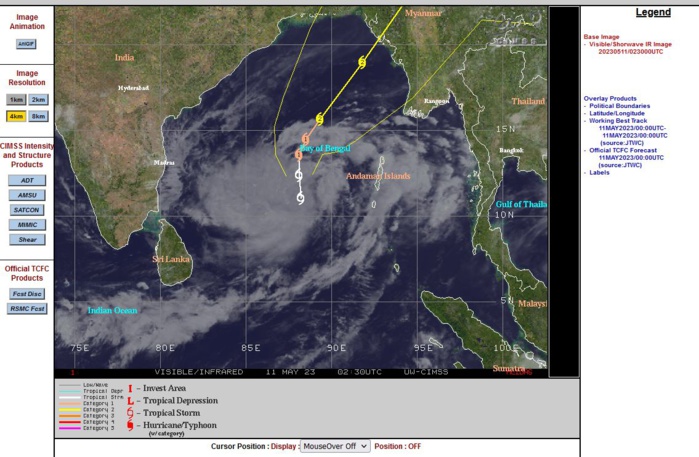 SATELLITE ANALYSIS, INITIAL POSITION AND INTENSITY DISCUSSION: ANIMATED MULTISPECTRAL SATELLITE IMAGERY (MSI) DEPICTS AN AREA OF CONVECTION BLOOMING OVER AN ASSESSED LOW LEVEL CIRCULATION CENTER (LLCC) WITH FEEDER BANDS IN THE NORTHERN AND SOUTHERN PERIPHERIES BECOMING BETTER DEFINED. ANALYSIS OF THE 102229Z SSMIS 91 GHZ PASS SHOWS FRAGMENTED LOW LEVEL BANDING FEATURES IN THE NORTHERN PERIPHERY WRAPPING INTO THE SLIGHTLY ELONGATED LLCC. IN ADDITION, THE SAME IMAGE SHOWS DEEP CONVECTION IN THE SOUTHWEST QUADRANT ATTEMPTING TO WRAP AROUND THE SYSTEM. TC 01B IS IN A FAVORABLE ENVIRONMENT FOR FURTHER TROPICAL DEVELOPMENT. THESE CONDITIONS ARE CHARACTERIZED BY GOOD POLEWARD AND EQUATORWARD OUTFLOW ALOFT, A STRONG 850 MB VORTICITY SIGNATURE, LOW (5-10 KTS) VERTICAL WIND SHEAR (VWS), AND VERY WARM (30-31 C) SEA SURFACE TEMPERATURES (SST). THE INITIAL POSITION IS PLACED WITH MEDIUM CONFIDENCE BASED ON MULTI-AGENCY FIXES, AS WELL AS THE AFOREMENTIONED MSI. THE INITIAL INTENSITY OF 35 KNOTS IS ASSESSED WITH MEDIUM CONFIDENCE BASED OFF A BLEND OF MULTI-AGENCY DVORAKS ESTIMATES.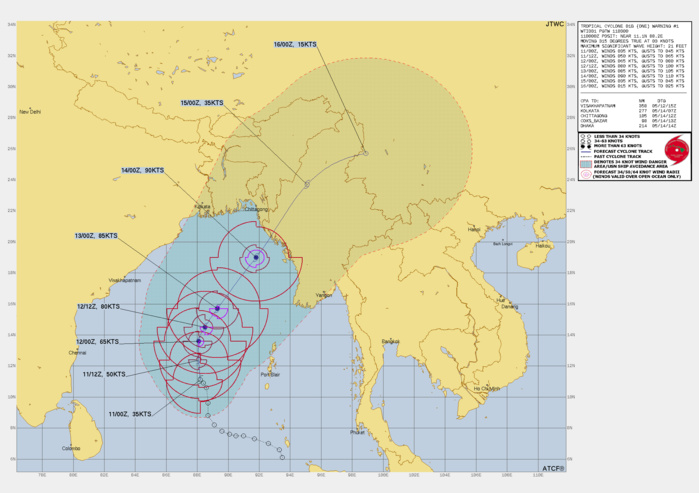 FORECAST REASONING. SIGNIFICANT FORECAST CHANGES: THIS INITIAL PROGNOSTIC REASONING MESSAGE ESTABLISHES THE FORECAST PHILOSOPHY. FORECAST DISCUSSION: TC 01B HAS BEEN STRUGGLING WITH MID LEVEL DRY AIR ENTRAINMENT OVER THE PAST 36-48 HOURS, HOWEVER, IT APPEARS THE MID LEVELS HAVE OBTAINED ENOUGH MOISTURE TO FEED FURTHER TROPICAL DEVELOPMENT AT THIS TIME. AFTER SPENDING THE PAST SEVERAL HOURS CONSOLIDATING INTO A MORE DEFINED SYSTEM, TC 01B HAS SPENT THE PAST 6 HOURS IN A SOMEWHAT QUASI-STATIONARY POSTURE. BETWEEN TAUS 12 AND 24, TC 01B WILL TRACK NORTHWARD AS IT IS WEDGED BETWEEN TWO SUBTROPICAL RIDGES, ONE TO THE WEST AND ONE TO THE EAST. DURING THIS TIME, THE INTENSITY WILL STEADILY INCREASE TO 65 KNOTS BY TAU 24. BY TAU 36, THE STR TO THE EAST WILL BUILD INTO THE AREA SOUTHEAST OF THE SYSTEM, STEERING TC 01B IN A NORTHEASTWARD DIRECTION AS IT WILL CONTINUE TO INCREASE IN INTENSITY TO 80 KNOTS. BY TAUS 48 AND 72, TC 01B WILL PICK UP IN TRACK SPEED AND INTENSIFY TO 85 KNOTS AND 90 KNOTS RESPECTIVELY. LANDFALL WILL OCCUR ON OR ABOUT TAU 78 NEAR SITTWE, MYANMAR. AFTERWARDS, TC 01B WILL STEADILY DECREASE IN INTENSITY AND DISSIPATE DUE TO LAND INTERACTION THROUGH TAUS 96 AND 120.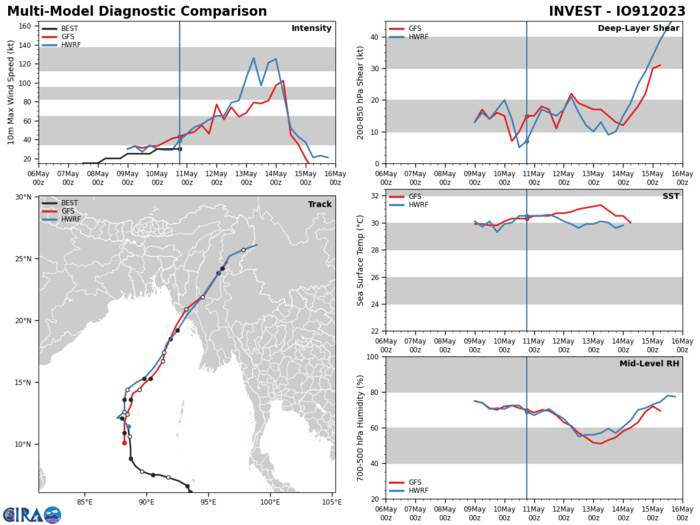 MODEL DISCUSSION: THE DETERMINISTIC AND ENSEMBLE MODELS ALL AGREE THAT TC 01B WILL CONTINUE TO INTENSIFY AS IT TRANSITS NORTHWARD, THEN NORTHEASTWARD AFTER TAU 24 BEFORE MAKING LANDFALL BY TAU 78, AND THEN DISSIPATE THROUGHOUT THE FORECAST PERIOD DUE TO LAND INTERACTION. AMONG THE JTWC FORECAST TRACK CONSENSUS MEMBERS, THERE IS A 65 NM SPREAD AT TAU 24 THAT SPREADS TO 121 NM BEFORE LANDFALL. DUE TO THE SPREAD, THE JTWC FORECAST TRACK IS PLACED WITH MEDIUM CONFIDENCE UP TO TAU 72, THEN LOW CONFIDENCE AFTERWARDS. THE INTENSITY CONSENSUS MEMBERS ARE ALSO IN AGREEMENT DISPLAYING A RAPIDLY INTENSIFYING SYSTEM BETWEEN TAUS 24 AND 60, THEN A SUDDEN DROP OFF AFTER TAU 78 WHEN THE SYSTEM MAKES LANDFALL. THE JTWC FORECAST INTENSITY IS SET WITH MEDIUM CONFIDENCE.

2023io91_ctcxdiag_202305110000.png
(310.89 KB)
GFS 10m Wind Speed & Sea Level Pressure AT 1018UTC: 101 KNOTS AT +84H
HWRF 10m Wind Speed & Sea Level Pressure AT 1018UTC: 126 KNOTS AT +60H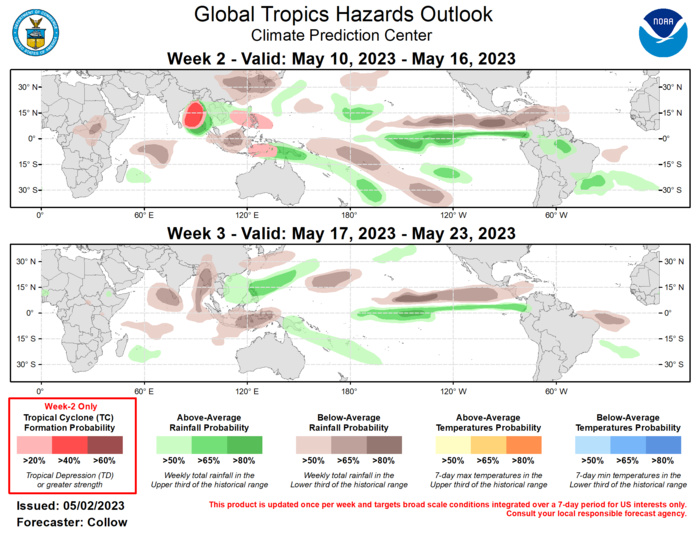 Last Updated - 05/09/23 Valid - 05/17/23 - 05/30/23 The Madden-Julian Oscillation (MJO) has been very active since early March and is likely to remain the dominant driver of variability in the tropics as any residual influence from the long-lived La Nina base state fades. The RMM index is currently in phase 5 (Maritime Continent), and model guidance generally favors a continued eastward propagation of the MJO signal through the week-3 period, although there is considerable disagreement as to the strength of the convective envelope. It has been a quiet week for tropical cyclone (TC) activity with no TCs formed. Although the tropics have been quiet recently, there is an area of organized convection in the Bay of Bengal currently designated Invest 91B by the Joint Typhoon Warning Center (JTWC). The JTWC is closely monitoring this disturbance and gives a high potential for TC formation within the next 24 hours. For further details please consult your local meteorological agency. During week-2 the consensus among model guidance places the MJO in phase 6 (Western Pacific) which generally favors TC formation for both the Western Pacific and the South Pacific basins. The ECMWF and GEFS TC guidance both concur on this and indicate enhanced probabilities of TC formation in both basins. Both models, as well as the CFS and Canadian models generally agree that probabilities of TC genesis at the onset of week-2 begin low but increase as the week continues and potentially extend beyond the week-2 timeframe. The precipitation outlook for the next two weeks is based on anticipated TC tracks, the anticipated state of the MJO, and consensus of GEFS, CFS, and ECMWF ensemble mean solutions. Below-normal precipitation is indicated for portions of Southeast Asia and much of the Indian Ocean during both weeks, while above-normal precipitation is favored for portions of the Maritime Continent and Western Pacific for both weeks. Above-normal precipitation is also likely for the Hawaii region during week-2. Above-normal precipitation continues for the Equatorial Eastern Pacific and the coasts of Ecuador and Peru for both weeks, which is likely to worsen antecedent wet conditions in the region.