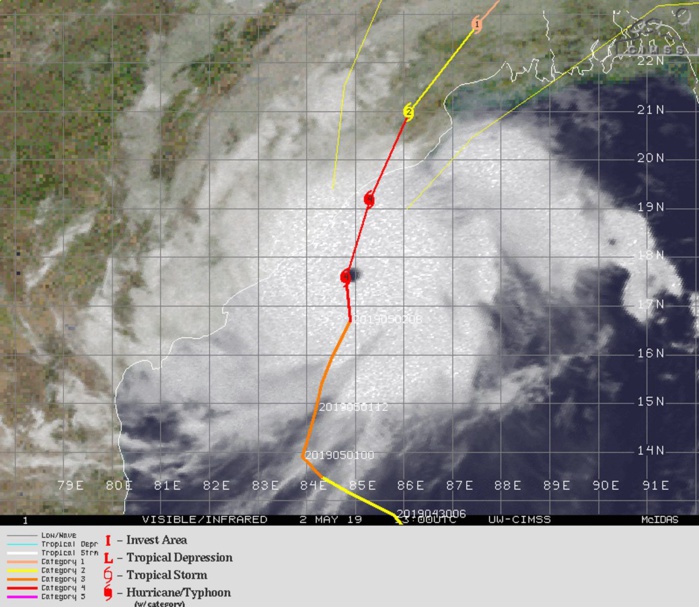 ALOMOST A CATEGORY 5 CYCLONE( US SCALE).
https://www.meteo974.re/M974World_r7.html
https://www.meteo974.re/
SHORT VIDEO WITH ZOOM ON THE FORECAST TRACK AND SATELLITE ANIMATIONS JUST BELOW
Location: 17.6°N 84.8°E
Maximum Winds: 135 kt ( 250km/h)
Gusts: 165 kt ( 305km/h)
Minimum Central Pressure: 917 mb
CATEGORY 4 US
REMARKS:
021500Z POSITION NEAR 18.0N 84.9E.
TROPICAL CYCLONE (TC) 01B (FANI), LOCATED APPROXIMATELY 87 NM EAST
OF VISAKHAPATNAM, INDIA, HAS TRACKED NORTHWARD AT 09 KNOTS (KTS)
OVER THE PAST SIX HOURS. ANIMATED ENHANCED INFRARED SATELLITE
IMAGERY REVEALS THE SYSTEM HAS INTENSIFIED CONSIDERABLY IN THE LAST
SIX HOURS. THERE IS NOW A 16 NM WIDE ROUND, SYMMETRICAL EYE
SURROUNDED BY DEEP CONVECTION, WITH ROBUST RADIAL OUTFLOW. BASED ON
THE EYE, THERE IS HIGH CONFIDENCE IN THE INITIAL POSITION.
ADDITIONALLY, THIS POSITION IS SUPPORTED BY AN EYE FEATURE IN A
021137Z SSMIS 91 GHZ MICROWAVE IMAGE. THE INITIAL INTENSITY OF 135
KTS IS BETWEEN DVORAK VALUES OF T6.5-7.0 (127-140 KTS) FROM KNES AND
PGTW, REFLECTING THE SIGNIFICANT IMPROVEMENT IN THE ORGANIZATION OF
THE SYSTEM. INTENSIFICATION IS SUPPORTED BY A FAVORABLE
ENVIRONMENTAL WITH LOW (10-15 KT) VERTICAL WIND SHEAR, ROBUST
POLEWARD OUTFLOW, AND WARM (30-31 CELSIUS) SEA SURFACE TEMPERATURE.
TC 01B IS TRACKING AROUND THE WESTERN PERIPHERY OF A SUBTROPICAL
RIDGE (STR) AXIS. AS IT CONTINUES TO ROUND THE STR AXIS, THE SYSTEM
WILL TURN NORTHEASTWARD. SHORTLY AFTER TAU 12, THE SYSTEM WILL MAKE
LANDFALL AND BEGIN WEAKENING RAPIDLY UNTIL DISSIPATING BETWEEN TAU
48 AND TAU 72. DYNAMIC MODEL GUIDANCE IS TIGHTLY CLUSTERED ABOUT THE
JTWC TRACK FORECAST, WHICH IS PLACED NEAR THE CONSENSUS TRACK. BASED
ON THE TIGHT CLUSTER IN THE GUIDANCE, THERE IS HIGH CONFIDENCE IN
THE JTWC TRACK FORECAST. MAXIMUM SIGNIFICANT WAVE HEIGHT AT 021200Z
IS 48 FEET. NEXT WARNINGS AT 022100Z, 030300Z, 030900Z AND 031500Z.//
NNNN