TC 15P. SLOWLY ORGANIZING TO THE NORTH OF NEW CALEDONIA. CLICK TO ANIMATE IF NECESSARY.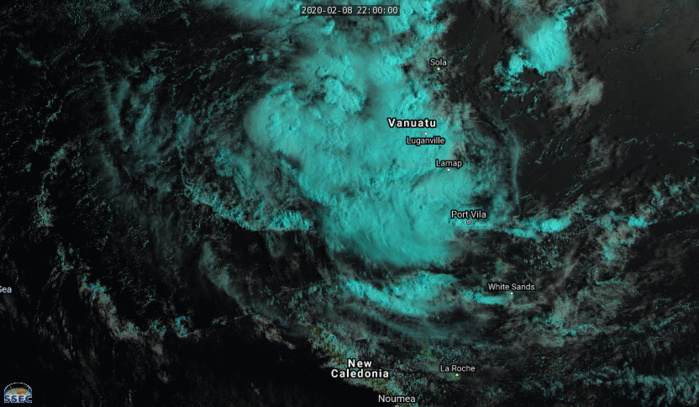 Location: 15.1°S 163.6°E
Maximum Winds: 35 kt ( 65km/h)
Gusts: 45 kt ( 85km/h)
Minimum Central Pressure: 996 mb
TPPS10 PGTW 090314
A. TROPICAL CYCLONE 15P (FIFTEEN)
B. 09/0230Z
C. 14.94S
D. 163.77E
E. FIVE/HMWRI8
F. T2.5/2.5/D1.0/24HRS STT: D0.5/03HRS
G. IR/EIR/VIS/MSI
H. REMARKS: 40A/PBO SBC/ANMTN. CNVCTN WRAPS .40 ON LOG10 SPIRAL
YIELDING A DT OF 2.5. MET/PT AGREE. DBO DT.
I. ADDITIONAL POSITIONS: NONE
MARTIN
REMARKS:
090300Z POSITION NEAR 15.2S 163.6E.
09FEB20. TROPICAL CYCLONE (TC) 15P (FIFTEEN), LOCATED APPROXIMATELY
312 NM WEST-NORTHWEST OF PORT VILA, VANUATU, HAS TRACKED SOUTHWARD AT
04 KNOTS (KTS) OVER THE PAST SIX HOURS. ANIMATED MULTISPECTRAL
SATELLITE IMAGERY (MSI) DEPICTS CONSOLIDATING LOW-LEVEL CONVECTION
WITH FLARING, DEEP CONVECTION OVER THE EASTERN SEMI-CIRCLE OF THE LOW
LEVEL CIRCULATION CENTER (LLCC). WINDS ARE BEGINNING TO WRAP INTO THE
LLCC FROM THE NORTH AND PAST ASCAT DATA REVEALED STRONGER (30-34 KT)
WINDS WERE LOCATED TO THE SOUTHEAST OF THE LLCC. THE INITIAL POSITION
IS PLACED WITH GOOD CONFIDENCE BASED ON THE PARTIALLY-EXPOSED NATURE
OF THE SYSTEM IN MSI. SET AT 35 KTS, THE INITIAL INTENSITY IS
SUPPORTED BY MULTI-AGENCY DVORAK CURRENT INTENSITY ESTIMATES OF T2.0-
2.5 BY PGTW/KNES/PHFO/NFFN/ABRF AND AN IMPROVING CONVECTIVE STRUCTURE.
TC 15P IS EXPERIENCING GOOD POLEWARD OUTFLOW, MODERATE (10-15 KT)
VERTICAL WIND SHEAR (VWS), AND WARM (29-30 CELSIUS) SEA SURFACE
TEMPERATURES (SST). THESE CONDITIONS CONTRIBUTE TO AN OVERALL
FAVORABLE ENVIRONMENT FOR CONTINUED DEVELOPMENT THROUGHOUT THE
FORECAST PERIOD. TC 15P IS TRACKING SOUTHWARD UNDER THE STEERING
INFLUENCE OF AN EXTENSION OF A NEAR EQUATORIAL RIDGE (NER) TO THE
NORTH. THE SYSTEM WILL STEADILY INTENSIFY TO 70 KTS BY TAU 72 AS IT
TRANSITS POLEWARD. BY TAU 96, A SUBTROPICAL RIDGE (STR) BUILDS IN TO
THE SOUTHEAST AND WILL BECOME THE PRIMARY STEERING FEATURE FOR THE
REMAINDER OF THE FORECAST. UNDER ITS INFLUENCE, THE SYSTEM WILL TURN
TO A SOUTH-SOUTHWESTWARD TRACK AS IT FOLLOWS THE FLOW ALONG THE
NORTHWESTERN PERIPHERY OF THE STR. NUMERICAL MODEL GUIDANCE IS IN FAIR
AGREEMENT AND DEPICTS A GENERALLY SOUTH-SOUTHEASTWARD TRACK THROUGH
TAU 72. HOWEVER, TWO NOTABLE OUTLIERS, GFS AND THE GFS ENSEMBLE, SHOW
TC 15P TRACKING SOUTH-SOUTHWESTWARD. THE JTWC TRACK FORECAST IS PLACED
NEAR THE MAJORITY OF THE MODEL SOLUTIONS, BUT DUE TO THE SPREAD IN
MODEL GUIDANCE, THERE IS LOW CONFIDENCE IN THE JTWC TRACK FORECAST.
MAXIMUM SIGNIFICANT WAVE HEIGHT AT 090000Z IS 7 FEET. NEXT WARNINGS AT
090900Z, 091500Z, 092100Z AND 100300Z.
2. THIS CANCELS AND SUPERSEDES REF A (WTPS21 PGTW 080300).//
NNNN
WARNING 1. FORECAST TO INTENSIFY AND REACH CATEGORY 1 US SHORTLY AFTER 48H.
TRACK AND INTENSITY GUIDANCE:
02/09 00UTC