TC 15P(UESI) INTENSIFYING TO THE NORTH OF NEW CALEDONIA. CLICK TO ANIMATE IF NECESSARY.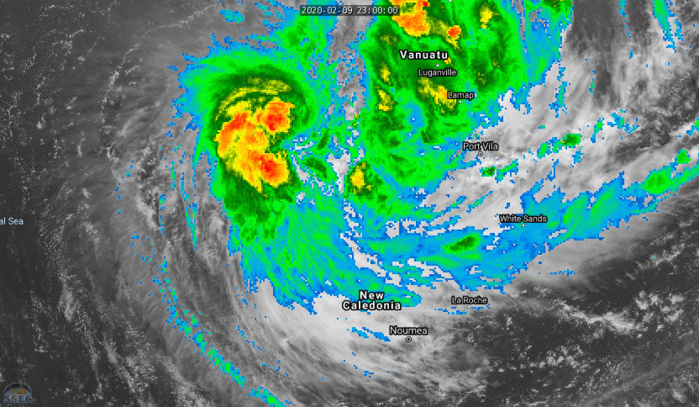 Location: 17.0°S 163.0°E
Maximum Winds: 55 kt ( 100km/h)
Gusts: 70 kt ( 130km/h)
Minimum Central Pressure: 986 mb
TPPS10 PGTW 100321
A. TROPICAL CYCLONE 15P (UESI)
B. 10/0230Z
C. 17.18S
D. 163.07E
E. THREE/HMWRI8
F. T3.5/3.5/D1.0/24HRS STT: S0.0/03HRS
G. IR/EIR/VIS/MSI
H. REMARKS: 15A/PBO TIGHTLY CURVED BNDG/ANMTN. CNVCTN WRAPS .90
ON LOG10 SPIRAL YIELDING A DT OF 3.5. MET/PT AGREE. DBO DT.
I. ADDITIONAL POSITIONS: NONE
MARTIN
REMARKS:
100300Z POSITION NEAR 17.2S 163.0E.
10FEB20. TROPICAL CYCLONE (TC) 15P (UESI), LOCATED APPROXIMATELY
306 NM WEST OF PORT VILA, VANUATU, HAS TRACKED SOUTHWESTWARD AT 08
KNOTS (KTS) OVER THE PAST SIX HOURS. ANIMATED MULTISPECTRAL
SATELLITE IMAGERY DEPICTS A CONSOLIDATING SYSTEM WITH DEEP
CONVECTION COVERING THE MAJORITY OF THE SOUTHERN AND EASTERN
SEMICIRCLES. A BULLSEYE 092251Z METOP-C ASCAT PASS REVEALS A LARGE
SWATH OF 40-44 KT WINDS IN THE SOUTHEASTERN QUADRANT OF THE
SYSTEM. BASED ON THE MSI AND THE AFOREMENTIONED ASCAT, THE INITIAL
POSITION IS SET WITH HIGH CONFIDENCE. THE INITIAL INTENSITY IS SET
AT 55 KTS BASED ON MULTI-AGENCY DVORAK CURRENT INTENSITY ESTIMATES
OF T3.5 (55 KTS) BY PGTW, KNES, ABRF, AND NFFN. ADDITIONALLY, A
092157Z SATELLITE CONSENSUS ESTIMATE OF 55 KTS AND AN ADVANCED
DVORAK TECHNIQUE ESTIMATE OF T3.4 (53 KTS) PLACE GOOD CONFIDENCE
IN THE INITIAL POSITION. OVER THE PAST SIX HOURS, THE SYSTEM HAS
MAINTAINED ITS INTENSITY. ENVIRONMENTAL ANALYSIS REVEALS GOOD
POLEWARD AND EASTWARD UPPER LEVEL OUTFLOW CHANNELS, LOW (10-15
KTS) VERTICAL WIND SHEAR (VWS), AND WARM (28-29 CELSIUS) SEA
SURFACE TEMPERATURES (SST) CONTRIBUTING TO THE CONTINUED FAVORABLE
ENVIRONMENT. TC 15P IS TRACKING ALONG THE WESTERN PERIPHERY OF A
SUBTROPICAL RIDGE. IN THE NEAR-TERM, THE CONDUCIVE ENVIRONMENT
WILL ALLOW FOR STEADY INTENSIFICATION THROUGH TAU 48. AS THE
SYSTEM TRANSITS FIRST SOUTHWARD THEN SOUTHWESTWARD, IT WILL BEGIN
TO INTERACT WITH AN UPPER LEVEL TROUGH TO THE SOUTH AROUND TAU 60.
AS THIS TROUGH DEEPENS AND TC 15P BECOMES EMBEDDED IN THE FLOW,
UPPER LEVEL OUTFLOW WILL DECREASE AS VWS INCREASES (25-30 KT),
CAUSING THE SYSTEM TO WEAKEN THROUGHOUT THE REMAINDER OF THE
FORECAST PERIOD. NUMERICAL MODEL GUIDANCE HAS COME INTO BETTER
AGREEMENT IN THE LATEST MODEL RUN. ALL MODEL SOLUTIONS, WITH THE
EXCEPTION OF THE UKMET ENSEMBLE, DEPICT A GENERALLY SOUTHWARD
TRACK THROUGH TAU 48. AFTER THAT, ALL SOLUTIONS SHOW THE
SOUTHWESTWARD TRACK IN THE EXTENDED FORECAST. THEREFORE, THERE IS
FAIR CONFIDENCE IN THE JTWC FORECAST TRACK. MAXIMUM SIGNIFICANT
WAVE HEIGHT AT 100000Z IS 16 FEET. NEXT WARNINGS AT 100900Z,
101500Z, 102100Z AND 110300Z.//
NNNN
WARNING 5. THERE IS NOW FAIR CONFIDENCE IN THE JTWC FORECAST TRACK.
TRACK AND INTENSITY GUIDANCE
02/10 0246UTC
02/10 0430UTC HIMAWARI-8