TC 15P(UESI) INTENSIFYING TO THE NORTH OF NEW CALEDONIA. CLICK TO ANIMATE IF NECESSARY.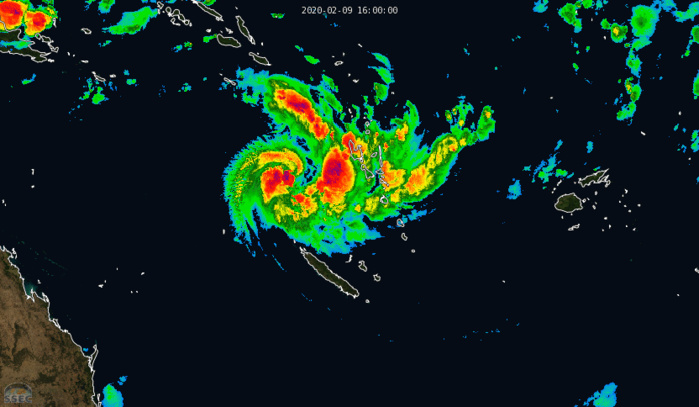 Location: 16.4°S 163.6°E
Maximum Winds: 55 kt ( 100km/h)
Gusts: 70 kt ( 130km/h)
Minimum Central Pressure: 986 mb
TPPS10 PGTW 092117
A. TROPICAL CYCLONE 15P (UESI)
B. 09/2050Z
C. 16.62S
D. 163.24E
E. FIVE/HMWRI8
F. T3.5/3.5/D1.5/24HRS STT: D0.5/03HRS
G. IR/EIR/VIS/MSI
H. REMARKS: 40A/PBO SBC/ANMTN. CNVCTN WRAPS .85 ON LOG10 SPIRAL
YIELDING A DT OF 3.5. MET/PT AGREE. DBO DT.
I. ADDITIONAL POSITIONS:
09/1642Z 16.13S 163.63E SSMI
09/1726Z 16.35S 163.62E SSMS
09/1831Z 16.67S 163.48E AMS2
09/1927Z 16.55S 163.38E SSMS
MARTIN
REMARKS:
092100Z POSITION NEAR 16.6S 163.6E.
09FEB20. TROPICAL CYCLONE (TC) 15P (UESI), LOCATED APPROXIMATELY
281 NM WEST-NORTHWEST OF PORT VILA, VANUATU, HAS TRACKED SOUTHWARD
AT 06 KNOTS (KTS) OVER THE PAST SIX HOURS. ANIMATED ENHANCED
INFRARED (EIR) SATELLITE IMAGERY REVEALS DEEP CONVECTIVE BANDING
WRAPPING UNDER DEEP CONVECTION OBSCURING THE LOW LEVEL CIRCULATION
CENTER (LLCC). A 091926Z SSMIS 91 GHZ MICROWAVE IMAGE DEPICTS A
BAND OF DEEP CONVECTION IN THE EASTERN AND SOUTHERN SEMICIRCLES
WRAPPING TIGHTLY INTO A WELL-DEFINED LLCC. THESE IMAGES LEND HIGH
CONFIDENCE TO THE INITIAL POSITION. SET AT 55 KTS, THE INITIAL
INTENSITY IS BASED ON A 091840Z ADVANCED DVORAK TECHNIQUE
INTENSITY ESTIMATE OF T3.5 (55 KTS), A SATELLITE CONSENSUS
ESTIMATE OF 52 KTS, AND DVORAK CURRENT INTENSITY ESTIMATES OF T3.0
(45 KTS, PGTW) AND T3.5 (55 KTS, KNES AND NFFN). THE INITIAL
INTENSITY IS HEDGED ON THE HIGHER END OF THE INTENSITY FIXES DUE
TO SIGNIFICANT IMPROVEMENTS IN THE CONVECTIVE STRUCTURE. THE
SYSTEM IS UNDERGOING RAPID INTENSIFICATION. TC 15P IS TRACKING
ALONG THE WESTERN PERIPHERY OF A SUBTROPICAL RIDGE WITHIN AN
OVERALL FAVORABLE ENVIRONMENT FOR FURTHER INTENSIFICATION. THE LOW
(10-15 KT) VERTICAL WIND SHEAR (VWS), WARM (28-29 CELSIUS) SEA
SURFACE TEMPERATURES (SST), AND EXCELLENT POLEWARD OUTFLOW WILL
ALLOW TC 15P TO CONTINUE TO INTENSIFY TO A PEAK INTENSITY OF 80
KTS BY TAU 36. A SLIGHT WEAKENING IS ANTICIPATED AS THE SYSTEM
TRACKS OVER NEW CALEDONIA. AFTER TAU 60, TC 15P WILL EXPERIENCE
DECREASING DIVERGENCE ALOFT AND INCREASING (25-30 KT) VWS AS THE
SYSTEM BEGINS TO INTERACT WITH A DEEPENING UPPER LEVEL TROUGH TO
THE SOUTH. AS THE SYSTEM BECOMES EMBEDDED, ADDITIONAL
INTENSIFICATION WILL BE LIMITED AND THE SYSTEM WILL GRADUALLY
WEAKEN. NUMERICAL MODELS AGREE ON A GENERALLY SOUTHWARD TRACK.
HOWEVER, THEY ARE IN POOR OVERALL AGREEMENT WITH A SPREAD OF 314
NM AT TAU 72. THE LARGE SPREAD IN MODEL SOLUTIONS PLACES LOW
CONFIDENCE IN THE OVERALL JTWC FORECAST TRACK. MAXIMUM SIGNIFICANT
WAVE HEIGHT AT 091800Z IS 16 FEET. NEXT WARNINGS AT 100300Z,
100900Z, 101500Z AND 102100Z.//
NNNN
WARNING 4. THE LARGE SPREAD IN MODEL SOLUTIONS PLACES LOW CONFIDENCE IN THE OVERALL JTWC FORECAST TRACK.
TRACK AND INTENSITY GUIDANCE
TRACK GUIDANCE
02/09 1855UTC