Animation. CLICK IF NECESSARY.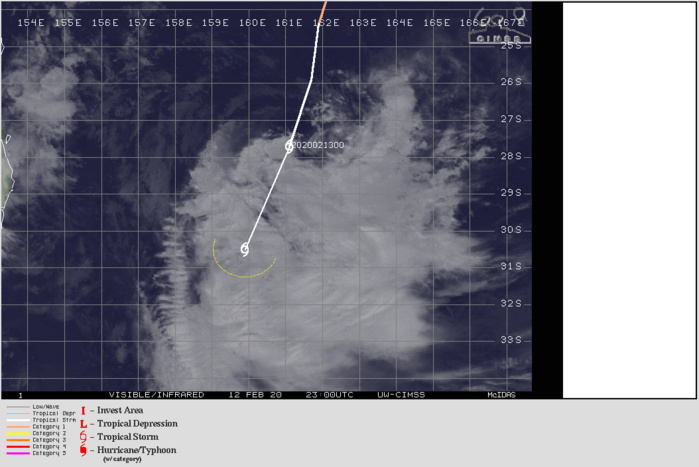 CIMSS/US
Location: 27.7°S 161.1°E
Maximum Winds: 55 kt ( 100km/h)
Gusts: 70 kt ( 130km/h)
Minimum Central Pressure: 980 mb
TPPS10 PGTW 130622
A. TROPICAL CYCLONE 15P (UESI)
B. 13/0550Z
C. 28.52S
D. 160.73E
E. THREE/HMWRI8
F. T2.0/3.0/W1.5/24HRS STT: W0.5/03HRS
G. IR/EIR/VIS/MSI
H. REMARKS: 19A/PBO XPSD LLCC/ANMTN. CNVCTN SHEARED 78NM FROM
LLCC YIELDS A DT OF 1.5. MET AND PT YIELDS 2.0. DBO PT.
I. ADDITIONAL POSITIONS: NONE
RHOADES
REMARKS:
130300Z POSITION NEAR 28.4S 160.8E.
13FEB20. TROPICAL CYCLONE (TC) 15P (UESI), LOCATED APPROXIMATELY
430 NM EAST OF BRISBANE, AUSTRALIA, HAS TRACKED SOUTH-
SOUTHWESTWARD AT 19 KNOTS (KTS) OVER THE PAST SIX HOURS. ANIMATED
MULTISPECTRAL SATELLITE IMAGERY REVEALS A PARTIALLY-EXPOSED LOW
LEVEL CIRCULATION CENTER (LLCC) WITH THE ASSOCIATED CONVECTION
SHEARED TO THE SOUTH. BASED ON AN EXTRAPOLATION OF A 122125Z
BULLSEYE ASCAT-A PASS AND A 122239Z MHS 89 GHZ MICROWAVE IMAGE,
THE INITIAL POSITION IS SET WITH GOOD CONFIDENCE. THE INITIAL
INTENSITY OF 55 KTS IS SUPPORTED WITH HIGH CONFIDENCE BY A
CONSENSUS OF MULTI-AGENCY DVORAK CURRENT INTENSITY ESTIMATES AND A
122240Z ASCAT-B IMAGE WHICH SHOWS A SWATH OF HIGHER (50-59KT)
WINDS TO THE EAST OF THE SYSTEM. WIND RADII HAVE BEEN ADJUSTED
USING THE AFOREMENTIONED ASCAT PASSES AND DEPICT AN ASYMMETRIC,
EXPANDING WIND FIELD. TC 15P REMAINS IN A REGION OF HIGH (30-35
KT) NORTHWESTERLY VERTICAL WIND SHEAR (VWS) AND LOW (LESS THAN 26
CELSIUS) SEA SURFACE TEMPERATURES (SST), CREATING AN UNFAVORABLE
ENVIRONMENT. HOWEVER, THE SYSTEM MAINTAINS A ROBUST POLEWARD
OUTFLOW CHANNEL. TC 15P HAS TRACKED SOUTH-SOUTHWESTWARD ALONG THE
PERIPHERY OF A SUBTROPICAL RIDGE (STR) TO THE EAST AND HAS BEGUN
TO INTERACT WITH A MID-LATITUDE TROUGH SITUATED TO THE WEST.
STRONG DIFFLUENCE ALOFT AND BAROCLINIC SUPPORT ASSOCIATED WITH THE
AFOREMENTIONED TROUGH WILL LIMIT THE WEAKENING CAUSED BY THE
UNFAVORABLE ENVIRONMENT, ALLOWING TC 15P TO MAINTAIN INTENSITY IN
THE NEAR-TERM. AS TC 15P MERGES WITH THE STRONG FLOW ASSOCIATED
WITH THE TROUGH AND CROSSES INTO THE BAROCLINIC ZONE, TC 15P IS
EXPECTED TO TRANSITION INTO A SUBTROPICAL SYSTEM WHICH IS
EXHIBITING SOME EXTRATROPICAL CHARACTERISTICS. NUMERICAL MODEL
GUIDANCE REMAINS IN TIGHT AGREEMENT, PLACING HIGH CONFIDENCE IN
THE JTWC FORECAST TRACK WHICH IS PLACED NEAR THE MULTI-MODEL
CONSENSUS. THIS IS THE FINAL WARNING ON THIS SYSTEM BY THE JOINT
TYPHOON WRNCEN PEARL HARBOR HI. THE SYSTEM WILL BE CLOSELY
MONITORED FOR SIGNS OF REGENERATION. MAXIMUM SIGNIFICANT WAVE
HEIGHT AT 130000Z IS 28 FEET.//
NNNN
      1520020712 130S1626E  20  1520020718 132S1631E  25  1520020800 135S1634E  25  1520020806 139S1636E  25  1520020812 143S1636E  30  1520020818 147S1635E  30  1520020900 150S1634E  35  1520020906 154S1635E  40  1520020912 158S1637E  45  1520020918 164S1636E  55  1520020918 164S1636E  55  1520021000 170S1630E  55  1520021006 172S1627E  60  1520021012 176S1625E  65  1520021018 181S1625E  70  1520021100 189S1625E  75  1520021106 196S1626E  75  1520021112 205S1627E  80  1520021118 216S1627E  80  1520021200 226S1625E  75  1520021206 234S1622E  70  1520021212 244S1619E  60  1520021218 259S1617E  55  1520021300 277S1611E  55  NNNN
WARNING 17.
TRACK AND INTENSITY GUIDANCE
02/13 0412UTC DMSP
02/13 0214UTC
02/12 2240UTC