TC 15P(UESI) PEAKING TO THE NORTH WEST OF NEW CALEDONIA. CLICK TO ANIMATE IF NECESSARY.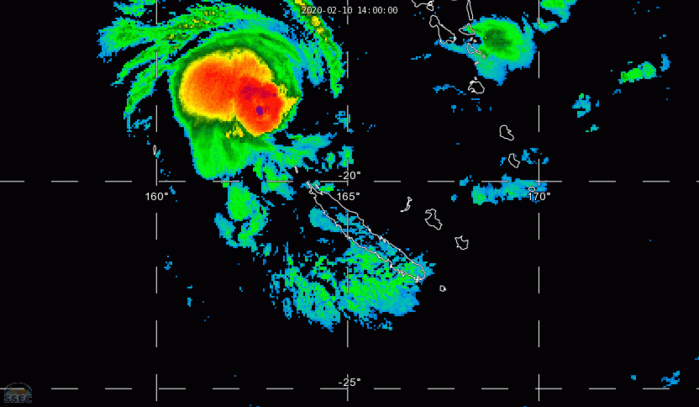 CIRA/US

Location: 18.8°S 162.6°E
Maximum Winds: 75 kt ( 140km/h)
Gusts: 90 kt ( 170km/h)
Minimum Central Pressure: 974 mb
CATEGORY US: 1
TPPS10 PGTW 110320
A. TROPICAL CYCLONE 15P (UESI)
B. 11/0230Z
C. 19.39S
D. 162.68E
E. FIVE/HMWRI8
F. T4.0/4.5/D0.5/24HRS STT: W0.5/03HRS
G. IR/EIR/VIS/MSI
H. REMARKS: 40A/PBO SBC/ANMTN. CNVCTN WRAPS .8 ON LOG10 SPIRAL
AND BF YIELD A DT OF 4.0. MET AND PT AGREE. DBO DT.
I. ADDITIONAL POSITIONS: NONE
ELIAS
REMARKS:
110300Z POSITION NEAR 19.1S 162.6E.
11FEB20. TROPICAL CYCLONE 15P (UESI), LOCATED APPROXIMATELY 279 NM
NORTHWEST OF NOUMEA, NEW CALEDONIA, HAS TRACKED SOUTHWARD AT 07 KNOTS
OVER THE PAST SIX HOURS. ANIMATED MULTISPECTRAL SATELLITE IMAGERY
SHOWS THE SYSTEM CONTINUED TO CONSOLIDATE AS IT FORMED A 10-NM RAGGED
EYE. THE INITIAL POSITION IS PLACED WITH HIGH CONFIDENCE BASED ON THE
EYE FEATURE, SLIGHTLY ADJUSTED FOR TILT. THE INITIAL INTENSITY IS
BASED ON AN OVERALL ASSESSMENT OF AGENCY DVORAK ESTIMATES AND A
102204Z 25KM RESOLUTION ASCAT BULLSEYE PASS AND REFLECTS THE IMPROVED
STATE. THE TC WILL CONTINUE TO TRACK SOUTHWARD THEN SOUTHWESTWARD
AFTER TAU 24 AS THE STEERING SUBTROPICAL RIDGE (STR) TO THE EAST
BUILDS. AROUND TAU 96, A MID-LATITUDE TROUGH APPROACHING FROM THE
SOUTHWEST WILL DIG INTO AND WEAKEN THE STR RESULTING IN A MORE
SOUTHWARD TRACK. OVERALL, ENVIRONMENTAL CONDITIONS ARE FAVORABLE
WITH LOW 10-15KT VERTICAL WIND SHEAR (VWS), ROBUST POLEWARD OUTFLOW
AND WARM 28C SST THAT WILL PROMOTE A MODEST INTENSIFICATION TO A PEAK
OF 80 KNOTS AROUND TAU 24. AFTERWARD, VWS WILL BEGIN TO INCREASE AS
THE SYSTEM ENCOUNTERS INCREASING NORTHWESTERLY UPPER-LEVEL FLOW AHEAD
OF THE MIDLATITUDE TROUGH. NEAR TAU 72, TC UESI WILL UNDERGO
SUBTROPICAL TRANSITION AS IT BECOMES EMBEDDED WITHIN A BROAD 500MB
LOW EAST OF AUSTRALIA AND ENCOUNTERS INCREASING BAROCLINICITY AND
COOLING SST VALUES (24-26C). THE SYSTEM SHOULD COMPLETE SUBTROPICAL
TRANSITION BY TAU 96, CHARACTERIZED BY AN EXPANDING WIND FIELD.
OVERALL CONFIDENCE IN THE JTWC FORECAST TRACK REMAINS FAIR WITH MODEL
GUIDANCE SPREAD INCREASING TO 200NM AT TAU 96. MAXIMUM SIGNIFICANT
WAVE HEIGHT AT 110000Z IS 22 FEET. NEXT WARNINGS AT 110900Z, 111500Z,
112100Z AND 120300Z.//
NNNN

WARNING 9. MAY PEAK AS A 80KT CYCLONE IN 24H.
TRACK AND INTENSITY GUIDANCE
INTENSITY GUIDANCE
02/10 2204UTC
02/11 05UTC