CLICK TO ANIMATE IF NECESSARY.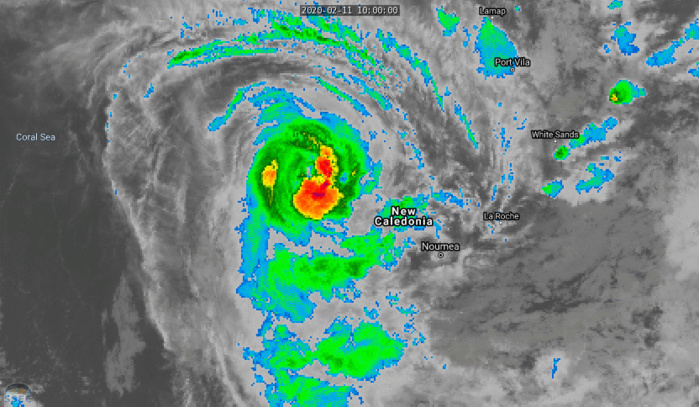 CIRA/US

Location: 20.5°S 162.7°E
Maximum Winds: 70 kt ( 130km/h)
Gusts: 85 kt ( 160km/h)
Minimum Central Pressure: 975 mb
CATEGORY US: 1
TPPS10 PGTW 111530
A. TROPICAL CYCLONE 15P (UESI)
B. 11/1500Z
C. 20.76S
D. 162.82E
E. FIVE/HMWRI8
F. T4.5/4.5/D0.5/24HRS STT: D0.5/03HRS
G. IR/EIR
H. REMARKS: 46A/PBO EMBD CNTR/ANMTN. LLCC EMBEDDED IN CMG
YIELDS A DT OF 5.0. MET AND PT YIELD A 4.5. DBO PT.
I. ADDITIONAL POSITIONS: NONE
RICHARDSON
REMARKS:
111500Z POSITION NEAR 20.8S 162.7E.
11FEB20. TROPICAL CYCLONE (TC) 15P (UESI), LOCATED APPROXIMATELY 213
NM WEST-NORTHWEST OF NOUMEA, NEW CALEDONIA, HAS TRACKED SOUTHWARD AT
09 KNOTS (KTS) OVER THE PAST SIX HOURS. ANIMATED ENHANCED INFRARED
SATELLITE IMAGERY SHOWS THE SYSTEM IS STARTING TO FEEL THE INFLUENCE
OF VERTICAL WIND SHEAR (VWS). A BULLSEYE 111034Z METOP-A ASCAT PASS
PROVIDES HIGH CONFIDENCE IN THE INITIAL POSITION AND THE 34/50 KT WIND
RADII. THE INITIAL INTENSITY OF 70 KTS IS CONSISTENT WITH MULTI-AGENCY
DVORAK FIX INTENSITIES OF T4.0-4.5 (65-77 KTS). THE ENVIRONMENT IS
MARGINAL WITH EXCELLENT POLEWARD OUTFLOW, MODERATE (15-20 KT) VWS, AND
WARM (27-28 CELSIUS) SEA SURFACE TEMPERATURE (SST). TC 15P IS TRACKING
ALONG THE WESTERN PERIPHERY OF A NORTH-SOUTH ORIENTED SUBTROPICAL
RIDGE (STR). A MIDLATITUDE TROUGH TO THE SOUTHWEST IS ALSO STARTING TO
INFLUENCE THE TRACK. IN THE NEXT FEW HOURS, THAT TROUGH WILL CAUSE A
SOUTHWESTWARD SHIFT IN THE TRACK. AS TC 15P TRACKS MORE POLEWARD, IT
WILL ENCOUNTER HIGH VWS AND COOL SST, CAUSING THE INTENSITY TO WEAKEN
STEADILY. AROUND TAU 48, SST BELOW 26 CELSIUS AND THE BAROCLINICITY
ASSOCIATED WITH THAT TROUGH WILL BEGIN SUBTROPICAL TRANSITION. THE
CYCLONE SHOULD COMPLETE SUBTROPICAL TRANSITION AROUND TAU 72. SHORTLY
AFTER TAU 72, INTERACTION WITH THE MIDLATITUDE WESTERLIES WILL CAUSE
THE TRACK TO TURN SOUTHEASTWARD, AWAY FROM AUSTRALIA. MOST OF THE
VARIATION IN THE MODEL GUIDANCE IS ATTRIBUTED TO ALONG-TRACK (SPEED)
DIFFERENCES. THE PRIMARY OUTLIER IS THE UKMET ENSEMBLE MEAN, WHICH IS
QUITE A BIT SLOWER THAN THE OTHER MODELS. BASED ON STRONG CROSS-TRACK
AGREEMENT AND GOOD OVERALL AGREEMENT IN THE BULK OF THE GUIDANCE,
THERE IS GOOD CONFIDENCE IN THE JTWC TRACK FORECAST. MAXIMUM
SIGNIFICANT WAVE HEIGHT AT 111200Z IS 24 FEET. NEXT WARNINGS AT
112100Z, 120300Z, 120900Z AND 121500Z.//
NNNN

WARNING 11. THE FORECAST SHOWS A WEAKENING TREND BUT RECENT SATELLITE ANALYSIS SUGGESTS SHORT TERM INTENSIFICATION STILL POSSIBLE.
TRACK AND INTENSITY GUIDANCE
02/11 1034UTC